Despite Interest Rate Hikes, Used Car Prices Still Hover Near Historic Highs
---
While some segments and brands are showing modest price declines, consumers are nonetheless faced with one of the most challenging used car markets in history.
---
Chicago, IL – August 3, 2022 – Despite ongoing macroeconomic turbulence, used car prices showed only slight signs of easing in July, and remain on average $9,384, or 39%, above their projected normal levels, according to the monthly Return to Normal Index report from leading car shopping app CoPilot. With used vehicle inventory still hovering near record lows at dealerships, most vehicle types are priced between 30-40% above their projected normal levels. CoPilot's Return to Normal Index shows the price differential between what used cars would have been worth, if not for the COVID-19 pandemic and other unprecedented events of the past two years.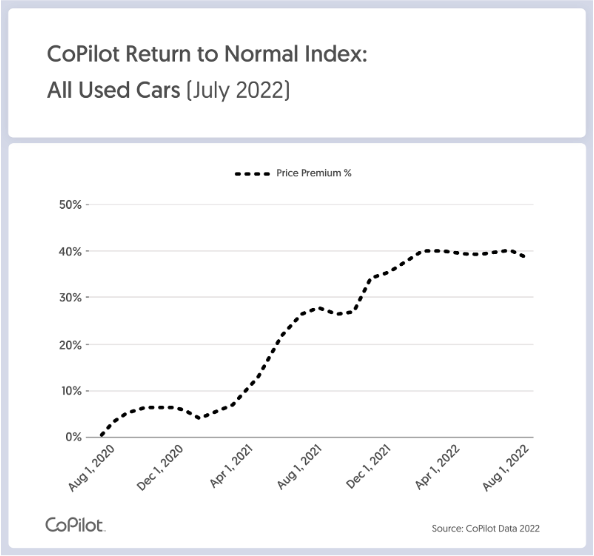 CoPilot found that supply of 1-3 year old vehicles increased in July, for the first time in several months. However, dealers held firm in the face of robust consumer demand, with prices only declining by under 1% month-over-month. At $42,276, the average listing price of these nearly-new vehicles sits just below record highs, and remains 40%, or almost $12,000, above projected normal levels, and 16% higher than a year ago.
Similarly, average prices of 4-7 year old ($29,628) and 8-13 year old vehicles ($17,878), are also near record highs. These vehicles are commanding dealer prices 40% and 39%, respectively, above projected normal levels.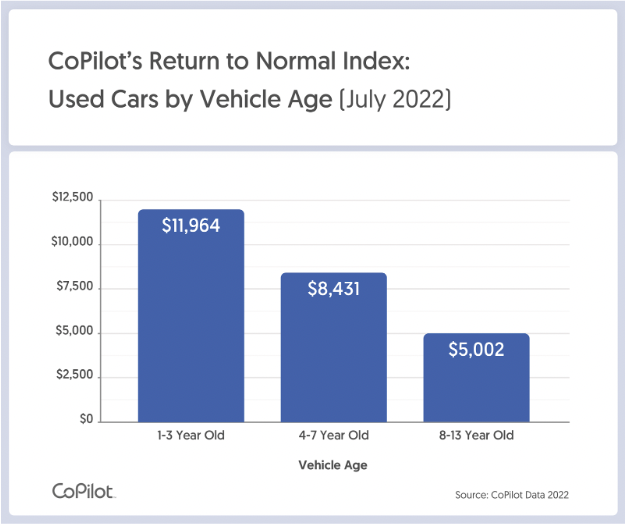 "Though used car prices overall are starting to trend downward toward projected normal levels, the market has a long way to go before returning to normal," said CoPilot Founder and CEO Pat Ryan. "Prices are softening very slightly, but far less than one might expect, given the Fed has hiked interest rates by 200 basis points over the last three months, and with possible recession upon us. While these moves typically would have a tangible impact on the price of durable goods like used cars, we are not yet seeing this pressure in the market result in materially lower prices."
Zooming in on the broader challenges in the market, some sectors and brands are reacting to other macroeconomic factors. With gas prices at greatly elevated levels this year, used SUVs and pickup trucks are consistently the two segments with the smallest Price Premiums, priced at 26% and 29% over projected normal levels, respectively. However, in July, as gas prices retreated somewhat from record highs, used SUV and pickup truck prices nudged higher for the first time in several months.
By contrast, the average price of used electric vehicles and hybrids – which had surged in the spring in response to high gas prices – decreased slightly month-over-month as gas prices fell in July. Used electric vehicles are now priced at $66,986, down $295 from June, while used hybrid prices are listed at an average price of $49,335, a decrease of $289 from last month. Used Teslas command the highest Price Premium among luxury brands. However, this premium softened, for the first time in months, slipping to 48% from June's 50% record, as used Tesla prices fell for the first time in over a year, dipping $718 or 1% month over month.
"Despite pressure easing in some parts of the used car market, it still remains one of the worst times in history for consumers to buy a car," Ryan added. "As broader economic headwinds persist, savvy consumers should keep an eye on price levels as they begin to change. Compare makes and models to find the best value, and be prepared to make a move when prices eventually return closer toward normal. On the other hand, for those with a used car to sell, now is the time to lock in a great price for it. And if you have a trade-in to offer a dealer, that's your best way to negotiate a good deal if you can't wait to buy your next car."
---
About CoPilot
CoPilot is a leading, data-driven car buying app that provides consumers with an expert partner for the high-consideration purchase process starting with car buying and ownership. The platform combines powerful data backed by human expertise to introduce transparency to the shopping, purchasing and ownership journey. The mobile application takes the time, frustration, and guesswork out of the process, empowering people to easily navigate the risks of shopping for high-value items, and to buy with confidence at the right price and the right time.
CoPilot provides free pricing tools for consumers. Price Pulse makes it easy for car shoppers to check the current market value and Price Premium for any car, track price changes, and compare years and models to choose the right car and know when to buy. For car owners and sellers, Price Pulse calculates the real-time value of their car, using the same data only dealers used to have, allowing consumers to track how much their vehicle has appreciated, so they can decide whether and when to sell, or negotiate the best deal at trade-in or lease-end. For media publishers, CoPilot offers embeddable data tools, allowing journalists and bloggers to integrate interactive charts within their web content, apps, or newsletters, powered by CoPilot's unique data and analytics.
---
Media Contact:
Kerry Close
732-609-2644