7 Best Car Dealerships in Arlington, VA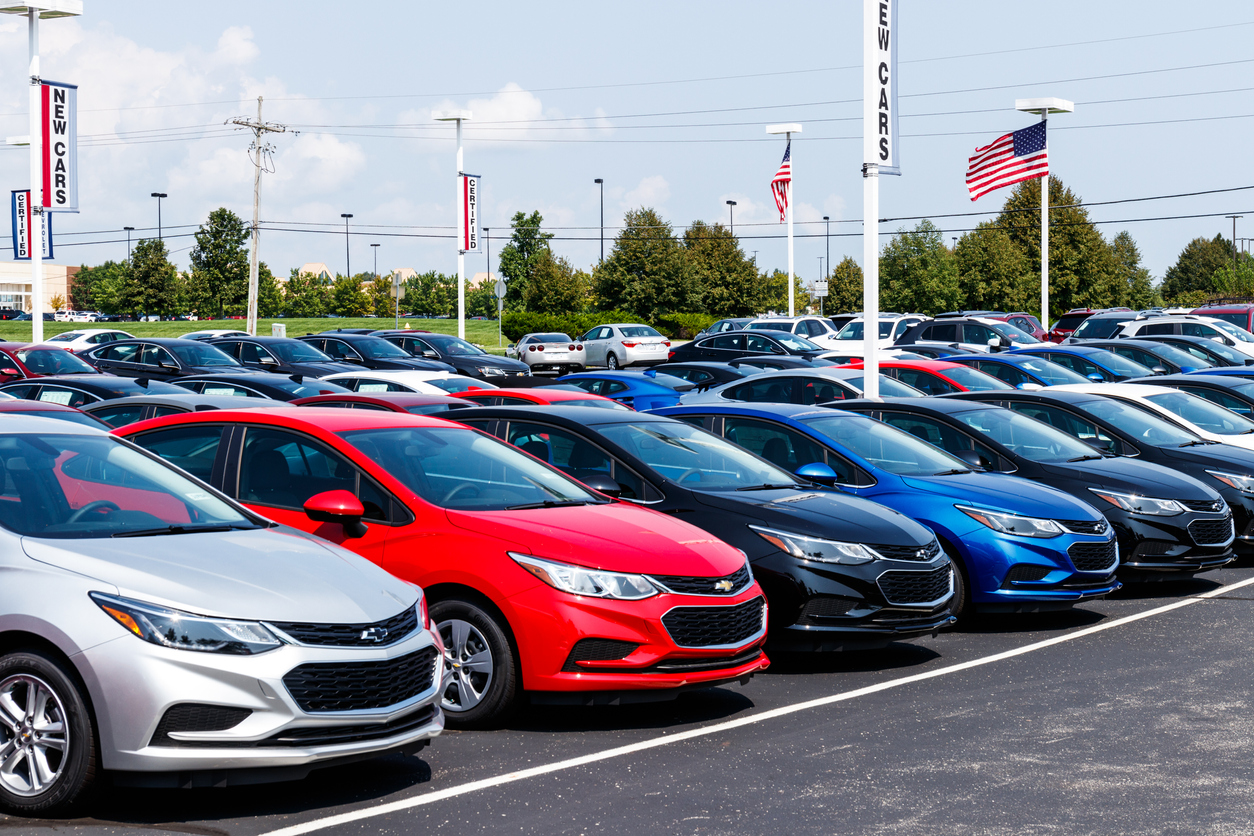 If you're looking for the best way to save money on the purchase of a vehicle, you're probably looking to buy a used car. The reason is simple: depreciation. Once a car rolls off the lot it immediately loses value, typically in the range of 15% to 20%. Purchasing a used car, even a newer used car with low mileage, can yield savings of thousands of dollars.
You'll need to connect with a reputable used car dealer or go through a private party to purchase a used vehicle. However, since most people finance vehicle purchases, a trusted used car dealer is a needed partner in the process.
If you live in the Arlington, Virginia area and happen to be on the hunt for your next car, this article will help you find the best dealer to purchase your next vehicle.
---
DOWNLOAD THE APP
The CoPilot app is the smartest way to buy a car. Search all listings in your area, get notified about deals, new listings, and price drops, or chat with one of our copilots for some hands-on advice.
---
1. Virginia Auto Trader
Address: 2510 Lee Hwy, Arlington, VA 22201
Phone number: (703) 567-6565
Specialty: Late Models, Low Cost
Website: https://www.vaatco.com/
Virginia Auto Trader is a top-rated used car automotive dealer that offers a fantastic selection of late-model, affordable used cars, and specialty luxury automobiles as well. Customers rave about the family-friendly atmosphere of the dealer and their consistently great deals. They pull a very high 4.6⁄5 on Google, 3.5⁄5 on DealerRater and 4.4 /5 on Cars.com.
They also have a fantastic website that keeps the buying public up to date on their inventory, and lets you make an appointment to come look at one of their many great cars. Virginia Auto Trader is a great place to start your search for a used car.
2. Merlex Automotive Group
Address: 1105 N Glebe Rd, Arlington, VA 22201
Phone Number: (703) 685-9312
Speciality: Luxury
Website: https://www.merlexautogroup.com/index.shtml
For buyers in the D.C. area, Merlex Automotive Group is the go-to for luxury automobiles of all types. They are a Capital One preferred dealer and even work with several local credit unions to help get you financed on your new car. Their customers love their ability to find specific and hard to find luxury cars and have them shipped in from all over the country. They have earned a 4⁄5 from Google and a solid 3.9 on DealerRater with over 1000 reviews between the two. Overall, they have a super impressive selection of vehicles and a well deserved, positive reputation.
3. H&R Auto Sales
Address: 2825 Washington Blvd, Arlington, VA 22201
Phone Number: (703) 243-4467
Specialty: Low Priced Luxury
Website: https://www.handrautoinc.net/
The team at H&R Auto Sales is well-deserving of their 4.3⁄5 Google Rating and 4.3 Cars.com rating. They keep a fantastic selection of late-model, luxury cars, and late-model family vehicles for all of your needs. If you're into luxury but don't want to spend a ton of money on a new car, they have a great selection of low mileage, well-loved luxury cars. H&R will also buy your car from you and get you cash on the spot, whether you want to buy from them or not!
---
SEE OTHER DEALERSHIPS IN YOUR AREA
A car is a major purchase, so sometimes it's worth driving a bit further to get the best deal. Here's the best car dealerships in Alexandria, VA.
---
4. C&G Imports
Address: 936 N Kenmore St, Arlington, VA 22201
Phone Number: (703) 525-7441
Specialty: Trucks and SUVs
Website: https://www.sudealeramigo.com/
C&G specializes in late model trucks, SUVs, and family vehicles. They purchase vehicles that have low mileage and are known for their reliability. Toyota, Honda, Subaru, and Nissan are frequently sold by the professionals at C&G.
They have a fantastic 4.6⁄5 on Google, 4.3⁄5 on Cars.com and a 4.9 on Facebook. Their in-house financing is one of the best in the D.C. area and reviews state that it is exceedingly fair for "buy here, pay here" dealers.
5. Arlington Auto Group
Address: 918A S Monroe St, Arlington, VA 22204
Phone Number: (703) 839-5298
Specialty: BMW's & German Luxury Cars
Website: https://arlingtonautogroup.net/
The team at Arlington Auto Group specializes in BMWs, as well as other German luxury brands like Porsche and Mercedes-Benz. They keep a solid selection of these well-loved vehicles on the lot and can help find you a particular model of your choosing.
They also specialize in finding M versions of BMW vehicles and AMG versions of Mercedes-Benz. Throw in some in-house financing, a solid 4.4 rating on Google, and a 4.3 on cars.com and you have a fantastic place to stop when looking for your next German luxury car.
6. CarBridge Auto Motors
Address: 3621 Columbia Pike Suite # 10, Arlington, VA 22204
Phone Number: (703) 888-1439
Specialty: Late Model Hyundais, Toyotas and Hondas
Website: https://www.carbridgemotors.com/
What makes CarBridge unique is their focus on late model Hyundai and Honda vehicles that come in well under $20,000. Traditionally seen as the "sweet spot" in the automotive market, these late model, well-loved vehicles are the perfect daily drivers at the right price.
CarBridge has a fantastic rating of 4.6 on Google and 4.4 on Cars.com. They offer in house financing options and are one of the preferred dealers for GWC Auto Warranties - a leading provider of automotive warranties. Overall, an awesome choice for your next daily driver!
---
NEED EXPERT HELP?
Chat with our team of experts to get help during your car search process. We'll even answer the hard questions like "What's a good price for this car?" or "How much can I negotiate with the dealership?"
---
7. Arlington Auto Sales Inc.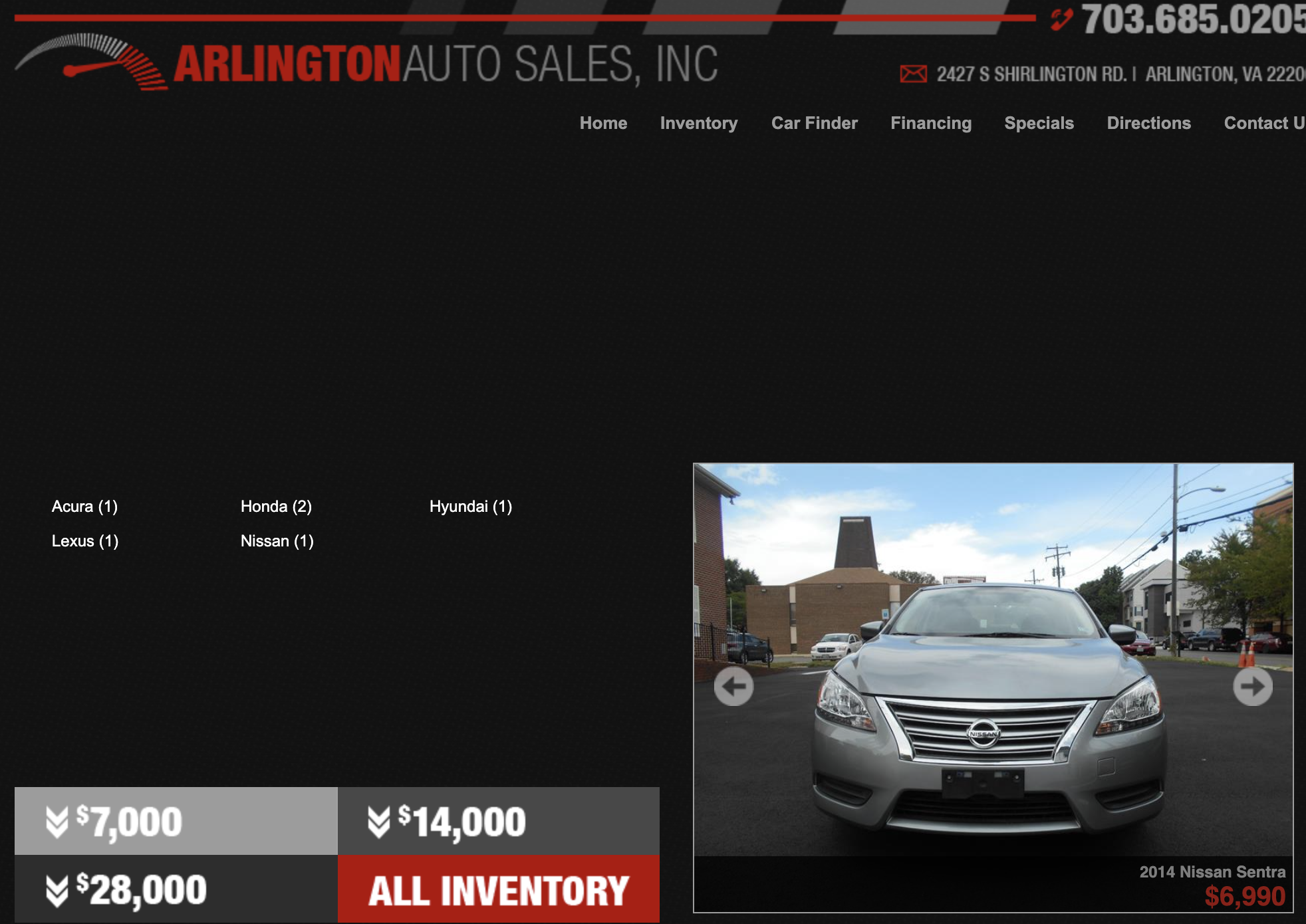 Address: 2427 Shirlington Rd, Arlington, VA 22206
Phone Number: (703) 685-0205
Specialty: Toyota, Honda, and Subaru
Website: https://www.arlingtonmotors.net
Arlington Auto Sales Inc. is another solid choice when you're looking for reputable and reliable vehicles One of their main allures is their solid selection of late-model Subaru vehicles, which are awesome for those harsh VA winters. Their in-house financing team and trusted relationships with banks allow them to help any credit situation as well.
Their 4.3 rating on Google is due to their willingness to go out of their way for their customers and their quality vehicles. They also stock a huge selection of vehicles for you to choose from.
Want to explore other avenues for finding a used car? Check out CoPilot Compare, where you can get a comparison view of new and used vehicles.