Despite Signs of a Potential Economic Slowdown, Used Car Prices Increase to Near-Record Highs
---
New vehicle inventory shortages delay recovery of the used car market, pushing the price of 1-3 year old cars in particular close to all-time highs
While used electric vehicle prices have jumped by 26% since gas prices started to increase in March, prices for gas guzzlers like used SUVs and pickup trucks have held firm
---
Chicago, IL – July 6, 2022 – Despite a number of economic headwinds, including rising inflation and fuel costs, used car prices have increased again to $33,341, just $172 below the market's all-time high in March, according to the monthly Return to Normal Index report from leading car shopping app CoPilot. As the market faces down a record supply shortage of new cars, the effects continue to trickle into the used car market, in particular inflating the prices of 1-3 year old cars that consumers are increasingly turning to as substitutes for new vehicles.
Overall, in June 2022, the Price Premium that consumers are being asked to pay for used cars increased to $10,046, or 43%, above projected normal levels. CoPilot's Return to Normal Index shows the price differential between what used cars would have been worth, if not for the COVID-19 pandemic and other unprecedented events of the past two years.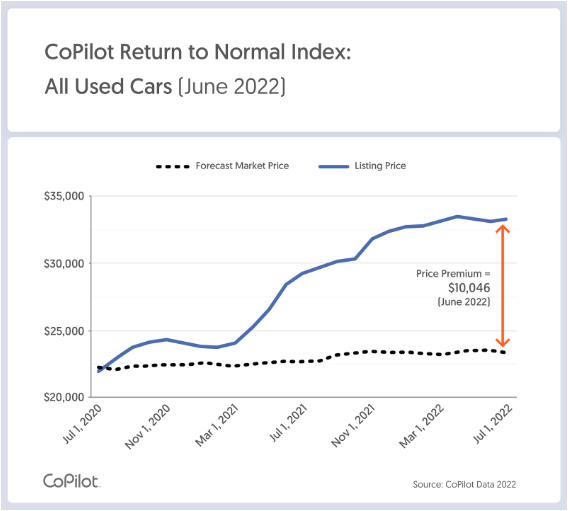 "Despite signs of a slowing economy, rising interest rates and high fuel prices, the used car market is holding firm. In fact, dealers are even raising prices to near record highs," said CoPilot CEO and Founder, Pat Ryan. "That's because, despite a year of unprecedented price increases, new car inventory remains historically low, consumer demand remains consistently strong – and dealers see an opportunity to continue their record profitability."
By vehicle age, nearly-new (1-3 year old) vehicles rose to an average listing price of $42,314 – translating to an all-time high Price Premium of $13,145, or 45%, above projected normal levels. The average price of a 4-7 year old vehicle rose slightly month-over-month, while 8-13 year old vehicles were the only ones to depreciate – and only marginally, reflecting the impact of higher monthly payments on car buyers with more modest incomes.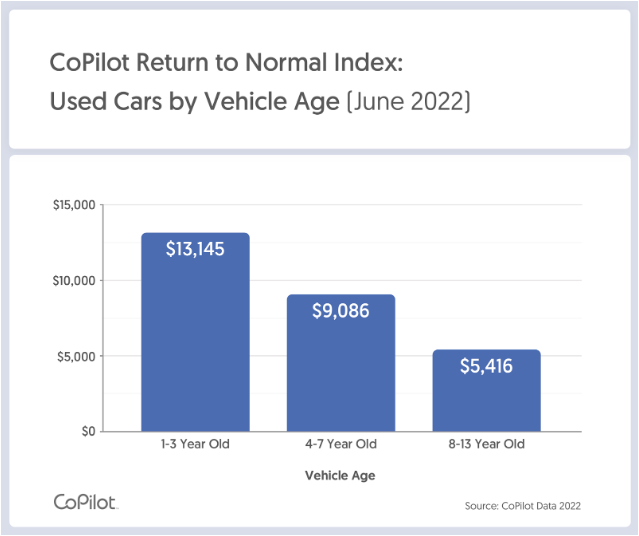 Despite record fuel prices in the wake of the war in the Ukraine, traditional "gas guzzler" types of vehicles have not seen the kind of downward price pressure that typically occurs when gas prices spike – another indication of the strong consumer demand that is continuing to bolster used car prices overall. Used pickup truck prices have actually increased by $375 since early March to an average of $41,497, while used SUV prices have decreased by only 3% ($1,334) to an average of $43,422 during the same time frame. 
Meanwhile, since fuel prices started to increase in early March, electric vehicles have seen a 26% increase in price, with average listing prices now at $66,742. These price increases have been driven by not only a spike in consumer demand, but also by limited availability of used electric vehicles, since most manufacturers have only recently started to add EV models to their new car line-ups. This trend has also played out in a similar, but less pronounced, way in the hybrid market, where prices have increased by 14%, to an average of $49,213, since early March.
"While there are some segments showing initial signs of softening, the used car market overall still has a long road back to normal," Ryan added. "Despite a number of challenges facing the overall economy, the market has not softened to the degree that might have been expected. Our advice to consumers remains: If you're in the market to buy a car, wait if you can. However, if you're a used car owner looking to sell, now is the time. These record high prices will not last forever."
---
About CoPilot
CoPilot is a leading, data-driven car buying app that provides consumers with an expert partner for the high-consideration purchase process starting with car buying and ownership. The platform combines powerful data backed by human expertise to introduce transparency to the shopping, purchasing and ownership journey. The mobile application takes the time, frustration, and guesswork out of the process, empowering people to easily navigate the risks of shopping for high-value items, and to buy with confidence at the right price and the right time.
CoPilot provides free pricing tools for consumers. Price Pulse makes it easy for car shoppers to check the current market value and Price Premium for any car, track price changes, and compare years and models to choose the right car and know when to buy. For car owners and sellers, Price Pulse calculates the real-time value of their car, using the same data only dealers used to have, allowing consumers to track how much their vehicle has appreciated, so they can decide whether and when to sell, or negotiate the best deal at trade-in or lease-end. For media publishers, CoPilot offers embeddable data tools, allowing journalists and bloggers to integrate interactive charts within their web content, apps, or newsletters, powered by CoPilot's unique data and analytics.
---
Media Contact:
Kerry Close
732-609-2644