After More Than a Year of Unprecedented Price Inflation, Used Car Market Beginning Its Road Back to Normal
---
With consumers tired of paying record-high premiums for used cars, new CoPilot index tracks the road back to normal prices
---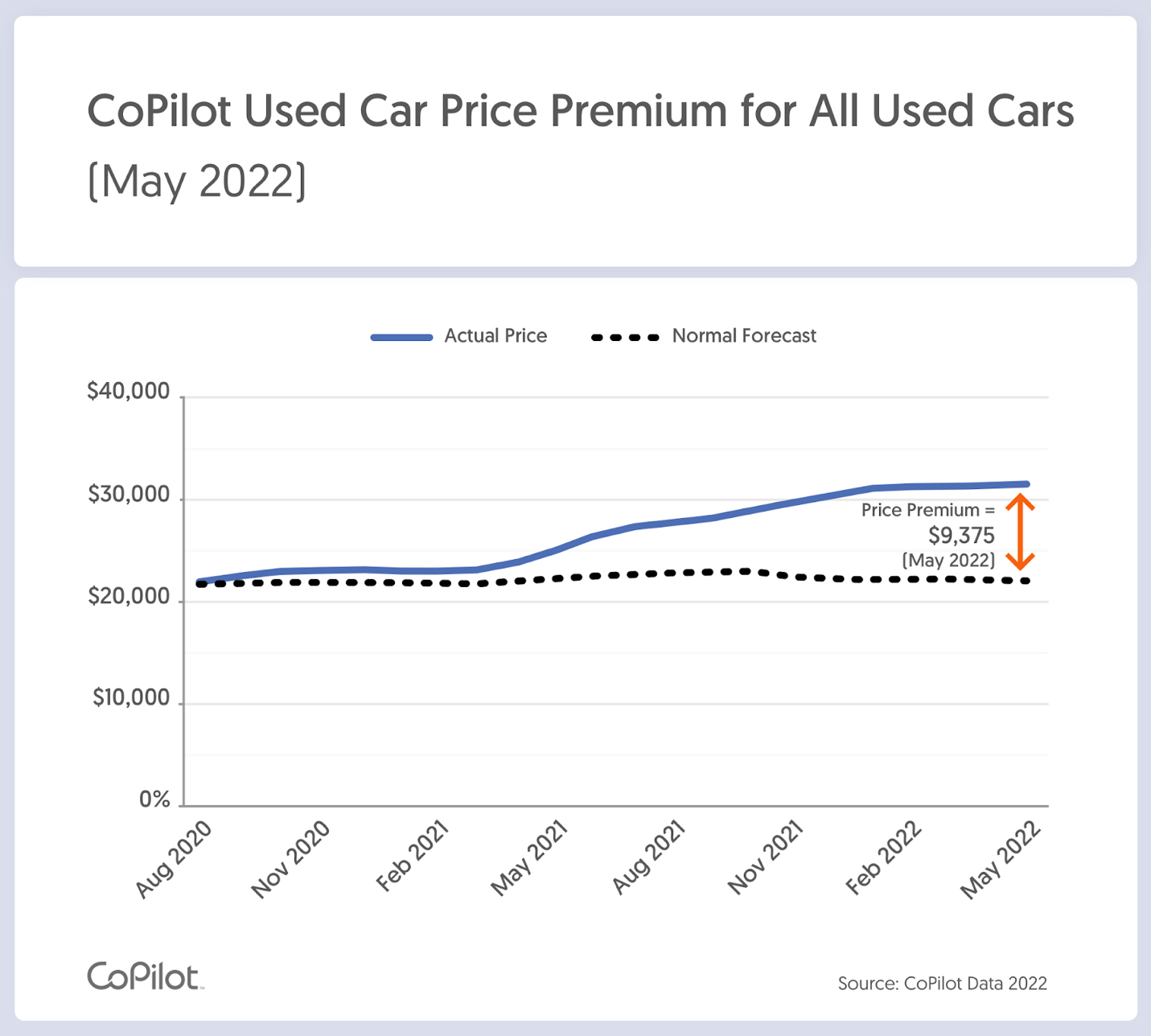 Chicago, IL – June 6, 2022 – While used car prices showed modest declines in early 2022, overall prices remain near all-time highs, at an average of $31,450, according to a new monthly report from CoPilot, the leading car shopping app. CoPilot market analysis further reveals that used vehicle prices are likely to accelerate their decline in the coming months, with the greatest pressure on the more recent year models that consumers have been turning to as a substitute for new cars in the wake of record inventory shortages.
In order to offer a real-time metric to track price inflation in used cars, CoPilot has created the first-of-its-kind Used Car Price Premium Index. This Index tracks the "return to normal," showing the differential between what any individual used car would have been worth today if not for the extraordinary dynamics of the past two years and the resulting unprecedented inflation in car prices, which have historically only depreciated.
CoPilot has also launched Price Pulse, a free tool for car shoppers. Price Pulse allows consumers to check current prices and the Price Premium on any car; this helps them confidently choose the right car, and know when is the right time to buy.
As of May 2022, CoPilot's Index shows that average used car prices are $9,375, or 42.5%, above their projected normal levels. The Index also reveals which brands and types of vehicles have the highest price premiums and which are furthest along the road back to normal prices.
While the May 2022 Used Car Price Premium level is higher than at any time in the past, CoPilot's data also reveals significant downward price pressure building in the market for recent model year used vehicles. While the Price Premium for 1-3 year old vehicles reached an all-time high of $11,765, the average time that these vehicles have spent on dealer lots has jumped by 47% over the past year. This glut of aging inventory is building pressure on dealers to start dropping prices more aggressively. When combined with increasing payment levels due to higher interest rates, price declines among more recent used car models are likely to accelerate significantly in the coming months.
"CoPilot created the Used Car Price Premium Index as the first consumer-centric measure of inflation in the used car market. No one wants to be one of the last people to dramatically overpay for anything, whether it's a car, a house, or a stock," said Pat Ryan, CEO and Founder of CoPilot.
"While the current market remains one of the most challenging in history for consumers, our Index shows that, in particular, 1-3 year old and 4-7 year old vehicles are starting the long road back to normal. Consumers are tired of paying new car prices for used cars. At the beginning of 2022, consumers were paying 98% of the original sticker price for 1-3 year old cars; historically these vehicles sold for 71% of the original sticker price. Our Used Car Price Premium Index is the first metric to show where prices are versus normal times, not just last month or last year. And our free Price Pulse tool for consumers uses that data to help car shoppers decide what and when to buy."
One part of the Index is likely to lag behind the rest of the market in the return to normal: older used car models. Inflated prices of more recent used car models continue to push more consumers into the market for older vehicles, resulting in record high prices for 8-13 year old cars. Given the heightened demand for vehicles at these price points, the Price Premium for older used cars (8-13 years old) have reached their all-time high, at $6,027, and prices for these vehicles are not expected to return to normal levels as quickly as newer models.
"CoPilot's Used Car Price Premium Index is the only index in the market that provides consumers with a retail-based metric of where they would expect prices to be in a normal economy, rather than a month-over-month comparison," Ryan added. "While there are some promising signs that we may soon see a softening in the used car market, consumers are still paying record-high price premiums for many of the most popular brands and segments. As CoPilot reports this data on a monthly basis, we aim to serve as a resource for consumers navigating an unprecedented set of conditions in the car market."
---
About CoPilot
CoPilot is a leading, data-driven car buying app that provides consumers with an expert partner for the high-consideration purchase process starting with car buying and ownership. The platform combines powerful data backed by human expertise to introduce transparency to the shopping, purchasing and ownership journey. The mobile application takes the time, frustration, and guesswork out of the process, empowering people to easily navigate the risks of shopping for high-value items, and to buy with confidence at the right price and the right time.
CoPilot provides free pricing tools for consumers. Price Pulse makes it easy for car shoppers to check the current market value and Price Premium for any car, track price changes, and compare years and models to choose the right car and know when to buy. For car owners and sellers, Price Pulse calculates the real-time value of their car, using the same data only dealers used to have, allowing consumers to track how much their vehicle has appreciated, so they can decide whether and when to sell, or negotiate the best deal at trade-in or lease-end. For media publishers, CoPilot offers embeddable data tools, allowing journalists and bloggers to integrate interactive charts within their web content, apps, or newsletters, powered by CoPilot's unique data and analytics.
---
Media Contact:
Kerry Close
kclose@groupgordon.com
732-609-2644