Jaguar vs. Mercedes: A Complete Brand Comparison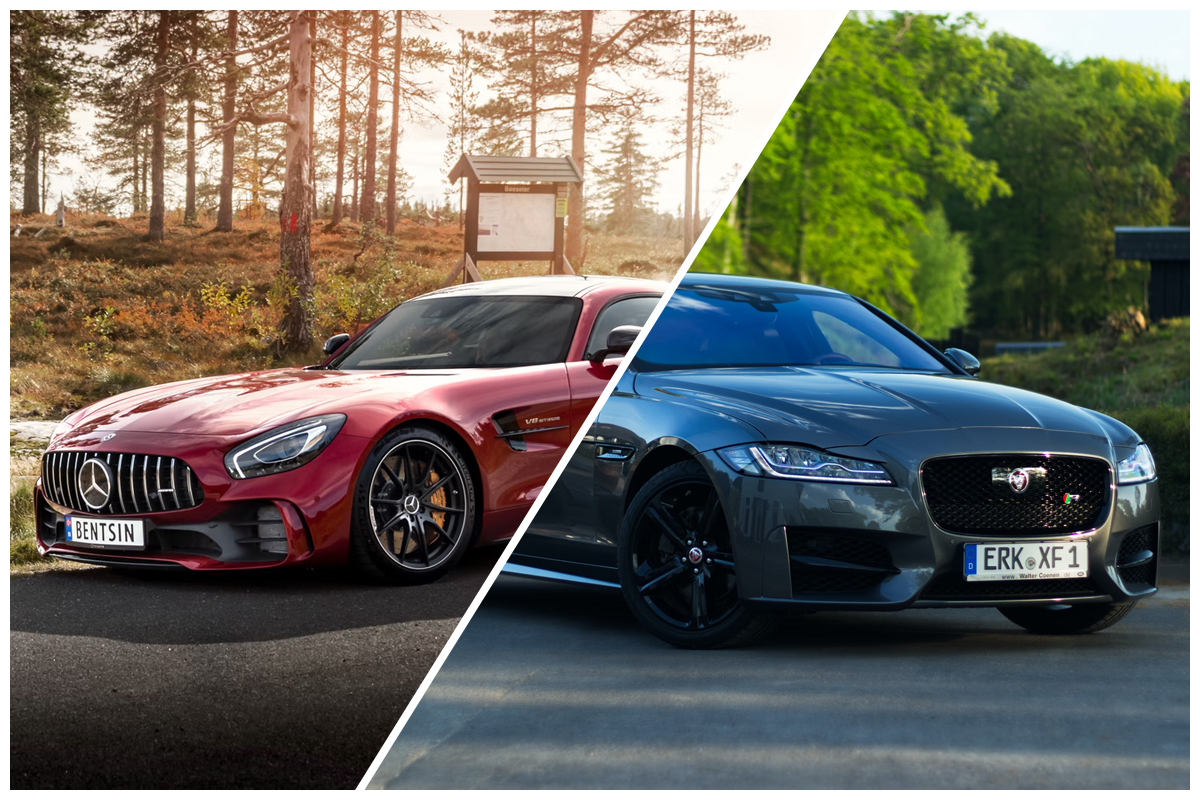 Jaguar and Mercedes: two very different brands from very different backgrounds, but with a similar goal. Both brands are very well respected, prestigious, and luxurious, and yet they offer completely different vehicles. Both brands are also sporty and performance-oriented, so In the debate of Jaguar vs. Mercedes, are you choosing British elegance or German engineering? Let's take a look at how they came to be before comparing the brands.
The History of Jaguar and Mercedes
Unless an automotive brand has a rich heritage and a history of inventions that helped shape the automotive industry into what it is today, it usually won't be respected, even if they have a lineup full of excellent vehicles. So, when comparing Jaguar vs. Mercedes, which one commands more respect?
---
BE CERTAIN YOU'RE GETTING THE BEST DEAL
CoPilot searches your area and lets you know if there's a better deal on a similar vehicle nearby, so you're always certain you got the best deal possible. The CoPilot app is the smartest way to buy a car. 
---
The History of Mercedes
How can you beat a brand that invented the first automobile ever and created an industry that is so essential to the world today? 
It was Karl Benz, with financial help from his wife Bertha, who patented the first-ever internal combustion engine vehicle in 1886. The Benz Patent-Motorwagen was then a few years later marketed by Daimler-Motoren-Gesellschaft (DMG), but the population deemed Karl's invention to be dangerous, and some even resorted to calling it evil. Karl Benz then asked for government permission to drive his invention, which he was granted, making him the first owner of a driver's license.
However, Emil Jellinek, a promoter from DMG, wasn't concerned about the approval of the population. He registered the trademark Mercedes Benz after his daughter Mercedes Jellinek, and he promoted Mercedes to the people of the highest status. That was partially because they were the only ones able to afford a vehicle, but it's one of the reasons why Mercedes became a high-performance luxury car brand.
Karl Benz and Gottlieb Daimler merged the two companies into Daimler-Benz in 1926, and with that, created the first Mercedes Benz name-branded automobile. Daimler-Benz saw success, but unfortunately, they had to focus on helping out with world war II, and they essentially completely abandoned cars. 
After the war, Daimler-Benz brought the focus back onto automobiles and even expanded to America in 1958. The merger slowly started falling apart as more and more dealerships became Mercedes Benz dealerships instead of Daimler-Benz, and the standalone brand Mercedes Benz never looked back.
There are so many more incredible stories and unbelievable inventions in Mercedes Benz's history, and if you'd like to learn more about them, here's a documentary about the history of Mercedes Benz.
---
THE BEST CARS FOR COLLEGE STUDENTS
Whether you're squeezing into a tight campus parking spot or hauling ten loads of laundry back home, these best cars for college students will get you, your friends, and your stuff where you're going.
---
The History of Jaguar
Unlike Mercedes, Jaguar wasn't always a car company. The business was named Swallow Sidecar Company in 1922, and its goal was making motorcycle sidecars. An extension of the brand named S. S. Cars Limited, in association with Standard Motor Company, started making Jaguar vehicles until 1945, when the S. S. Cars brand was officially renamed Jaguar Cars. Eventually, Jaguar Cars merged with British Motor Corporation in 1966, and then further merged with Leyland Motor Corporation, becoming British Leyland in 1968.
Jaguar itself spun off from the big merger in 1984, until it was acquired by Ford in 1990. Ten years later, Ford also bought Land Rover and sold both to Tata Motors in 2008. Tata Motors merged the two into Jaguar Land Rover Limited later on in 2013, and that merger still stands today.
Over the years, Jaguar created and manufactured some iconic cars that are now highly sought-after classics because of their beautiful design and power. Some examples are the 12-cylinder Jaguar XJ-S, the Jaguar XKSS, and most notably, the Jaguar E-Type.
Mercedes definitely has a simpler and fuller history, but Jaguar did create some seriously iconic designs. Here's a video where you can learn more about the history of the Jaguar brand.
---
HOW OFTEN SHOULD YOU REPLACE YOUR BRAKES?
Unless you're a mechanic or super-dedicated car enthusiast, you might not know much about the brakes on your car. How long do they typically last?​ How often should you replace your brakes​? We've got answers
---
Jaguar vs. Mercedes: Performance and Luxury
There's no denying the prestige that comes with either a Jaguar or a Mercedes, but what feels better to drive when comparing Jaguar vs. Mercedes vehicles?
Jaguar has an engine for everyone. There's really a lot to choose from. However, the same can be said of Mercedes. Jaguar aims to create smooth and quiet engines targeted more at everyday drivers and those who want luxury, and while Mercedes can still offer the same, you have the option to go with a 5.4-liter twin-turbo V8 for example. 
Comparing Jaguar brand engines against Mercedes brand engines is very difficult. Both companies can offer everything, and if there's a slight difference, it's that Jaguar offers smoother and quieter engines while Mercedes offers more power and performance.
The bottom line is Mercedes offers better performance, and Jaguar offers more luxury.
Jaguar vs. Mercedes: Styling and Design
Comparing Mercedes vs. Jaguar, who's got better styling and design?
Mercedes offers a classy design that's widely recognized; however, it can blend into the crowd exactly because it's widely recognized. Jaguar, on the other hand, also has a classy style, but you won't see its designs every day.
What we particularly love about Jaguar is how well they draw from their classic vehicles while integrating new and modern features. Every Jaguar has something new and unique to offer, while various Mercedes models look similar.
The interior design of the two is almost flipped. Jaguar's exterior draws from the classics and adds a modern touch—its interior is timid and subtle. Mercedes interiors look very classy but high-end at the same time.
This really comes down to personal preference, but whichever you choose, there'll be an abundance of amazing luxury features waiting for you.
Jaguar vs. Mercedes: The Final Verdict
It's really hard to argue that either of these two greats is "better" than the other. Both the Jaguar brand and the Mercedes brand have rich histories full of beautiful classics, and the automotive world wouldn't be the same without them. 
We don't believe that either one is better—it simply comes down to which one you prefer: Jaguar's subtlety, mystery, and power, or Mercedes Benz's undeniable status? Jaguar's comfort and luxury, or Mercedes' performance? You can't go wrong either way!
---
---
Get a Curated List of the Best Used Cars Near You
The CoPilot car shopping app is the easiest way to buy a car. Tell us what you're looking for and we'll search the inventories of every dealership in your area to make you a personalized list of the best car listings in your area.
Only looking for newer models? CoPilot Compare is the search engine for nearly-new cars. Only see cars five years or newer with low mileage — CoPilot Compare is the best way to find off-lease, early trade-in, and CPO cars.
The best part? CoPilot is built using the same technology that dealerships use to buy and sell their inventories, so we have more info on each vehicle than competitors. CoPilot doesn't work with dealerships, so there are no sponsored posts or other shady practices — just the most info on the best cars. Check out our About Us page to see how CoPilot works.