2012 Ford Focus Problems: What to Look For If Buying Used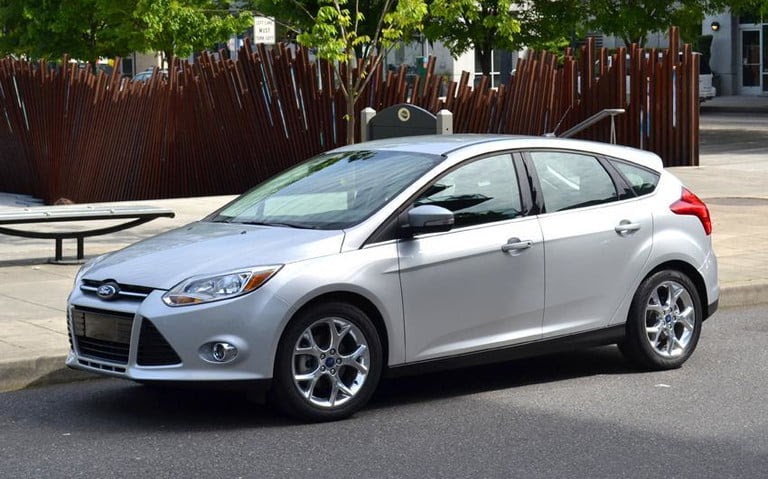 While the Ford Focus is a popular commuter model, the 2012 Ford Focus is notoriously unreliable and subject to multiple recalls. Here's what you need to know if you're thinking about buying one.
The 3 Most Common Problems Reported By 2012 Ford Focus Owners
If you're buying a used 2012 Ford Focus, here are the biggest problems to look out for:
The most common problems with the 2012 Ford Focus:
Transmission problems. The transmission is the most common problem with used 2012 Ford Focus models, with owners reporting shuddering and jerking when changing gears. The good news? Ford will fix it for free.
Power steering failure. The 2012 Focus is prone to losing power steering during operation, which can be dangerous. Due to recalls, Ford will also fix this for free.
Interior problems. A faulty wiring harness can lead to interior electrical components, such as lights and power windows failing. The average cost to fix is around $1000.
Should You Buy A Used 2012 Ford Focus?
No. The 2012 Ford Focus was the least reliable year model of Focus released, with a considerable number of customers complaining of transmission, power steering, and various other reliability issues.
We recommend against buying 2012, 2013, or 2014 Ford Focus models due to the high number of owner complaints during these years. Stick to 2015 models and newer - you'll get a much better value.
To compare 2015-2020 Ford Focus models against one another, check out CoPilot Compare.
---
NEED EXPERT HELP?
Chat with our team of experts to get help during your car search process. We'll even answer the hard questions like "What's a good price for this car?" or "How much can I negotiate with the dealership?"
---
2012 Ford Focus: Transmission Problems
The most common problem with the 2012 Ford Fusion is transmission issues/failure.
Transmission issues make up almost half of the complaints about this model, with many owners reporting shuddering, vibration, and shifting problems.
Cost to fix: Free
The average cost to fix a 2012 Ford Fusion transmission is around $1500 - $1800 if you go to a mechanic.
However, Ford will fix your transmission for free due to a class-action lawsuit and recall. U.S. Ford dealerships have been instructed to provide free transmission repairs to any Ford Focus and Fiesta owners, even if they are out of warranty.
---
ARE YOU ABOUT TO BUY A RECALLED VEHICLE?
Factory recalls are issued when a vehicle fails to meet safety or quality standards. If you're shopping for a used car, see if any factory recalls have been issued before buying.
---
Power Steering Problems
Perhaps more alarming than transmission problems is the tendency for the power steering on 2012 Ford Focuses to fail while in operation, leaving the driver unable to steer properly.
The NHTSA has attributed 20 crashes and 22 injuries to power steering failure in the 2012 Ford Focus, with the failure most commonly happening at about 90,000 miles.
Cost to fix: Free
Ford has also issued a recall for the 2012 Ford Fusion power steering assist system and will replace the steering gear free of charge and update the PSCM software to help prevent power steering failure.
Interior & Wiring Harness Problems
Due to a faulty interior wiring harness seal, dust and other contaminants can get into sensitive electronics.
This leads to the failure of electrical components in the passenger compartment, such as lights, displays, power windows, and more.
Cost to fix: Varies, up to $1500
Replacing the wiring harness of a car is no easy job since it connects virtually every component of the vehicle to the central computer.
Depending on the nature of the problem, your mechanic can charge you anywhere from $100 for a minor wiring patch to $1500 for a full wiring harness replacement.
Make sure to check all electrical components of the car before deciding to purchase. If multiple electrical components fail to work, it might indicate a larger electrical problem.
---
DOWNLOAD THE APP
The CoPilot app is the smartest way to buy a car. Search all listings in your area, get notified about deals, new listings, and price drops, or chat with one of our copilots for some hands-on advice.
---
2012 Ford Focus Reliability Ratings
Was the 2012 Ford Focus ever considered a reliable vehicle? Unfortunately, the 2012 model year is one of the most problematic Focus iterations, and many experts agree.
According to CarComplaints.com, the 2012 Focus has a whopping 5,000+ NHTSA complaints and seven recalls. Among the thousands of complaints, the 2012 Ford Focus's most reported sore spots are power steering failure, shifting issues, and shuddering and vibrations during takeoff. One of the complaints read:
Got the car - it had 58000 miles on it when I bought it. Now at 83000 miles, the steering assist lights up and it is hard to steer. I am disabled - it should be covered but it is not. I don't have much money to fix it and I am getting real upset - they all want an ATM and a leg to fix the problem.
In addition, the New York Times even wrote an article that highlighted the 2012 Focus' power steering issues.
Overall, the 2012 Focus has fair reliability ratings, but it has way too many reliability woes, including the major power steering and transmission issues. It's simply not a good Focus year, especially if you're buying used.
The 2012 Ford Focus: The Worst Year Model of Focus You Can Buy
The Lemon Law has been entirely instrumental in making Ford accept its faults. The company blamed mismanagement for being the main reason behind the inadequacies of Ford Focus 2012.
Since then, many of the most significant components of the 2012 Ford Focus, such as the transmission and steering assist assembly, have been factory recalled.
While repairing the most common issues with the 2012 Ford Focus is relatively cheap, reliability is a major concern.
We recommend choosing a Focus from 2015 or newer, as they're much more reliable than earlier models. Search the best deals on lightly-used Ford Focuses near you with CoPilot, the easiest way to choose the suitable year model of used car.