Here Are The Mazda Miata Years To Avoid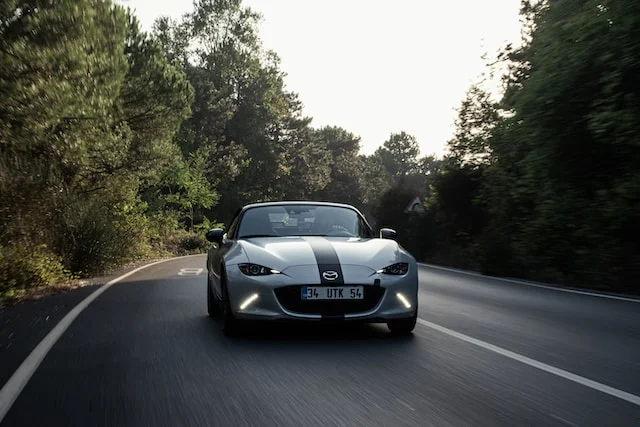 Photo by Batu Gezer on Unsplash
For more than 30 years, the Mazda MX-5 Miata has offered sporty, drop-top driving with few alternatives in the U.S. First appearing in 1990, the Miata cleverly captured the looks of British roadsters from past decades but embraced more reliable Japanese mechanicals. Over the years, Miatas have developed a solid reputation for reliability and easy repairs. Yet, not every model is perfect, so it's vital to understand what are the Mazda Miata years to avoid.
We'll take a generation-by-generation look at the Miata, review the major features for each version, and highlight problem years and substantial repair issues (according to carcomplaints.com). 
---
THE MOST RELIABLE YEAR FOR THE MAZDA MIATA
Originally introduced in 1989, this car is available in a variety of model years and is highly sought after by roadster fans. If you're looking for the most reliable Mazda Miata year, you've come to the right place.
---
First Generation (1990-1998): Mazda Miata Years To Avoid
The Miata was an instant hit when it reached the U.S. for the 1990 model year; according to carsalesbases.com, the company sold almost 36,000 examples to Americans. It's easy to spot Miatas from the early years as these are the only versions with pop-up headlights. 
The 1.6-liter four-cylinder engine with 116 horsepower isn't particularly gutsy, but the car's overall lightweight characteristics and sharp handling still offer opportunities for spirited driving. And cruising with the top down adds to the experience. In 1994, the Miata was upgraded with a 1.8-liter engine making 128 horsepower. 
A review of online complaints shows only a few reports of issues with the first-generation Miata, which was built through 1998. It's unknown if the lack of complaints is due to superb build quality or if the cars are just too old to be included in more recent consumer feedback.
The handful of complaints ranges from climate control and electric system issues for the 1990 Miata to windshield problems with the 1997 model. But, these are individual reports, not patterns of cases.
Given the lack of information, it's difficult to advise what Mazda Miata years to avoid when it comes to the first generation. In general, it's wise to stay away from the debut year of a new car. So, we suggest skipping the 1990 Miata for this reason. 
In addition, a mechanic should carefully inspect other first-generation examples before making a purchase. Regardless of condition and repair history, these vehicles are 25 to 30 years old, which means components can fail solely due to age.
---
GET THE SAME INSIDER INFO THAT DEALERSHIPS USE
The CoPilot app is the smartest way to buy a car. Built using the same technology that dealerships use, we'll show you everything you want to know about each listing - like how long it's been on the lot, or if there are similar vehicles at a better price nearby. 
---
Second-Generation (1999-2005): Mazda Miata Years To Avoid
Mazda introduced a second-generation Miata for the 1999 model with specifications similar to its predecessor. The retractable headlights are dropped in favor of flush units that are more in keeping with pedestrian safety concerns.  A slightly more sculpted and less bulbous body helps welcome the Miata into the 21st century, and along with the reworked exterior is a refined cabin that reinforces the car as a more affordable alternative to the BMW Z3, Mercedes-Benz SLK, and Porsche Boxster. The Miata's 1.8-liter engine is a carryover, but it gets a boost to 142 horsepower in 2001.
Here's a fun fact. In 2000, the Miata was awarded a Guinness World Record for becoming the best-selling two-door sports car in history.
Like the early generation, there are few owner reports of problems with 1999-2005 Miatas. An examination of information from carcomplaints.com shows occasional engine issues, but these are single reports across multiple model years. A pair of electrical-related cases also come up, but these aren't from the same year. Therefore, it's impossible to isolate any single second-generation model year as one to stay away from. 
As always should be done when buying a used car, have a thorough pre-purchase inspection done on any 1999-2005 Miata you're considering.
Third-Generation (2006-2015): Mazda Miata Years To Avoid
Not wanting to change a successful formula, Mazda makes evolutionary changes when launching the third-generation Miata for the 2006 model year. Exterior updates are modest, with headlights that are further recessed into the body and a front end that is slightly more upright. 
On the surface, changes appear minor, but the car is mostly all-new underneath, along with a 2.0-liter four-cylinder engine with 170 horsepower. Mazda even produced a variant with a power-folding hardtop.
But, there's a price for progress, or at least better reporting from Miata owners. The third generation shows a marked increase in owner complaints. These aren't off-the-charts numbers but a reason to approach buying select Miata model years with caution. Or outright avoid specific models. 
A couple of paint quality issues came up for 2006. And while this isn't a mechanical problem, poor finishes can lead to rust. Paint troubles continue the following year, and electrical gremlins also appear. Regarding complaints, 2008 is a repeat of 2007 with particular problems arising with unintentional battery discharge. 
Issues beyond this point (for the third generation) drop off without a pattern of problems. But, given the red flag about the battery draining, we suggest passing on the 2008 Mazda Miata.
---
THE BEST USED SUVS UNDER $10,000
We looked into price, reliability, features, and more to create this list of the best used SUVs under $10k on the market today. Take a look - some of the best used SUVs have gone mostly overlooked or forgotten. 
---
Fourth-Generation (2016-Present): Mazda Miata Years To Avoid
With a highly sculpted body and modern slit-style headlights, the Miata gets a thorough workover for the fourth (and current) generation. Mazda continues to offer the car as a convertible or retractable hardtop. The 2.0-liter engine carries over but gets retuned to 155 horsepower—a 2019 update pushes output to 181 horsepower. The cabin received modest updates the same year, including a telescopic steering column and some refreshed controls. 
But despite being the newest Miata, the fourth generation has at least one model year to avoid. As we've mentioned, it's best to avoid the first year of a new car. Unfortunately, there's no exception with the 2016 edition; carcomplaints.com reports it's the Miata with the greatest negative feedback. Drilling down further into this, we see various issues ranging from interior accessory and windshield problems to troubles with the suspension. There are notes about bad exterior accessories, too. Be sure to scratch off the 2016 Miata from your shopping list.
---
THE BEST USED LUXURY CARS ON THE MARKET
Buying a used or CPO luxury car is one of the smartest buys you can make - you can get a lot of car for not much money. You can pick up a three-year-old luxury car for about half of what you'd pay new. Check out this list of the best used luxury cars on the market to find the best deals. 
---
Owner complaints about newer Miatas are limited to a few issues involving paint problems and isolated reports of windshield and interior accessories troubles. So, we suggest looking for a 2017 or newer example if you're searching for a used fourth-generation Miata. The car may still be under the manufacturer's warranty, depending on the year and mileage.
---
---
Get a Curated List of the Best Used Cars Near You
The CoPilot car shopping app is the easiest way to buy a car. Tell us what you're looking for and we'll search the inventories of every dealership in your area to make you a personalized list of the best car listings in your area.
Only looking for newer models? CoPilot Compare is the search engine for nearly-new cars. Only see cars five years or newer with low mileage — CoPilot Compare is the best way to find off-lease, early trade-in, and CPO cars.
The best part? CoPilot is built using the same technology that dealerships use to buy and sell their inventories, so we have more info on each vehicle than competitors. CoPilot doesn't work with dealerships, so there are no sponsored posts or other shady practices — just the most info on the best cars. Check out our About Us page to see how CoPilot works.