The 10 Fastest Cars Under $50K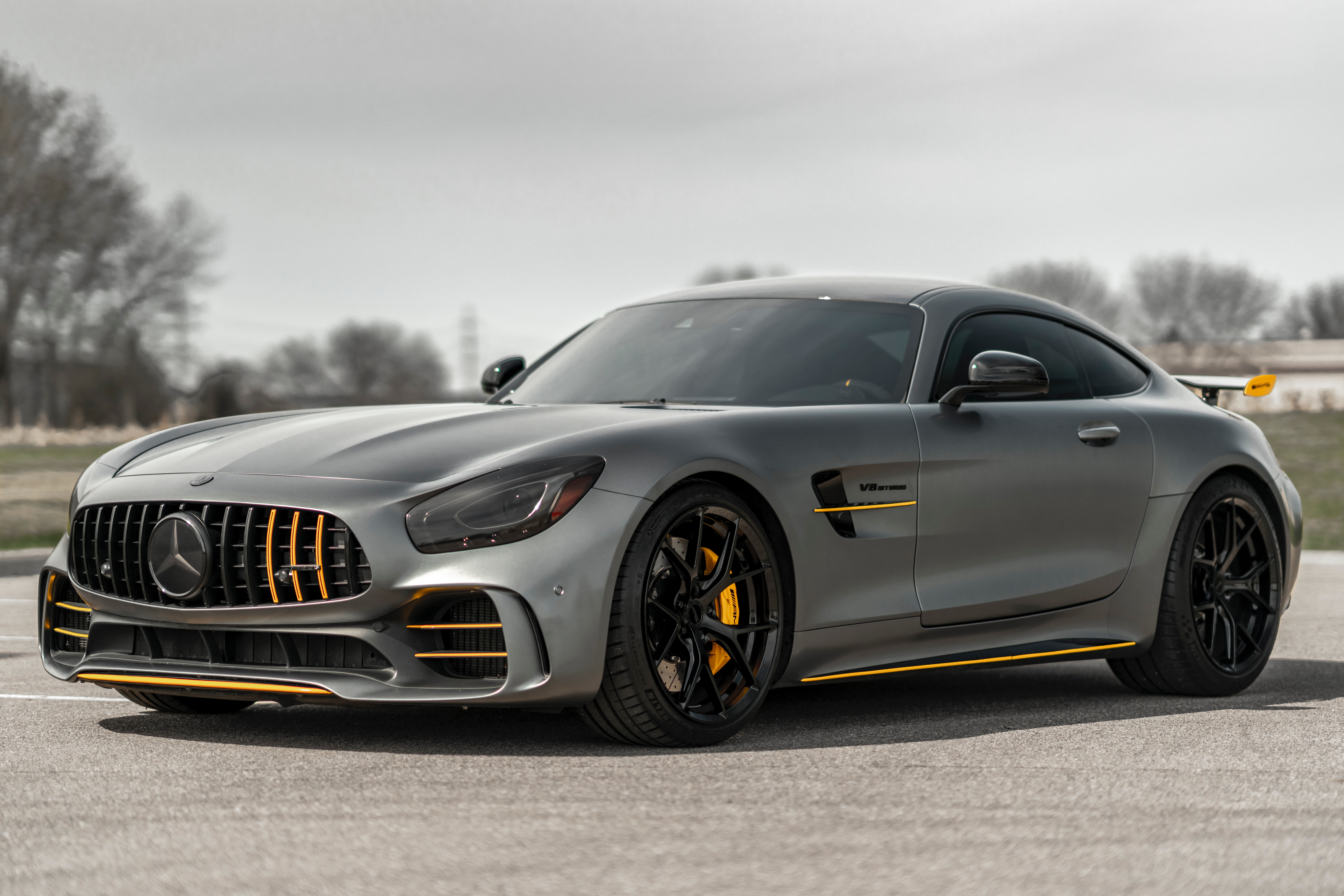 Photo by Aaron Huber on Unsplash
In reality, while car manufacturers are prioritizing fuel efficiency over performance nowadays, cars are actually getting faster (and based on this list) and cheaper. Decades, getting behind the wheel of a high-performance vehicle means shelling out exorbitant sums of cash.
If you're looking for a high-performance car with a budget limit of $50k, you're in luck.
We've rounded up some of the fastest cars under $50k. Although these cars have strong engines, they also have performance-ready components and can be considered as true "driver's cars." Let's get to it.
The Fastest Cars Under $50K
These are some of the fastest cars you can buy for $50k, in no particular order.
1. Mercedes-AMG CLA 35 ($47,900)
The Mercedes-AMG CLA 35 has set relatively high standards for the subcompact performance segment. Under the hood of the CLA 35, you'll find a transverse-mounted four-cylinder engine with a 2.0-liter displacement. However, with turbocharging, the CLA 35 gives an output of 302 hp and 295 lb-ft of torque.
Thanks to its quick-shifting DCT gearboxes, the CLA 35 achieves 0-60 in an impressive 4.8 seconds and a top speed of 155 mph - rightfully earning its spot on this list.
---
GET THE SAME INSIDER INFO THAT DEALERSHIPS USE
The CoPilot app is the smartest way to buy a car. Built using the same technology that dealerships use, we'll show you everything you want to know about each listing - like how long it's been on the lot, or if there are similar vehicles at a better price nearby. 
---
2. Subaru WRX STI ($38,170)
Many of you are probably surprised that the Subaru WRX STI has made this list of the fastest cars under $50k. However, those who recall Subaru's decades of top-level rally competition experience are hardly surprised. The WRX STI is more than a worthy inclusion with a performance offering of 310 hp and 290 ft-lb of torque.
The WRX STI houses a turbocharged 2.0L boxer four-cylinder engine, enabling it to sprint to 0-60 mph in 4.6 seconds and reach a top speed of 155 mph. Furthermore, the car is also equipped with various track-oriented gear such as lightweight alloy wheels, performance calipers, super-stiff suspensions, and more.
3. Toyota GR Supra 2.0 ($44,215)
The Toyota GR Supra is a legendary Japanese sports car that needs no introduction. The Toyota GR Supra 2.0 is available with a turbocharged and intercooled DOHC 16-valve inline-4 engine paired with an eight-speed automatic transmission, which fits our $50k budget. This setup gives an impressive 255 hp and 295 lb-ft of torque but still manages to be one of the lightest cars on this list.
According to Car and Driver, the Supra has punchy acceleration at 0-60 in 4.7 seconds and a top speed of 155 mph. For less than $45k, you get an iconic 2-seater sports car that will make good use of your speedometer.
4. Audi S4 ($49,900)
As far as the fastest cars under $50k go, the Audi S4 will stretch your budget to its literal limits. But of course, in return, you get a prestigious and palatial luxury sedan. Equipped with a 3.0 L V6 engine, the Audi S4 can deliver 349 hp and 369 lb-ft of torque, making it one of the most potent vehicles.
The S4's acceleration clocks in at 0-60 in 4.3 seconds with a top speed of 155 mph. The S4 also packs an aluminum alloy block, a cylinder head, and a 24 unit double overhead cam valve train. It's probably the most expensive car on this list, but the immense oomph that the S4 offers is more than worth it.
5. BMW M240i xDrive ($48,550)
Whether it's for daily commutes or track day duties, the BMW M240i xDrive manages to bring the best of both worlds. Equipped with a 3.0-liter TwinPower Turbo inline 6-cylinder engine, the M240i xDrive delivers a jaw-dropping 382 hp and 369 lb-ft of torque. The top speed is 155 mph and covers 0-60 mph in 4.1 seconds.
Additionally, the xDrive AWD system keeps everything stable and in control, while the limited-slip differential provides an impressive grip for high-speed cornering. The BMW M240i xDrive review 2022 is shaping up to be a future classic.
6. Kia Stinger GT ($36,090)
For this roundup of the fastest cars under $50k, the Kia Stinger GT is certainly not the best performer. However, for the performance, features, and value proposition it offers, it's hard to overlook the Stinger GT as a high-performance option.
The Stinger GT is powered by a turbocharged 3.3-liter V6 engine, doling out 368 hp and 376 lb-ft of torque. With a top speed of 130 mph and an acceleration of 0 to 60 mph in 4.7 seconds, the Stinger GT is no slouch. But of course, the charm is the affordable sticker price behind its excellent performance.
7. Dodge Challenger R/T Scat Pack ($41,775)
The Dodge Challenger R/T Scat Pack is the go-to option for muscle car fans. This American muscle car icon comes equipped with a 6.4-liter Hemi V8 engine capable of 485 hp and 475 lb-ft of torque.
The Challenger can achieve a 174 mph top speed and a 0-60 mph acceleration in 4.7 seconds. There are numerous compromises to get this performance, but that shouldn't concern you if you only care about pure straight-line speed.
---
THE BEST SEDANS WITH HIGH GROUND CLEARANCE
There are plenty of vehicles on the market that let you tower over obstacles without losing the convenience of a compact car. Therefore, we've put together a list of our favorite new ​sedans with high ground clearance​.
---
8. Volkswagen Golf R ($44,445)
The Volkswagen Golf R is poised to dethrone the hottest hatchbacks in the market that rose to fame during its absence. Powered by a 2.0 L 4-cylinder engine, the Golf R provides a respectable 315 hp @ 5,600 rpm. Its top speed is 155 mph and sprints at 0-62 mph in 4.7 seconds.
However, the main draw of the Volkswagen Golf R is its unparalleled practicality. It has 4-wheel drive, excellent gas mileage, generous interior space, and more. The Golf R hatchback is undoubtedly a perennial all-rounder.
9. Chevrolet Camaro 2SS ($42,500)
Making a list of the fastest cars under $50k without the Chevy Camaro is impossible. The Camaro 2SS comes with a powerhouse of an engine, the 6.2 L V8 capable of 455 hp and 455 lb-ft of torque. Moreover, it offers one of the highest top speeds on this list with 165 mph, and flies at 0-60 mph in 4.1 seconds.
The Chevrolet Camaro embodies the fun in driving. This domestic classic offers a furious and downright intoxicating ride - you can't go wrong.
---
HOW MANY SPARK PLUGS DOES A DIESEL ENGINE HAVE?
The answer to this question isn't as  simple as you'd expect. Let's look explore the difference between gas and diesel engines and explore just how many spark plugs a diesel engine actually has.
---
10. Tesla Model 3 ($44,990)
With a $50k budget, you'll have access to a Tesla, albeit the lowest model - the Tesla Model 3. As the only electric vehicle on this list, the Model 3 comes in a dual electric motor configuration with a combined power of 470 hp.
According to Tesla, the Model 3 has a top speed of 162 mph and an energetic acceleration at 0-60 in 5.8 sec. The base model may have a slower acceleration than its gas counterparts on this list, it's still the fastest compared to other EVs in this segment.
---
---
Get a Curated List of the Best Used Cars Near You
The CoPilot car shopping app is the easiest way to buy a car. Tell us what you're looking for and we'll search the inventories of every dealership in your area to make you a personalized list of the best car listings in your area.
Only looking for newer models? CoPilot Compare is the search engine for nearly-new cars. Only see cars five years or newer with low mileage — CoPilot Compare is the best way to find off-lease, early trade-in, and CPO cars.
The best part? CoPilot is built using the same technology that dealerships use to buy and sell their inventories, so we have more info on each vehicle than competitors. CoPilot doesn't work with dealerships, so there are no sponsored posts or other shady practices — just the most info on the best cars. Check out our About Us page to see how CoPilot works.