Chevy Colorado Towing Capacity: What to Know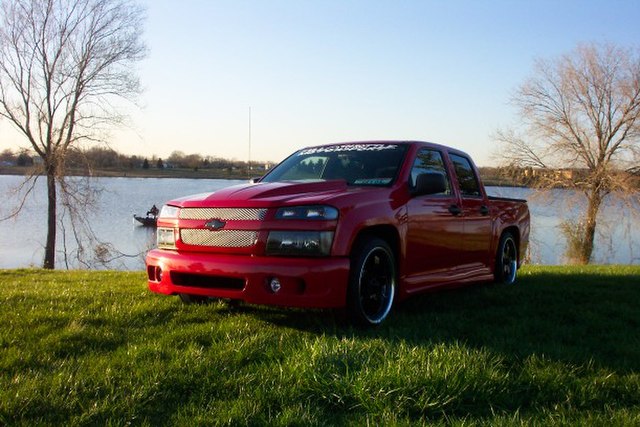 Chevy Colorado by CoderedZ24
Not everyone who needs a pickup truck needs to go for the full-sized behemoths that have become oh so popular these days. Outside of professional contexts, most people have no practical needs that can't be filled by a quality midsize pickup truck. So instead of looking at a behemoth like the Silverado, RAM 1500, or F-150, let's take a look at the Chevy Colorado's towing capacity.
You might be pleasantly surprised by how capable the Silverado's little brother can be. With a few different choices of engines and axle ratios, the Colorado towing capacity can vary a fair amount between trims, so CoPilot is here to walk you through how much each Chevy Colorado can tow and what that means for you.
Towing Capacity of 2018-2021 Chevy Colorados
From 2018 to the present, the Colorado has been offered with six engine configurations. There have been countless trims and body options for the Colorado, but the engine option has the biggest impact on towing capacity.
---
DOWNLOAD THE FREE APP
The CoPilot car shopping app is the smartest way to buy a car. Get a curated list of the best cars for sale in your area, as well as notifications if a similar vehicle is listed nearby at a lower price. CoPilot is the smartest way to shop for used cars. 
---
2.5L 4-cylinder Engine: 3,500 pounds
The smallest engine offered for the Colorado is only available on three body styles: the rear-wheel drive crew cab with a short bed, the rear-wheel drive extended cab, and the all-wheel drive extended cab model. The towing capacity is the same for all three body types with this engine.
3.6L V6 Engine: 3,500 pounds
The 3.6L V6 engine is available on all models of Colorado, and whether it is crew cab or extended cab, long bed or short bed, rear-wheel drive or all-wheel drive, it has a towing capacity of 3,500 pounds. To get more power out of the V6, you'll want the towing package.
3.6L V6 with Trailering Package: 7,000 pounds
This option is also available on all body styles of the Colorado, and it doubles the towing capacity of the Colorado. It does this by attaching the tow hitch to the chassis itself rather than simply putting the tow hitch right on the bumper. The trailering package also adds the wiring setup needed for trailers with their own brakes and lights.
Duramax 2.8L Turbodiesel 4-cylinder Engine: 7,550-7,700 pounds
The turbocharged diesel engine may only have 4 cylinders, but it gains plenty of torque, allowing it to tow much more weight. This engine option is unavailable on extended cab models, and the towing capacity varies depending on the body configuration. The crew cab with an extended truck bed and the all-wheel drive powertrain has the lowest towing rating, which Chevy estimates at 7,550 pounds. The all-wheel drive crew cab with a short bed is rated 50 pounds higher at 7,600 pounds. Somewhat surprisingly, the two rear-wheel drive crew cabs offer 7,700 pounds of towing capacity, eclipsing all other Chevy Colorado configurations.
3.6L V6 ZR2 with Trailering Package: 5,000 pounds
The ZR2 package is Chevy's off-road adventuring package available on a select few Colorados. It comes complete with overhauled shock absorbers, improved electronic locking differentials, a raised suspension, large premium wheels and tires, skid plates, and more aggressive styling, including a hood scoop with black paint. This layout is only available on the crew cab model with all-wheel drive and a short truck bed or the extended cab with all-wheel drive and a long bed. In both layouts, it has a maximum towing rating of 5,000 pounds.
---
THE 10 MOST RELIABLE AMERICAN CARS
Because the car buying experience is so stressful, it's helpful to go into the dealership with information ahead of time. Therefore, we've curated a list of the 10 most reliable American cars so you can approach the process from a place of empowerment.
---
Duramax 2.8L Turbodiesel 4-cylinder ZR2: 5,000 pounds
Like the V6 ZR2 Colorados, the turbodiesel ZR2 model has a towing capacity of 5,000 pounds. It features the same additions as the other ZR2 tuned for off-roading and adventuring, and it is similarly available on the all-wheel drive short bed crew cab model and the all-wheel drive extended cab with a long truck bed. While the towing capacity is rated the same as the V6 ZR2 model, the turbodiesel produces more torque than the gasoline variant, which should improve your experience when towing heavy trailers. Even though the chassis and suspension can't take additional weight, the added strength of the engine allows you to accelerate more smoothly when encumbered.
What Can You Do with a Chevy Colorado's Towing Capacity?
With a minimum towing capacity of 3,500 pounds, there is a lot that you can do with a Chevy Colorado. To start with, it can easily tow a fully loaded 5x8 U-Haul trailer, which, combined with the truck bed, means you can move most of an apartment in one quick trip. But moving is pretty rare; you're probably wondering what you can haul on the weekends with a Colorado.
With most boat trailers weighing between 500 and 1,000 pounds, you can tow boats that weigh up to 2,500 or near 3,000 pounds on a trailer. This includes many fiberglass inboard and outboard engine boats, bass boats, small sailboats, catamarans, or a few jet skis. In more practical terms, you should be able to haul a few hundred 2x4s on a trailer behind you (depending on the length of them and the type of wood they are) or easily 500 bricks.
---
HOW MUCH DOES IT COST TO TINT CAR WINDOWS?
Different tints block different levels of UV light and in the long run can prevent sun damage to your skin and eyes, but how much does it cost to tint car windows? We've got the answer.
---
Opting for the towing package opens up your options even more. A fully equipped Chevy Colorado can tow a 6x12 trailer behind it packed with all sorts of furniture and belongings if you are moving to a new home, or if you want to take your new home with you, the towing capacity is high enough to haul plenty of camper trailers. As long as you aren't looking to take a mansion on wheels with you, you should be fine.
You can also haul even larger boats such as pontoons, deck boats, fishing boats, and more. And of course it can carry plenty of raw materials and equipment to a job site. It may not have the top end towing capacity of a full-sized pickup like the Silverado, but outside of professional contexts where you need to transport massive amounts of material, there is little that can't get done with a quality midsize pickup like the Chevy Colorado.
---
---
Get a Curated List of the Best Used Cars Near You
The CoPilot car shopping app is the easiest way to buy a car. Tell us what you're looking for and we'll search the inventories of every dealership in your area to make you a personalized list of the best car listings in your area.
Only looking for newer models? CoPilot Compare is the search engine for nearly-new cars. Only see cars five years or newer with low mileage — CoPilot Compare is the best way to find off-lease, early trade-in, and CPO cars.
The best part? CoPilot is built using the same technology that dealerships use to buy and sell their inventories, so we have more info on each vehicle than competitors. CoPilot doesn't work with dealerships, so there are no sponsored posts or other shady practices — just the most info on the best cars. Check out our About Us page to see how CoPilot works.