8 Cars Like Honda Accords: Similar Rides Worth Checking Out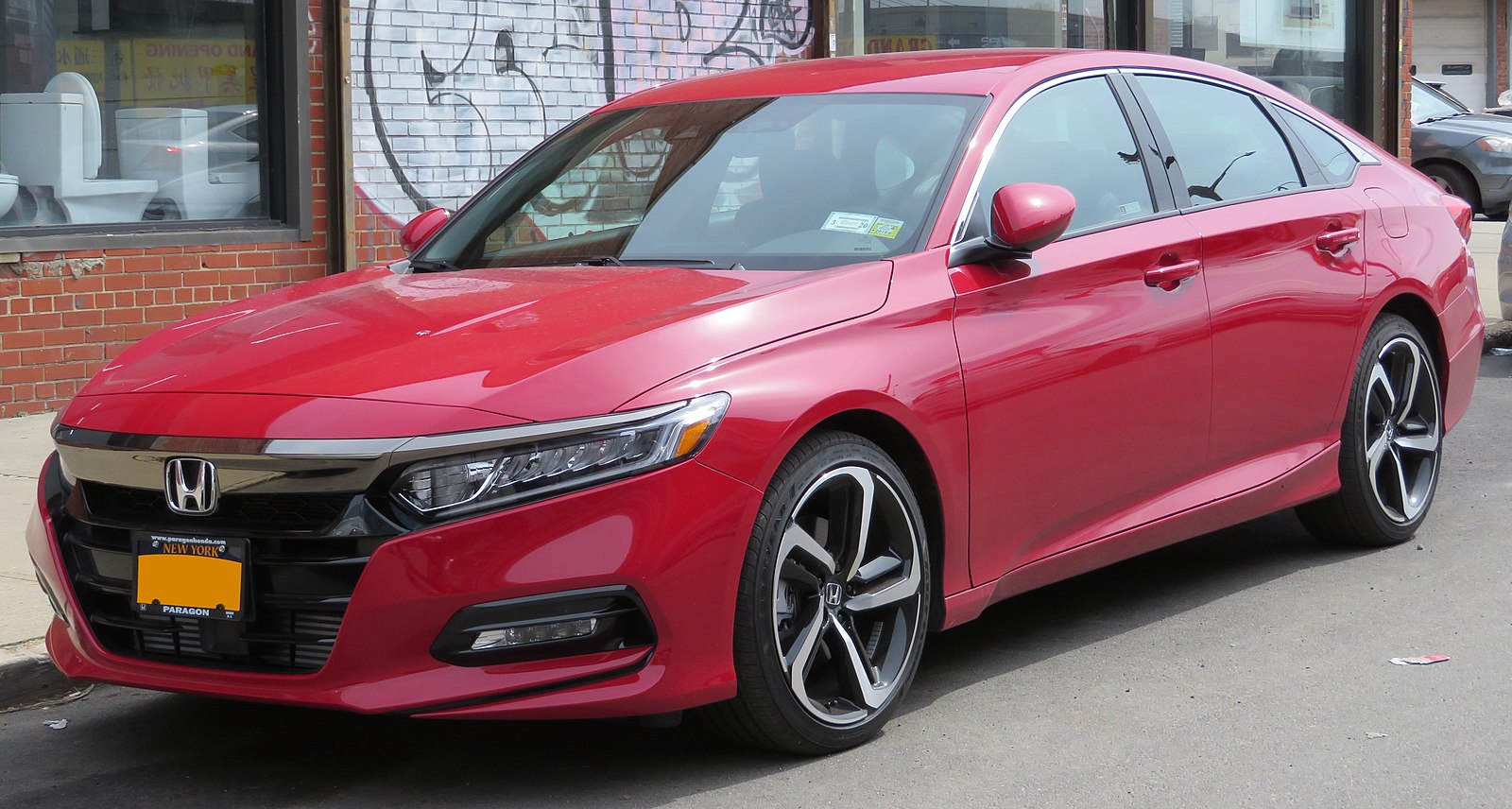 Honda Accord by Kevauto — CC-BY-SA-4.0
Outside of the Ford F-Series and Chevy Silverado truck lines, the best-selling car in U.S. history is the Honda Accord. And for a good reason: it has always been known for its reliability, with models being known to surpass 300,000 miles, it is known for its safety, it is an affordable car for its class, and especially in recent years, it is a pretty stylish ride with solid standard features.
If you're looking for a midsize sedan, then, by all means, the Accord is an excellent option. But even with a number of manufacturers transitioning away from the sedan market to focus on crossovers and SUVs, there are still plenty of solid options available to you if you don't want a Honda Accord. We'll go over some similar rides worth checking out and discuss how they compare to a Honda Accord.
1. Toyota Camry
The Toyota Camry is right behind the Accord on that list of best-selling cars because it checks a lot of the same boxes as the Accord. The MSRP starts at $25,045 for the base trim, just a little more than the Accord at $24,770. They both come with standard safety features, including frontal collision mitigation, pedestrian detection, lane-keeping assist, adaptive cruise control, and even traffic sign recognition software. Blind-spot monitoring and cross-traffic alerts are also available on some Accord trims, but an option on all trims of the Camry.
They have similar engines, with the Accord's 1.5L 4-cylinder offering 192 horsepower and the Camry's 2.5L 4-cylinder improving to 203. The Camry beats the Accord on highway mileage but loses in the city and overall, with the Accord rated for 30/38/33mpg and the Camry rated for 28/39/32mpg for city/highway/combined. With similar initial costs and costs to own, as well as similar base and available features, Camry and Accord are both great options, so it comes down to which manufacturer you trust more, which feels more right to you in a test drive, or even just which looks better to you.
---
GET THE SAME INSIDER INFO THAT DEALERSHIPS USE
The CoPilot app is the smartest way to buy a car. Built using the same technology that dealerships use, we'll show you everything you want to know about each listing - like how long it's been on the lot, or if there are similar vehicles at a better price nearby. 
---
2. Mazda6
Since 2010, Mazda has followed a design philosophy of simple, striking lines to create a dynamic, kinetic look and feel to their vehicles. This design language, called KODO, makes cars like their Mazda6 sedan really stand out with stunning looks, inside and out. With tight handling and snappy acceleration, it can be a joy to drive even though it is a very practical vehicle.
Starting MSRP on the base trim, Mazda6 is actually a little bit lower than a Honda Accord, but Mazda offers Blindspot monitoring and rear cross-traffic alert as a standard feature instead of an upgrade on higher trims. If you're looking for something a little more exciting than a Honda Accord, the Mazda6 is worth checking out.
3. Volkswagen Passat
Another mainstay of the sedan market for many years now, the Passat comes standard with a powerful, reliable engine, an advanced slate of safety features including blind-spot monitoring and rear cross-traffic alert in addition to all the safety features of the Accord, and a spacious interior. While the Accord has great space for the driver and passenger, the Passat really shines for its rear legroom and headroom, as well as the large trunk, great for groceries or sports equipment.
The only downside is that the fuel efficiency of the Passat is a little lower than the Accord, with a rating of 24-city/36-highway/32-combined from the EPA. For the 2022 model year, the lowest trim Passat S was also removed, leaving only the SE, R-Line, and SEL.
4. Subaru Legacy
The Subaru Legacy can be an enticing ride to consider instead of an Accord, especially if you live somewhere rainy or if you have some nice winding roads you get to use regularly. The standard all-wheel drive is excellent for control in adverse weather conditions or just getting the best handling and acceleration possible.
And with the available turbocharged 4-cylinder boxer engine, you should get plenty of acceleration. The base model doesn't come with a turbocharger, but it is equipped with an excellent safety suite, Apple CarPlay, and Android Auto infotainment, a spacious cabin, and a starting MSRP below $23,000.
---
THE BEST USED SUVS UNDER $10,000
We looked into price, reliability, features, and more to create this list of the best used SUVs under $10k on the market today. Take a look - some of the best used SUVs have gone mostly overlooked or forgotten. 
---
5. Kia K5
Previously known as the Optima, Kia decided to market the K5 under the same name worldwide for its fifth generation, which started with the 2020 model year. It has been a nice sedan for years, and this refresh brought even nicer amenities inside at both the base and higher trims.
Outside, it has a more aggressive look with a very wide, mean-looking grill and striking running lights that manage to balance between an organic look and an industrial feel. Under the hood, the turbocharged engine has plenty of zip, making the K5 a joy to drive. Add to that the safety features, best-in-class warranty, and lower starting price, and the Kia K5 makes for a compelling alternative to the Honda Accord.
6. Hyundai Sonata
Another Korean sedan remodeled for the 2020 model year, the Hyundai Sonata offers a friendly-looking fascia, smooth lines, and a solid, fuel-efficient engine. The design might be a little polarizing, but many find its large grille and organic lines very easy on the eyes.
The performance, safety features, and standard technology are about what you would expect from the segment, with plenty of nice optional upgrades, and all Hyundais come with a 5-year/60,000-mile bumper-to-bumper warranty and a 10-year/100,000-mile powertrain warranty.
---
THE BEST USED MINIVANS ON THE MARKET
When it comes to hauling a lot of people and cargo, the minivan is hard to beat. We've factored in reliability, affordability, and functionality to create this curated list of the 8 best used minivans on the market today.
---
7. Nissan Altima
The Altima is yet another midsize sedan with excellent fuel economy, a surprisingly spacious cabin, and an advanced set of safety features. While it won't win any awards or be mistaken for a luxury or performance car, the Altima is a very sensible choice of car for families or individuals to get you where you're going in comfort and style.
8. Acura TLX
A fully-maxed-out Accord can offer great amenities like heated leather seats, ambient lighting, premium speakers, and more, but that top-of-the-line Honda will run right around $37,000. For about the same price, you could upgrade to Honda's luxury marque and buy an Acura TLX sedan. It offers 20 more horsepower than the upgraded Accord engine and 80 more than the base Accord engine.
Inside, the TLX is adorned with high-end cabin materials, synthetic leather seats that can be upgraded to genuine leather, and a comfortable experience overall for the driver and the passengers. Not everyone shopping for an Accord is looking for these fancy features, but if you are, a base model TLX can offer you a more luxurious experience than the Touring trim of the Accord at a similar price point.
---
---
Get a Curated List of the Best Used Cars Near You
The CoPilot car shopping app is the easiest way to buy a car. Tell us what you're looking for and we'll search the inventories of every dealership in your area to make you a personalized list of the best car listings in your area.
Only looking for newer models? CoPilot Compare is the search engine for nearly-new cars. Only see cars five years or newer with low mileage — CoPilot Compare is the best way to find off-lease, early trade-in, and CPO cars.
The best part? CoPilot is built using the same technology that dealerships use to buy and sell their inventories, so we have more info on each vehicle than competitors. CoPilot doesn't work with dealerships, so there are no sponsored posts or other shady practices — just the most info on the best cars. Check out our About Us page to see how CoPilot works.