The 8 Best Minivans To Buy Used
A curated list of the most reliable, affordable, and functional used minivans on the market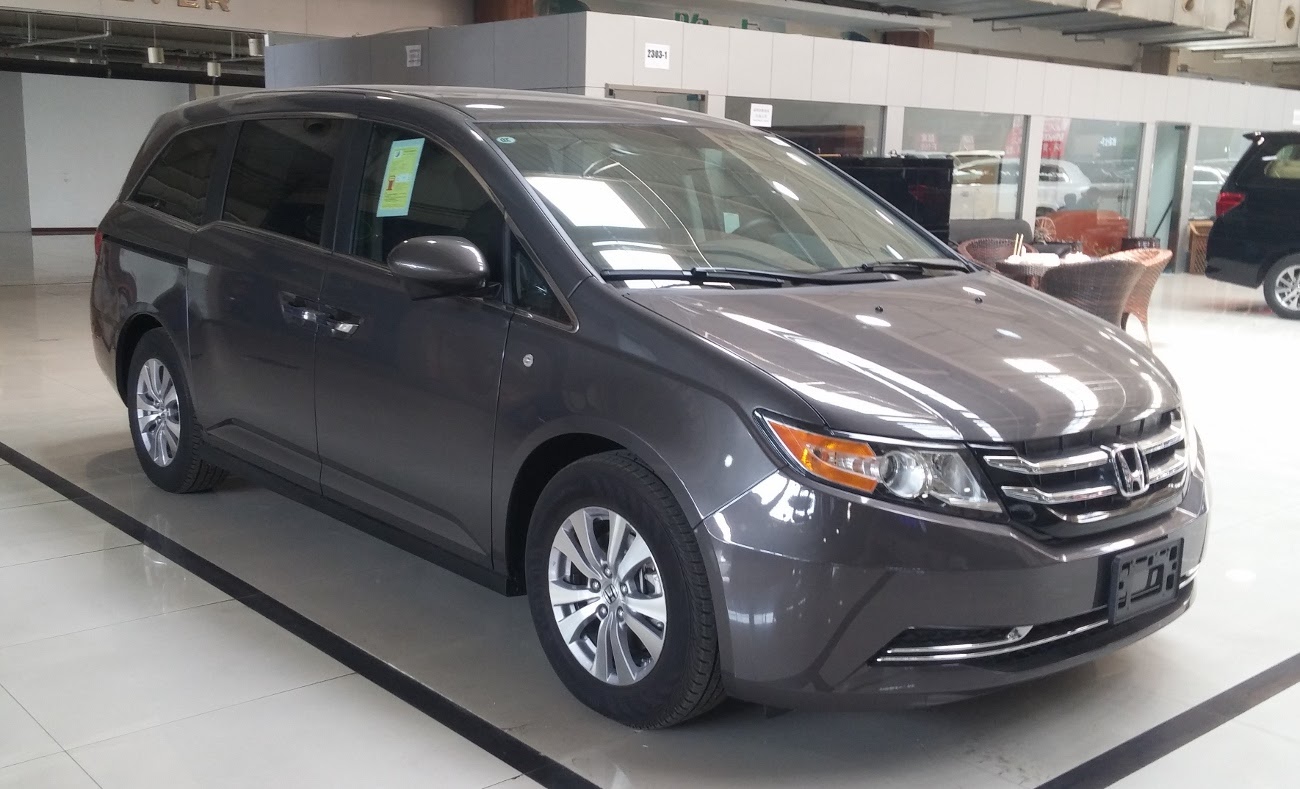 Honda Odyssey by Navigator84 - CC BY-SA 4.0
When the minivan came on the scene way back in 1983, it was an unequivocal success here in the United States. As soon as Dodge and (now defunct) Plymouth began to sell the Voyager and Grand Caravan, families found much to love in their roomy interiors, fair gas mileage, and a huge variety of configurations. Those that grew up in the '80s or '90s no doubt have fond memories of piling into minivans with all of their friends and heading to school or soccer practice.
Over the years, every major manufacturer joined in on the popularity of minivans, which peaked in the 1990s and early 2000s. Today, the SUV craze has caused a huge demise in the popularity of the minivan due to the gradual morphing of SUVs into family vehicles that don't necessarily look like family vehicles. Even the originators of the minivan (Dodge) recently stop selling their legendary Grand Caravan model due to poor sales.
Fortunately, many manufacturers have continued to build minivans for families who are looking for the ultimate companion that excels at shuttling around people and all their stuff. This article will cover the 8 best minivans based on their reliability and their overall rating with reviewers and owners alike.
---
DOWNLOAD THE APP
The CoPilot app is the smartest way to buy a car. Search all listings in your area, get notified about deals, new listings, and price drops, or chat with one of our copilots for some hands-on advice.
---
The 8 best used minivans on the market today:
1. 2015 Honda Odyssey
Predicted Reliability Rating: 5⁄5 (J.D. Power)
Used Price Range: $15k to $25k
The Honda Odyssey is, bar none, the absolute favorite among both car reviewers and owners alike. For 2015, the Honda Odyssey impresses with a massive interior that can swallow 150 cubic feet of cargo, high-quality interior appointments, solid handling, a powerful engine, high safety rating, and great fuel economy.
The 2015 model is especially notable for its stellar reliability rating. You may pay a little more for an Odyssey vs. other vehicles in the class but it's absolutely worth the price.
2. 2019 Kia Sedona
Predicted Reliability Rating: 4⁄5 (J.D. Power)
Used Price Range: $22k to $31k
Although most sales in the segment go to Honda, Toyota, and Chrysler, it's best not to forget about the awesome Sedona van from Kia as an option. You can pick up a gently used Sedona with extremely low mileage for the same price as a much older Honda or Toyota.
Throw in a predicted reliability rating that's higher than the Honda Odyssey and it's hard to pass this one up. It has a pleasing interior with tons of room and tech features but it lacks the easy fold seats and handling of rivals like the Odyssey. Still, this is an awesome van for the money.
---
CPOs ARE BETTER THAN BUYING NEW
If you're looking for new cars, a Certified Pre-Owned (CPO) car might help you buy a like-new car at a significant discount vs. MSRP. Here's why CPOs are better than buying new.
---
3. 2017 Chrysler Pacifica
Predicted Reliability Rating: 3.5⁄5 (J.D. Power)
Used Price Range: $20k to $31k
The Pacifica is the replacement for the venerable Town and Country van, which was killed off in 2016. Formerly a full-size SUV wagon, the Pacifica is a rock solid van that offers a powerful V6, a quiet smooth ride, and one of the nicer interiors in the class. The Pacifica also offers a full set of drivers assist features, great technology, and family-friendly niceties like rear-seat entertainment systems.
You can pick one of these up for a great price, especially if you're willing to settle in for a lower LX trim line. However, the luxury goodies are found on top-trim touring and limited. This van also carries a solid predicted reliability score as well.
4. 2015 Chrysler Town and Country
Predicted Reliability Rating: 3⁄5 (J.D. Power)
Price Range: $11k to $22k
Chrysler knows a thing or two about minivans and it shows in the design on the 2015 Town and Country. Although it pulls in a lower reliability rating than the stalwart Honda, it bests the Sienna in reliability. Its real calling card is its interior flexibility and luxurious appointments that impress both owners and reviewers alike.
Stow and Go seating is a trick option that allows the rear seats to be instantly folded into the floor of the Town and Country. A potent V-6 that gives solid fuel economy ratings of 18 City and 25 Hwy rounds out the good stuff. These can be found a little cheaper than the competition, which makes them an even better deal.
---
DID YOU KNOW?
Most car dealerships are independently owned and operated, so you might pay thousands more in fees at one dealership than at another. Here's how to find a good car dealership.
---
5. 2019 Dodge Grand Caravan
Predicted Reliability Rating: 3.5⁄5 (J.D. Power)
Price Range: $19k to $21k
The Dodge Caravan's last production year was 2019 and has a design that has shouldered on for nearly 10 years. It's not the most comfortable van in this group and it does not come loaded with tech and safety features like the Pacific or the Odyssey.
What it does offer is a solid powertrain, roomy interior, and good reliability. Best of all, it can be had for a great price! If you're a budget shopper who's not interested in bells and whistles, this minivan is for you.
6. 2019 Chrysler Pacifica Hybrid
Predicted Reliability Rating: 3⁄5 (J.D. Power)
Price Range: $30k to $37k
Although the Pacifica can be found without a hybrid powertrain, it's the plugin version of this minivan that makes it a star. Since this is the only hybrid minivan on the market, you will pay more up front but you'll enjoy 30 miles of electric-only range, near-instant acceleration, and enhanced gasoline fuel economy.
These come with a solid reliability rating of 3⁄5 and can be picked up for a relatively affordable price. Keep in mind, the Hybrid version of the Pacifica is also more loaded up with equipment and luxury amenities.
7. 2018 Honda Odyssey
Predicted Reliability Rating: 2⁄5 (J.D. Power)
Price Range: $22k to $31k
For 2018, Honda completely redesigned the ever-popular Odyssey van. Engineers added in even more family-friendly features like a system that allows you to speak to rear passengers, a built-in vacuum, and over 20 cupholders scattered throughout the cabin.
This Honda also brings a solid reliability rating (although not as high as previous years) and a powerful engine to the table as well. Keep in mind, few vehicles hold their value quite as well as the Odyssey, so you'll pay more for it up front than the competition but enjoy a lower depreciation over time.
8. 2015 Toyota Sienna
Predicted Reliability Rating: 2⁄5 (J.D. Power)
Price Range: $13k to $26k
The Sienna is the other favorite minivan amongst lovers of the family shuttle. Reviewers and owners compliment the Toyota on its absolutely massive interior, quality interior appointments, and powerful engine. It carries a high safety rating and also returns a solid fuel economy rating of 19 MPG city and 25 MPG highway.
Although Toyota is typically known for its reliability, this particular year of Toyota Sienna brings in a less than stellar 2⁄5 reliability rating from J.D. Power. Still, this is a solid option for growing families.
Still not sure what car to buy? Check out CoPilot Compare, where you can get a comprehensive comparison view of new and used vehicles.