How To Find A Good Car Dealership In Your Area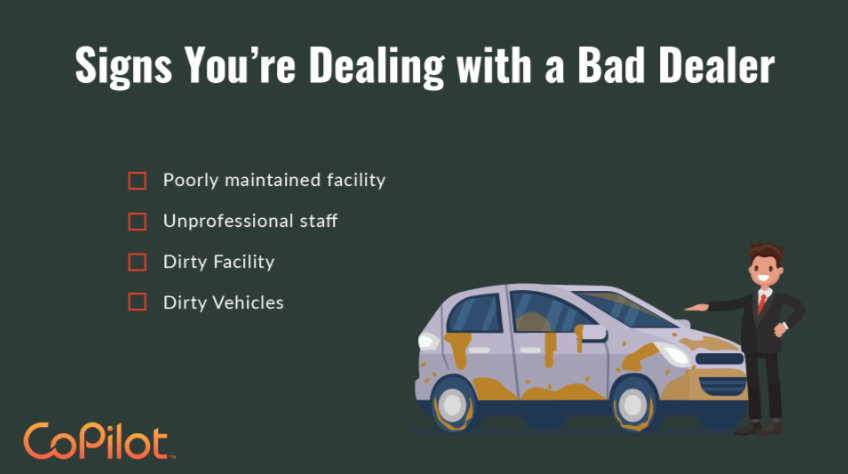 It's time to buy a used car, so where are you going to go?
Obviously, you're going to head to a used car dealership.
But which one? Does it matter?
It absolutely matters.
Car dealerships are like any other business. They're independently owned and operated, and they're not a one-size-fits-all solution to your car buying needs.
That's why you need to do some dealership homework before you do business with them. This article will give you a few helpful steps to finding the best dealership in your area.
Identify the Dealership's Location
While this sounds like an obvious point, ideally, you'll go to a dealership that's within your local area (or not too far a drive). You may have to go to the dealership more than once, so it's best to try and stick close to home.
Other dealerships may have better rates on vehicles, but consider the long-term inconvenience of driving a significant distance. You might need maintenance or work done on the car at the dealership — so take this into account.
Luckily, used car dealerships tend to be plentiful. Chances are you're surrounded by them and never even noticed. That's where services like CoPilot come in handy. They help you find what you're looking for within a set distance from your home.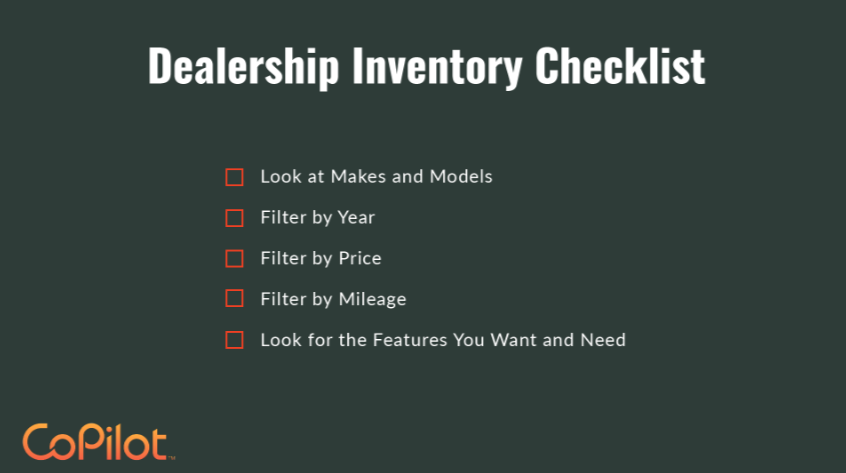 Check Out the Dealership Inventory
All dealerships should have an online catalog for you to sift through. While a dealership's inventory can change over time, they often list items, models, and vehicles online.
A good dealership will have information about the cars they have in stock on their website. Most of them have advanced search features as well, which can be personalized according to your needs and wants.
You can set the website to show you cars that fit within a certain price range, or specific makes and models. You can even search for particular features like keyless ignition or heated seats.
If there's a model you're interested in, you can give the dealership a call. It's always best to see what the dealership has on offer before you head there in person.
Look Out For Reviews
Before making a purchase of any size, you should check out online customer reviews. That's the best way to determine whether or not you can trust a company. When you're dealing with an investment as large as a vehicle, you'll want to pay extra attention to what people are saying about the dealership you're considering.
There's bound to be plenty of online reviews regarding the dealerships in your area. While you can find reviews on the dealership websites, try to find third-party websites for a more fair and honest review pool.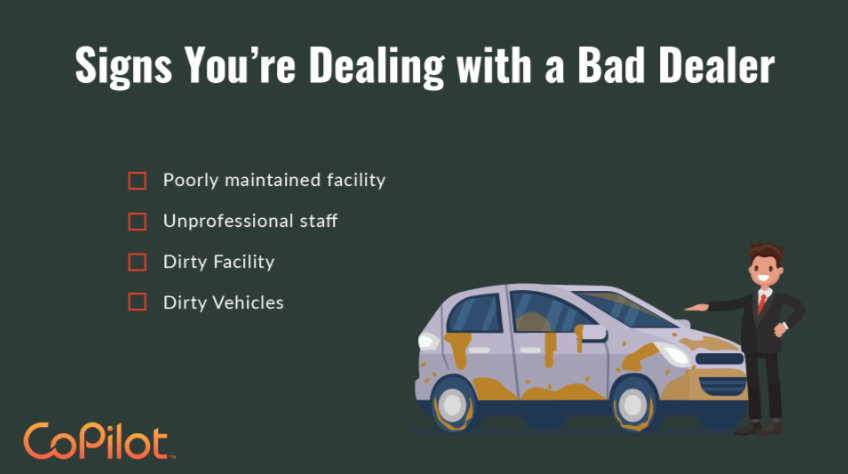 Look out for key review items such as the dealership's customer service, business philosophy, any extra perks they provide for their customers, etc. Be on the lookout for concerning terms like "ripoff" or "scam."
There may be some trolling, negative reviews for any business of a certain size, but look out for patterns. If the majority of people have negative things to say about them, there's probably some merit to their complaints.
Pay Attention to Perks
Some dealerships will give their customers extra perks. It's a great way to differentiate one dealership over another. Remember, these dealerships are all competing for your business, so take a look at what they're offering.
Some prime examples of dealership perks can include car washes, loaner cars, pick up and drop off services, free oil changes, and tire rotations.
If you can find a dealership with a good reputation, a great selection of vehicles, and perks that appeal to you, you've found a winner!
Evaluate the Facility and Standard of Service
Before you make your final decision, it's important to take a long hard look at the dealership's facility and their standards of service.
At this point, you would have narrowed down your list of options, so in theory, you've got maybe two or three quality dealerships to choose from.
When you arrive at the dealership, have a look around to see whether it's well maintained, clean, and tidy. If the dealership is neat and tidy, there's a good chance that the business and service parts of the dealership operate in a similar way.
You want to do business with an organization that has high standards. Poorly-maintained facilities mean that little care is put into the business as a whole. That also likely means that little care is put into the vehicles themselves.
As for the standard of service, you should be able to quickly gauge and see whether the sales staff are attentive and respectful. Quality dealerships attract quality employees.
Consider a Long-Term Relationship
When you decide on a car dealership, it's different than deciding on a supermarket or a clothing store.
You may think that you're going to a dealer just to buy a car: stop in, sign some papers, drive away, and never look back. In reality, you're starting a relationship with the car dealer — one that could last several years.
There's a good chance that the used car buying process is not going to be the last time you interact with the dealership of your choice. You may need to deal with them in the future when it comes to payments, financing and maintenance.
Also, if the dealership proves its worth to you, you might consider using them again in the future.
In Conclusion
It's important that you choose the right dealership to do business with.
There are a lot of shady and sub-par used car-dealers out there. It's up to you to do your due diligence and ensure that you're engaging with a reputable, ethical, and professional dealership.
Identify the location of the dealership, search their new and used car inventory online, read reviews, pay attention to their perks, evaluate the facility, and consider what a long term relationship with that business will look like.
By taking these steps, you'll ensure that you're working with the best of the best when purchasing a used vehicle.