How To Review A Car Without Test Driving It
You've found the perfect used car at the lowest price, but it happens to be halfway across the country. There's no way you can come and inspect the vehicle and give it a test drive.
You're not feeling so confident just examining photos of the car and trusting the unknown seller on their word.
Don't worry. Before you get too overwhelmed, there are many ways you can review a used car that's out of state without undergoing a test drive. Many buyers purchase out-of-state vehicles all the time.
In this guide, we'll show you tips for buying and the key things you need to look for when buying a used car you can't test drive — using the 2019 Mercedes Benz SL-Class as an example.
1. Research the Model and Brand
If you're in a situation where you can't view and test drive the vehicle, you need to know the car's features and options. We recommend starting by researching the brand and model.
Ensure you have the answers to questions like:
What does the car look like when it comes out of the factory?
Are there any special features on the interior and exterior?
What is the engine like?
Is the vehicle similar to other models within the brand?
How have other people reviewed this model and brand?
You can't underestimate the power of research.
Understand the vehicle model and study its different options.
Once you have a complete idea of how the model should look and perform, use an online tool like CoPilot to see a breakdown of the basics of the car you're looking to buy — from the state of the engine to any extra add-ons the car might have.
For Example
When it comes to the Mercedes-Benz SL-Class, the vehicle has an overall rating of eight out of 10 on Edmunds' Expert Review. It also scored a 4.5 out of five on Car and Driver and ranked eighth among luxury sports cars in its category.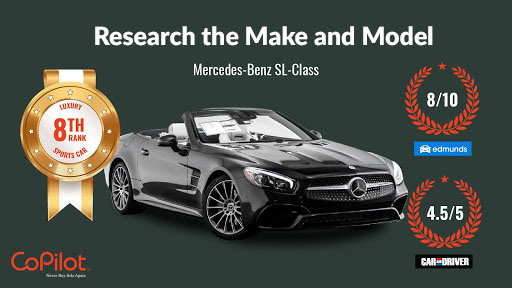 2. Why this Vehicle?
If you're set on the model and brand, the next step you should take is to assess the make and vehicle.
Quite frequently the difference between a 2018 and 2019 model won't be all that significant, meaning you can opt for older, more affordable models without sacrificing features.
If you're doing your due diligence and performing a car check, you can request the seller send you a picture of the window sticker and vehicle history report. The window sticker will give you accurate information on the car and the vehicle history report will put you at ease about the car's history..
For Example
When it comes to the Mercedes-Benz SL-Class 2019 model, there've been no changes to the 2019 model. Purchasing the used 2018 or 2017 models of the SL class will save you a lot of money while giving you the same experience as driving a 2019 model.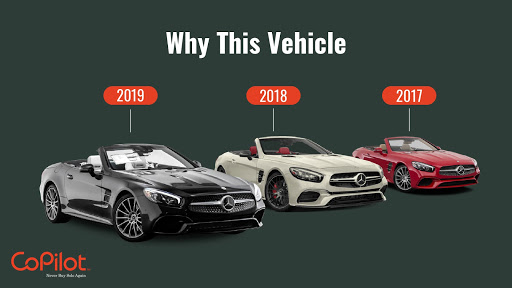 3. Evaluate the Vehicle
If the car is brand new, you can assess its features and can expect that car to be in new condition.
But if it's a used model, you'll have to be more vigilant on your inspection. Dealers or sellers using platforms like CoPilot can give you abundant details when it comes to the car. These include multiple photographs (both 360 interior and exterior views), and clear, detailed lists of the features available in the vehicle.
It is important to gather as much information about the vehicle history as possible to be aware of any engine, exterior, interior, and performance issues.
For Example
If we're evaluating the Mercedes-Benz SL-Class 2019, the interior of the SL Class is luxurious, comfortable, yet very sporty. It has powerful twin-turbo V-8 Engines, a lot of room for cargo, and can easily switch to a convertible. On the other hand, the new model doesn't have any further improvements. Users also reported somewhat vague steering. It's also not as agile as other exotic cars in its category.
4. Understanding the Price
When it comes to pricing, make sure you know the different features available. They're critical when comparing online prices because you need to make sure that the cars you're comparing have identical features. If they're different, you need to know what the differences are so that you can compare them accurately. Car pricing can vary widely depending on dealer discounts, special rates for military and college students, and other factors.
For Example
The SL-Class ranges between $90,000 - $115,000. However, you can get a used one, especially one with an older model (2016, 2017, and 2018) for around $50,000 to $70,000.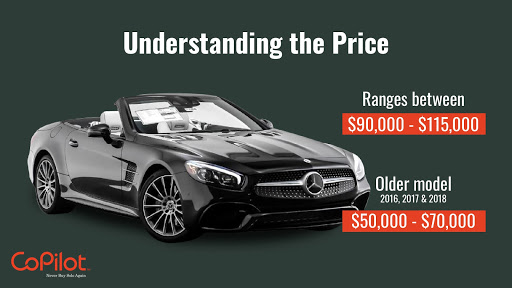 5. Assessing Fuel Efficiency
Fuel is a considerable ongoing cost, because over time, a $200 difference every month, adds up to $12,000 over five years. So if you're driving back-and-forth to work every day, and you're clocking in a lot of miles every month, it makes sense to find a fuel-efficient car. Fuel-efficient cars are also cheaper to insure and better for the environment. If you're looking to compare fuel efficiency, have a look at fueleconomy.gov. It's the official US government website when it comes to the most fuel-efficient models. 5So the author has used the exact example (the Mercedes SL class), which CoPilot has no examples of on their website. I'm wondering if we should send back for a revision to a different vehicle
For Example
The Mercedes-Benz SL-Class is not the most fuel-efficient vehicle in its class.
It received a rating of only four out of ten in customer reviews when it comes to gas consumption. We recommend you only go for the SL-Class if you are ready to trade fuel economy for class and comfort.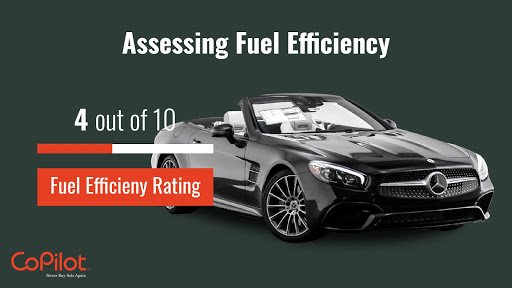 6. Other Comparable Models
Before you sign any paperwork, you should consider other comparable models to the one you love so much.
There are likely similar models within the same class or category that also have the features you're looking for.
And those cars may be available within your local area, significantly cheaper, more fuel-efficient, etc.
For Example
When it comes to the Mercedes Benz SL-Class 2019, other vehicles (like the Jaguar F-Type, BMW Series 8, and the Porsche 911) scored better in the luxury sports car category.
Customers love the Jaguar F-Type, giving it a nine out of ten for styling. When it comes to fuel consumption, it's also more economical than the Mercedes Benz SL Class.
It's also around $15,000 cheaper.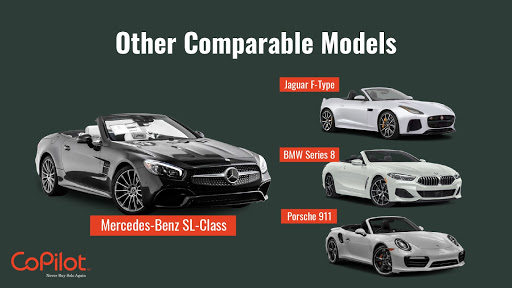 Final Thoughts
When it comes to reviewing cars without going for a test drive, you need to make sure you conduct thorough research.
Make sure you can see the vehicle from different angles and are aware of all the features and options.
We also recommend reading reviews from others when it comes to the positives, negatives, and everything in between.
While we always recommend test driving cars before making any purchasing decisions, if this is not possible, make sure you follow all the steps above as a guide to help you make more informed, smarter decisions.