The Best Year For The Chevy Tahoe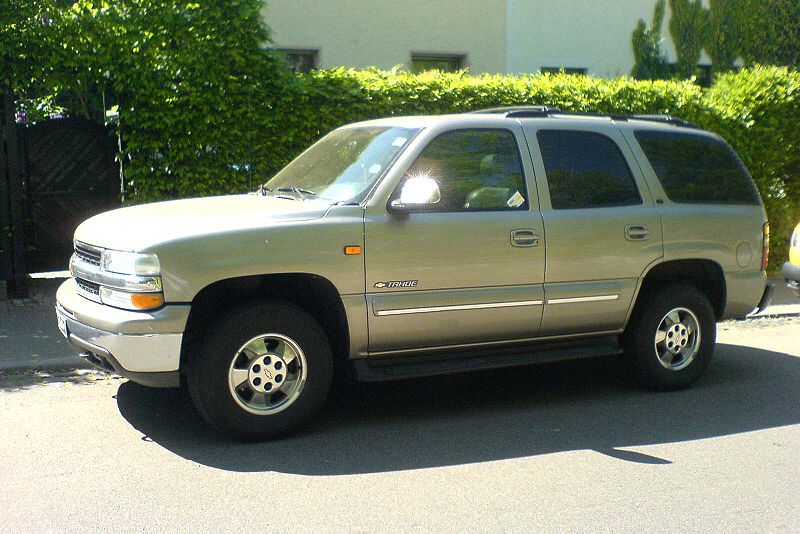 Chevy Tahoe by Matti Blume — CC BY-SA 3.0
The Chevrolet Tahoe is an all-American great large SUV that remains a popular choice for families despite being in production for decades. Beating out its rivals, such as the Expedition, Sequoia, and Armada, the Tahoe has proven itself to be a capable, family-friendly SUV that dominates in comfort, towing capacity, and cargo space.
Not all Tahoe model years are created equal, as some are clearly better than others. You'll have to choose the right Tahoe model year to get the most out of this family hauler. However, with decades worth of lineup and trims, picking out the best year for Chevy Tahoe is daunting. Lucky for you, we're here to help.
---
GET A CURATED LIST OF THE BEST CHEVROLET LISTINGS 
The CoPilot app is the smartest way to buy a Chevrolet. Tell us what you're looking for and we'll send you a curated list of the best used Chevrolet listings in your area - no more scrolling through hundreds of listings looking for hidden gems. 
---
After careful deliberation, CoPilot recommends the 2017 version as the best year for Chevy Tahoe. We had to consider numerous factors like reliability, specs, features, and value proposition. Keep reading to learn more.
2017 Is the Best Year for Chevy Tahoe
The 2017 Chevy Tahoe is a solid choice if you're looking for a used large SUV with three-row seats. As it can accommodate eight passengers and offers plenty of cargo space, the 2017 Tahoe is an exercise in practicality. Plus, it's a relatively recent model, so buyers receive plenty of advanced safety and in-car entertainment features – safety and fun for the whole family. 
The 2017 model is also part of the fourth generation of Tahoe that received a good deal of refinements and new technologies that helped improve the SUV's fuel economy. We also weighed the prices for the current-gen Tahoes with the 2017 model, and we believe this year brings excellent value to the table.
---
NOT JUST FOR CAR SHOPPING
The CoPilot app isn't just for buying a car - our new CoPilot for Owning tool will help you keep track of recalls and gives you advice on which scheduled maintenance tasks are most important.
---
How Much is the 2017 Chevy Tahoe?
Based on Truecar.com's listings, the average price for a used 2017 Chevy Tahoe is between $18,990 to $49,998 – depending on several factors like mileage, trim level, fleet or personal use, and vehicle history.
The base LS Tahoe is powered by an aluminum-block 5.3L EcoTec3 V8 engine and offers features like remote start, rear park assist, and onboard Wi-Fi. One of the most affordable 2017 Tahoe LS available with 99k miles can be yours for $25,909. On the other hand, a low-mileage 2017 Tahoe with 4WD and 47k miles is listed for $33,999.
Moving up the trim level, we have the LT Tahoe with various upgrades over the base model, including leather appointments, a Bose 9-speaker premium sound system, and a power liftgate. A budget-friendly 2017 Tahoe with RWD and 145k miles is up for grabs for $21,900. Meanwhile, a 2017 Tahoe with 4WD and 54k miles is available for $39,035.
The shelf-topping Premiere 2017 Tahoe comes with Chevrolet MyLink with Navigation, a 10-speaker Bose Centerpoint surround sound system and second-row bucket seats. With that said, we found a listing for a 2017 Tahoe Premier with 4WD and 125k miles for $29,998. On the other end of the price spectrum, a 2017 Tahoe Premier with $52k miles is available for $46,998.
The Specs of the 2017 Chevy Tahoe
The Chevy Tahoe is a brawny full-size SUV that harkens back to the days when SUVs were based on trucks with an emphasis on utility. Therefore, if you're in the market for a large three-row SUV that can accommodate up to eight people and tow as much as 8,600 pounds, you'll be at home with the 2017 Chevy Tahoe.
Unfortunately, the 2017 Tahoe only offers a single engine option, an aluminum small-block 5.3-liter V-8 rated at 355 hp and 383 lb-ft of torque. It's paired with a six-speed automatic transmission with an option for either rear- or four-wheel-drive across all models. The V8 is more than capable of hauling people and towing trailers and boats. Furthermore, it delivers an authoritative acceleration, but there can be a delayed response from the gas pedal, making the Tahoe feel sluggish.
---
THE 10 MOST RELIABLE USED SEDANS
If you're ready to start shopping for a used car and reliability is a priority for you, take a look at our list of the top 10 most reliable used sedans on the market today. 
---
Interior-wise, the 2017 Chevy Tahoe offers a wealth of space for passengers, especially in the first two rows. The third row can be tight for adults. Meanwhile, the cabin design and materials are above average for the class. You get standard perforated leather and heated seats starting with the LT trim.
According to FuelEconomy.gov, the 2017 Chevrolet Tahoe with automatic transmission and RWD provides a fuel economy of 16 mpg city, 23 mpg highway, and 19 mpg combined. Switching to 4WD reduces the efficiency but not much, with mpg ratings of 16/22/18 city/highway/combined.
2017 Chevy Tahoe Reliability and Recalls
According to RepairPal, the Chevrolet Tahoe has a reliability score of 3.5 out of 5.0, which is an Above Average rating. Conversely, the 2017 Tahoe received a Quality & Reliability score of 80⁄100 from J.D. Power and an overall score of 83 out of 100. Unfortunately, ownership costs can be high as the Tahoe average yearly cost for repairs and maintenance is $744.
Over at CarComplaints.com, the 2017 Tahoe received 14 complaints with the following reliability issues:
A/C condenser refrigerant leak
Faulty transmission and torque inverter
Harmonic balancer bolts backing out
The Tahoe has three safety recalls as of this writing, including the unintended activation of the driveline-protection system, faulty airbags, and a brake assist issue.
2017 Chevy Tahoe Safety Features and Ratings
The NHTSA gave the 2017 Tahoe a safety rating of 4 stars out of 5, while the IIHS hasn't tested the large SUV.
In addition, the 2017 Tahoe does a great job of protecting passengers with a wide range of safety and driver assistance features, including adaptive cruise control, forward collision alert, rear vision camera, rear-cross traffic alert, side blind zone alert, intelligent brake assist, etc.
---
HOW MANY SPARK PLUGS DOES A DIESEL ENGINE HAVE?
The answer to this question isn't as  simple as you'd expect. Let's look explore the difference between gas and diesel engines and explore just how many spark plugs a diesel engine actually has.
---
Other Chevy Tahoe Years to Consider
While the 2017 version is a strong contender for the best year for Chevy Tahoe, other models are also worth checking out. We highly recommend the 2016-2020 Tahoes due to their excellent reviews and stellar reliability ratings. If there's one Tahoe model to avoid, make it the 2015 year, which is widely considered one of the worst Tahoe SUVs in recent years.
---
---
Get a Curated List of the Best Used Cars Near You
The CoPilot car shopping app is the easiest way to buy a car. Tell us what you're looking for and we'll search the inventories of every dealership in your area to make you a personalized list of the best car listings in your area.
Only looking for newer models? CoPilot Compare is the search engine for nearly-new cars. Only see cars five years or newer with low mileage — CoPilot Compare is the best way to find off-lease, early trade-in, and CPO cars.
The best part? CoPilot is built using the same technology that dealerships use to buy and sell their inventories, so we have more info on each vehicle than competitors. CoPilot doesn't work with dealerships, so there are no sponsored posts or other shady practices — just the most info on the best cars. Check out our About Us page to see how CoPilot works.