Which Year Models of Used Chevrolet Tahoe to Avoid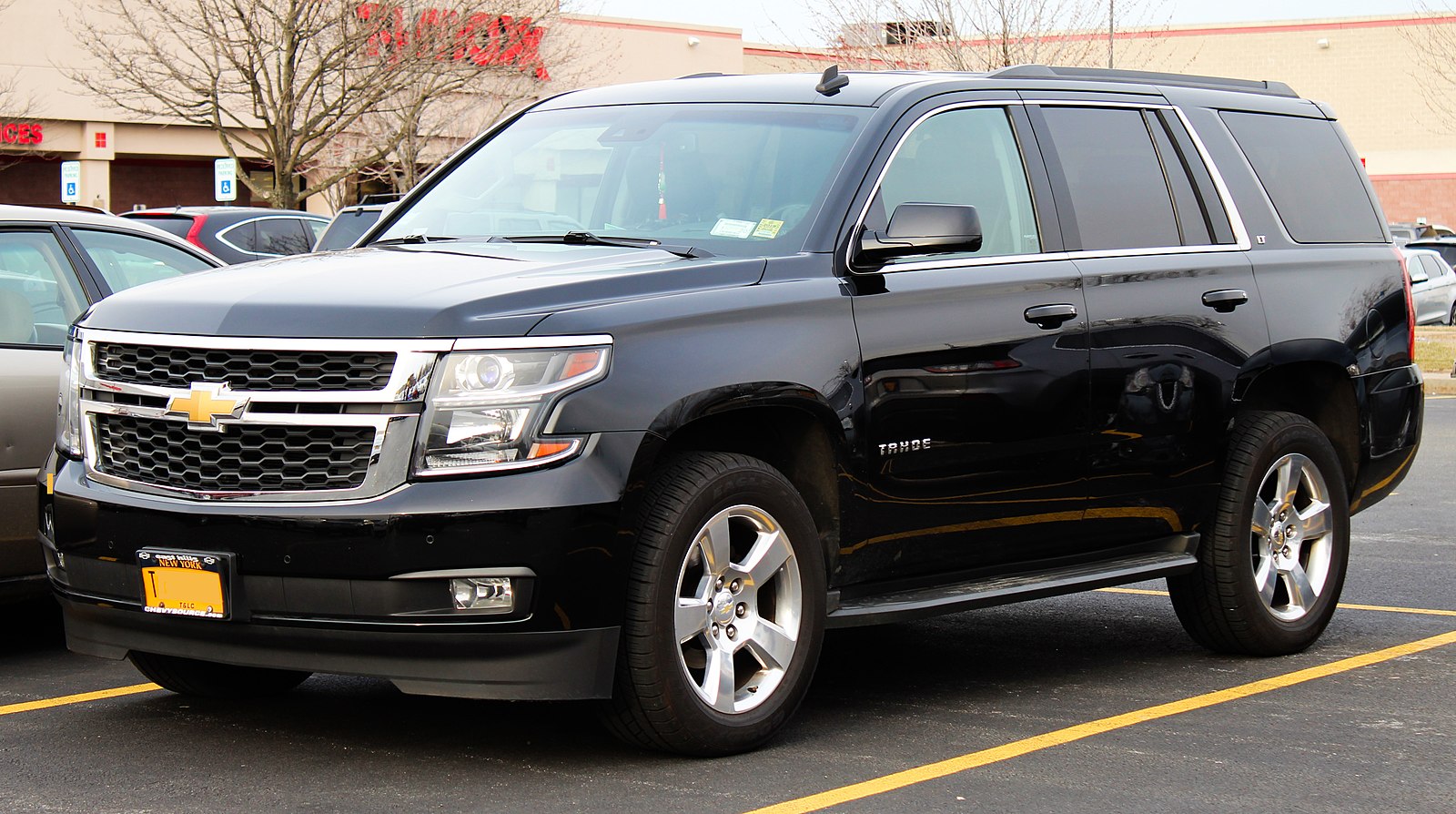 2015 Chevrolet Tahoe by Kevauto — CC-BY-SA-4.0
The Chevrolet Tahoe has been in production since 1994, named after the countryside scenery of Lake Tahoe to represent its ability to explore rugged terrain. This full-size SUV has had its fair share of tweaks and improvements over the years, including expansions in size and improved handling.
A Tahoe should take you through any terrain with ease, but you want to make sure you get the right one. We're here at CoPilot to make sure you wind up with the right Tahoe for you.
Quick Answer: Avoid Chevrolet Tahoe Year Models 1999, 2004, 2005, 2007, 2008, 2009, and 2015
There have been several faulty year models in the Chevrolet Tahoe's long history. We recommend avoiding the 1999, 2004, 2005, 2007, 2008, 2009, and 2015 Tahoes. All of these year models, except for 1999, have severe defects in their interior accessories, including cracked dashboards, broken door locks, and flashing interior lights.
Serious engine problems plague the 1999 Tahoe and the 2004, 2007, 2008, and 2009. Overall, you'll want to steer clear of these Chevrolet Tahoe year models because, at best, their issues might mean interior accessory annoyances. At worst, your safety might be on the line.
---
BE THE FIRST TO KNOW ABOUT NEW LISTINGS 
The average car is on the lot for 1-2 weeks, but the best deals usually get snapped up under 48 hours. Download the CoPilot app to be immediately notified when a saved vehicle drops in price or when a great new Chevy Tahoe listing goes up for sale. 
---
Which Year Models of Chevrolet Tahoe are Safe to Buy Used? 
Having been in production for nearly three decades, it comes as no surprise that not every Chevrolet Tahoe year model will be equal in quality. With that being said, there are so many to choose from that there's no reason for you to purchase one that won't let you explore rugged terrain in comfort and safety. We recommend the following Chevrolet Tahoe year models as safe to buy:
1995 Chevrolet Tahoe
1996 Chevrolet Tahoe
1997 Chevrolet Tahoe
1998 Chevrolet Tahoe
2000 Chevrolet Tahoe
2001 Chevrolet Tahoe
2002 Chevrolet Tahoe
2003 Chevrolet Tahoe
2006 Chevrolet Tahoe
2010 Chevrolet Tahoe
2011 Chevrolet Tahoe
2012 Chevrolet Tahoe
2013 Chevrolet Tahoe
2014 Chevrolet Tahoe
2016 Chevrolet Tahoe
2017 Chevrolet Tahoe
2018 Chevrolet Tahoe
2019 Chevrolet Tahoe
2020 Chevrolet Tahoe
The safest Tahoe year models to purchase are 1995 - 1998, 2000, 2006, 2010, 2012, 2013, 2014, and 2017 - 2020. There's very little to worry about with all of these year models, as all have garnered very few complaints over the years.
The earlier year models are indeed tried-and-true buys as customers have reported so few issues even after almost two decades, in some cases. The most problematic complaints with these year models are cracked dashboards and fuel pump failures, which are also reflected in the worst Tahoe models. The difference here is that they're so rare in these Tahoes that it's improbable for you to encounter them.
2001 Chevrolet Tahoes have had some minor problems with windows, A/C units, or brakes, but they're few and far between, and on the off chance that they do occur, it's late in their lives. The most often reported issue is a broken rear window hinge at over 90,000 miles.
A 2002 Tahoe might have a knocking noise from its steering column when turning after 60,000 miles, but this costs less than $300 to fix even if it does. The 2003 year model has similar problems, but issues shouldn't pop up until around 90,000 miles, and nothing should cost more than $1,000 for repairs.
The only widely reported defect in the 2011 model is the cracked dashboard that affected many Tahoes. However, reports are far fewer with 2011, so we don't see this as a big enough problem.
2016 Tahoes are mostly reliable, but if you do happen to have an annoyance with it, it'll likely be an A/C system that doesn't blow cold enough or sticky brakes, both costing less than $1,000 to repair. Overall, all of these Tahoe year models should give you little to no trouble.
---
THE BEST USED SUVS UNDER $10,000
We looked into price, reliability, features, and more to create this list of the best used SUVs under $10k on the market today. Take a look - some of the best used SUVs have gone mostly overlooked or forgotten. 
---
Which Year Models of Chevrolet Tahoe to Avoid: 
Many Chevrolet Tahoes will satisfy your off-road exploration needs, but several that don't quite make the cut. You're looking for enormous interior space, smooth handling, and a comfortable ride, and we want to help you get that. For that reason, we recommend avoiding the following Chevrolet Tahoe year models:
1999 Chevrolet Tahoe
2004 Chevrolet Tahoe
2005 Chevrolet Tahoe
2007 Chevrolet Tahoe
2008 Chevrolet Tahoe
2009 Chevrolet Tahoe
2015 Chevrolet Tahoe
Interior accessory defects are the most prominent failing that'll make you want to avoid these Tahoes. Cracked dashboards are the most reported interior accessory issue in Chevrolet Tahoes and are common in all of these year models except for 1999.
The 2004 and 2005 year models also suffer from an incorrect speedometer, while the 2015 has incessantly flashing interior lights. Additionally, you might find further problems like a bad lock actuator or a malfunctioning radio system in many of these models. 
You don't want a 1999 year model because of its engine. Customers have complained about intake gasket failures, blown engines, and a loss of power when climbing hills. All of these could endanger you and your passengers, making this model an inadvisable purchase.
Similar engine troubles afflict the 2004, 2007, 2008, and 2009 Tahoes. 2007, 2008, and 2009 models also have been heavily reported to excessively consume oil, requiring constant maintenance that will put you out of time and money. 
If you purchase a 2015 Chevrolet Tahoe, your A/C system will likely fail around 50,000 miles. While the $1,000 repair cost isn't astronomical, the high likelihood of this happening, along with the vehicle's other defects, means you should pass on this one. The 2007 Tahoe is the worst overall due to the sheer number and severity of complaints, but we recommend that you avoid all of these year models.
---
GET A CURATED LIST OF THE BEST CHEVROLET LISTINGS 
The CoPilot app is the smartest way to buy a Chevrolet. Tell us what you're looking for and we'll send you a curated list of the best used Chevrolet listings in your area - no more scrolling through hundreds of listings looking for hidden gems. 
---
Common Chevrolet Tahoe Problems
According to RepairPal, the Tahoe has a reliability rating of 3.5 out of 5.0, with a 21st rank out of 26 midsize SUVs. The Tahoe isn't exactly a champion of reliability and has some common problems you should know:
Service 4WD message - This annoying message has affected more than a dozen Chevy Tahoes over the years. The main culprit is the faulty selector switch or transfer case encoder sensor, which causes the dreaded message to appear.
Cracked dashboard - One of the most complained about issues with the Tahoe is the cracked dashboard. Sure, it's mostly a cosmetic issue, but it's an aggravating problem nonetheless – especially when GM won't fix it.
Low oil pressure - Another severe reliability issue with the Tahoe is the low oil pressure. Many drivers reported that engine performance decreased on top of the illuminating check engine light.
A/C system stopped working - Encountering this issue would be unbearable on a hot day. There are several reasons why the Tahoe A/C system fails: a refrigerant leak, electrical issues, and a faulty A/C compressor. The typical repair job to fix this problem is to replace the broken parts like the compressor or condenser.
Chevrolet Tahoe Problem Counts by Year
These are the most common problems reported by owners on platforms such as carproblems.com, carcomplaints.com, and Car Talk Community. Interior accessory issues are common, along with engine defects like excessive oil consumption.
Is the Chevrolet Tahoe Worth Buying Used?
In general, truck-based SUVs tend to be more reliable, durable, and long-lasting than car-based models. When it comes to straight longevity, the Chevy Tahoe can last for up to 200,000 easily and many have reached 300,000 miles (with major repairs) – many are still on the road 15 years and are still running along. According to iSeeCars, the 7th longest-lasting model among SUVs and trucks is the Chevrolet Tahoe. Considering it's a top 15 list, the Tahoe ending up on the 7th is not that bad.
Besides its excellent lifespan, the Chevy Tahoe is also widely considered a reliable SUV.  However, you have to make sure to avoid all the models we've outlined above to save you the headache. Unfortunately, the Tahoe has a rather significant weakness. Although the Chevy Tahoe can go for years without repairs, they tend to be more severe once they happen. When there are major repairs for the Tahoe, expect that you'll spend more for repairs, than when compared to something like a Ford.
Overall, the Chevy Tahoe is a good used SUV to buy. Just make sure you avoid the problematic years to get the most out of your investment.
---
THE BEST USED MINIVANS ON THE MARKET
When it comes to hauling a lot of people and cargo, the minivan is hard to beat. We've factored in reliability, affordability, and functionality to create this curated list of the 8 best used minivans on the market today.
---
The Easiest Way to Find a Reliable Chevrolet Tahoe In Your Area
Looking for a Chevrolet Tahoe in your area? There's no easier way than by downloading the free CoPIlot car shopping app. We'll search every dealership in your area to find the full-size SUV you're looking for and create a personalized list of the best buys near you.
Built using the same technology that car dealerships use to buy and sell their inventory, CoPilot is the smartest and easiest way to buy a used Chevrolet Tahoe.
Try CoPilot Compare, the search engine for nearly-new cars if you're interested in newer, off-lease cars. We'll only show you models that are 5 years or newer with low mileage, most with CPO availability, and break down how much you save buying used with the best nearly-new listings in your area.
The best part? CoPilot doesn't work with dealerships, so there are no 'promoted' or 'sponsored' listings - just the best cars in your area. Learn more about how CoPilot works on our About Us page.