The 7 Best Cars for Bad Backs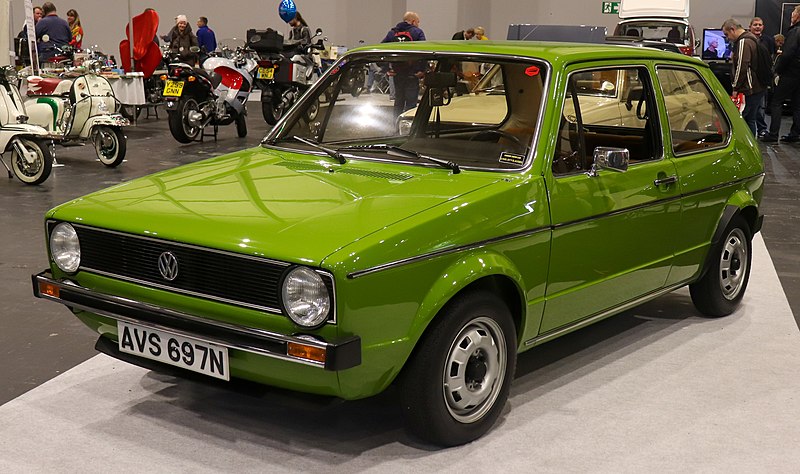 1975 Volkswagen Golf by Vauxford — CC BY-SA 4.0
A tricky, achey, or chronically-ill spine can be a huge barrier to daily living. If this is you, hopefully you've found ways to minimize pain and avoid flare-ups. Regular, gentle exercise, stretching routines, an anti-inflammatory diet, and medication can all be extremely helpful when it comes to dealing with a bad back.
But even with all the work you've put into staying happy and healthy and whole, your best efforts can all be thrown out the window just by one lousy ride in an uncomfortable car.
It doesn't have to be a long road trip, either – even short, cross-town drives can throw you out of whack if your back is unsupported. Sometimes even an awkward entrance (ahem, BMW i8) can be enough to put you out of commission for the day.
And it shouldn't be that way. You deserve to have a comfortable car that won't contribute any more pain to your life. Time to go shopping! Here's a list of the 7 best cars for bad backs to help you get started on your search.
Best Car Features for Bad Backs
If you're a proud member of the bad back club, here are some features you should be thinking about when shopping for your next car.
The ride. A rough or bouncy ride might have you bracing your muscles more often than is ideal, and ultimately will end up exacerbating any pre-existing back issues. Look for cars with a smooth ride that allows you to relax while you're on the road.
Lumbar support. Seats should be thoughtfully shaped to fit the curve of your spine, and reasonably yielding, but not so soft that you have to work to keep yourself upright. You can also consider purchasing a spinal support pillow to supplement your seats.
Height. It can be hard on your back if your vehicle is very low, or very tall. It may have an adverse effect on your back, or it may make getting in and out of your vehicle difficult on a high-pain day.
While you're car shopping, try entering and exiting the vehicle a few times to see how it feels, and if you're not sure, aim for a midsize car. 4. Adjustability. The most important piece is that you are seated in the best position for you. Make sure that your new car has seat adjustment capabilities that allow you to find the most comfortable posture possible.
---
THE BEST USED LUXURY CARS ON THE MARKET
Buying a used or CPO luxury car is one of the smartest buys you can make - you can get a lot of car for not much money. You can pick up a three-year-old luxury car for about half of what you'd pay new. Check out this list of the best used luxury cars on the market to find the best deals. 
---
Best Cars for Bad Backs
Volkswagen Golf
The golf is a sensible, affordable, and fun little vehicle that also forefronts important features
such as comfort and accessibility. Car and Driver describes the Volkswagen Golf's ride as "splendid," and other reviewers compliment the German icon on the easily-adjustable seats which can be "angled and tilted for maximum comfort."
And taller drivers don't have to worry about slouching, as this compact car has a surprisingly roomy interior that allows you to sit up straight. Available from $24,190.
Volvo XC60
This Volvo has a stylish design and luxurious interior that rivals that of much pricier vehicles. Reviewers love the spacious cabin that allows 5 adults to ride comfortably and in style. This compact SUV stands about 5 feet, 5 inches from the ground, making it easy to enter and exit without needing to fold yourself in half.
The ride is also extremely smooth and in tandem with a remarkably quiet cabin makes for an extremely comfortable driving experience. And to top it all off, the seats were designed by "orthopedic specialists" specifically for ideal lumbar support. Pick up a 2021 XC60 today for $42,795.
Chevrolet Sonic
The littlest member of our best cars for bad backs club, the Chevy Sonic is ideal for drivers who love their tiny cars but need a little more support. This subcompact car lives up to the title by being just 59.7'' tall, but reviewers say there is remarkable headroom and you won't be forced to slouch in the driver's seat.
And the ride is surprisingly smooth in this zippy little car, so no worries about your back being jerked and jolted while you're cruising down the freeway. This extremely affordable car can be purchased for $17,595.
---
GET THE SAME INSIDER INFO THAT DEALERSHIPS USE
The CoPilot app is the smartest way to buy a car. Built using the same technology that dealerships use, we'll show you everything you want to know about each listing - like how long it's been on the lot, or if there are similar vehicles at a better price nearby. 
---
Kia Optima
Talk about adjustability. What the Optima lacks in imagination and an overstock of creature comforts it more than makes up for by having a very, very customizable seating experience. Lower-tier trims come standard with a 6-way power-adjustable seat which additionally features 2-way power-adjustable lumbar support mechanisms.
Higher trims double your pleasure with 12-way power-adjustable seats and 4 way…well, you get it. By the time you're done, it will feel like the driver's seat was made specifically for you. Pick it up today for $24,355.
Honda Civic
If comfort and practicality is the question, the Civic is usually the answer. Again, this is a compact car with a surprisingly roomy interior and a delightfully smooth ride: the two main ingredients in creating a comfortable vehicle. Always a car for the people, Honda reimagined the seats a while back in order to accommodate a "wide range of body types."
They achieved this in part by offering 8-way power-adjustable seating, complete with 2-way adjustable thigh support – an unexpected but game-changing solution to car-related back pain. Get your Civid today for $22,245.
---
THE BEST USED SUVS UNDER $10,000
We looked into price, reliability, features, and more to create this list of the best used SUVs under $10k on the market today. Take a look - some of the best used SUVs have gone mostly overlooked or forgotten. 
---
Nissan Altima
The Nissan Altima is a cool, sporty sedan that's as comfortable as it is beautiful. The cabin is spacious, comfortable, and comes chock-full of creature comforts like an 8-inch touchscreen infotainment center and an optional wi-fi hot spot.
At 57 inches tall it's easy to comfortably enter and exit this mid-sized vehicle. The one major downside is the ride, which Car and Driver describes as "brittle." The Altima more than makes up for this fault, however, by featuring seats that were literally designed by scientists at NASA, who apparently drew their inspiration from the spines of astronauts floating in zero gravity. (We're dying to know what that feels like!) Plan on paying at least $25,300 for your new Nissan.
Mercedes-Benz GL-Class
If you've got a bad back and some cash to throw around, this SUV from Mercedes-Benz might be the vehicle for you. Car and Driver ranks it second in its category, complimenting the car on its "generous" passenger seating space and "smooth-running engines." Sore drivers will love the 71 inches of height, which make getting into this vehicle as easy as lifting a leg. And the Mercedes keeps you extra comfortable with 14-way power-adjustable seating, and a power tilt and telescoping steering column. Get yours for $76,945.
Get a Curated List of the Best Used Cars Near You
The CoPilot car shopping app is the easiest way to buy a car. Tell us what you're looking for and we'll search the inventories of every dealership in your area to make you a personalized list of the best car listings in your area.
Only looking for newer models? CoPilot Compare is the search engine for nearly-new cars. Only see cars five years or newer with low mileage — CoPilot Compare is the best way to find off-lease, early trade-in, and CPO cars.
The best part? CoPilot is built using the same technology that dealerships use to buy and sell their inventories, so we have more info on each vehicle than competitors. CoPilot doesn't work with dealerships, so there are no sponsored posts or other shady practices — just the most info on the best cars. Check out our About Us page to see how CoPilot works.