Toyota Tacoma Remote Start: The Full Rundown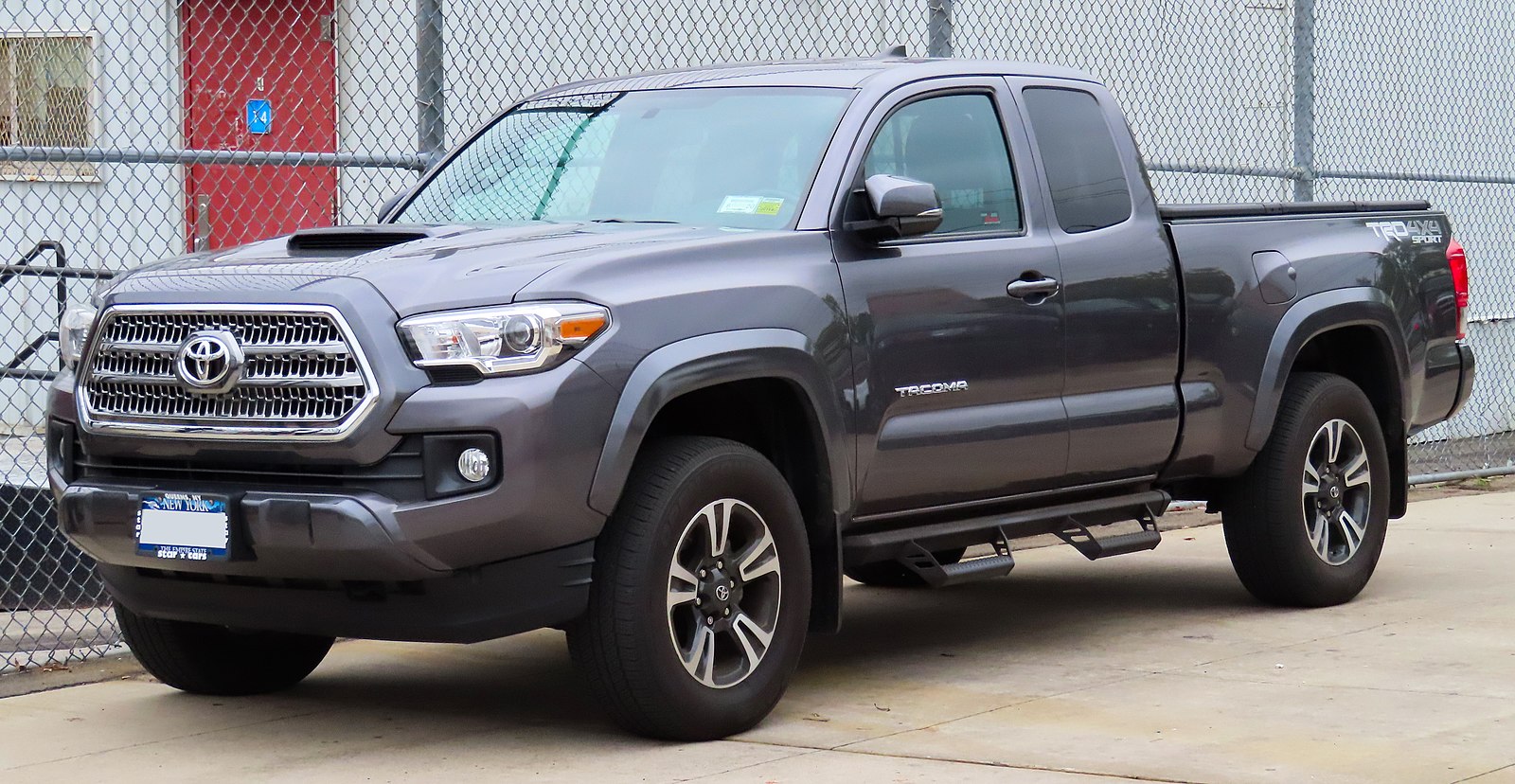 2016 Toyota Tacoma by Kevauto — CC BY-SA 4.0
The future is here! Unfortunately, we're not talking about flying cars, neon cities, or personal rocket ships - although all of those things are on the horizon. But today's cars and trucks come equipped with a bevy of special features that make jetpacks and teleportation feel much closer.
We've come a long way from hand-crank window rollers and turn-key ignition. You don't even need to be in your car in many modern vehicles to turn it on. What a luxury! Remote start is taking the auto world by storm. Many cars and trucks are rolling off the factory floor with this once-novelty already installed, including the fan-favorite Toyota Tacoma! In this article, we're going to tell you everything you need to know about the Toyota Tacoma remote start: what to love, what not to love, and how it works in the first place.
What is Remote Start?
Remote starts will start on your car at a distance, without needing to have you inside the vehicle. A button on your key fob will send a signal that interacts with a radio receiver inside the car or truck and signal it to start ignition and get the vehicle running for you. Remote starts are especially helpful if you live in a place that sees extreme weather patterns and is either very hot or very cold.
If you get up early in the morning and see snow on the ground, a remote start can get your car or truck warmed up before you set foot outside. Or, if you're getting off work and your vehicle has been sitting in the hot sun, remote start lets the interior cool off before you head home, alleviating the need to endure the oven-like temperatures while you wait for your AC to kick in.
Toyota remote starts typically work best at about 80 feet (approximately two full-size school buses, if the distance isn't your strong suit). It may be affected by the terrain in which your vehicle is located. If there are many trees, boulders, or buildings between you and your car, you may need to get a little closer for your remote start to work. But if your vehicle's sitting in your driveway, it should work like a charm.
---
FEEL SECURE IN THE CAR YOU CHOOSE
You don't want to buy a car - you want to get the best deal on the car you're looking for. The CoPilot app will notify you if there's a similar vehicle in your area at a better price, so you're always certain you got the best deal available. 
---
Everything You Ever Wanted to Know About Toyota Tacoma Remote Start
A timeless favorite of outdoor adventurers everywhere, the Toyota Tacoma is built with more performance, durability, and fun than tech, luxury, and modernity. The slogan for the 2021 Tacoma is "Epic made possible," with an additional siren song of "calling all adrenaline junkies" attached to their market materials, which demonstrates that Toyota has a crystal-clear idea of who their target audience is for this particular model. CarAndDriver describes the 2022 version as "unrefined" and knocks it for having a "utilitarian" interior and feature package.
However, the Toyota Tacoma has one of the more technologically advanced remote start features available today. New Tacomas come with a free trial of Toyota Connect, an app-based
system that allows you to remotely interact with your vehicle via your smartphone, smartwatch, and Alexa or Google Home device. This surprisingly sophisticated application will enable you to control several aspects of your vehicle at a distance. For example, you can find your Tacoma in a crowded parking lot, lock or unlock your doors, get vehicle updates, and remotely start your engine.
It's an easy and comprehensive option to tack on and looks and feels so much cooler than the traditional fob-start system featured by other makes. The Toyota Tacoma also has a fob-remote start system, but it's less remarkable than the Toyota Connect system.
---
THE BEST CARS FOR COLLEGE STUDENTS
Whether you're squeezing into a tight campus parking spot or hauling ten loads of laundry back home, these best cars for college students will get you, your friends, and your stuff where you're going.
---
Toyota Tacoma Remote Start: The Downsides
We mentioned earlier that new Toyotas come with a free trial of Toyota Connect. This trial lasts one year and gets you all of the abilities we discussed in the previous section. However, once that year is up, Toyota Connect stops being free and starts costing the owner 8 dollars a month, or 80 dollars per year to continue enjoying this feature.
While this might sound like a small price to pay for the ability to turn on your car at a distance AND know if a window has been smashed, it can add up over a vehicle's lifetime and is worth considering before you purchase.
The other bummer with Toyota Connect is that if you're out in the world, your remote start will be inaccessible if your smartphone or smartwatch runs out of battery. But all this means is that you'll need to unlock and start your vehicle the old-fashioned way: with a key.
---
HOW OFTEN SHOULD YOU REPLACE YOUR BRAKES?
Unless you're a mechanic or super-dedicated car enthusiast, you might not know much about the brakes on your car. How long do they typically last?​ How often should you replace your brakes​? We've got answers.
---
Toyota Tacoma Remote Start over the Years
Entune Toyota Connect has been around since 2018, originally imagined as an infotainment system including radio services such as iHeartRadio and Sirius XM. It also provided remote service features, including roadside assistance, onboard Wi-Fi, and remote start.
The Tacoma first got the remote-feature upgrade in 2020, and the software has changed very little in the past year. 2020 models, 2021 models, and the newest 2022 models all feature Toyota Connect capability in the base build and do not require a hardware upgrade or special package to access. Earlier years, including 2018 and 2019, may access Toyota Connect with a hardware upgrade. Talk to your Toyota dealer to learn more.
Toyota Tacoma Remote Start: Other Options
If you can't swing for Toyota Connect, aren't the techy type, or have an older Tacoma model, you can always buy and install an after-market remote start kit in your Toyota. You can purchase these kits from the Toyota dealership or an independent specialist. Typically, more advanced kits will cost around 170 dollars, not including labor, if you choose to have a technician put it in your vehicle.
Sophisticated after-market remote start systems can come as part of a larger install which lends you many of the capabilities of Toyota Connect, including security features. These systems often come from specialty manufacturers and may have a better range than the Toyota standard – up to 3 miles. If you prefer a less tech-forward option, it is also easy to find simpler fob-based systems that offer a button-based remote start system, leaving security and infotainment up.
Toyota Tacoma Remote Start FAQs
How do I use Remote Start with my Toyota Tacoma?
Before using remote start, make sure that your Toyota vehicle has remote start capability. If you have the physical key fob for remote starting, simply press the Lock button three times. The first two button presses must be in rapid succession, then hold the third button press for about 3 seconds.
How do I Remote Start using the Remote Connect app?
Download the Toyota app for your iOS or Android device. Log in to your account and tap and hold the 'Engine Start' icon for a second or two. You should see a rotating circle around the start button, and you'll receive a notification if the remote start is a success. The procedure applies when remotely shutting off the engine.
How long will the engine run after a Remote Start?
Once you have activated Remote Start, your Tacoma engine will run for 10 minutes before shutting down. You may press the lock button again to extend the timeout timer for another 10 minutes. With a full 20-minute idling, your Tacoma engine will automatically shut down, and you have to restart manually.
Get a Curated List of the Best Used Cars Near You
The CoPilot car shopping app is the easiest way to buy a car. Tell us what you're looking for and we'll search the inventories of every dealership in your area to make you a personalized list of the best car listings in your area.
Only looking for newer models? CoPilot Compare is the search engine for nearly-new cars. Only see cars five years or newer with low mileage — CoPilot Compare is the best way to find off-lease, early trade-in, and CPO cars.
The best part? CoPilot is built using the same technology that dealerships use to buy and sell their inventories, so we have more info on each vehicle than competitors. CoPilot doesn't work with dealerships, so there are no sponsored posts or other shady practices — just the most info on the best cars. Check out our About Us page to see how CoPilot works.