Which Year Models of Used Toyota Tacomas are Most Reliable?
And Which Year Models to Avoid?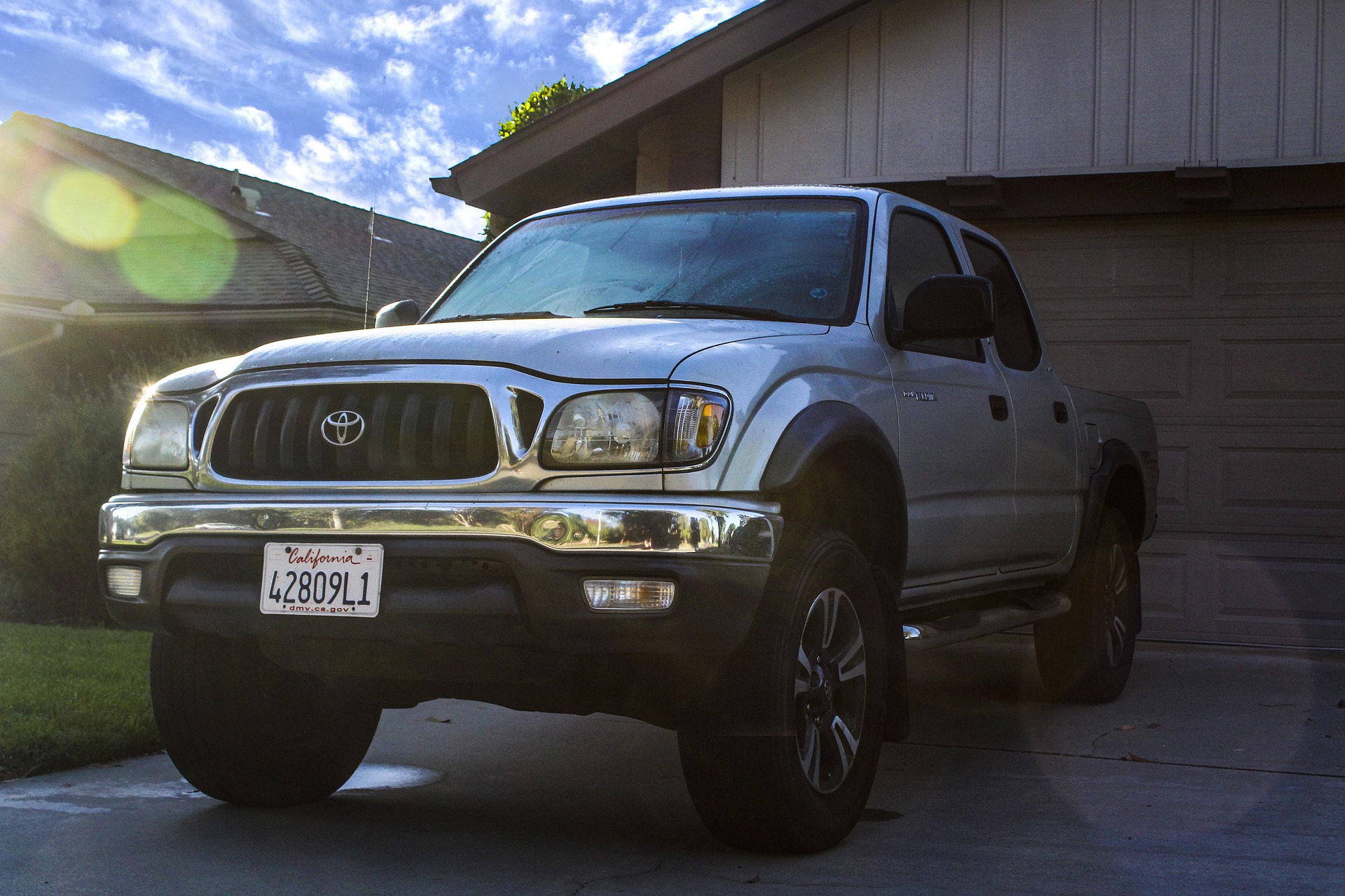 Image by Nick Magwood from Pixabay
Toyota introduced its pickup truck, the Tacoma, in 1995 and saw critical and commercial success. In its first generation, what started as a compact pickup became a midsize pickup in its second and third.
The Toyota Tacoma will suit all your needs for an off-road journey, packed with a powerful engine and six-speed manual transmission. You don't want your fun ruined by an unreliable year model, though, so CoPilot is here to make sure you pick the best used Tacoma year model for your needs.
---
GET A CURATED LIST OF THE BEST TOYOTA LISTINGS 
The CoPilot app is the smartest way to buy a Toyota. Tell us what you're looking for and we'll send you a curated list of the best used Toyota listings in your area - no more scrolling through hundreds of listings looking for hidden gems. 
---
Quick Answer: Avoid Toyota Tacoma Year Models 2006, 2007, 2008, 2009, 2011, 2012, 2016, and 2017
There have been a lot of issues reported with the 2006, 2007, 2008, 2009, 2011, 2012, 2016, and 2017 Toyota Tacoma year models, and we recommend avoiding them. The 2006, 2007, and 2008 have big problems with the body and paint and engine mishaps.
The 2009 year model's interior accessories tend to be faulty and malfunction often, along with many lights, body, and engine defects.
The 2011 Toyota Tacoma has widespread problems, with complaints being issued about nearly every component in some form or fashion. While 2012's primary flaws are with the drivetrain and engine, the 2016 and 2017 models share similar malfunctions in addition to unreliable transmissions.
These last two are some of the worst Toyota Tacomas you can buy because their transmissions have so many defects that the trucks could become a hazard to drive. However, the 2007's extremely high repair costs make it just as inadvisable to buy.
---
BE THE FIRST TO KNOW ABOUT NEW LISTINGS 
The average car is on the lot for 1-2 weeks, but the best deals usually get snapped up under 48 hours. Download the CoPilot app to be immediately notified when a saved vehicle drops in price or when a great new Tacoma listing goes up for sale.
---
Which Year Models of Toyota Tacoma are Safe to Buy Used? 
The Toyota Tacoma will give you an off-road experience you'll never forget. That is if you buy one of the many trusty year models in the pickup's long history and avoid the faulty ones. We recommend the following Toyota Tacoma year models as safe to buy used without worry of hazardous defects. 
The most reliable year models of Tacoma:
1995 Toyota Tacoma
1996 Toyota Tacoma
1997 Toyota Tacoma
1998 Toyota Tacoma
1999 Toyota Tacoma
2000 Toyota Tacoma
2001 Toyota Tacoma
2002 Toyota Tacoma
2003 Toyota Tacoma
2004 Toyota Tacoma
2005 Toyota Tacoma
2010 Toyota Tacoma
2013 Toyota Tacoma
2014 Toyota Tacoma
2015 Toyota Tacoma
2018 Toyota Tacoma
2019 Toyota Tacoma
2020 Toyota Tacoma
Toyota Tacomas from 1995 to 2004 are highly reliable with very few reported complaints. A majority of the reported issues are minor defects and don't become a problem until after 100,000 miles on average. There's a slight chance that a flaw could appear in the first 50,000 miles of the truck's life, but if so, it will only cost around $500 to fix. 
The 2014, 2018, and 2019 Tacoma year models are still a safe bet but less reliable than the early models. Each of these has similar numbers of defects to those, but these defects appear much earlier. 
---
HERE ARE THE TOYOTA TACOMA YEARS TO AVOID
Take a look at which Tacoma years are worth purchasing vs. which Tacoma years you should avoid when embarking on your car search.
---
Issues like premature seat wear or a broken A/C unit have been reported under 40,000 miles, and the 2018 and 2019 models both have early problems with vibration. These should be easily fixable, but they're something to be aware of. The 2013 Toyota Tacoma has similar vibration and drivetrain problems but more complaints, so it isn't quite sturdy. 
The 2005 year model has a decent number of complaints, but most have to do with paint chipping and peeling after 80,000 miles, so there isn't much to worry about here. With the 2010 and 2015 year models, there is a slight chance you might have some early engine or brakes problems, like squeaking or worn pressure plates, but the chances are low enough that it shouldn't be an issue. 
These year models would be advisable to purchase, but the 2020 would be the safest overall because it has zero complaints. Either way, CoPilot recommends all of these Toyota Tacoma year models.
---
THE BEST USED SUVS UNDER $10,000
We looked into price, reliability, features, and more to create this list of the best used SUVs under $10k on the market today. Take a look - some of the best used SUVs have gone mostly overlooked or forgotten. 
---
Which Year Models of Toyota Tacoma to Avoid?
When you're looking for a Toyota Tacoma, you're looking for adventure. You want a sturdy, powerful vehicle that can take you off-road without worrying about your safety. Most Toyota Tacoma year models will give you this, but some have deal-breaking flaws to be aware of. We don't recommend purchasing these year models.  
The least reliable year models of Tacoma
2006 Toyota Tacoma
2007 Toyota Tacoma
2008 Toyota Tacoma
2009 Toyota Tacoma
2011 Toyota Tacoma
2012 Toyota Tacoma
2016 Toyota Tacoma
2017 Toyota Tacoma
The 2006, 2007, and 2008 Toyota Tacoma year models all have problems with their paint chipping and peeling and some concerning transmission and engine failures. At an average of 100,000 miles, the 2006 model's frame tends to rust or break completely, costing upwards of $3,500 to repair. 
The 2007 year model is one of the worst you can buy, with many reports of sticky accelerators, coats peeling, and much more, incurring costs of $5,000-10,000 in many cases. A 2008 or 2009 Toyota Tacoma, on the other hand, may have problems early on that are less expensive but potentially more dangerous, such as sudden acceleration and clutch slipping. 
2011 Tacomas suffer from many headlights issues (flickering, covers cracking, etc.) as well as a repetitive clicking sound. The 2012 models have many engine defects and a heavy vibration while driving. In both models, issues appear around 30,000 miles. 
Even worse than these problems, the 2016 and 2017 year models have some worrisome safety concerns that make them bad purchases. Both have dozens of reports of transmission flaws, and the 2016 model has an infamously faulty engine.
These trucks have been known to wander and fail to shift properly, especially in cold weather. We highly recommend steering clear of any of these year models, but 2007, 2016, and 2017 models are particularly unsafe.
---
THE BEST USED MINIVANS ON THE MARKET
When it comes to hauling a lot of people and cargo, the minivan is hard to beat. We've factored in reliability, affordability, and functionality to create this curated list of the 8 best used minivans on the market today.
---
Common Toyota Tacoma Problems
The Toyota Tacoma is one of the most popular compact trucks in the U.S. However, despite its reputation for reliability, it has some reliability woes you should know:
Peeling paint - No one likes to see their beautiful truck dented and blemished. However, it's even worse when the paint itself is peeling. Unfortunately, many reports said their Tacoma's roof paint was peeling for no apparent reason. Repainting may cost you as much as $3,000.
Faulty transmission - Affecting high-mileage Tacomas from 1995 to 2015, this truck is no stranger to faulty transmission systems. Apparently, the culprit is either an incorrectly adjusted throttle position sensor or a defective solenoid.
Lower ball joint issues - Tacoma trucks from 1995 to 2007 struggled with premature wear on the lower ball joint. This issue makes the steering wheel harder to use and has trouble with self-centering. Many reports also claimed that they heard noises coming from the front suspension.
Faulty starter - Tacoma engines are known to be reliable. Thus, if your truck has trouble engaging, the likely source is a defective starter. Since it's an issue that affects high mileage Tacomas, the more practical fix is replacing the starter.
Toyota Tacoma Problem Counts by Year
These are the most common problems reported by owners on platforms such as carproblems.com, carcomplaints.com, and Car Talk Community. Many defects have been reported about the Toyota Tacoma, but the most prominent are transmission failures, paint chipping, and engine malfunctions.
Is It Worth It to Buy a Used Toyota Tacoma?
The Toyota Tacoma is one of the most popular trucks in the United States. As the best-selling midsize pickup truck, it's clear that lots of people love what Tacoma has to offer. Some of the best qualities of the Tacoma truck are its off-road capabilities and top-notch reliability, and it tends to hold its value well over time. So is it worth it to buy a used Toyota Tacoma?
Despite its popularity and many outstanding qualities, the Tacoma is far from perfect, especially if you're looking to buy a pre-owned model. When purchasing a used Toyota Tacoma, understand that it's a model that needs a much-needed update. From its exterior design to its engine, the Tacoma was due for an upgrade probably a decade ago. Older Tacoma models would have more exacerbated problems like these. Therefore, the Tacoma is not your best bet if you're in the market for a midsize truck that passes the tests of time.
On the other hand, older Tacoma models will last you a long while due to their excellent reliability. Be prepared to pay more since Tacoma's hold their value quite well.
Is The Toyota Tacoma a good truck?
Absolutely. Debuting in 1995, the Toyota Tacoma is the best-selling pickup in the midsized truck category. This popularity comes from rugged capability (on and off the road) and trusted reliability. It's not unusual for an owner to fondly refer to their Toyota Tacoma as a "Taco." However, some Tacoma model years are better than others regarding reliability. Here are the details of the differences.
How much does a new Toyota Tacoma typically cost?
Toyota offers seven different versions (trims) of the 2023 Tacoma pickup. The base SR5 trim (with rear-wheel drive) starts at $29,500 (including destination charges), while the top-dog TRD Pro will cost over $50,000 with all the options selected. These prices could be higher depending on dealer charges.
How much does a used Toyota Tacoma typically cost?
Expect a beginning price of about $7,500 for a 15-year-old Tacoma, and with careful shopping, you're likely to find one with less than 200,000 miles. Strong resale values keep the prices higher for late-model used Tacomas, with costs similar to new ones. A loaded 2022 Tacoma TRD with low miles runs $50,000 or more. The CoPilot Price Pulse reports that an average  2016 Toyota Tacoma Double Cab has an asking price of $29,675, a 16% premium over the original forecast (for normal market conditions).
The Easiest Way to Find a Reliable Toyota Tacoma in Your Area
You can easily find a reliable used Toyota Tacoma in your area with the free CoPilot car shopping app. Just tell us what pickup truck you're looking for, and we'll do the rest, giving you a personalized list of the best options near you by searching every dealership around.
Car dealerships use the same technology to buy and sell their inventory to make recommendations, making CoPilot the easiest way to buy a used Toyota Tacoma.
Try CoPilot Compare, the search engine for nearly-new cars if you're interested in newer, off-lease vehicles. We'll only show you models that are five years or newer with low mileage, most with CPO availability, and break down how much you save buying used with the best nearly-new listings in your area.
Best of all, CoPilot only finds the best cars in your area - we don't work with dealerships, so there are no 'promoted' or 'sponsored' listings! Learn more about how CoPilot works on our About Us page.