Toyota Highlander Towing Capacity: What To Know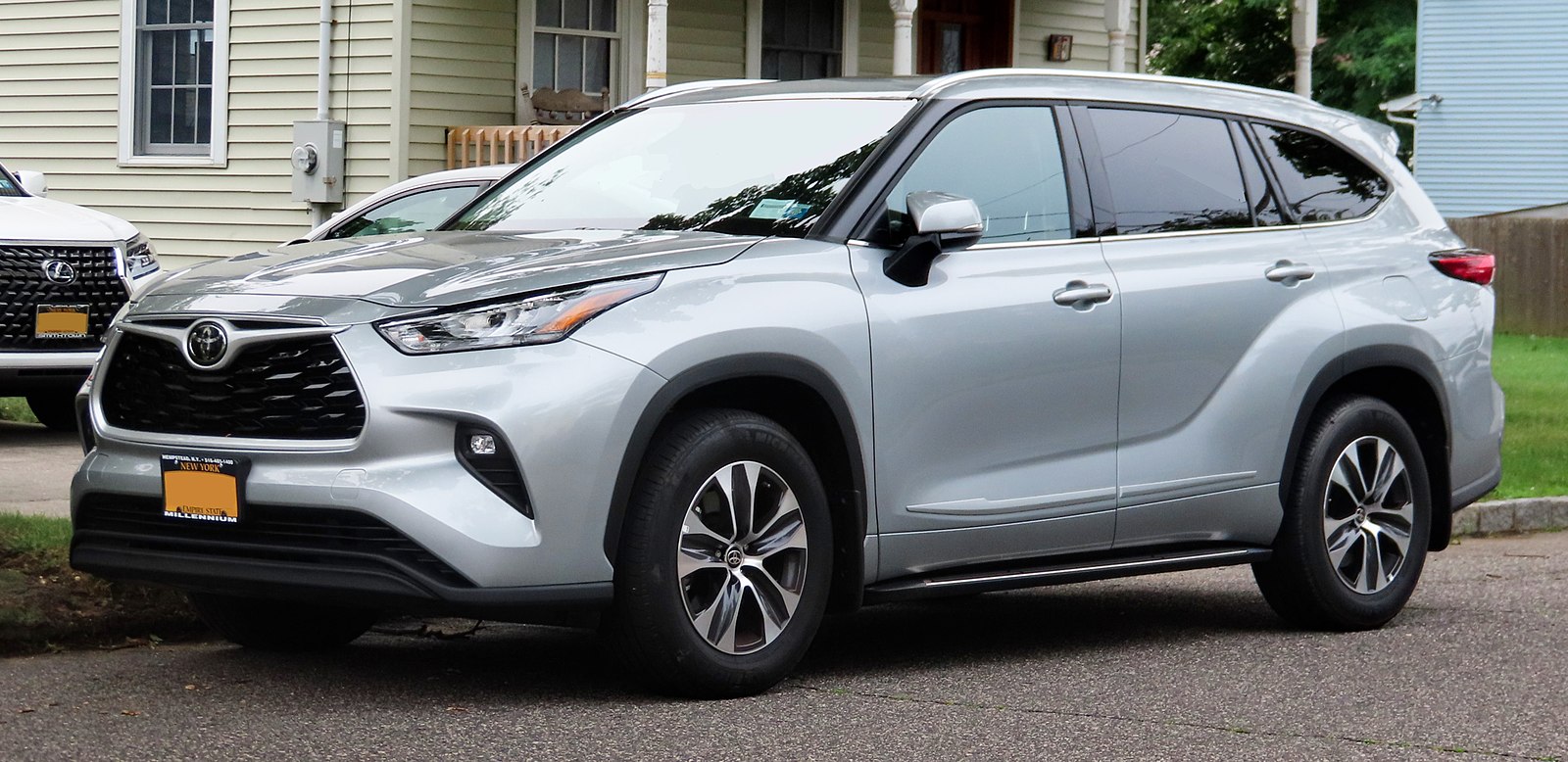 Toyota Highlander by Kevauto — CC-BY-SA-4.0
Toyota Highlanders have treated customers right on the road for many reasons. Some have to do with performance; some have to do with safety features. One major reason that matters a lot to certain customers that others may not think about, though, is the Toyota Highlander towing capacity. If you want to haul large weights to all sorts of destinations, you'll need a vehicle that has the capacity to do so, and the Toyota Highlander almost definitely does. Here, we'll tell you all you need to know about the Toyota Highlander's ability to tow and its other relevant towing features.
What is Towing Capacity?
It's important to know what towing capacity is before you start looking to buy the vehicle with the highest capacity! It's a metric that measures exactly how much weight your vehicle can safely pull behind itself with a trailer in a safe fashion to avoid causing any damage to your trailer, vehicle, or yourself. Not all vehicles have towing capacity, but those that do tend to have very different capacities from each other. We highly recommend that you do everything you can to avoid exceeding the maximum towing capacity of your vehicle. 
In order to find out your vehicle's towing capacity, you have a few different options on how to do so: reading the owner's manual from the manufacturer, finding a sticker inside the driver's side doorjamb that tells you, or calculating it yourself. To do this involves taking the gross combined weight of your vehicle, including everything that's loaded on it and the weight of the trailer, and subtracting the curb weight or the vehicle's weight when it has absolutely nothing in it. While it's definitely doable to figure this out on your own, the easiest and most accurate way to find your Toyota Highlander towing capacity is by getting the number straight from the manufacturer.
---
NOT JUST FOR CAR SHOPPING
The CoPilot app isn't just for buying a car - our new CoPilot for Owning tool will help you keep track of recalls and gives you advice on which scheduled maintenance tasks are most important.
---
How Much Can the Toyota Highlander Tow?
The Toyota Highlander is an SUV, so its towing capacity won't match up to trucks or other vehicles that were designed specifically for maximizing towing capacity (among other things). However, the Highlander still boasts an impressive towing capacity for an SUV. The 2021 Toyota Highlander has two engines for you to choose from. One is a 243 horsepower, 2.5-liter hybrid engine, and the other is a 295 horsepower, 3.5-liter V6 gas engine. Your choice of engine is the main factor in deciding how much towing capacity your Highlander has.
The 2021 Toyota Highlander towing capacity with the hybrid engine is 3,500 pounds. This number shoots up to 5,000 if you go for the gas engine. These metrics are true for all trim levels of the 2021 Toyota Highlander. The same specs are also all equivalent for the 2020 Toyota Highlander. The 2019 Toyota Highlander towing capacity is similar in that it is also mainly decided by your choice of a hybrid or gas engine, but the baseline 2019 model's towing capacity starts at 1,500 pounds rather than 3,500. 2017 and 2018 Highlanders have the same experience with towing capacity. It would seem that 5,000 pounds ia the limit for all Highlanders regardless of year model.
---
THE 10 MOST RELIABLE USED SEDANS
If you're ready to start shopping for a used car and reliability is a priority for you, take a look at our list of the top 10 most reliable used sedans on the market today. 
---
How Does This Compare to Competitors?
The 2021 Toyota Highlander has a really nice towing capacity, but its maximum capacity isn't actually higher than many of its competitors. Where it wins out, though, is that the 2021 Toyota Highlander towing capacity has a higher baseline than a lot of similar SUVs. For example, the Highlander's base of 3,500 pounds is better than the 2021 Chevrolet Traverse's towing capacity of 1,500 to 5,000 pounds. On a similar note, the 2021 Volkswagen Atlas can tow between 2,000 and 5,000 pounds. The other main competitor that the 2021 Toyota Highlanders beats outright is the 2021 Mazda CX-9, as it can only tow up to 3,500 pounds.
Now, let's talk about some of the competition that goes head-to-head with the Highlander. Many SUVs have the same towing capacity as the Highlander, so they're right on par with each other. The 2021 Honda Pilot has a towing capacity of 3,500 to 5,000 pounds like the Highlander does, and the 2021 Toyota 4Runner and Honda Passport do too. There is one particular SUV that actually has a better towing capacity than the Highlander: the 2021 Jeep Grand Cherokee, which can pull 3,500 to 7,200 pounds. Unless you're getting this Jeep, towing capacity likely won't be the deciding factor for which SUV you purchase since many of them are on equal ground.
---
HOW MANY SPARK PLUGS DOES A DIESEL ENGINE HAVE?
The answer to this question isn't as  simple as you'd expect. Let's look explore the difference between gas and diesel engines and explore just how many spark plugs a diesel engine actually has.
---
Other Towing Features of the Toyota Highlander
In addition to having a sizable towing capacity, given that it's an SUV, the Toyota Highlander also has some nice features to round out your towing experience and maximize your safety. Top-tier towing features include hill start assist control, downhill assist control, All Wheel Drive integrated management, and trailer sway control. Most of these have been implemented to keep your Highlander and trailer balanced regardless of road conditions.
---
THE BEST SEDANS WITH HIGH GROUND CLEARANCE
There are plenty of vehicles on the market that let you tower over obstacles without losing the convenience of a compact car. Therefore, we've put together a list of our favorite new ​sedans with high ground clearance​.
---
Everything Else You Need to Know
You can't just go around throwing things on your trailer and driving away. There are certain steps that must be taken to ensure the safety of the operation as a whole. The most important thing is to constantly be aware of the Toyota Highlander towing capacity and stay under this number with the weight you're adding. Exceed the capacity, and you risk damaging all of the equipment you're hauling and potentially yourself and your passengers.
Beyond this, you want to make sure your trailer is compatible with your vehicle (if it attaches properly, it should be good to go, but it's wise to also check online and with your manufacturer about any incompatibility issues) and properly balance all of your luggage. Tie it down and make sure it doesn't bounce around as you drive. As always, we promote safety above all else, so take the proper care in towing your equipment, and you'll have a great trip!
---
---
Get a Curated List of the Best Used Cars Near You
The CoPilot car shopping app is the easiest way to buy a car. Tell us what you're looking for and we'll search the inventories of every dealership in your area to make you a personalized list of the best car listings in your area.
Only looking for newer models? CoPilot Compare is the search engine for nearly-new cars. Only see cars five years or newer with low mileage — CoPilot Compare is the best way to find off-lease, early trade-in, and CPO cars.
The best part? CoPilot is built using the same technology that dealerships use to buy and sell their inventories, so we have more info on each vehicle than competitors. CoPilot doesn't work with dealerships, so there are no sponsored posts or other shady practices — just the most info on the best cars. Check out our About Us page to see how CoPilot works.