Ford Edge Towing Capacity: What To Know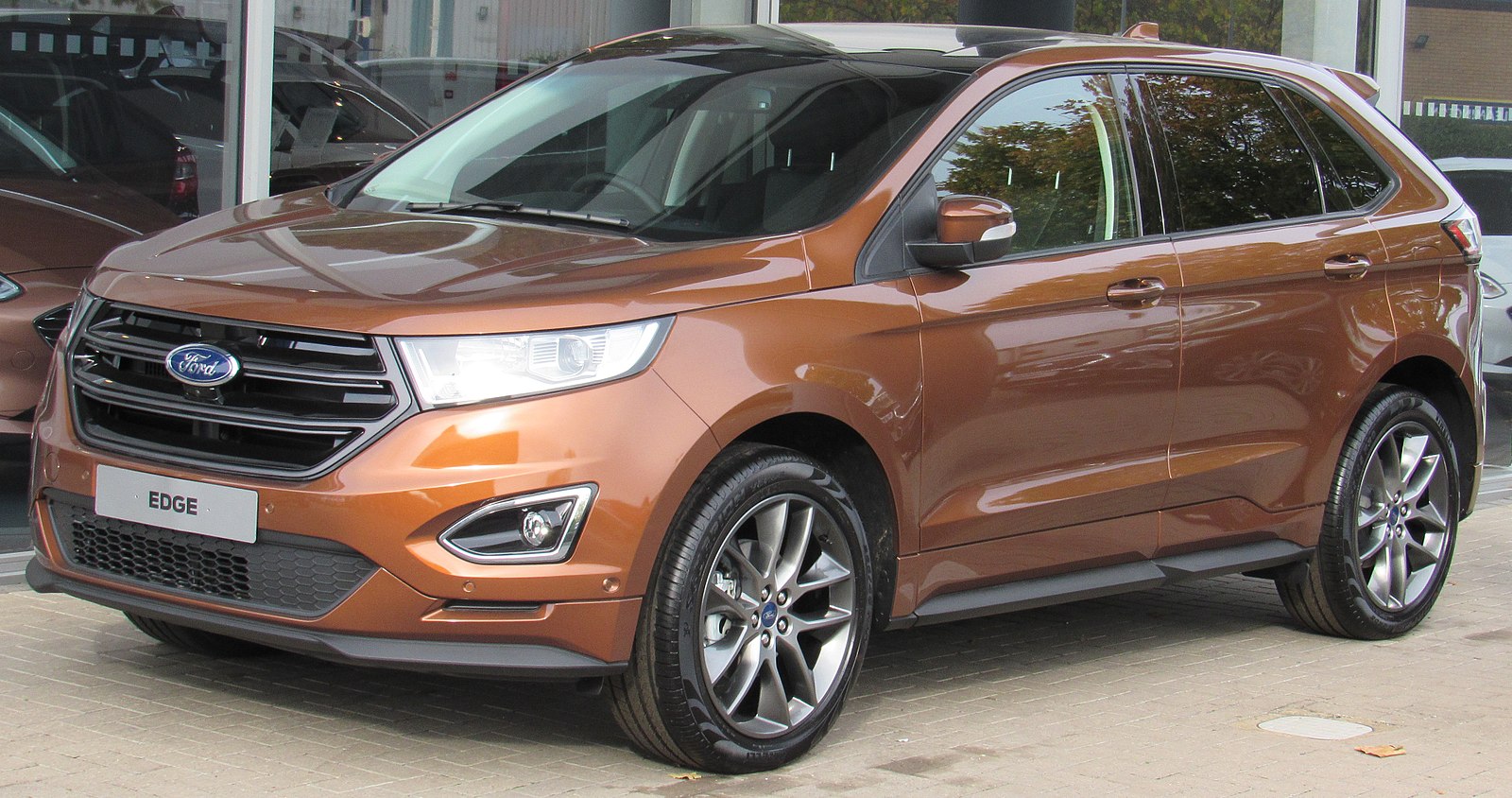 Ford Edge by Vauxford - CC-BY-SA-4.0
Fords are widely recognized as durable and effective vehicles at all size ranges and model types. They're known for their towing capacity and their ability to work well as working vehicles, especially in rural environments. But what about the Ford Edge? Does it compare with other vehicles in the same class, and what is the Ford Edge towing capacity? 
Is this compact SUV a good fit for working vehicles?
We'll cover everything you need to know, from the Ford Edge towing capacity to its towing performance, strengths and weaknesses, and what you need to think about for maintenance when you're towing with a Ford Edge. 
Ford Edge Towing Capacity
The Ford Edge offers a pretty middle-of-the-road towing capacity. It's not fantastic, especially not for a Ford, but the Edge offers a slightly better towing capacity than many similar compact and mid-size SUVs. The Ford Edge towing capacity is rated at 1,500-3,500 lbs. depending on what options you choose and what model of SUV you're working with. 
If you want the higher level 3,500 lbs. towing capacity, you'll need one of the newer Edge models and the Class II Trailer Tow Package to upgrade the hauling capacity. 
However, upgrading is worth it if you're hauling things consistently because they added several drive features that help make the Edge handle better while loaded, which we'll talk more about in the Performance section.
---
OTHER CAR SHOPPING APPS ARE OUTDATED
You won't realize how outdated other car searching apps are until you try the CoPilot car shopping app. CoPilot does the hard work for you by searching all of the listings in your area and intelligently creating a personalized list of the best buys in the area that match what you're looking for.
---
Why Towing Capacity Matters
Towing capacity refers to how much your vehicle can tow safely and without damaging any of the internal components of the vehicle. In this case, towing capacity refers to the weight you can put on your vehicle in an attached trailer or other equipment. 
Your towing capacity is also important for braking power. 
If you exceed the towing capacity of your vehicle, there is a good chance that your brakes could fail or that your stopping power wouldn't be sufficient. That means that it's important to respect towing capacity not just for the health of your vehicle but also for your safety and the safety of anyone riding in the vehicle with you. 
How Does The Ford Edge Compare To Similar Vehicles?
Ford is known for having some of the highest towing capacity of any vehicle in its class. The Edge is a little bit of an exception in that it's got middle-of-the-road towing capacity for SUVs in general but high for compact SUVs. 
For instance, the Ford Edge compares favorably to the CR-V since the CR-V towing capacity maxes out at 1,500 pounds. While the Edge does need an upgraded system to get the most of its towing capacity, it works pretty well even at the lower capacity. 
That being said, SUVs and trucks that are larger than the Edge do still offer superior towing performance. 
---
THE BEST USED MINIVANS ON THE MARKET
When it comes to hauling a lot of people and cargo, the minivan is hard to beat. We've factored in reliability, affordability, and functionality to create this curated list of the 8 best used minivans on the market today.
---
Where Does The Edge Fit In The Ford Line?
The Edge is a little bit of an odd addition to the Ford line since it's less of a high-capacity work vehicle and more of a performance family vehicle. That said, the Edge is still more of a high-capacity vehicle than many would expect from its profile. 
The Edge is Ford's SUV answer to a commuter vehicle that still offers reasonable towing capacity while balancing fuel economy and other performance measures. 
As a family vehicle or a vehicle for people who like to camp or travel a little on the light side, the Edge is a fantastic option. 
Ford Edge Driving Performance While Hauling
The Ford Edge offers some of the best driving performance while hauling for a vehicle in its class. That's thanks to the driving adaptations that come with the Edge's upgraded hauling package and to a well-designed system for the lower hauling capacity. 
The Edge does a lot of the work for you so that you don't need to work to balance your car as much for hauling. It also helps handle the braking and other performance issues to keep your car in control no matter how much you're hauling. 
Combine that with reasonable clearance and other performance enhancements, and the Edge is one of the easiest hauling vehicles to drive. 
Cargo management systems included with the Edge also make it easier to keep everything secure on the road, so you don't have to stop and check your connections as often. 
All of that combined means that the Edge isn't a high-performance hauler, but it is an excellent and easy-to-drive hauler for the capacity it offers. 
---
THE BEST USED SUVS UNDER $10,000
We looked into price, reliability, features, and more to create this list of the best used SUVs under $10k on the market today. Take a look - some of the best used SUVs have gone mostly overlooked or forgotten. 
---
Hauling Maintenance For Your Ford Edge
Fords have a reputation for good maintenance and not needing as much attention as a lot of other vehicles on the road right now, but that doesn't mean that they don't still need maintenance. 
Among some of the most important maintenance for a hauling Edge is the need for regular oil changes. You should always check your oil and make sure it's in good condition before hauling a heavy load or going on a long trip. You should also check your coolant levels to help prevent overheating and help prevent damage from hauling. 
It's also important to take a look at your vehicle's tires and make sure they are in good condition. Hauling any kind of weight puts a lot of pressure on your tires and can make any small defects difficult to deal with. That means you need to check your vehicle's alignment and make sure the pressure is good in all tires before starting to haul. 
Overall, the Edge isn't too demanding when it comes to maintenance schedules and needs, but it's also important to make sure you're on top of major maintenance. 
If you're looking for a good commuter vehicle that still works well for camping, the Edge is a reasonable option. Its performance is high for the kind of SUV it is, but it still offers reasonable gas performance and other performance metrics that make it a good option for a wide range of consumers. 
Plus, if you take care of your Edge, like most Ford vehicles, it will last a long time.
---
---
Get a Curated List of the Best Used Cars Near You
The CoPilot car shopping app is the easiest way to buy a car. Tell us what you're looking for and we'll search the inventories of every dealership in your area to make you a personalized list of the best car listings in your area.
Only looking for newer models? CoPilot Compare is the search engine for nearly-new cars. Only see cars five years or newer with low mileage — CoPilot Compare is the best way to find off-lease, early trade-in, and CPO cars.
The best part? CoPilot is built using the same technology that dealerships use to buy and sell their inventories, so we have more info on each vehicle than competitors. CoPilot doesn't work with dealerships, so there are no sponsored posts or other shady practices — just the most info on the best cars. Check out our About Us page to see how CoPilot works.