Ford Edge Ground Clearance: What to Know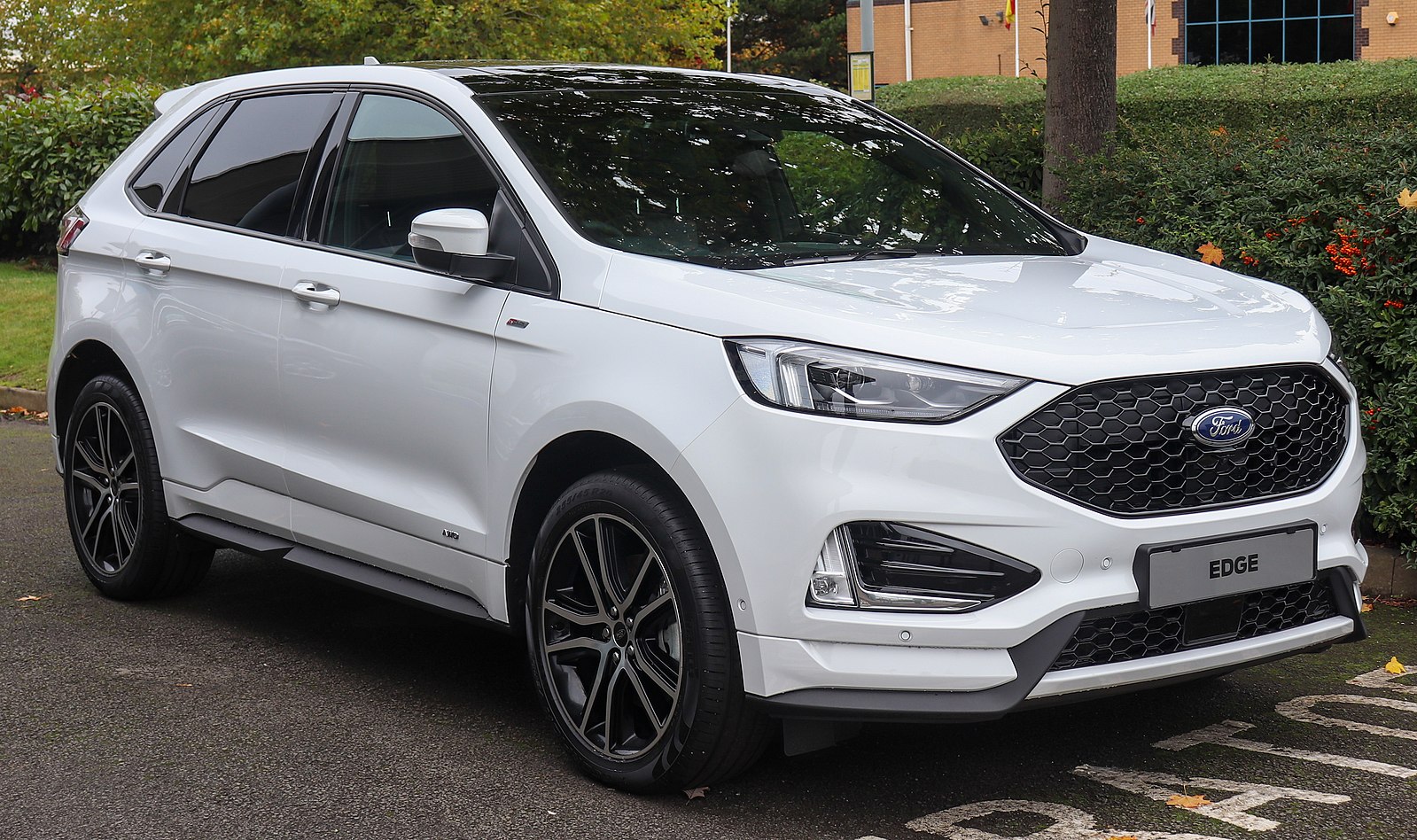 2019 Ford Edge by Vauxford — CC BY-SA 4.0
If you are in the market for a capable off-road vehicle, there's a good chance you overlooked the Ford Edge. With so many other notable names seemingly better designed to accommodate off-road driving, we felt it necessary to highlight the Ford Edge ground clearance.
Forgive the pun, but the vehicle is right on the edge of what makes an acceptable clearance for off-roading. In fact, far more entries fall way behind the Edge in terms of ground clearance.
As you'll discover, Ford has a few surprises up its proverbial sleeve to appeal to off-road enthusiasts – especially those looking to inject some class and sophistication into their outdoor adventures. 
Ford Edge Ground Clearance: Does It Hold Up?
Before we discuss ground clearance, it's important to address where the Ford Edge sits among its competitors. This isn't your typical off-road vehicle, as the Edge rests comfortably between a high-end luxury vehicle and a capable off-road SUV.
As such, it's an easy one to overlook. The price is impressive considering all you get, making it a notable contender in the off-road space. Of course, specs and features don't matter much if you aren't able to traverse off-road terrain. 
Fortunately, the Ford Edge ground clearance sits at 8 inches. Again, this is where you want it to be for acceptable ground clearance height, as the norm is between 6 and 8 inches. So it's nice to see that you get the best of both worlds, so to speak, in that the Edge is capable of driving over various surfaces while still offering a luxurious driving experience.
Handling and steering are both impressive, which is somewhat surprising considering the size of Ford's Edge. On particularly uneven ground, you're likely to experience some rocking. The good news is that Ford makes up for this by delivering exceptional control.
You should have no trouble maneuvering the Edge through muddy, wet, or snowy conditions. Moreover, the vehicle gets down at a commendable clip, further cementing its legacy as an off-road contender.
The gearbox feels a bit tight at times, which causes the 2.0-liter engine to suffer. Still, there's a lot to be said for the Edge's performance on off-road surfaces, making full use of the 8-inch ground clearance.
---
NOT JUST FOR CAR SHOPPING
The CoPilot app isn't just for buying a car - our new CoPilot for Owning tool will help you keep track of recalls and gives you advice on which scheduled maintenance tasks are most important.
---
Off-Road Performance
Most drivers will appreciate just how well the Edge handles itself over off-road terrain. Whether muddy, dry, wet, or slick, the Edge provides sufficient traction to ensure safe driving conditions. 
In everyday driving conditions, the Edge performs admirably. Switching over to off-road driving and back to pavement doesn't seem to affect the Edge in any way. Some vehicles struggle with this, but the Edge holds up well across various surfaces. 
Anyone looking for a versatile vehicle for camping life will want to consider the Edge. You get close to 40 cubic feet of cargo space with rear seats up. Laying them down expands cargo space exponentially, providing you with 73.4 inches of cubic feet. 
As such, you'll have plenty of room for all of your camping gear and then some. Even with family in the back seats, we still found enough space for a few days' worths of camping.
As an SUV, you can expect a comfortable driving experience for everyone involved. The seating sits high and offers lots of legroom in front and back. Your passengers will feel at home, even if they are taller than 6 feet tall.
If you decide to camp out at a remote locale off the beaten path, you can trust that your friends and family will be treated to a comfy ride. Again, there is some notable jostling on uneven trails, but otherwise, the Edge provides luxurious travel conditions.
---
THE BEST USED SUVS UNDER $10,000
We looked into price, reliability, features, and more to create this list of the best used SUVs under $10k on the market today. Take a look - some of the best used SUVs have gone mostly overlooked or forgotten. 
---
Additional Features
The base Ford Edge features a turbocharged, 4-cylinder engine that produces 250 horses. Although acceleration is sometimes modest, there's enough power to keep the Edge on pace in all driving conditions. 
If you respect the SUV's limitations, you'll be pretty pleased. You can drive around corners with excellent stability, and the steering feels well-balanced. The 4-cylinder engine holds up well when you're on uneven landscapes and inclines, coming together to deliver a solid investment for reasonable off-roading.
Ford does offer a V-6 model in the ST, which might sound appealing to off-road enthusiasts. But be warned; there is a significant price increase for jumping up to this version. If you're on a budget, it's best to avoid paying nearly $11,000 for the V-6 ST.
We would say otherwise if the Edge had higher ground clearance and could traverse rougher, rockier terrain. But considering where the Edge can safely navigate with the 4-cylinder, it's hard to justify the need to upgrade. 
Some in-between models provide additional features not found in the base SE model. But even if you upgrade to the Edge Titanium, which is just before the ST, there's still a $5,000 price jump between the Titanium and the ST.
Given the Edge's limitations as an off-road SUV, few as they may be, we see no reason to fork over the extra funds to get a V-6 engine. Upgrade to auto-dimming mirrors and better sound all you want. Just don't spend the money on an engine you'll rarely use.
---
THE BEST USED LUXURY CARS ON THE MARKET
Buying a used or CPO luxury car is one of the smartest buys you can make - you can get a lot of car for not much money. You can pick up a three-year-old luxury car for about half of what you'd pay new. Check out this list of the best used luxury cars on the market to find the best deals. 
---
Should You Buy the Ford Edge?
The Ford Edge is a capable SUV that offers a good amount of utility for families. But is it a good buy? With a ground clearance of 8 inches, the Edge provides a good ride height which is standard for most SUVs of this size. However, if you're looking to brave the outdoors in your Ford Edge, you may want to think twice. Technically, you can go off-roading in your Edge, but don't expect a top-tier performance like, let's say, a Ford Bronco or Jeep Wrangler.
With that said, the Edge offers a solid selection of powertrain and optional all-wheel drive, so it's more than capable of driving through dirt or gravel roads. The 8-inch ground clearance is also insufficient for more serious off-road activities like rock climbing or log crawling. Ideally, you'll want a vehicle with a clearance of between 8.8 and 10.8 inches for optimal off-roading performance.
Outside of off-roading duties, the Ford Edge comes with a host of standard infotainment features and safety options. There's also a good amount of cargo space and decent fuel economy. It's not the most value-rich SUV in the segment, but the value proposition is there.
Wrap Up
So, does the Ford Edge ground clearance allow for the type of off-roading you were hoping for? We say go for it if you're sticking to the occasional rough trail during camping trips and exploration. You're getting an exceptional ride that provides the luxuries you'd expect to find in higher-end vehicles. 
But if you were hoping to be able to take the Edge over rocky terrain and the like, it's better to look elsewhere. The 8-inch clearance is undoubtedly capable of taking you to remote destinations, but it's dependent on the layout of the route you need to take to get there.
Get a Curated List of the Best Used Cars Near You
The CoPilot car shopping app is the easiest way to buy a car. Tell us what you're looking for and we'll search the inventories of every dealership in your area to make you a personalized list of the best car listings in your area.
Only looking for newer models? CoPilot Compare is the search engine for nearly-new cars. Only see cars five years or newer with low mileage — CoPilot Compare is the best way to find off-lease, early trade-in, and CPO cars.
The best part? CoPilot is built using the same technology that dealerships use to buy and sell their inventories, so we have more info on each vehicle than competitors. CoPilot doesn't work with dealerships, so there are no sponsored posts or other shady practices — just the most info on the best cars. Check out our About Us page to see how CoPilot works.