Here Are The BMW X5 Years To Avoid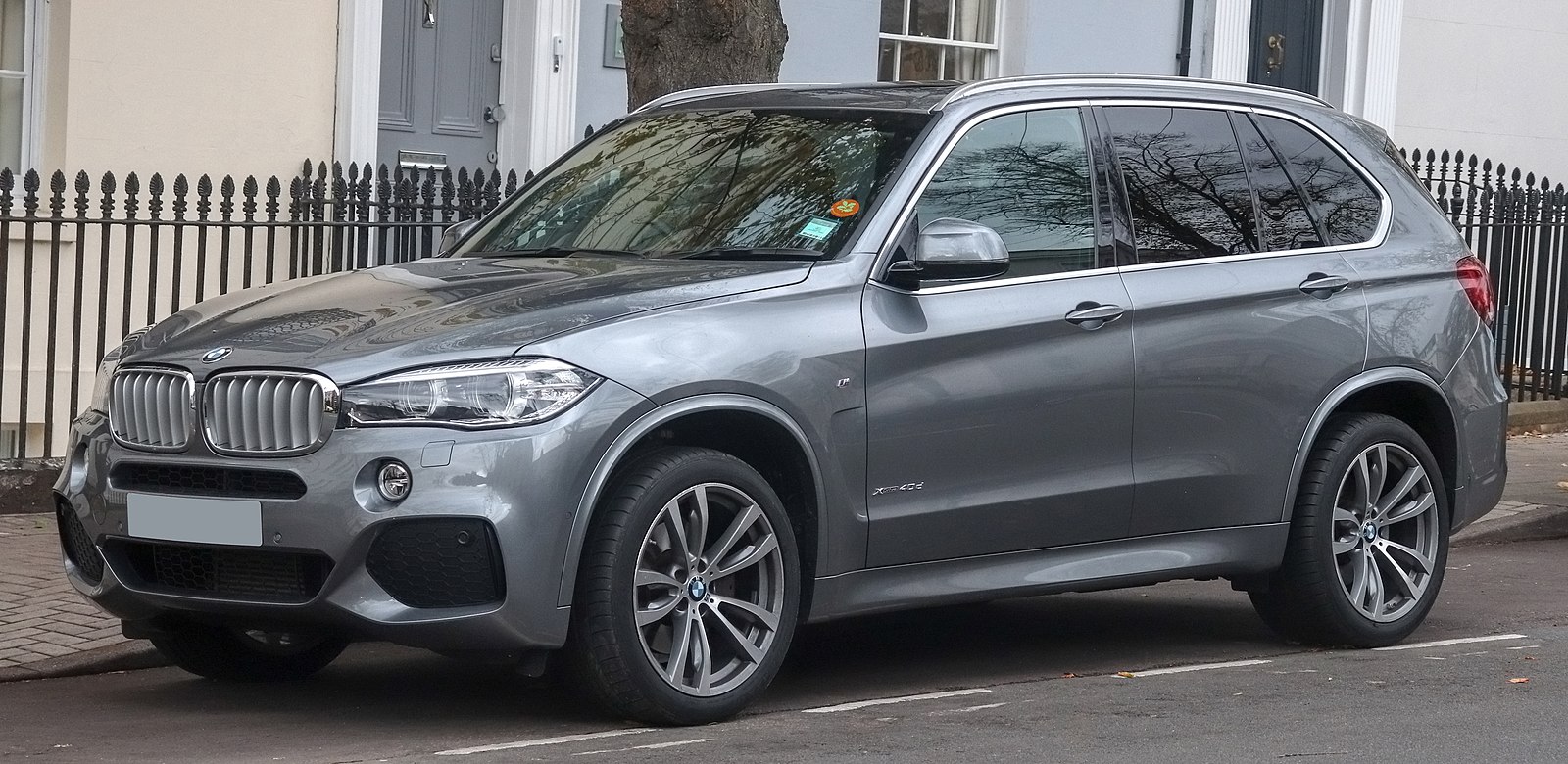 BMW X5 by Vauxford — CC-BY-SA-4.0
When it comes to buying luxury vehicles, many luxury car fans would never be caught dead in a used vehicle. Then, there are the used vehicle car shoppers who can't see themselves driving a luxury model.
If this is the case, is there a market for used luxury vehicles like the BMW X5?
As it turns out, the BMW X5 is a popular choice for luxury vehicle purchases. If you're looking to buy a used BMW X5, you have to keep reading. Below, we have listed the BMW X5 years to avoid along with the ones that are safe to buy used.
Which BMW X5 Years to Avoid?
To answer your question quickly, below are the BMW X5 years that are known to have issues with reliability:
2008 BMW X5
2009 BMW X5
2012 BMW X5
2013 BMW X5
2014 BMW X5
2008 BMW X5
The 2008 BMW X5 doesn't have that many complaints as per CarComplaints. The top three of its problems are water leaking into the interior, coolant pump failure, and loss of power while driving.
The primary area of concern is the water leaking into the interior of the SUV. According to the report, the water wasn't drained sufficiently from the drain tubes and flooded the electrics. Getting this fixed will cost you around $10,000. However, we've found that this particular problem only stemmed from a single report from Car Complaints, so feel free to take that as you will.
Loss of power while driving is another issue that you should be looking out for. The solution states to replace the battery and alternator, which can cost upwards of $2,000.
---
NOT JUST FOR CAR SHOPPING
The CoPilot app isn't just for buying a car - our new CoPilot for Owning tool will help you keep track of recalls and gives you advice on which scheduled maintenance tasks are most important.
---
2009 BMW X5
With only 200+ NHTSA complaints, according to CarComplaints, the 2009 BMW X5 is far from being a problematic luxury SUV. However, it does have a couple of trouble spots, including oil leaks and melting brake lights.
While it has only two complaints from Car Complaints, oil leaks are fairly common, according to many different automotive forums. According to one user, he experienced two excessive oil leaks, and the dealership said that it had something to do with faulty alternator bracket and timing covers and asked for $5,000.
Another prominent issue with this X5 year is the melting taillights. This causes the warning lights to appear in the dash and is a major safety hazard.
2012 BMW X5
The 2012 BMW X5 has over 300 NHTSA complaints, and a total of 12 recalls, as per CarComplaints.com. Again, the problems are far from major, and the top concerns are only coming from a few reports.
The most noteworthy issue, according to one owner, is that the vehicle vibrates whenever it turns, which is likely a transmission-related problem. As per the X5 owner, BMW wanted to replace the transfer case and asked for $4,000, and that's after the 20% dealer coverage.
Like the 2009 model, the 2012 X5 is also prone to brake light problems. The rear inner brake light assembly is vulnerable to water damage which leads to the corrosion of the LED contacts.
2013 BMW X5
Scoring a dismal 1 out of 5 reliability rating from Consumer Reports, the 2013 BMW X5 is one of the worst BMW X5 years to avoid. The 2013 X5 has far too many trouble spots that are in the red.
Many owners have reported that the 2013 X5 has numerous problems with its fuel system. One owner said that the fuel pump failed and even began to disintegrate, leaving particles in the fuel system. Some users also reported that the fuel injection system had to be replaced due to stalling and loss of power.
Oil leaking rears its ugly head once again with this X5 year. Several users claimed that their SUV is either consuming too much oil, leaking all over the place, or both.
2014 BMW X5
The following year of the BMW X5 isn't all that better. Consumer Reports handed another 1 out of 5 reliability score to the 2014 BMW X5.
Looking at what the owners said over at Consumer Reports, many cited body integrity issues with the 2014 X5. One user complained about water leaks that come from the roof and drain to the driver's side floor. Many users also stated that the vehicle suffers from annoying squeaks and rattles, claiming that it's unacceptable for a luxury model.
Other problematic areas include the suspension, fuel system, engine minor and major, and electric system - all have earned a 1 out of 5 score from Consumer Reports.
---
WHAT TO DO IF A DEALER REFUSES TO CANCEL EXTENDED WARRANTY
Car buying can occasionally be frustrating, especially if you're purchasing your vehicle through a dealership. We're here to tell you how to navigate a situation in which a dealer refuses to cancel your extended warranty.
---
Which BMW X5 Years are Safe to Buy Used?
Now that you've seen the worst BMW X5 years to avoid let's get to the models that are likely safe to buy as used.
2016 BMW X5
With a reliability rating of 4 out of 5, the 2016 BMW X5 is a safe bet for used luxury car shoppers. From the excellent drive quality to snappy handling to top-notch amenities, the 2016 year is a great representation of the X5 line.
One common problem with the 2016 model is the excessive tire noise which is hardly a big deal for most customers.
2017 BMW X5
The following year is also a win for BMW because the 2017 X5 has a reliability rating of 5 out of 5, according to Consumer Reports.
Aside from reports of brake squeaking and faulty climate system, there's not much to say about the 2017 X5's reliability issues. The 2017 BMW X5 is a year that you can confidently buy as used.
---
THE BEST TWO-SEATER CARS
If you're in the market for a speedy two-seater, we've got you covered. Check out our list of the best two-seater cars on the market today.
---
2021 BMW X5
It's not exactly an old model, but the 2021 BMW X5 is an excellent option if you're looking to buy a fairly new used luxury SUV. Critics all over the web have sung its praises, and for a good reason. 
Again, the 2021 X5 boasts a perfect reliability rating from Consumer Reports as well as a 77 out of 100 Quality and Reliability score from J.D. Powers. This year feels like the culmination of BMW's ability to listen to customer feedback and take action to solve the issues.
Common BMW X5 Problems
As with most luxury models, the BMW X5 isn't exactly a paragon of reliability. According to RepairPal, it has a reliability score of 2.0 out of 5.0, which is below average. Here are some of the most common problems with this luxury SUV.
Engine stalls: Several X5 models have struggled with engine stalls. Owners have reported that their vehicle would stall while on the road. While it's more common at low speeds, some reports claim it also occurs while driving fast.
Interior leakage: The X5's sunroof was reportedly prone to interior leaks. Apparently, the sunroof's drain tubes tend to malfunction and cause water to leak into the interior, which may damage the electronics on the front.
Transmission issues: Some X5 model years had problems with their transmission. These transmission issues caused performance reduction and slipping at low speeds. Fixing these types of problems can be very expensive since the transmission may require a rebuild or replacement.
Overheating engines: Although not as prevalent, some owners claimed that their X5's engine overheated. Experts determined that this issue stemmed from a faulty water pump. A quick fix is to replace the water pump to keep the engine adequately cooled.
---
---
Get a Curated List of the Best Used Cars Near You
The CoPilot car shopping app is the easiest way to buy a car. Tell us what you're looking for and we'll search the inventories of every dealership in your area to make you a personalized list of the best car listings in your area.
Only looking for newer models? CoPilot Compare is the search engine for nearly-new cars. Only see cars five years or newer with low mileage — CoPilot Compare is the best way to find off-lease, early trade-in, and CPO cars.
The best part? CoPilot is built using the same technology that dealerships use to buy and sell their inventories, so we have more info on each vehicle than competitors. CoPilot doesn't work with dealerships, so there are no sponsored posts or other shady practices — just the most info on the best cars. Check out our About Us page to see how CoPilot works.