The most common problems with used 2015 Ford Explorers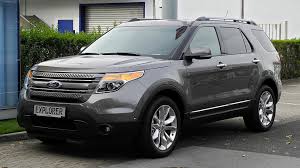 Ford was one of the originators of the SUV craze, leaping way ahead of its time by offering a vehicle that was at once rugged and completely practical. Since its introduction in 1990, the Ford Explorer has been offered in a dizzying array of configurations, engine configurations and trim level. For millions of families, it has been the truckster of choice for hauling kids, gear, pets and basically everything else for the modern family.
Publications like US News mention the 2015 Ford Explorer has a lower than expected reliability rating that pushes it to the bottom of the midsize SUV class despite it's smooth ride and powerful engines.
Common problems with 2015 Ford Explorer
Power Steering Stops Working. Cost to fix: $1600.00
Exhaust Smell In Cabin. Cost to fix: $700.00 - $900.00
Popping Noise When Turning. Cost to fix: $1800.00
Owner-reported problems with the 2015 Explorer:
Most common problem with 2015 Ford Explorer: Power Steering Stops Working
Cost to fix: $1600.00
Owners of the 2015 Ford Explorer express concerns over sudden difficulty in turning the steering wheel at varying road speeds. Owners express that the issue appears suddenly and that loss of control is likely due to loss of a power assist. Since this issue is due to electronic failure in the power steering system, it is nearly impossible to completely pre-diagnose. In this case, it is best to ask the selling party for any service paperwork to ensure the parts were replaced. If not, you may deal with the issue at any time.
---
KNOW THE WARNING SIGNS
Looking to shop safe when buying a used car? Great idea. Before you drop a chunk of change, read this list of red flags to look out for when buying a used car.
---
Also common: Exhaust Smell In Cabin
Cost to fix: $700.00 - $900.00
Under heavy acceleration loads, such as those encountered when merging on to a highway or into traffic, owners of the 2015 report pervasive exhaust smell in the cabin. The condition appears to be worse with the recirculation setting on the HVAC system turned to 'On'. While test driving, be sure to run the HVAC system under full acceleration and note any smell entering into the cabin. You can also ask the selling party for any documentation of the repair being completed for this specific issue.
---
DOWNLOAD THE APP
Looking for your perfect car? Look no further. Download the CoPilot app and compare vehicles in your area, get notified about great deals, set alerts for new listings, and chat with experts for real-time advice.
---
Other 2015 Ford Explorer problems worth noting: Popping noise while turning
Cost to fix: $1800
The steering rack of the 2015 Ford Explorer is known to have issues with failure at low mileage points. Users on carcomplaints.com have reported that a popping noise is heard while turning at low speeds and that this issue gets progressively louder over time. While running through a test drive, take special care to turn the steering to full, opposite lock in both directions and listen for grinding or popping noises.
How to avoid buying a used 2015 Ford Explorer with these problems
Your best defense against purchasing a 2015 Ford Explorer with issues like the above is to run it through a thorough test drive and to have it vetted by a local mechanic who can thoroughly check for issues missed during the test drive. The test drive is there as a measuring stick of the car's immediately apparent condition. Drive the car like you would on a normal day! Run the air conditioning at full blast, drive at freeways speeds, crank up the stereo. These small things will indicate to a seasoned driver if there are or are not issues with your potential new vehicle.
A seasoned mechanic will be your best defense against purchasing a potential lemon. Even if the vehicle drives great and looks great, it does not mean that vehicle is free of issues. A perfect example is the steering rack issue mentioned above. This sound may not show up until after you have purchased the car and it may not make any sound on the test drive either. However, a mechanic can take a good solid look while the vehicle is on the lift and note any wear/tear. A few dollars up front could save you thousands in the end!
---
BUY A CAR THAT KEEPS ITS VALUE
Cars lose value the second they're driven off the lot. So how can you avoid making a pricey mistake? Check out this list of the fastest-depreciating cars so you can spend smart.
---
Search all used 2015 Ford Explorers in your area
If you're looking for a 2015 Ford Explorer or another similar sized family SUV; CoPilot is the easiest way to get a stellar deal on quality used cars. Curious about used car listings in your area? Download the CoPilot app to see quality used car listings which are sorted by a list of recommended buys. Be in the know and get immediate notifications when a vehicle you're interested in drops in price of a new vehicle becomes available that meets your needs.
Problems to look out for on other year models of Ford Explorer: