Which Year Models of Used Acura MDX to Avoid?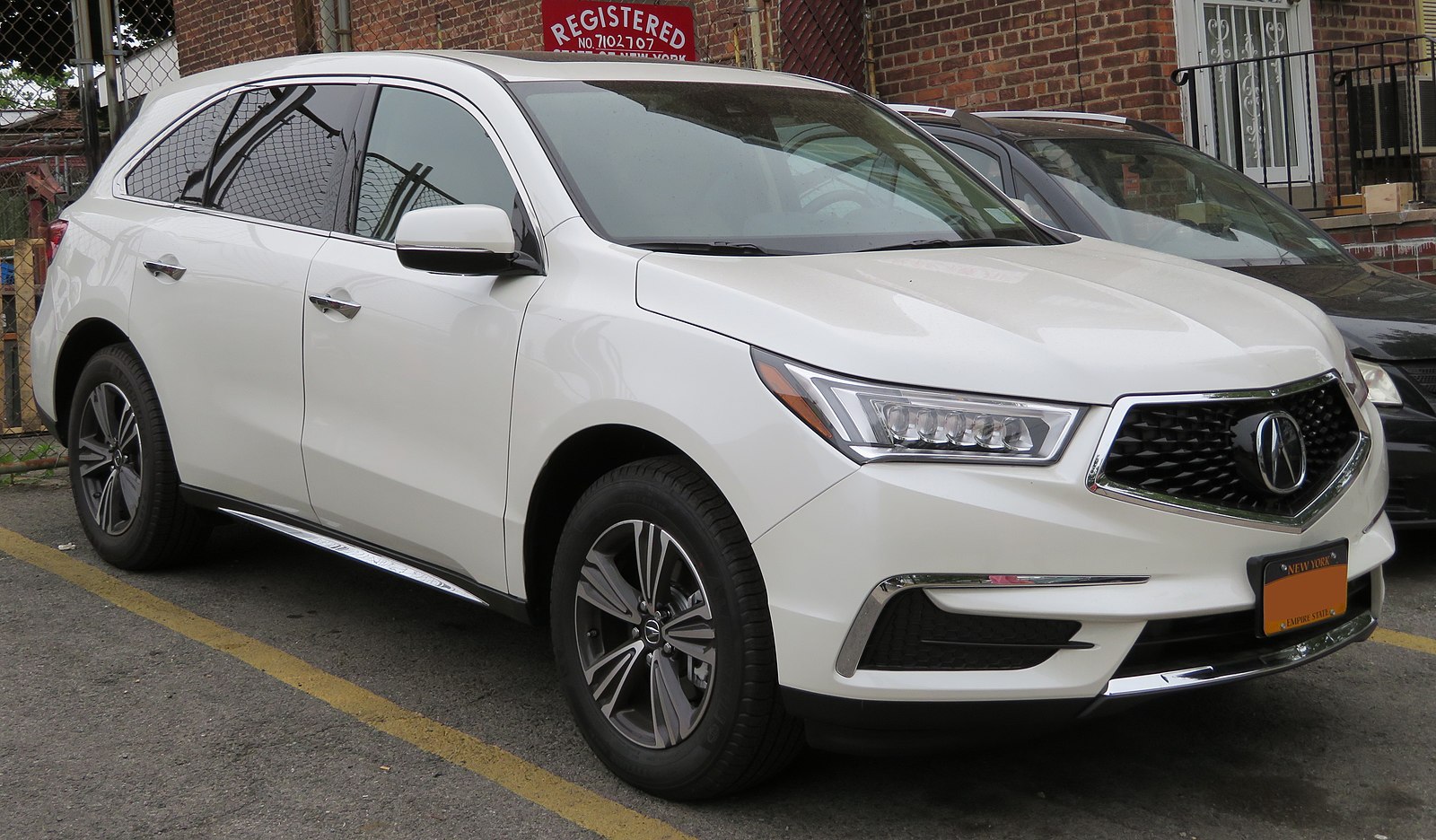 Acura MDX by Kevauto — CC-BY-SA-4.0
The Acura MDX has been one of the most trusted mid-size three-row luxury crossovers on the market since its production began in 2000. The MDX in its title is meant to stand for "multidimensional luxury," representing this SUV's place on the road as an intersection of utility and comfort.
With two decades of the MDX being improved and perfected, some are certainly better than others. CoPilot is here to step in and help you navigate the wide range of Acura MDXes out there.
---
GET A CURATED LIST OF THE BEST ACURA LISTINGS 
The CoPilot app is the smartest way to buy an Acura. Tell us what you're looking for and we'll send you a curated list of the best used Acura listings in your area - no more scrolling through hundreds of listings looking for hidden gems. 
---
Quick Answer: Avoid Acura MDX Year Models 2001, 2002, 2003, 2004, 2005, 2010, 2014, 2016, and 2017
We recommend avoiding the 2001, 2002, 2003, 2004, 2005, 2010, 2014, 2016, and 2017 Acura MDX year models. The Acura MDX's biggest problem across the board is transmission failure, and the 2004 year model has earlier and more expensive failures than most other MDXs.
The 2001, 2002, 2003, and 2005 MDXes are also plagued with total transmission failure, but it comes a bit later. The 2010 model has a costly excessive oil consumption problem, while the 2014 and 2016 have many engine issues early on.
In addition to this, the 2014 MDX has more complaints than any other model. The 2017's transmission may not completely fail from the beginning, but it provides its owners with trouble very early on. Because of difficult transmissions and engines, you should not buy any of these Acura MDX year models.
---
FEEL SECURE IN THE CAR YOU CHOOSE
You don't want to buy a car - you want to get the best deal on the car you're looking for. The CoPilot app will notify you if there's a similar vehicle in your area at a better price, so you're always certain you got the best deal available. 
---
Which Year Models of Acura MDX are Safe to Buy Used? 
The Acura MDX is one of the finest 5-door SUVs out there, providing you with luxurious styling and plush third-row seating. You'll want to go with one of the more secure models in the line, and we've determined which ones those are. We recommend the following Acura MDX year models as safe to purchase:
2006 Acura MDX
2007 Acura MDX
2008 Acura MDX
2009 Acura MDX
2011 Acura MDX
2012 Acura MDX
2013 Acura MDX
2015 Acura MDX
2018 Acura MDX
2019 Acura MDX
2020 Acura MDX
All of these Acura MDX year models either have few complaints, or the ones that they do are minor. Your safest bet will be models from the last few years, as the 2019 and 2020 MDXes have no complaints.
There has been one concerning report about a 2018 model dying while driving, but it was so rare that it shouldn't be an issue. A 2006 year model will also be very reliable, as its minimal number of complaints shouldn't raise much concern, and its problems are both rare and have occurred at an average of 150,000 miles. 
The biggest flaw with the 2007 year model is a broken sunroof, but this only costs about $700 in the unlikely event that it happens to you. The 2008, 2013, and 2015 Acura MDXes all have mostly clean records, and most of their potential defects would be inexpensive to repair, like a hesitating transmission (~$300) or a poor A/C system (~$400).
There was one instance where a 2008 model had a broken timing belt which would be pretty expensive to fix, but this case was likely an anomaly and shouldn't happen in your MDX.
The problems in a 2009 MDX are straightforward, like a drained battery at 96,000 miles that costs around $400 to fix.
The same is true for the 2011 and 2012 year models, with some of the biggest complaints being slight malfunctions with the backup camera or the garage door opener. You'll be in good hands with any of these Acura MDXs.
Which Year Models of Acura MDX to Avoid: 
There have been a few ups and downs in the MDX's history, and not all of them will satisfy your needs. You need to avoid specific models to help you make the most out of your Acura MDX purchase. We recommend avoiding the following Acura MDX year models:
2001 Acura MDX
2002 Acura MDX
2003 Acura MDX
2004 Acura MDX
2005 Acura MDX
2010 Acura MDX
2014 Acura MDX
2016 Acura MDX
2017 Acura MDX
The first five-year models of the Acura MDX (2001 - 2005) have disastrous problems with total transmission failure at some point in their lives. They usually occur in the range of 100,000 - 130,000 miles, so it isn't early, but it costs over $4,000 for repairs. The 2004 model is the worst out of this bunch, as its transmission fails even earlier, at 84,000 miles, and it has further transmission defects like jerking and a rumble strip noise.
---
THE BEST USED SUVS UNDER $10,000
We looked into price, reliability, features, and more to create this list of the best used SUVs under $10k on the market today. Take a look - some of the best used SUVs have gone mostly overlooked or forgotten. 
---
The majority of complaints about the 2010 MDX have to do with its excessive oil consumption, occurring at an average of 92,000 miles. This might not be a dealbreaker in other vehicles, but here it's costly to fix at around $6,700.
2014 has the highest number of complaints overall and a plethora of engine troubles that crop up early on. There's a good chance you'll experience stalling or lurching on acceleration or strange ticking noises from the engine. The 2016 and 2017 models have similar issues, but they're focused more on the transmission, as they tend to jerk, lurch, and hesitate on acceleration. You'll want to avoid buying any of these Acura MDX year models.
Common Acura MDX Problems
Even with its reputation for solid reliability, the Acura MDX has a couple of reliability woes that you need to know:
Acceleration issues - Owners of 2016 and 2017 MDXs had problems with their transmission, resulting in poor or jerky acceleration. According to the reports, the situation becomes even more pronounced until they get their vehicle started. Honda/Acura dealers had recommended updating the transmission control module (TCM) software.
Excessive oil consumption - Owners affected by this frustration claim that their MDX consumes more oil than usual. Another annoying aspect of this problem is that the fix may cost owners as much as $6,800 to fix. The problem was so bad that Honda had to issue service bulletins.
Malfunctioning climate system - 2008 MDX owners had to contend with fault A/C units. According to the reports, the problem was a leak because the compression hose rubbed against the vehicle's grounding surface.
Stalling or lurching - Another source of headache for MDX owners is when their vehicle stalls or lurches forward during light acceleration. Reports stated that this usually happens between speeds of 35 and 45 mph. Acura advises owners to replace the faulty VCM rocker to address the issue.
Acura MDX Problem Counts By Year
These are the most common problems reported by owners on platforms such as carproblems.com, carcomplaints.com, and Car Talk Community. Prominent issues include transmission failure, excessive oil consumption, and strange engine noises.
The Easiest Way to Find a Reliable Acura MDX in Your Area
Finding a reliable used Acura MDX in your area has never been easier! Just download the free CoPIlot car shopping app, tell us what mid-size luxury crossover SUV you're looking for and we'll search every dealership in your area to craft a personalized list for great deals near you.
Built using the same technology that car dealerships use to buy and sell their inventory, CoPilot is the smartest and easiest way to buy a used Acura MDX.
Try CoPilot Compare, the search engine for nearly-new cars if you're interested in newer, off-lease cars. We'll only show you models that are 5 years or newer with low mileage, most with CPO availability, and break down how much you save buying used with the best nearly-new listings in your area.
Best of all, CoPilot only finds the best cars in your area - we don't with dealerships, so there are no 'promoted' or 'sponsored' listings! Learn more about how CoPilot works on our About Us page.