Here Are The Toyota Highlander Years To Avoid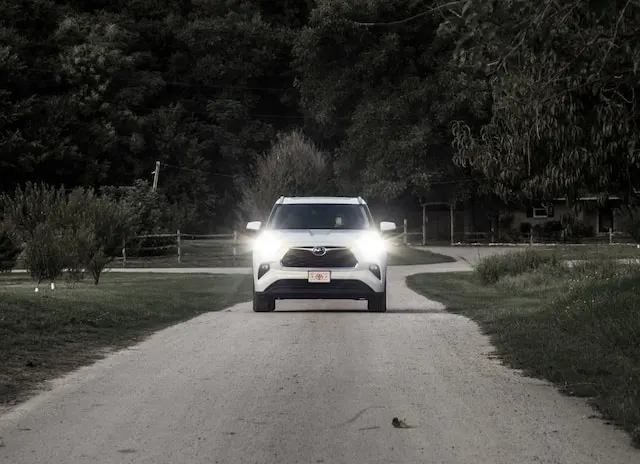 Photo by Matthew Lancaster on Unsplash
If you're considering getting a Toyota Highlander, it's essential to know what kind of performance you can expect from each model year. Toyota is a good manufacturer, and Highlanders are a popular and durable SUV, but that doesn't mean that every year was a good year for Highlanders. Knowing the Toyota Highlander years to avoid is crucial if you want to ensure you get a reliable vehicle that will last through years of regular use. 
Project cars are great for some consumers, but no one wants to buy a project car they think will be a reliable daily driver. 
In this article, we'll talk about the Highlander model years you should avoid if you're looking at a new or used Highlander, as well as the most common problems with those models and how they impact the vehicle. That way, you can make an informed choice if you're offered a Highlander from one of the less effective model years. 
---
GET A CURATED LIST OF THE BEST TOYOTA LISTINGS 
The CoPilot app is the smartest way to buy a Toyota. Tell us what you're looking for and we'll send you a curated list of the best used Toyota listings in your area - no more scrolling through hundreds of listings looking for hidden gems. 
---
We'll also talk a little about the Highlander model years that are more trustworthy and well-reviewed and any other details you might want to consider before buying a Toyota Highlander. 
In A Hurry? Here Are The Toyota Highlander Years To Avoid
Here are the main Toyota Highlander years you should avoid if you're looking for a long-lasting vehicle. 
Honestly, for a vehicle in regular production since 2001, that's a pretty slim list of problem years. Those four years are the years with the most severe problems and the ones that should be avoided by consumers today. 
There was also a shaky period between 2010-2012, and those model years almost made this list. Despite the few complaints, the 2010 and 2012 models aren't quite as durable or practical as the model years before or after 2015. 
That said, at the right price and with good maintenance records, a 2010 or 2012 Highlander could still be a good investment. However, you should probably do some research if you consider any of the models we've already listed. Some of the common problems with Toyota Highlander are minor and can be dealt with. Other issues are more severe and can be a significant inconvenience if you use the car as your primary vehicle.
---
NOT JUST FOR CAR SHOPPING
The CoPilot app isn't just for buying a car - our new CoPilot for Owning tool will help you keep track of recalls and gives you advice on which scheduled maintenance tasks are most important.
---
Common Issues With The Toyota Highlander
Here are some of the most common problems with the Toyota Highlander years to avoid. 
Engine Bolts Becoming Stripped
This can be a severe problem, especially if you don't catch the issue early. Unfortunately, the most common first sign that your engine bolts are stripped is coolant leakage and overheated engines. 
The bolts can be replaced and the bolt holes re-drilled when needed, but only if overheating hasn't already caused other damage to your engine. That means that a total engine replacement was the only solution for many people who encountered this issue. 
This problem is most common around 130k miles but can recur after the first time it's happened. 
Engine Failure
Engine failure, more generally, is also one of the more significant issues with Toyota Highlanders. Those failures are probably related to the engine bolts being stripped and causing overheating issues, but other problems can also lead to engine failure. 
That combination means that you're a good bit more likely to need to replace your engine if you buy a Toyota Highlander from one of their problem years.
Since engine failure is a problem only some car owners are willing to fix, it's also worth considering if you have the resources to replace your engine or if you would likely need a new car if your engine failed. 
Engine failure is most common around 120k miles but can happen slightly before that in some cases. Some Highlanders will get past 120k miles without an issue but may have problems later on. 
Using Engine Oil Faster Than Average
Some vehicles are known to use oil, and unfortunately, the Toyota Highlander is one of them. While this is a problem that can happen with almost any model of Highlander, it's more familiar with the problem years. 
Interestingly, the worst model year for burning through engine oil is 2002, otherwise a solid car. So, if you're alright with paying a little extra for oil, we wouldn't worry about this problem too much in a 2002 Highlander. But if you're considering a different model year with other known issues, it may be more of a problem.
---
THE MOST RELIABLE TOYOTA HIGHLANDER YEARS
Which Toyota Highlander year is most reliable? We've rounded up the recent generations to determine which model years are worth buying used.
---
Fuel Tank and AC Condenser Problems
While the 2020 redesigned Highlander had a reasonably good reception from critics and consumers alike, it had a couple of reliability woes. The 2020 model was reported to have issues with its fuel tank.
In particular, reports claimed that they could not fill the tank to its advertised maximum capacity of 17.1 gallons. Instead, they only managed to fill up about 12-14 gallons of gas.
Additionally, several reports stated that the Highlander's AC system could be a hit or miss. Apparently, the AC condenser was prone to damage, and as a result, the AC stopped blowing cool air. A simple fix is to replace the condenser, which may cost between $60 to $150, including labor.
Faulty Head Gasket and Oxygen Sensor
The engine overheating is relatively common with 2001-2007 Highlander models. According to the reports of frustrated owners, the engine overheats due to a blown head gasket. Upon closer inspection, the head bolts tend to pull the threads out of the engine block, eventually leading to a blown head gasket.
Meanwhile, several Highlander models were reported to have faulty oxygen sensors. This defect causes the engine to misfire and results in rough idling.
---
THE BEST CARS FOR COLLEGE STUDENTS
Whether you're squeezing into a tight campus parking spot or hauling ten loads of laundry back home, these best cars for college students will get you, your friends, and your stuff where you're going.
---
Toyota Highlander Years To Buy
Of course, now that we've talked about the model years you should avoid, let's talk about the model years that are most consistent and worth your money. 
These models aren't perfect, all cars risk something going wrong, and part failure happens with all vehicles. But these models are usually consistent, durable, and good options to drive. 
The better years of Highlander are: 
2001
2005
2006
2007
2009
2013
2017
2018
2019
2020
2021
More recent models of Highlander, from 2016 on, are all more consistent and have much fewer problems or complaints on average than the older models. 2021 looks like a great model so far, but it's admittedly a very new model, so it may just be that consumers haven't driven the car enough to have issues. But, given the recent track record of Highlanders, we expect that the 2021 model will be an excellent long-term performer.
---
HOW OFTEN SHOULD YOU REPLACE YOUR BRAKES?
Unless you're a mechanic or super-dedicated car enthusiast, you might not know much about the brakes on your car. How long do they typically last?​ How often should you replace your brakes​? We've got answers.
---
Which Models Of Toyota Highlander Are Great To Buy Used? 
Most of the models we've listed in the previous section are good options to buy used, but some are better than others. If you're looking for a good deal and want a model that's a little larger and more spacious than others, we'd recommend the 2010 model. Other models between 2009 and 2011 are also a good choice, but they have a few more problem reports than others.
If you're looking for a more recent model and don't mind the price, the 2016, 2017, and 2018 models are all great value and offer good performance for the price. The 2019 and 2020 models are a little too untested as used vehicles for us to recommend them quite yet but are showing signs of being a good used vehicle option as well.
Are Toyota Highlanders typically reliable?
Toyota's reputation for dependability carries through to the Highlander, a trusted family hauler available in the U.S. for over 20 years. There are a few Toyota Highlander years to avoid (2003, 2008, 2014, and 2015), but most model years enjoy an excellent reputation for reliability.
How much does a used Toyota Highlander typically cost?
An older Highlander, such as one from 2002 with 100,000 miles, costs about $6,000. But prices on newer examples quickly rise as these are in-demand vehicles. Based on condition and equipment, expect to pay double or triple this amount for a 2012 Highlander. And thanks to a tight market, almost-new Highlanders have new car prices. According to CoPilot Price Pulse, a 2020 Toyota Highlander has an asking price of $38,158. That's 17% higher than the car would sell for at regular times.
Is the Toyota Highlander a good car to purchase?
Yes, definitely. The Toyota Highlander is an excellent choice for a three-row crossover. With most model years enjoying good reliability (here's a look at the most reliable years of the Toyota Highlander), they are a safe bet as a used car. Of course, a warranty adds extra confidence if you're buying a new Highlander.
---
---
Get a Curated List of the Best Used Cars Near You
The CoPilot car shopping app is the easiest way to buy a car. Tell us what you're looking for and we'll search the inventories of every dealership in your area to make you a personalized list of the best car listings in your area.
Only looking for newer models? CoPilot Compare is the search engine for nearly-new cars. Only see cars five years or newer with low mileage — CoPilot Compare is the best way to find off-lease, early trade-in, and CPO cars.
The best part? CoPilot is built using the same technology that dealerships use to buy and sell their inventories, so we have more info on each vehicle than competitors. CoPilot doesn't work with dealerships, so there are no sponsored posts or other shady practices — just the most info on the best cars. Check out our About Us page to see how CoPilot works.