Which Years Of Used Honda Elements Are Most Reliable?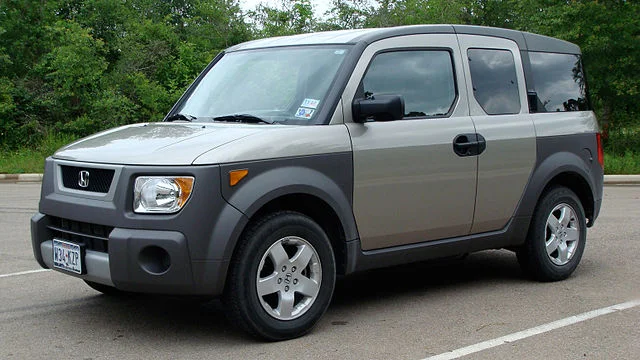 Honda Element by phototram - CC-BY-SA-4.0
Anyone looking at buying a used Honda Element has undoubtedly gotten used to the constant searching online for hints of which is the most reliable year for the Honda Element. While it's always been seen as an incredibly popular SUV, this staple from the Honda lineup is commonly found boasting about its durability and versatility, but that doesn't help anyone looking to find out which model year is the most reliable.
That's why we've gone through the legwork of getting down to the simple answer of which model year is the most reliable year for the Honda Element. We'll look at the Element in general, what years are the best, and we'll even dig into what factors may affect that reliability.
---
THE HONDA ELEMENT YEARS TO AVOID
While no year was plagued by car-killing problems, some model years faired better than others. That's why CoPilot is here to help you figure out which Honda Element years to avoid.
---
Overview of the Honda Element
The Honda Element is a compact crossover SUV that was introduced in 2002 and was in production through 2011. It was originally designed with young adventurers in mind, the Honda Element had a distinctive boxy design that was popular with many makes at the time, as well as a flexible interior, and incredible durability. 
When it first debuted, critics weren't too sure what to make of the admittedly unconventional look, but the Honda Element was soon skyrocketing in popularity, mostly due to the compact practicality and overt ruggedness that the platform exhibited. It had an option for all-wheel-drive, which made it suitable for light off-roading adventures and more adventurous journeys overall. The spacious interior is easily cleanable thanks to low-maintenance surfaces, which made it the perfect option for outdoor enthusiasts, pet owners, and anyone else who enjoyed having an easy-to-clean vehicle.
Even though Honda discontinued the Element in 2011, it has held its resale value relatively well since then and has become a relatively sought-after car in the used vehicle market. 
---
NOT JUST FOR CAR SHOPPING
The CoPilot app isn't just for buying a car - our new CoPilot for Owning tool will help you keep track of recalls and gives you advice on which scheduled maintenance tasks are most important.
---
The Most Reliable Years for the Honda Element
When we talk about the most reliable year for the Honda Element, three consecutive years tend to stand out. These are the 2006, 2007, and 2008 model year Honda Elements. These three years in particular have gained an immense following for their perceived robustness and dependability.
The basic Honda Element underwent significant improvements in 2006. In 2006 Honda rectified many of the minor issues from earlier production years, which resulted in dramatically improved transmission functionality, enhanced safety features, and more. This led to a Honda Element that wasn't just reliable but was also far safer and more user-friendly to consumers.
In 2007, the Honda Element continued to improve upon the shortcomings of previous years. They retained the improvements of 2006 while also bringing about minor tweaks that elevated the driving experience entirely. The 2007 model saw a modified design that was geared more toward the younger and more adventurous demographic, while still keeping the structural integrity and overall durability that the Honda Element had become known for.
---
THE 10 MOST RELIABLE USED SEDANS
If you're ready to start shopping for a used car and reliability is a priority for you, take a look at our list of the top 10 most reliable used sedans on the market today. 
---
The 2008 model deserves special mention as well. It took all of the positive aspects of the previous two model years and raised the bar even higher. While it maintained the reliability of the 2006 and 2007 years, 2008 introduced features that made it more appealing to all market segments, including a tire pressure monitoring system, more comfortable seats, and more. 
Overall, these three years, 2006-2008, are often regarded as the peak of Honda Element reliability. Fewer problems are reported, as well as generally higher owner satisfaction ratings. Owners of Honda Elements from these years are often found praising their low maintenance costs, impressive off-road abilities, and general resilience. 
What Makes These Years Stand Out?
There are many reasons that the 2006-2008 Honda Elements stand out, and why they are considered the most reliable years. Let's take a look at a few. 
Reduced Mechanical Issues: While early Elements had some issues, models from this period had greatly reduced issues due to the resolution of many of the design and engineering problems that manifested in earlier model years. Early Elements were notorious for automatic transmission issues, for example.
Enhanced Safety Features: Starting in 2006, the Honda Element started to include more safety features standard, like electronic stability control and side-curtain airbags. This helped improve the overall perception of the model's safety, as well as the ratings of owners.
Consistent Quality Control: Even though Honda made an effort to rectify many of the initial issues that were present in early model Elements, without consistent quality control, other issues surely would have popped up. The consistency of Honda's manufacturing standards and enhanced quality controls made sure that subsequent Elements were built to last, like many Honda lines. This led to fewer reported problems and a general improvement in model reliability.
Resale Value: Elements from these three years tend to hold their resale value well, thanks to their well-regarded reliability and build quality. They continue to have a fairly strong buyer demand in the market, which underscores their reliability. This is important to remember when shopping for a used Honda Element since the pricing can tell you a lot about the condition of the vehicle before you even see it.
---
FEEL SECURE IN THE CAR YOU CHOOSE
You don't want to buy a car - you want to get the best deal on the car you're looking for. The CoPilot app will notify you if there's a similar vehicle in your area at a better price, so you're always certain you got the best deal available. 
---
The Final Word
So, when it comes down to it, what is the most reliable year for the Honda Element? While it may ultimately come down to your exact preferences and unique needs, 2006-2008 are some of the strongest and most reliable Elements produced. These three production years showed drastically improved transmission functionality, improved safety features, consistent manufacturing standards, and even a consistently excellent resale value. All of these come together to make these Honda Elements some of the most reliable you can find. 
However, even though these years are some of the most reliable, it's important to remember that reliability can fluctuate significantly, depending on the conditions the vehicle was exposed to beforehand. Even though 2007 may be the most likely to be reliable, if it was driven halfway to the brink of death without proper maintenance, there isn't much that's going to be able to be done with it. 
That said, in the world of used Honda Elements, 2006, 2007, and 2008 model years are well-known for being the most reliable years for the Honda Element.
---
---
Get a Curated List of the Best Used Cars Near You
The CoPilot car shopping app is the easiest way to buy a car. Tell us what you're looking for and we'll search the inventories of every dealership in your area to make you a personalized list of the best car listings in your area.
Only looking for newer models? CoPilot Compare is the search engine for nearly-new cars. Only see cars five years or newer with low mileage — CoPilot Compare is the best way to find off-lease, early trade-in, and CPO cars.
The best part? CoPilot is built using the same technology that dealerships use to buy and sell their inventories, so we have more info on each vehicle than competitors. CoPilot doesn't work with dealerships, so there are no sponsored posts or other shady practices — just the most info on the best cars. Check out our About Us page to see how CoPilot works.