Which Years Of Used Ford Expeditions Are Most Reliable?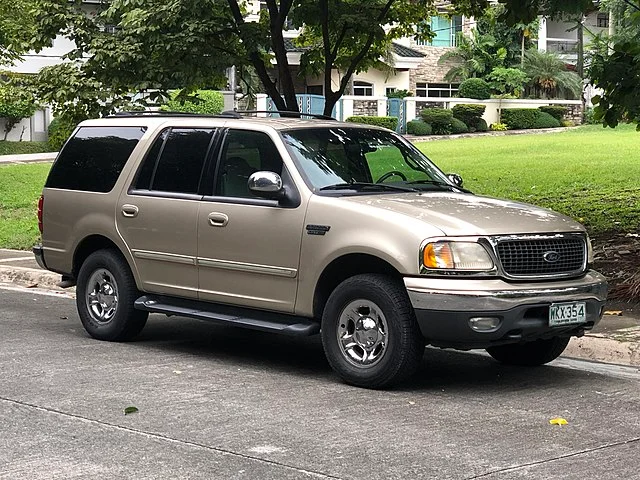 Ford Expedition by Ominae - CC-BY-SA-4.0
When it comes to full-size SUVs, buyers have a lot to choose from. But perhaps one of the most popular large SUVs in the market is undoubtedly the Ford Expedition. Being in production since 1997, Ford's three-row SUV offers plenty of room for the whole family and some sweet tech features to boot. Over the years, Ford has done a great job updating and refreshing the Expedition for modern consumers.
If you're looking to buy a used large SUV, the Ford Expedition is always a solid option. However, when buying used, you must consider the vehicle's long-term reliability. And in the case of the Expedition, some model years are more reliable than others.
---
THE FORD EXPEDITION YEARS TO AVOID
Like any car, changes have come yearly. Some updates are safer than others. If you are looking at this car, you might wonder which Ford Expedition years to avoid.
---
So what is the most reliable year of Ford Expedition?
Today, we will guide you through generations of this large SUV and determine the most reliable year of Ford Expedition and which models deserve a complete pass. Let's get to it.
1997-2002 Ford Expedition (1st Generation)
The beloved first-generation Expeditions are still worth considering if you can find a well-maintained unit. However, some model years should be avoided. 
Avoid: 1999 Ford Expedition
The 1999 Ford Expedition has a lot of good things going for it, including its price point and capability. However, it's a relatively problematic large SUV that received a lot of complaints. CarComplaints.com says the 1999 Expedition has over a thousand complaints and nine recalls. One of its most common issues is that the spark plug tends to be blown out of the socket. It's a highly severe defect that could lead to the engine being blown out and catching fire.
---
HOW MANY SPARK PLUGS DOES A DIESEL ENGINE HAVE?
The answer to this question isn't as  simple as you'd expect. Let's look explore the difference between gas and diesel engines and explore just how many spark plugs a diesel engine actually has.
---
Avoid: 2000-2001 Ford Expedition
While many owners swear by their 2000 and 2001 Expeditions, as many units have reached 300k miles, there's no denying that both have serious mechanical issues. For starters, both Expedition years have inherited the blown spark plug defect, which can be dangerous. In addition, both these models also struggled with suspension problems, which caused the vehicles' rear to ride low. Moreover, the 2000 and 2001 Expeditions have also received numerous complaints about its transmission.
Buy: 2002 Ford Expedition
The most reliable year of Ford Expedition in the first generation is the 2002 model year. According to CarComplaints, the 2002 Expedition has received only 400+ complaints and four recalls – a stark improvement over the previous models. Although it still has the dreaded spark plug issue (this time, it ejects out of the cylinder head), it's much less severe than the previous years. The most common fix is simply replacing the spark plugs, which is not that costly as far as repairs are concerned.
---
BE CERTAIN YOU'RE GETTING THE BEST DEAL
CoPilot searches your area and lets you know if there's a better deal on a similar vehicle nearby, so you're always certain you got the best deal possible. The CoPilot app is the smartest way to buy a car. 
---
2003-2006 Ford Expedition (2nd Generation)
This was a shorter generation lineup, but it had some of the worst Expedition years everyone should avoid.
Avoid: 2003 Ford Expedition
Overall, the 2003 Expedition received much positive feedback regarding its reliability. However, it had plenty of mechanical woes that were inherited from the previous generation. CarComplaints say that the 2003 Expedition had over 1,000 complaints and six recalls under its belt. 
Disappointingly, it still had the prevalent blown spark plug issue, which is an automatic pass for us. Reports of the spark plug blowout have climbed to 75 written complaints – people are unhappy with this Expedition.
Avoid: 2004 Ford Expedition
Another year, another Expedition to avoid. CarComplaints declared the 2004 Ford Expedition the worst model year of Ford's large SUV. As you might have guessed, the 2004 Expedition still struggled with spark plug issues that affected the engine. On top of that, this model year also received numerous complaints about the transmission. Typical repair costs are as high as $2,760 because the transmission system had to be replaced.
2007-2014 Ford Expedition (3rd Generation)
For the third generation, Ford offered an Expedition with a longer wheelbase called Expedition EL. This generation also had some of the most reliable Ford Expedition years.
Buy: 2007 Ford Expedition
It's rare for vehicle manufacturers to get a redesign right in terms of reliability, and the 2007 Ford Expedition is undoubtedly one of those cases. The 2007 Ford Expedition received the coveted "Awesome" badge from CarComplaints, with only 351 complaints and two recalls. Thankfully, the 2007 Expedition doesn't have the dreaded spark plug issue. However, it does have some common problems like the Fuel Pump failure and paint chipping off the tailgate. Is this the most reliable year of Ford Expedition? Close.
---
THE BEST SEDANS WITH HIGH GROUND CLEARANCE
There are plenty of vehicles on the market that let you tower over obstacles without losing the convenience of a compact car. Therefore, we've put together a list of our favorite new ​sedans with high ground clearance​.
---
Buy: 2008-2009 Ford Expedition
Ford has done a great job with this generation; these two models are undeniable proof. Both the 2008 and 2009 years are excellent large SUVs with little to no mechanical issues. For instance, both Expeditions have also received the "Awesome" badge from CarComplaints with minimal complaints and recalls. Hard to go wrong with these two in terms of long-term reliability.
2015-2017 Ford Expedition (4th Generation)
Another short redesigned generation for the Expedition, and we can only recommend one model year.
Buy: 2016 Ford Expedition
As outlined in our previous writeup, the 2016 model is the most reliable year of Ford Expedition. You can say it's the culmination of Ford's effort in ironing out the kinks of this three-row SUV. It's a relatively problem-free vehicle that's offered at reasonable prices. Check out CoPilot's listing for the 2016 Ford Expedition to find the best deals.
2018-2022 Ford Expedition (5th Generation)
The current Expedition generation is overall very reliable, but they can be costly since they're newer and have the latest tech. Ford claims it's the most potent Expedition, with engines that can produce north of 365 hp.
Buy: 2021 Ford Expedition
While you may scoff at buying a brand-new Expedition, the 2021 model is an excellent three-row SUV package offering ample interior space and potent turbo-V6 engines. Towing capacity is also ideal if you're planning to haul something. Reviews and consumer feedback for the 2021 
Expedition have been stellar so far, so you can confidently buy this model year. Alternatively, you can also consider the 2019 and 2020 Ford Expeditions if you can find them at a reasonable price.
---
---
Get a Curated List of the Best Used Cars Near You
The CoPilot car shopping app is the easiest way to buy a car. Tell us what you're looking for and we'll search the inventories of every dealership in your area to make you a personalized list of the best car listings in your area.
Only looking for newer models? CoPilot Compare is the search engine for nearly-new cars. Only see cars five years or newer with low mileage — CoPilot Compare is the best way to find off-lease, early trade-in, and CPO cars.
The best part? CoPilot is built using the same technology that dealerships use to buy and sell their inventories, so we have more info on each vehicle than competitors. CoPilot doesn't work with dealerships, so there are no sponsored posts or other shady practices — just the most info on the best cars. Check out our About Us page to see how CoPilot works.