Hawaii Gas Prices: Everything You Need To Know
Source: Pixabay
Fuel prices are surging in the United States, and if you have been paying attention to the news, American drivers are paying for all-time high costs. According to the readings by AAA, the national average of gas prices is $4.32, and it long overtook the previous record high of $4.11 back in July 2008.
With the current economic and political climate, Hawaiians are finding themselves in pain at the pump as they pay for outrageously high gas prices.
How high are Hawaii gas prices?
Today, we've made a quick breakdown of gas prices in the state of Hawaii. Moreover, we'll answer what contributes to Hawaii's gas prices and if it's ever going to come down. Let's get to it.
Hawaii Gas Prices: A Breakdown
As mentioned earlier, the national average gas prices are in the $4.30 range. Unfortunately, Hawaii is one of the above-average states with a per-gallon price of $4.93, and that's just for regular gas. The average gas prices can vary from one island to the next. For instance, Honolulu has a current average of $4.81 per gallon, while Kahului has a higher average of $5.13.
To help you understand the trend of Hawaii gas prices, we made a quick breakdown of the current state average for all types of commercial fuel and compared it with gas prices from yesterday, last week, last month, and last year.
---
NOT JUST FOR CAR SHOPPING
The CoPilot app isn't just for buying a car - our new CoPilot for Owning tool will help you keep track of recalls and gives you advice on which scheduled maintenance tasks are most important.
---
Hawaii Gas Prices State Averages
Current Avg:
Regular: $4.969
Mid-grade: $5.085
Premium: $5.412
Diesel: $5.321
Yesterday Avg:
Regular: $4.886
Mid-grade: $5.014
Premium: $5.314 
Diesel: $5.283
Last Week Avg:
Regular: $4.721
Mid-grade: $4.942
Premium: $5.176
Diesel: $4.999
Last Month Avg:
Regular: $4.461
Mid-grade: $4.643
Premium: $4.920
Diesel: $4.833
Last Year Avg:
Regular: $3.712
Mid-grade: $3.925 
Premium: $4.172
Diesel: $4.213
For your reference, we also created a graph that illustrates how Hawaii gas prices have been trending since last year: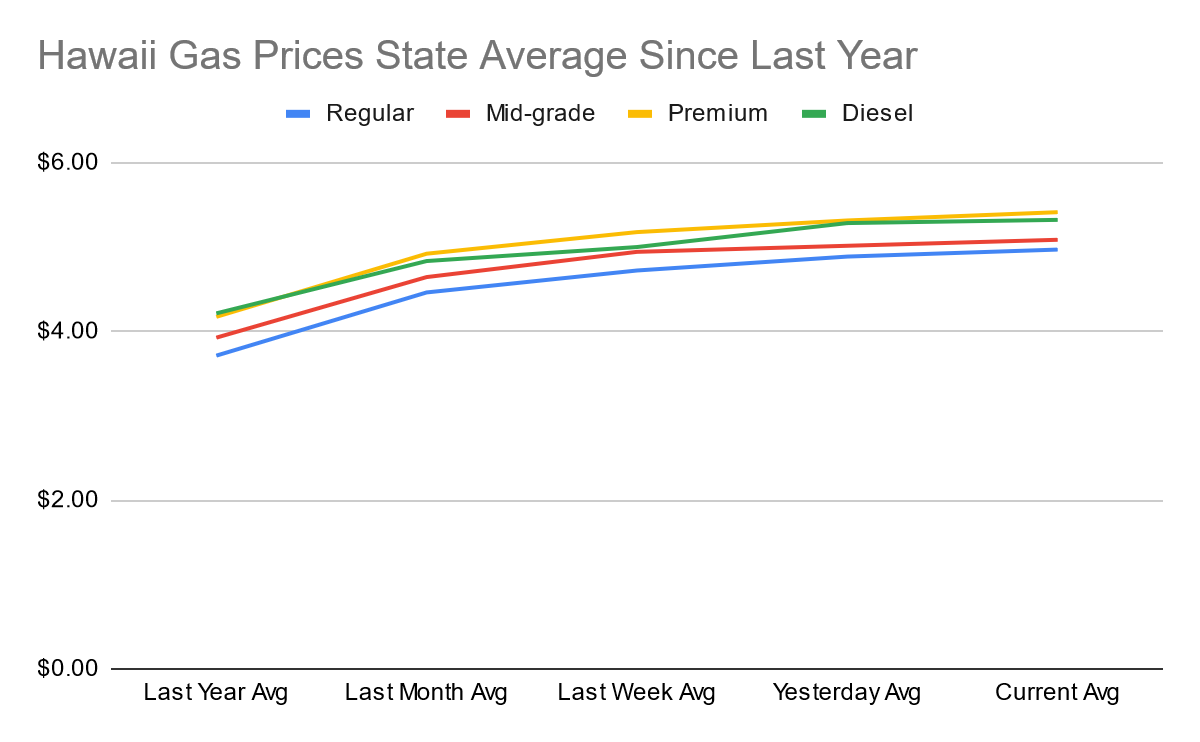 DISCLAIMER: All data was pulled from the AAA Gas Prices website for the state of Hawaii. The site is updated daily, and gas prices also change daily; therefore, the figures listed above may not reflect real-world values.
Based on the current trend, Hawaii gas prices continue to surge. With the ongoing turmoil in current global affairs, the increase is unlikely to slow down soon. However, it's worth noting that it's not just Hawaii experiencing the surge – it's on a global scale.
Where's the Cheapest Gas in Hawaii?
So, where can Hawaiians get the cheapest gas in the state? We've referred to GasBuddy.com to find the least expensive gas prices in the state of Hawaii and which locations. Again, the price listed below may not reflect real-world values due to fluctuating prices.
Here are the top ten best gas prices in Hawaii according to GasBuddy:
GP Energy in Honolulu, HI: $4.39
Hele in Pearl City, HI: $4.43
Aloha in Honolulu, HI: $4.47
NEX in Pearl Harbor, HI: $4.50
AAFES in Bellows AFS, HI: $4.50
Costco in Kapolei, HI: $4.55
NEX in Wahiawa, HI: $4.57
AAFES in Schofield Barracks, HI: $4.57
NEX in Mapunapuna, HI: $4.57
AAFES in Hickam AFB, HI: $4.57
For another comparison point, we also looked at the cheapest gas prices in some of Hawaii's largest cities, including:
Honolulu: $4.39 - $4.59
Hilo: $4.64 - $4.93
Kahului: $4.66 - $5.01
Kapaa: $4.95 - $5.19
Overall, Hawaii gas prices are higher than the national average. Interestingly, there is quite a bit of discrepancy in pricing between the islands. Based on the current trend, fuel prices are likely to continue increasing due to rising demand and inflation concerns even without the ongoing pandemic.
---
THE BEST CARS FOR COLLEGE STUDENTS
Whether you're squeezing into a tight campus parking spot or hauling ten loads of laundry back home, these best cars for college students will get you, your friends, and your stuff where you're going.
---
Why Do Hawaiians Pay So Much at the Pump?
When it comes to increasing gas prices, Hawaii is closely following California. Most parts of Hawaii have been experiencing over $5 a gallon costs. Why do Hawaiians pay so much at the gas pump?
As you might expect, most of the added costs go to taxes. In Hawaii, more than 50 cents per gallon goes to taxes. The Federal Excise Tax gets about 18 cents while the state and local sales taxes tacks on another 16 cents. More than that, the counties themselves add about 16 to 23 cents, depending on where you live. The excise taxes tend to adjust with inflation, so gas prices get even more expensive as the geopolitical tension between Ukraine and Russia continues.
Overall, there are three significant reasons why Hawaii gas prices are so high (or the country in general):
Even before the conflict between Ukraine and Russia was putting pressure on the energy supply, the rising prices in energy, in general, is the main contributor to the fastest inflation in 40 years, according to The New York Times.
The economy is still reeling and recovering from the effects of the pandemic on a global scale. For over a year now, we've heard about the bottlenecks in the supply chain. However, in reality, another core factor that adds to inflation is the price of crude oil.
Crude oil prices are affected by a number of factors, including inventories, supply and demand, seasonality, and financial market predictions. In addition, federal and local state taxes also play a significant role in the rising fuel cost.
When Will Hawaii Gas Prices Come Down?
Is there a chance that Hawaii gas prices will ever come down? According to industry experts, consumers may expect elevated fuel prices for a month or two if not for the months to come. The consensus is that the overall economy and inflation are more likely to worsen before they get better.
However, there's hope. According to USA Today, the price of crude oil has decreased by about $15. But then again, this is in no way an indication that gas prices will come down, albeit just down with their increase.
---
HOW OFTEN SHOULD YOU REPLACE YOUR BRAKES?
Unless you're a mechanic or super-dedicated car enthusiast, you might not know much about the brakes on your car. How long do they typically last?​ How often should you replace your brakes​? We've got answers
---
Get a Curated List of the Best Used Cars Near You
The CoPilot car shopping app is the easiest way to buy a car. Tell us what you're looking for and we'll search the inventories of every dealership in your area to make you a personalized list of the best car listings in your area.
Only looking for newer models? CoPilot Compare is the search engine for nearly-new cars. Only see cars five years or newer with low mileage — CoPilot Compare is the best way to find off-lease, early trade-in, and CPO cars.
The best part? CoPilot is built using the same technology that dealerships use to buy and sell their inventories, so we have more info on each vehicle than competitors. CoPilot doesn't work with dealerships, so there are no sponsored posts or other shady practices — just the most info on the best cars. Check out our About Us page to see how CoPilot works.