Here Are The GMC Acadia Years To Avoid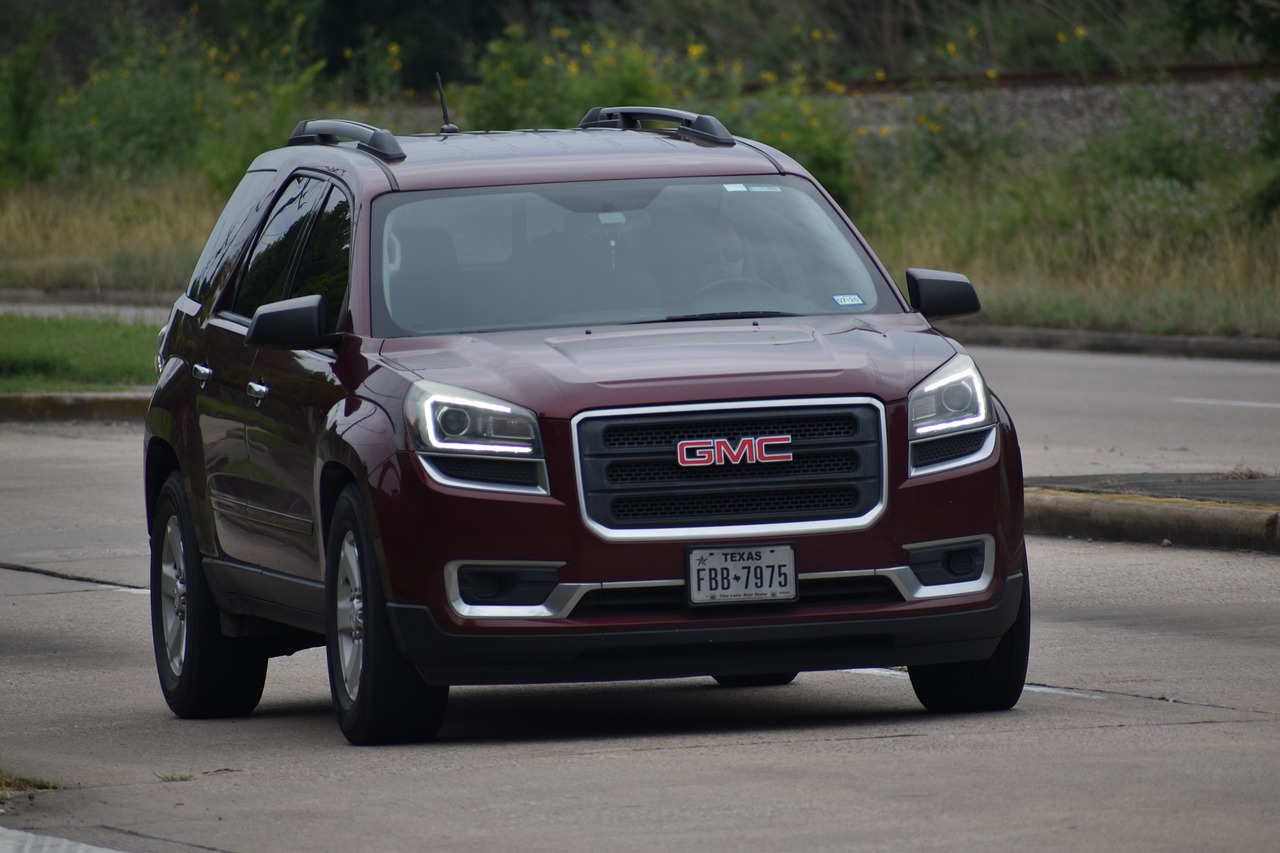 Source: Pixabay
While it's generally considered a pretty reliable and popular vehicle for crossover enthusiasts, the GMC Acadia has had some lingering problems throughout the years. There are some specific Acadia model years to avoid if you're in the market for a used 7-seater.
The issues have ranged from minor inconveniences to significant safety concerns that can cost thousands of dollars, so keep that in mind when looking for your next used Acadia. Remember that none of these years should be considered terrible vehicles, as every make and model has its pros and cons every year.
Since its launch in 2007, the Acadia had several recurring major flaws that not all customers were aware of when they initially made their purchase. The Acadia's first generation had consistent issues through the first few years of production.
Like many mainstream vehicles in the US, the late 2000s was a fundamental shift for vehicle connectivity. The first time we saw significant improvements in technology and overall vehicle savviness. The generation from 2007-09 went through a fair amount of growing pains, and 2008 specifically can be considered one of the worst in the history of the Acadia's development.
GMC Acadia Model Years to Avoid
First Generation 2008
Second generation 2012 and 2013
Third Generation 2016 and 2017
It isn't great to always generalize, but these seven model years went through many problems compared to others.
---
GET THE SAME INSIDER INFO THAT DEALERSHIPS USE
The CoPilot app is the smartest way to buy a car. Built using the same technology that dealerships use, we'll show you everything you want to know about each listing - like how long it's been on the lot, or if there are similar vehicles at a better price nearby. 
---
Acadia Model Years to Avoid: 2008
Problems:
Transmission failure
Longevity
Repair cost
The first generation had some occasional issues for all models, but the 2008 model year, in particular, was a tough one for consumers. This came with the highest reported spike in transmission problems, with the majority occurring after just moderate use. Longevity is an important factor when you're in the market for a crossover SUV. With significant transmission problems reported around just 75,000 miles, that's not an impressive amount of time for optimal performance. Throw in a repair cost of more than $4,000, and 2008 is a top contender for Acadia model years to avoid.
While transmissions need routine maintenance every 30 thousand or so miles, it's not typical or expected to have a complete failure under 100,000-lifetime miles. While it did have some nice optional features to improve the driver's experience, the issues with the transmission on the 2008 model brought the overall value down significantly.
The interior vehicle features can be described as just okay by today's standards, and the lower purchase price for the first generation years could end up costing you thousands more in repairs and frustration. On the flipside, by spending just a few thousand dollars extra upfront, you can find a more current model year that also has fewer reported transmission issues.
Acadia Model Years to Avoid: 2012 and 2013
 Problems:
Return of engine failure
Leaks in coolant and gasket
Repair price
The mechanical issues that plagued the first generation were solved for a few years but made additional appearances with the 2012 and 2013 model years. Most problems were with the 2012 models, but these two had four separate major recalls that plagued drivers over a year and a half stretch, creating a headache for consumers.
While there weren't any significant safety issues that went unnoticed, 2013 also saw a return to the engine issues from the previous generation. Incorrect oil levels, coolant leaks, gasket leak fluids, and water spots were common issues for the 2013 model year. Repair costs could exceed $7,000 for this generation which is not what you'd want or expect for a car with less than 80,000 miles. While the features are closer to the latest generation, the mechanical issues were closer to the first generation, making these two Acadia model years to avoid.
---
 HOW OFTEN SHOULD YOU REPLACE YOUR BRAKES?
Unless you're a mechanic or super-dedicated car enthusiast, you might not know much about the brakes on your car. How long do they typically last?​ How often should you replace your brakes​? We've got answers
---
Acadia Model Years to Avoid: 2017 and 2018
Problems:
Driveshaft detachment
Passenger safety recalls for seatbelts and airbags
Fuel pump leak
For a few years, the Acadia had no significant issues. The 2017 and 2018 model years had some new and familiar problems, with the most common issue being a faulty driveshaft. A component was known to detach while in motion or idling, creating an obvious hazard for drivers. This may have resulted in a loss of propulsion and significant danger while driving, but the exact mechanism failure also occurred while parked. Whether the vehicle was parked or going on an incline, the car could even gradually slide downhill.
While the driveshaft was the most common issue drivers faced over these model years, further recalls were created for seat belts, airbags, tires, the ECM, and other mechanical components. Recalls are typically done out of an abundance of caution and may not be relevant for every vehicle on the road but still create a headache for drivers.
---
 THE BEST CARS FOR SNOW
Winter driving impacts young and experienced drivers alike. We've compiled a list of the best cars for snow, so you can get from Point A to Point B as safely as possible.
---
A reasonably severe but rare recall for 2017 and 2018 vehicles was the failure of high-pressure fuel pumps, which had a few cases of leaking and causing a fire. It hasn't been reported as a widespread problem, but if you're looking for a used SUV from the last five or so years, these are good Acadia model years to avoid based on the overall amount of issues they've experienced.
Best GMC Acadia Years to Buy as Used?
The following models are recommended for solid reliability ratings if you're shopping for a used GMC Acadia.
2015 GMC Acadia
The 2015 version is one of the last models of Acadia's first-generation lineup. One of its main selling points is its spacious cabin with up to 116.1 cu-ft of cargo volume. Legroom is also generous except for the third row, which is best reserved for kids and teens.
Another strong point for the 2015 Acadia is its car-like road manners. It offers a comfortable ride on both highways and back roads, making it an ideal companion for family adventures. In addition, the 5,200 lbs of towing capacity should be good enough for serious trailering.
2016 GMC Acadia
The 2016 GMC Acadia offers a higher than average reliability rating, comfortable, spacious interior, and excellent safety ratings.
The spacious and versatile interior is one of its main draws. Plus, its safety ratings and tech features are some of the best in the segment for that year. There were some documented issues, such as fluid leaks and lack of power steering, but they were too few and far between.
The 2016 Acadia is another solid pick from the first-generation model years to buy as used.
The industry as a whole considers GMC Acadia models released after 2018 to be relatively dependable and well made. The 2020 Acadia received a 7.3 out of 10 rating from US News, which is above average for most vehicles in the class. While this rating shows that it's definitely not a perfect option, it's still generally a safer choice compared to some of the model years listed in this article.
For a pretty affordable option that provides a decent amount of cargo space the newer Acadia's are a pretty safe bet, but as with any vehicle will depend on your personal preference. When in doubt, always do your research, talk to an expert, and test it out for yourself.
---
---
Get a Curated List of the Best Used Cars Near You
The CoPilot car shopping app is the easiest way to buy a car. Tell us what you're looking for and we'll search the inventories of every dealership in your area to make you a personalized list of the best car listings in your area.
Only looking for newer models? CoPilot Compare is the search engine for nearly-new cars. Only see cars five years or newer with low mileage — CoPilot Compare is the best way to find off-lease, early trade-in, and CPO cars.
The best part? CoPilot is built using the same technology that dealerships use to buy and sell their inventories, so we have more info on each vehicle than competitors. CoPilot doesn't work with dealerships, so there are no sponsored posts or other shady practices — just the most info on the best cars. Check out our About Us page to see how CoPilot works.