Ford Maverick Ground Clearance: What To Know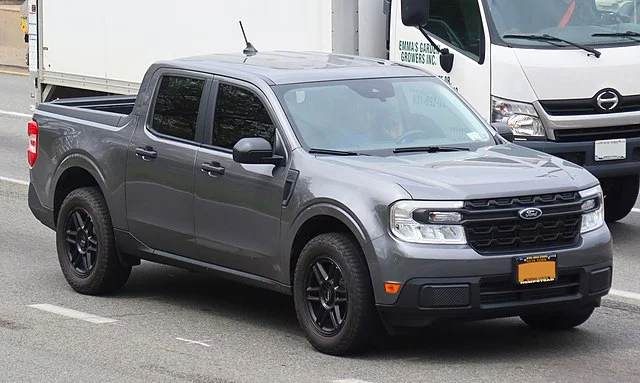 Ford Maverick by Kevauto - CC-BY-SA-4.0
The Ford Maverick is a compact, crew-cab pickup selection offering a miniscule truck experience for those who want a small design with a truck. It comes in multiple trims and even offers a hybrid model. If you're interested in this car, it's critical to consider all aspects of the vehicle - including the Ford Maverick ground clearance.
If you're interested in learning more about the Ford Maverick and its ground clearance, you've come to the right place. The more you know about a car, the easier it will be to determine what you want in your next vehicle. Read on to learn more about the pros and cons of ground clearance, ground clearance generation, and other valuable information about the car.
Ground Clearance Pros and Cons
Ford Maverick ground clearance, and ground clearance in general, measures the distance from the very lowest part of the vehicle without including the wheels to the ground. As with any item, it's critical to consider the pros and cons to decide if this compact truck is the right choice for your life. There's plenty to think about.
Ground Clearance Pros:
If you have a car with measurements that rise far off the ground, it will appear much more powerful and intimidating to those on the road. Also, you get a much higher position and thus will have an excellent view of the road and any potential obstacles. Also, the undercarriage is much higher which significantly reduces the risk of landing any damage to the bottom of the car when going over speed bumps, potholes, and other cracks and dents on the road.
---
FEEL SECURE IN THE CAR YOU CHOOSE
You don't want to buy a car - you want to get the best deal on the car you're looking for. The CoPilot app will notify you if there's a similar vehicle in your area at a better price, so you're always certain you got the best deal available. 
---
Ground Clearance Cons:
Drawbacks are another critical thing to consider when investing in a car, especially when considering ground clearance. For example, those with limited mobility will have a trickier time pulling themselves into a vehicle that is higher off the ground. Also, there is a higher chance it will roll over in an accident due to the strong sense of gravity.
Ford Maverick Ground Clearance by Generation
In a previous life, the Ford Maverick wasn't a truck. Before the 2000s, the Ford Maverick was a compact car. It first came to life as a two-door sedan, shifting to a compact SUV and then leaving the market for a long time. In 2022, the vehicle made a comeback and provided an excellent option for those who fell in love with the original car and name.
The first generation of the new truck version of the Ford Maverick appeared in 2022 and has continued until 2024. It's the first compact truck from Ford since the end of the Ford Ranger in 2011, leaving big shoes to fill and vast room for improvement. 
There are two different levels of ground clearance for the Ford Maverick, depending on the version of the car you purchase. According to carparts.com, the variety with a four-inch wheel has a ground clearance of 8.6 inches, while the two-inch has one of 8.3. There is a slight price point between these selections on the modern market.
Maverick Ground Clearance by Generation
First Generation: 2022-2024
Four-inch wheels: 8.6 inches
Two-inch Wheels: 8.3 inches
What Version of the Maverick Has the Best Ground Clearance?
The Ford Maverick has only been around for a few years, so there hasn't been much variation in ground clearance. Across all models, you will get a ground clearance of 8.3-8.6 inches, depending on the size of the wheels. It's up to you to determine which version works best for your life and budget. 
The Ford Maverick is an exciting compact option from Ford, but that doesn't mean it sacrifices on-ground clearance. You get all the features of a small truck with a decent height for the sake of your undercarriage.
If you want a truck with a much higher ground clearance, you might want to go with a bigger truck. However, as it is, the Maverick is a decent choice for not being a full-size selection. 
---
THE BEST USED LUXURY CARS ON THE MARKET
Buying a used or CPO luxury car is one of the smartest buys you can make - you can get a lot of car for not much money. You can pick up a three-year-old luxury car for about half of what you'd pay new. Check out this list of the best used luxury cars on the market to find the best deals. 
---
Should You Purchase the Maverick Based on Ground Clearance?
If you want a compact truck with solid ground clearance, the Ford Maverick is an excellent place to look. According to carparts.com, the Maverick is a powerful contender and even comes close to the ground clearance of the exceptional Ford F-150 at 8.7 inches. Some cars beat it, but it's a solid choice for an on-the-road truck.
It's critical to note that the Ford Maverick was never designed to be a truck that could perform exceptionally well in an off-roading environment. While it might not be a winner in this category, it offers a solid experience if you need to get from one place to another on the pavement. It's a popular choice for a reason in the current market thanks to its unique design and hybrid option.
If you want a new truck selection with updated features and a much smaller stature, the Ford Maverick is an excellent choice. It has a decent ground clearance and is sure to last on the road, though it might sustain a few hits if you happen to go off-roading and hit a massive dip during your journey. It provides a unique layer of protection to your machine.
---
THE BEST USED SUVS UNDER $10,000
We looked into price, reliability, features, and more to create this list of the best used SUVs under $10k on the market today. Take a look - some of the best used SUVs have gone mostly overlooked or forgotten. 
---
Final Thoughts
If you're interested in a vehicle that will keep its undercarriage together and offer a truck design, the Ford Maverick ground clearance is an excellent way to go. Every year of the Ford Maverick so far has the same ground clearance, though there will be a difference in price points depending on the age and mileage of the model you're interested in.
We hope this information comes in handy! It can feel like a lot to select the proper vehicle for your next investment, so understanding ground clearance should make things much easier to deal with in your choice. We will continue to see the Ford Maverick improve in years to come, though it's still a quality choice and comes quite close to the ground clearance for the F-150.
---
---
Get a Curated List of the Best Used Cars Near You
The CoPilot car shopping app is the easiest way to buy a car. Tell us what you're looking for and we'll search the inventories of every dealership in your area to make you a personalized list of the best car listings in your area.
Only looking for newer models? CoPilot Compare is the search engine for nearly-new cars. Only see cars five years or newer with low mileage — CoPilot Compare is the best way to find off-lease, early trade-in, and CPO cars.
The best part? CoPilot is built using the same technology that dealerships use to buy and sell their inventories, so we have more info on each vehicle than competitors. CoPilot doesn't work with dealerships, so there are no sponsored posts or other shady practices — just the most info on the best cars. Check out our About Us page to see how CoPilot works.