Dodge Durango Towing Capacity: What to Know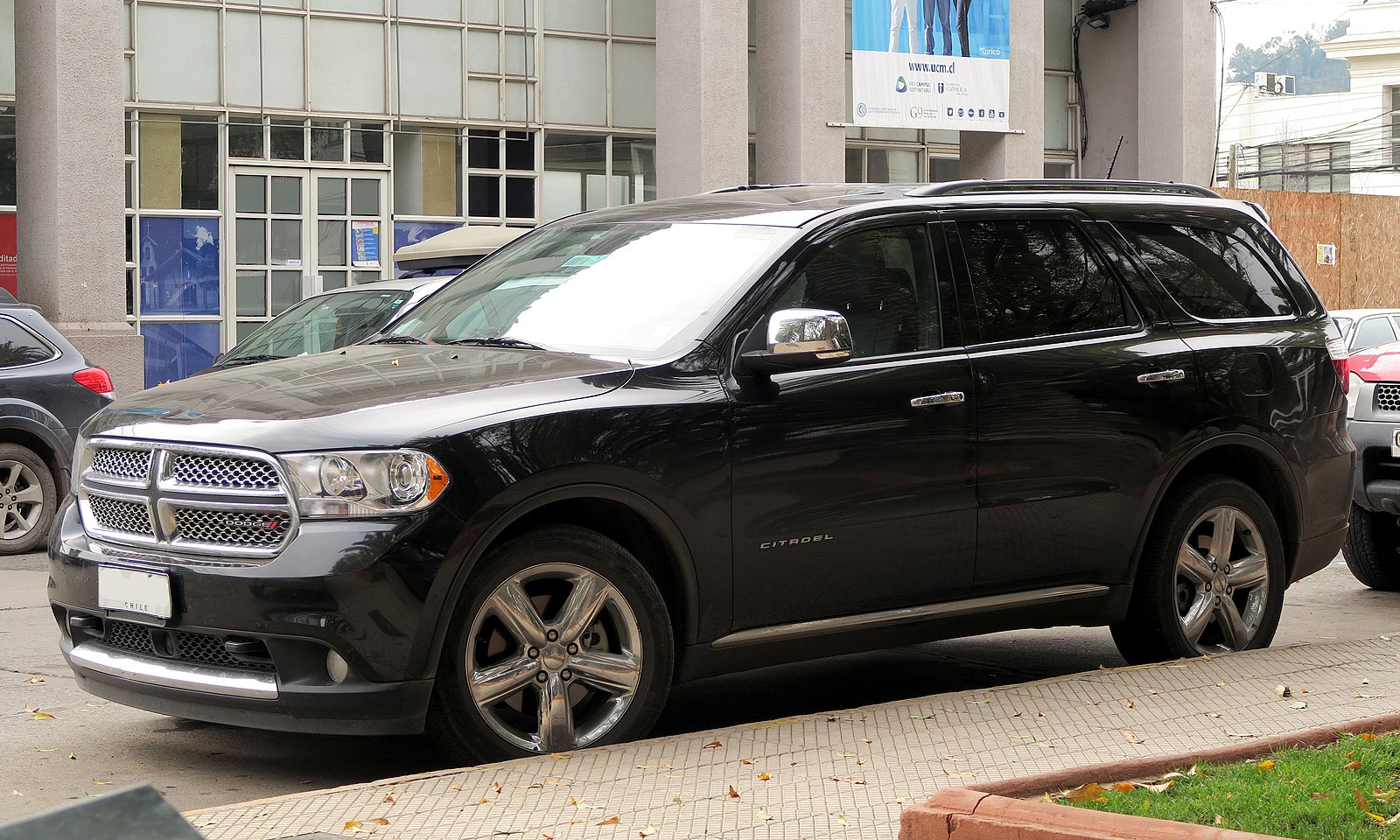 Dodge Durango by RL GNZLZ — CC-BY-SA-4.0
In a class as crowded as the midsize SUV segment, it can be very difficult to stand out; to separate itself from competitors like the Ford Explorer, Honda Pilot, Chevy Traverse, and Toyota Highlander with its aggressive performance and styling. While still a great family vehicle with third-row seating for up to 7, the Durango is made for driving enthusiasts.
Not only does the Durango share a design language with the Charger more than any other vehicle in Dodge's lineup, but it is also essentially a bigger, taller Charger with nearly identical front grilles, hood scoops, headlights, taillights, and most importantly, engines. There are 4 different choices of engine, ranging from a measly 295 horsepower all the way up to 710 ponies. With power like that, it manages to not school the competition in the midsize SUV class but also outmuscle some of the most popular midsize pickups on the market today.
And even if the Durango's towing capacity were compared to full-sized SUVs, it would still be sitting near the top. When your sole ambition is the absolute best performance, and you refuse to compromise, you end up with an excellent, beloved vehicle, whether that's a sports car that tears up the racetracks or an SUV that can take on anything its owners could possibly throw at it. In this article, we'll go over the towing capabilities of Dodge's juggernaut SUV.
The two deciding factors in the Dodge Durango's towing capacity are its engine and its powertrain. Here is a comparison of those options and how it impacts the trailer rating.
3.6L Pentastar V6 Engine, Rear-Wheel Drive: 6,200 Pounds
If the Durango were just made with its weakest engine option without AWD, it would still finish near the top of its class. The 3.6L Pentastar V6 engine produces 295 horsepower and up to 260 pound-feet of torque. That provides enough power to tow reasonably large motorboats, spacious RVs, a fleet of motorcycles or jet skis, another SUV, or a fully loaded 6x12 cargo trailer with nearly 2,000 pounds to spare. And even with all that power, Durangos with this engine and drivetrain can still expect 26 mpg on the highway while they aren't towing.
---
BE CERTAIN YOU'RE GETTING THE BEST DEAL
CoPilot searches your area and lets you know if there's a better deal on a similar vehicle nearby, so you're always certain you got the best deal possible. The CoPilot app is the smartest way to buy a car. 
---
3.6L Pentastar V6 Engine, All-Wheel Drive: 6,200 Pounds
With the V6 engine, all-wheel drive doesn't actually increase the Durango's towing capacity rating, though the fuel rating drops to 25 highway miles per gallon. This engine is available on the SXT, SXT Plus, GT, GT Plus, and Citadel trims.
5.7L HEMI V8 Engine, Rear-Wheel Drive: 7,400 Pounds
In case 290hp and 6,200 pounds towing weren't doing it for you, the 5.7L HEMI V8 ups the ante to 360 horsepower and 290 pound-feet of torque. What you want to do with those extra 1,200 pounds of towing capacity is up to you. Whether that means more jet skis, more motorcycles, more ATVs, a bigger boat, a bigger RV, or anything else, the world is your oyster with this engine. It is a great middle ground with even stronger performance than the base V6 and decent fuel efficiency at 22 mpg highway that you won't find on the even bigger engines.
---
THE BEST CARS FOR COLLEGE STUDENTS
Whether you're squeezing into a tight campus parking spot or hauling ten loads of laundry back home, these best cars for college students will get you, your friends, and your stuff where you're going.
---
5.7L HEMI V8 Engine, All-Wheel Drive: 7,200 Pounds
By diverting power to the front wheels as well as the back wheels, the AWD 5.7L HEMI V8 loses 200 pounds of towing capacity. This will offer better control in off-road, rainy, or snowy conditions, which might be a priority for you if you're looking for a rugged, versatile SUV, which evidently you are. It's just up to you to decide, do you want all-wheel drive, or do you value those 200 pounds more. If you want a Durango from the Citadel trim, you'll have to pick between these two options or the V6 engine in either rear-wheel drive or all-wheel drive. If you want a Durango R/T, you can decide between these two or our next option.
5.7L HEMI V8 Engine w/ Tow N Go Package, All-Wheel Drive: 8,700 Pounds
Dodge decided to take the power of the 5.7L HEMI V8 and pair it with an intelligent system to maximize the towing capacity out of their mid-tier engine. To do this, they souped up the brakes, replaced the stock suspension with a Bilstein active damping high-performance suspension, upgraded the rear axle, installed a class four trailer hitch, integrated an electric trailer brake controller, and gave the cabin active noise canceling. To top it all off, they gave the Durango three different drive modes: track, snow, and dirt. The R/T trim with the Tow N Go package is truly designed to live up to its name; it is ready to tow up to 8,700 pounds and go about the task with speed and style.
---
HOW OFTEN SHOULD YOU REPLACE YOUR BRAKES?
Unless you're a mechanic or super-dedicated car enthusiast, you might not know much about the brakes on your car. How long do they typically last?​ How often should you replace your brakes​? We've got answers
---
6.4L HEMI V8 Engine, All-Wheel Drive: 8,700 Pounds
Dodge heard you, 5.7L of displacement and 390 horsepower simply isn't enough. You need a 6.4L HEMI V8 with 475 horsepower and 470 pounds-feet of torque. In the Charger, the equivalent engine is tuned to go 0-60 in about 4 seconds, but in the Durango, it is tuned to tow 8,700 pounds in the SRT 392 trim. Now, if 7,400 pounds wasn't enough to haul your boat or trailer, the extra 1,300 pounds should help you out and allow you to tow just about anything you could put on wheels.
Supercharged 6.2L HEMI V8 Engine, All-Wheel Drive: 8,700 Pounds
You met it with the Charger; you loved it with the Challenger; now it's time for the Durango SRT Hellcat trim. The towing capacity stays the same at 8,700 pounds, but towing should feel a lot smoother sitting just a few feet behind a supercharged, 6.2L, HEMI V8 engine with 710 horsepower and 645 feet-pound of torque. If you're looking for the height of performance ad the height of luxury from your SUV, there is nothing quite like a Hellcat Durango. If you want to tow almost 9,000 pounds with an SUV, this is a great one. But if you want to hit 180 MPH, this is the only one.
---
---
Get a Curated List of the Best Used Cars Near You
The CoPilot car shopping app is the easiest way to buy a car. Tell us what you're looking for and we'll search the inventories of every dealership in your area to make you a personalized list of the best car listings in your area.
Only looking for newer models? CoPilot Compare is the search engine for nearly-new cars. Only see cars five years or newer with low mileage — CoPilot Compare is the best way to find off-lease, early trade-in, and CPO cars.
The best part? CoPilot is built using the same technology that dealerships use to buy and sell their inventories, so we have more info on each vehicle than competitors. CoPilot doesn't work with dealerships, so there are no sponsored posts or other shady practices — just the most info on the best cars. Check out our About Us page to see how CoPilot works.