Here Are The Dodge Dart Years To Avoid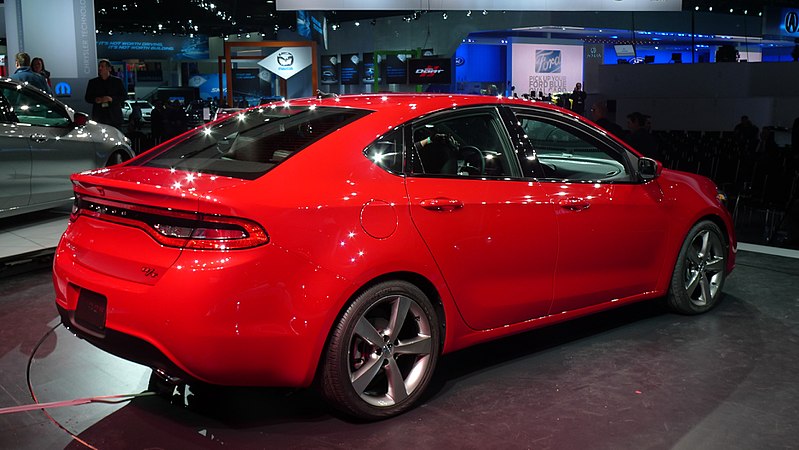 Dodge Dart (2013) by Andrew Duthie – CC BY-SA 2.0
Does anyone remember the Dodge Dart? Most folks won't remember this little Dodge due to its brief stint in the mid-2010s. Some car models debut with relative buzz and fanfare, only to lose steam some years after and meet an untimely end in production – such is the case with the Dodge Dart.
The Dart was supposedly Fiat Chrysler's attempt at a fresh start, with a compact sedan that combined the comfort and technology of Italian cars and an all-American design. While the Dart re-launch Dart was filled with excitement and optimism from the manufacturer, the same energy failed to transmit to the consumers. In 2016, the Dodge Dart was discontinued and is now nothing but a footnote in automotive history. However, the Dart made headlines again in 2021, five years after its discontinuation, by selling a single brand-new unit to a customer.
---
THE MOST RELIABLE YEAR FOR THE DODGE DART
So what is the most reliable year of Dodge Dart? Unless you're considering buying the classic muscle car model, you're looking at a grand total of four models.
---
If you're looking to get your hands on a Dart, your best bet is to buy a used model. For today's post, we'll round up the worst Dodge Dart years to avoid and which models you can pick up safely. Let's get to it!
Which Dodge Dart Years To Avoid?
The Dart lasted only four years; unfortunately, it wasn't exactly a paragon of reliability during its production. Here's a quick list of dart model years you should avoid:
2013 Dodge Dart
2014 Dodge Dart
2015 Dodge Dart
2013 Dodge Dart
The debut of the Dart's revival was marred with severe problems. If you search for the 2013 Dart and read the discussions around it, you'll find that many owners struggled with its transmission system. According to CarComplaints.com, the 2013 Dodge Dart has more than 2,000 NHTSA complaints and six recalls. Furthermore, it earned the "Avoid Like the Plague" seal from the website.
---
OTHER CAR SHOPPING APPS ARE OUTDATED
You won't realize how outdated other car searching apps are until you try the CoPilot car shopping app. CoPilot does the hard work for you by searching all of the listings in your area and intelligently creating a personalized list of the best buys in the area that match what you're looking for.
---
Transmission Issues
According to numerous reports, the 2013 Dart's transmission is prone to malfunction and generally fails at the worst possible time. One user at CarComplaints claimed he had nothing but trouble after buying this car and had to replace his transmission three times after only having it for a year and a half. Another user complained about how the Dart put his life in danger, mainly due to the problematic transmission.
The Dodge Darts with faulty transmissions experienced symptoms such as rough shifting, jerking motions, and service transmission light illuminating. The most common fix is to replace the transmission, which also costs a lot of money ($3,420 on average).
Engine Issues
Another sore spot of the 2013 Dart is the engine. According to users from CarComplaints, the Dart's engine sometimes stalls during hazardous situations, like in the middle of an intersection. One cause of concern is that the engine stalls happened quite frequently, as many owners claimed that they happened to them multiple times.
Many engine issues of the 2013 Dart happened at a relatively low mileage of 34,000. Some of the problems reported include:
Loss of power
Downshifting
Engine failure
Dies while turning
Some of the cited fixes include updating the PCM software or replacing the engine entirely.
Brake System Problems
Many owners of the 2013 Dart also complained about brake-related issues. They claimed to hear unusual noises coming from the brake system. However, no problem was found after bringing their vehicle to a mechanic.
The complaints only worsened, and Chrysler Group LLC (Chrysler) had to issue a recall for the 2013 Darts for their brake problems. Apparently, some of the Darts were outfitted with the wrong rear brake calipers, which caused the braking issues.
---
 THE BEST CARS FOR SNOW
Winter driving impacts young and experienced drivers alike. We've compiled a list of the best cars for snow, so you can get from Point A to Point B as safely as possible.
---
2014 Dodge Dart
Fortunately, the following year was relatively better for the Dodge Dart. However, it still struggled with severe reliability woes, so it's on this list of the Dodge Dart years to avoid. The 2014 had fewer complaints and on CarComplaints (584 complaints and three recalls), which is always a good sign.
Engine Issues
Like the previous model year, the 2014 Dart also had issues with its engine. Many owners of the compact sedan complained about sudden engine stalls or failure while on the road. Some drivers had to stop before engaging the engine again, while others had to jumpstart to keep driving. This problem is obviously a safety hazard, especially if you're on a highway with other vehicles. According to reports, the mechanic didn't find anything wrong with the battery.
Some drivers also reported braking issues and stiff steering that seemed to come out of nowhere. Expert mechanics have linked these engine issues with faulty software, low oil pressure, and defective sensors.
Noise WhileTurning
A few drivers also complained about hearing a jarring noise while turning their vehicles. One user from the Dodge Dart forum described the sound as a "dry rubbing noise under the steering column." According to several users, the potential culprit is the strut mount that isn't properly sealed against moisture.
2015 Dodge Dart
The 2015 Dodge Dart has a better reliability track record than the previous model years. However, it wasn't spared from persistent mechanical issues from the earlier years.
Engine Issues
Unfortunately, the 2015 Dart's engine remains prone to stalls and failure, although to a lesser degree. Once again, the most common complaint by owners is their car stalling while on the road or driving uphill – these occurrences seem to be random, which is somehow worse. 
One user complained about engine stalls every time the car hits 2,500 miles. Getting an oil change seems to help, but the issue keeps returning. Another user wrote that his Dart shut off three times in a single driving session.
Which Dodge Dart Years are Safe to Buy Used?
Now that we've listed the Dodge Dart years to avoid, that leaves us with one more model.
2015 Dodge Dart
Fortunately, the final model year of the Dodge Dart is good – both in terms of driveability and reliability, at least compared to the previous years. It offers an intuitive infotainment system, athletic handling, and good safety scores. Best of all, its engine doesn't have issues with constant stalling. However, it does have a few problems relating to the thermostat and premature clutch wear.
---
THE BEST USED MINIVANS ON THE MARKET
When it comes to hauling a lot of people and cargo, the minivan is hard to beat. We've factored in reliability, affordability, and functionality to create this curated list of the 8 best used minivans on the market today.
---
---
Get a Curated List of the Best Used Cars Near You
The CoPilot car shopping app is the easiest way to buy a car. Tell us what you're looking for and we'll search the inventories of every dealership in your area to make you a personalized list of the best car listings in your area.
Only looking for newer models? CoPilot Compare is the search engine for nearly-new cars. Only see cars five years or newer with low mileage — CoPilot Compare is the best way to find off-lease, early trade-in, and CPO cars.
The best part? CoPilot is built using the same technology that dealerships use to buy and sell their inventories, so we have more info on each vehicle than competitors. CoPilot doesn't work with dealerships, so there are no sponsored posts or other shady practices — just the most info on the best cars. Check out our About Us page to see how CoPilot works.