The 8 best used car pre-purchase inspection stations in Philadelphia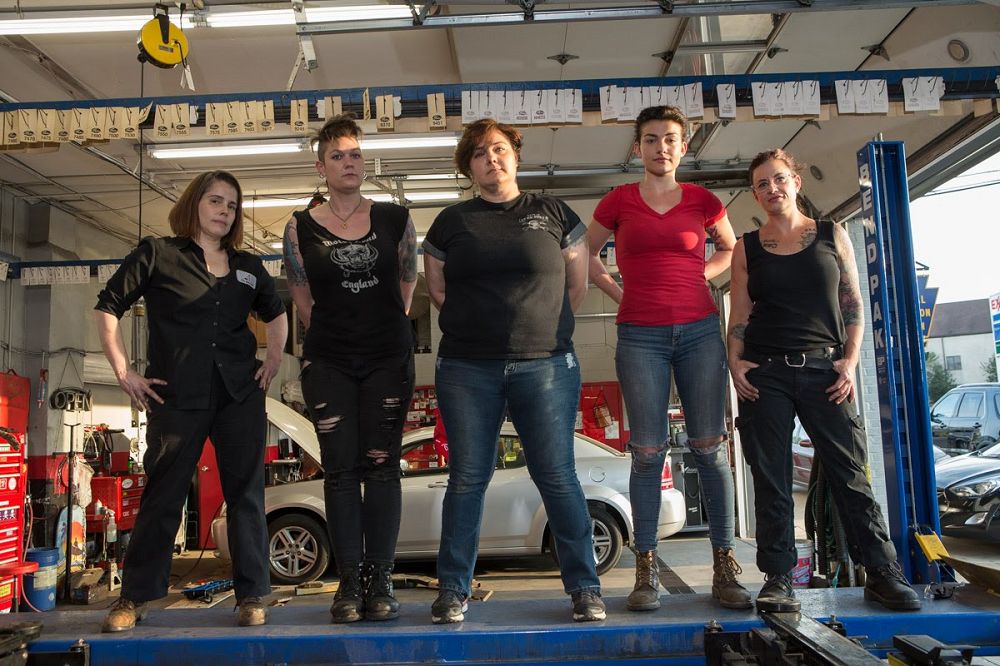 Buying a used car can be a stressful process, mostly because you're uncertain about the reliability of the vehicle you're purchasing.

The best way to alleviate your anxiety about reliability is to get a pre-purchase inspection from a local provider. They'll tell you if there's anything wrong with the car you're buying - potentially saving you from buying a lemon.
We've combed through reviews, testimonials, and business ratings to find the best used car pre-purchase inspection providers in the Philly area.
Quick list: The best pre-purchase inspection services in Philadelphia 
Girls Auto Clinic
Dave's Auto and Truck Service
Ramsey's Service Center
11th Street Auto Repair
Mid City Tire and Auto
Tires Etc.
Firestone Complete Auto Care
Pep Boys
---
TRENDING
Find the best used Cadillac Escalades in Philadelphia PA. Tell us what you're looking for and we'll search the inventories of every dealership in Philly to make you a curated list of the best deals.
---
1. Girls Auto Clinic


Address: 7425 West Chester Pike, Upper Darby, PA 19082
Phone number: (484) 461-4693
Specialty: Competitive, transparent pricing
Rating: 4.5 stars from 250+ reviews
Website: http://girlsautoclinic.com/
Girls Auto Clinic was founded to solve the frustration and heartache many women have experienced when dealing with mechanics. With a business model founded on the respectful treatment of all customers, Girls Auto Clinic has hit the Philly scene with huge success.Girls Auto Clinic is a full-service mechanics shop that offers pre-purchase inspection services, so they can help you make sure you're getting a reliable used car.
Whereas Girls Auto Clinic focuses on helping women get honest and transparent pricing for top-quality auto care, their philosophy is to treat everyone equally. With thorough explanations of problems and transparent pricing models, Girls Auto Clinic makes sure no customer gets ripped off.
This customer's quote perfectly highlights Girls commitment to transparency and customer service:
"I asked for quotes from Firestone and another local shop before booking with Girls Auto Clinic. GAC services were competitively priced. Booking online was convenient and I was glad the text message responses went to an actual person who answered my follow up questions. Once my coolant flush and brake fluid services were done, the mechanic test drove my car and checkout was easy. I was also appreciative of the owner's generosity with her time. She personally gave a tour of the space to each customer, highlighting the various waiting areas. This personal touch was not necessary, but much appreciated. I don't stay in the area, but the drive down here was worth it."
Don't take the gamble that the used car you're buying is as reliable as the seller says it is - give Girls Auto Center a call and they'll make sure there are no deal-breaking problems lurking under the hood.
2. Dave's Auto and Truck Service
Address: 100 Red Lion Rd Philadelphia, PA 19115
Phone number: 215-677-4783
Specialty: Friendly service and a convenient loaner car option.
Google Reviews: 4.7 stars from over 60 reviews
Website: https://www.davesautoandtruckservice.com/

Dave's is a family-run shop that has been a Philly mainstay for over 40 years.

Dave's can do all manner of mechanical work on your vehicle and is backed by NAPA parts, which are quickly available and reliable. NAPA also provides Dave's customers with warrantied parts which will give you peace of mind as you enjoy the open road.

With a concierge service, loaner car program, and available appointments, Dave's has everything you need to enjoy your trip to the local mechanic. Dave's is known for treating customers like family and offering clean facilities that make you feel at home.
Customers love Dave's, and the reviews prove it:
"Driving to Philadelphia from New England, I noticed something 'off' with my brakes. I was so lucky to find Dave's auto shop. From the moment I explained the problem to Tina on the phone, I received incredible service from start to finish. They fit me in quickly, diagnosed the issue (one previously missed at my repair shop at home), and identified a few others that were overdue. They were extremely thorough and professional in explaining the issues and applied no pressure whatsoever to purchase any more than I wanted/needed. Overall, it was an excellent experience and I just might consider servicing my car in Philadelphia whenever I can - despite the 250 mile drive!"

If you're buying a used car, give Dave's a call - they'll give it a thorough inspection before you buy it to make sure there are no problems.
3. Ramsey's Service Center

Address: 659 Burmont Rd, Drexel Hill, PA 19026
Phone number: (610) 259-7268
Specialty: Super friendly staff
Google Reviews: 4.8 stars on Google from 250+ reviewers
Website: https://ramseysservice.mechanicnet.com/
Ramsey's opened in 1949 and has been serving the Philly area with respect ever since. 
Ramsey's offers a wide range of mechanical know-how from routine maintenance to critical engine failure. Ramsey's puts customers first with reminders for maintenance work as well as a fair pricing schedule.
Ramsey's knows how to make you feel at home as their business holds friendliness in the highest esteem. Ramsey's customers leave with their voices heard and their cars in great shape.
Philadelphia residents clearly love this shop:
"Best auto shop in Drexel Hill – if not Greater Philadelphia! I have never had a negative experience. Owner Bob and his crew give you 110% without fail. I appreciate not only the quality workmanship and incredibly fair rates, but the kindness and concern they demonstrate for even a new customer. This shop is as fair as they come–you can trust the diagnoses and advice, because their first goals are customer satisfaction and service quality. Highly recommend!"
Ramsey's will perform your pre-purchase inspection with the know-how of a business that's been around for ages and the respect of a family that cares about its community.
4. 11th Street Auto Repair

Address: 820 S 11th St, Philadelphia, PA 19147
Phone number: (215) 928-0376
Specialty: 11th street is known for having excellent and honest mechanics
Google Reviews: 4.7 stars on Google from 50+ reviewers
Website: http://www.11thstreetauto.com/
11th Street is a Philly favorite with staff mechanics known for their wide range of expertise and patience in explaining every detail of your vehicle's needs. 11th street hosts many regular customers as a 2nd generation owned garage.
11th street is a full service garage made famous by their commitment to customer satisfaction. The mechanics at 11th street will leave you with a better knowledge about the nuances of your vehicle than you could ever dream.
11th street is a garage full of service staff waiting to help you at every turn. You can rest assured that your car will be properly vetted by mechanics willing to respectfully answer your every question.
Customers have great things to say:
"Had a very good experience here getting my inspection and new brake pads. They are extremely polite, family owned and most importantly for a mechanic shop: they are honest. Highly recommend"
If you need a pre-purchase inspection performed by mechanics who won't leave you feeling more confused than when you started, the trustworthy folks at 11th street will take care of you. 
5. Mid-City Tire and Auto

Address: 709 Washington Ave, Philadelphia, PA 19147
Phone number: (215) 339-9441
Specialty: This local shop is made famous for their tires
Rating: Google rating of 4.6 stars from 137 comments
Website: https://www.midcitytire.com/
Mid-City tire and auto is a local Philly shop that has been serving the community for the last 54 years. Mid-City prides itself on offering a host of services to keep your car in the best shape.
Mid-City sells more than just tires, with an extensive list of mechanical specialties that include a pre-inspection service backed by an ethos that supports customer education about likely repairs down the road.
Mid-City specializes in preventative maintenance and will guide you to choosing service that will keep your car operating like new for years to come. If you have a quick repair, Mid-City also offers a clean waiting area with free wifi for your enjoyment. 
Philadelphia residents trust Mid-City auto as seen here: "I have been taking my cars to Mid-City for almost ten years now. They are faster and more reliable than any other car repair or dealership I have dealt with. The employees are knowledgeable and friendly. Their prices are very reasonable. I have never experienced anything but consistently good quality. I refuse to take my car anywhere else."
Preventative maintenance is of the most common and easily resolved issues when purchasing a used vehicle. Mid-City will do a thorough pre-purchase inspection and fix any immediate issues should you decide to purchase the vehicle.
---
RELATED
Find the best Used Land Rover Discovery Sport in Philadelphia PA at the best price for sale near you. Browse, search and filter through hundreds of listings. We pair you with a CoPilot, a car buying expert who works for you, not the dealers, so you get a great deal on the best car for you.
---
6. Tires Etc.

Addresses:
515 W Baltimore Pike, Springfield, PA 19064
616 Upper State Rd, North Wales, PA 19454
640 E Gay St, West Chester, PA 19380
Phone number: (610) 259-8800
Specialty: Made famous by their great tire services and informative staff
Rating: A 4.2 star Google ranking from 546 customers
Website: https://tiresetc.com/
Tires Etc. serves Philadelphia with pride as a shop that has grown to offer three locations as customers demand their honest services across the city. Tires Etc. will have you rolling down the road confidently in no time.
Tires Etc. isn't just a tire shop, as they offer a full suite of services to keep your car in the best condition possible. From oil changes to suspension components, Tires Etc. mechanics are experts in all repairs to your vehicle.
With a convenient three locations, quick service turnarounds, and a friendly staff that prides themselves on honest communication, it's hard to go wrong with Tires Etc. 
Customers love to trust Tires Etc. with their car, as seen here:
"Really appreciated the time and care taken towards addressing my tire pressure indicator light issues, including full service inspection of each tire. Even though this team took the time to take all tires off, and found the issue was minor - they did everything in their capacity to ensure it wasn't a bigger issue. I appreciate that they didn't even attempt to do unnecessary work and didn't charge me for anything I didn't need done. Furthermore, the general manager - I think his name was Jeff - showed me some basic useful info about my car that will come in handy in the future. It's the first time I've ever had a mechanic give me basic education in a non condescending and generally helpful way. Definitely will be returning to them for my car's larger needs!"
If you need a pre-purchase inspection performed by a garage that's been serving the Philadelphia community with honest and trustworthy repairs for years, swing by Tires Etc.
7. Firestone complete Auto Care

Address:
31 West City Ave, Bala Cynwyd, PA 19004
305 E Lancaster Ave, Wynnewood, PA 19096
Phone number: (484) 430 4657
Specialty: This shop focuses on preventative maintenance backed by a corporate guarantee
Rating: 3.5 stars from 165 Google reviewers
Website: https://local.firestonecompleteautocare.com/
Firestone is a brand that has been serving clients across the country since 1926. As a leading repair service provider, Firestone mechanics are experts at finishing your repairs on time and within their quoted amount.
Firestone is a full service repair shop that focuses on preventative maintenance and tire replacement. Firestone mechanics will thoroughly explain all of your options when your car malfunctions.
Firestone garages dot the entirety of the United States and are a trustworthy and reliable option whenever you need a great mechanic. The staff at Firestone can be trusted to provide you with the best service.
Customers love this shop as evidenced by this quote "Friendly staff, comfortable waiting area, clean bathroom, reasonable price."
Need a fast pre-purchase inspection with the convenience of two locations and the backing of a strong brand? Firestone will walk you through all your vehicle's needs and provide helpful quotes to help determine how much you should negotiate the price of your vehicle. 
8. Pep Boys

Address: 1050 E Hunting Park Ave, Philadelphia, PA 19124
Phone number: (215) 533 3700
Specialty: Full service garage specializing in owner education
Rating: 3.9 stars from 494 Google reviewers
Website: https://www.pepboys.com/
What started in 1921 as a way for new car owners to maintain their vehicles has now become the go-to shop for enthusiasts and commuters alike. Pep Boys is committed to helping you work on your own car with the professionalism and respect necessary for education novices to relative experts. If you ever want someone else to take the wheel on complex repairs, Pep Boys will step in to aid you with honest prices and timely service.
Pep Boys offers a wide array of car repair services to help you get on the road confidently. With staff mechanics that are focused on education, they will help you understand the how and why to every repair.
Pep Boys are automotive experts and will patiently answer any questions with a kind tone. Pep Boys is backed by a strong brand that has store fronts all across the country.
Philadelphia customers love Pep Boys:
"The staff is extremely accommodating and knowledgeable about the products."
Pre-purchase inspection reports can be confusing and frustrating, but the mechanics at Pep Boys will walk you through every detail to help you purchase your car with the confidence of an expert.
The easiest way to find used cars in Philadelphia 
The CoPilot app does the hard work for you. Tell us what you're looking for and we'll search the inventories of every dealership in your area to create you a personalized, curated set of the best car listings - no more scrolling through hundreds of identical listings looking for a good deal.
Worried about rolling around in an older car? CoPilot Compare only shows you cars that are 5 years or newer with the added benefit of low mileage. CoPilot Compare is the easiest way to find deals on CPO, off-lease, and new-model trade-ins near you.
The best part? CoPilot doesn't work with dealerships or make money when a car is sold, so there are no sponsored listings or other shadiness. Take a look at our About Us page to see how we keep the lights on.