The 5 Best Hybrid SUVs With 3rd Rows (2023)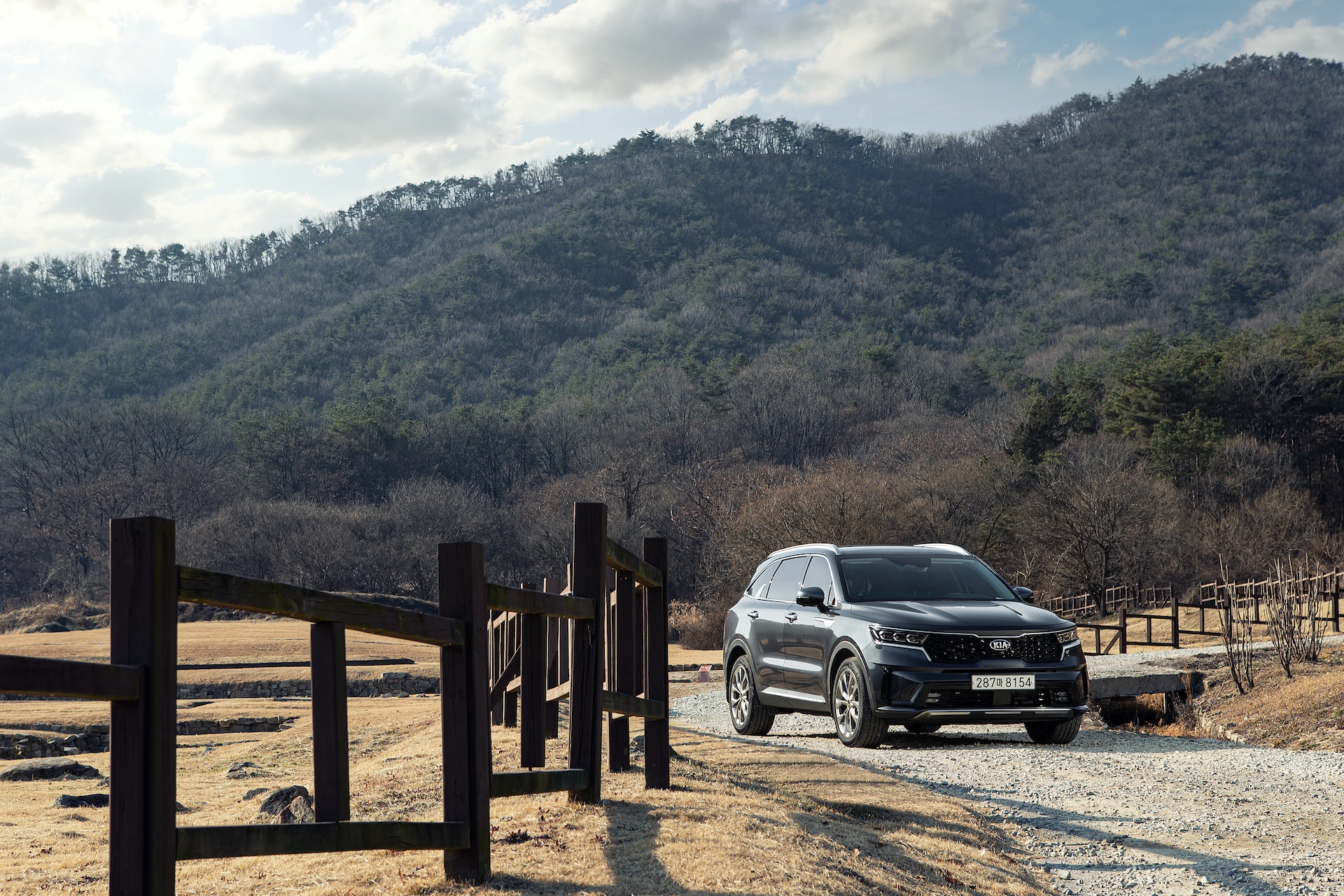 Photo by Hyundai Motor Group on Unsplash
Recent world events show us that gas prices can be volatile. You just don't know when the next record-high prices will rear their ugly heads and bang on our wallets. Fortunately, hybrid and EVs are now available for those who are serious about saving on gas prices and not dealing with fuel volatility nonsense.
People usually think of compact crossovers and sedans when talking about hybrids and EVs. However, the hybrid market has expanded significantly since then because there's no shortage of hybrid SUVs with third-row seating available.
If you're looking for a hybrid SUV with 3rd row seating, you've come to the right place. Today, we rounded up some of the best hybrid SUVs with 3rd-row seating to help you shop. Let's take a look!
Over the years, Kia has been on a mission to manufacture vehicles that offer tremendous value for the money – the three-row Kia Sorento is no exception. The exterior styling may not be everyone's cup of tea, but the design is certainly interesting and an admirable attempt to be different. The 2023 Sorento is available in hybrid and plug-in versions, so you're covered in whichever hybrid variant you want.
In terms of fuel efficiency, the hybrid Sorento HEV is the most fuel-efficient, with 39 mpg city and 35 mpg highway. Meanwhile, the plug-in hybrid version has a combined MPGe rating of 79 and delivers 35 mpg city and 33 mpg highway when driven in hybrid mode. Having said that, the PHEV Sorento has a manufacturer-estimated 32 miles when driving on full electricity at full charge.
While the Kia Sorento has three rows of seating, the farthest back seats are cramped and uncomfortable for adults.
---
FEEL SECURE IN THE CAR YOU CHOOSE
You don't want to buy a car - you want to get the best deal on the car you're looking for. The CoPilot app will notify you if there's a similar vehicle in your area at a better price, so you're always certain you got the best deal available. 
---
2022 Ford Explorer Hybrid
The 2022 Ford Explorer Hybrid is another midsize option for a hybrid SUV with 3rd row. Although the 2022 Explorer has a plug-in hybrid version, it's exclusive for Europe consumers. Therefore, U.S. customers are stuck with the traditional hybrid model. Unfortunately, the Hybrid Explorer is only available in two trims: Limited and Platinum.
All Explorer Hybrids are powered by a 3.3-liter naturally aspirated V-6 engine paired with the electric motor, delivering 318 horsepower. The MPG ratings top out at 27 mpg city and 28 mpg highway for RWD Explorers and 23⁄26 mpg for AWD. These specs also afford the Ford Explorer Hybrid an impressive towing capacity of 5,000 lbs – even the Explorer's most formidable competitors don't have this level of utility. Unfortunately, the Ford Explorer Hybrid isn't the most fuel-efficient in the segment, especially when compared to the likes of the Toyota Highlander Hybrid.
The 2022 Ford Explorer Hybrid isn't the most fuel efficient or affordable hybrid SUV with 3rd row, but it certainly delivers in utility.
The Toyota Highlander is a tried-and-true three-row SUV for many families over the years. With that said, the 2022 Toyota Highlander Hybrid is a large SUV that can seat up to eight people. Although it has more passenger space than many of the other models on this list, the Highlander Hybrid's third row seats are best reserved for children and teens. However, with its modest asking price, the Toyota Highlander Hybrid brings tremendous value to the table.
The 2022 Toyota Highlander Hybrid is an excellent choice for the fuel-conscious buyer. The FWD variant offers superb mpg ratings of 36 city and 35 mpg highway, with an estimated range of 598 to 616 miles before it needs refueling. In terms of fuel economy, the other competing three-row hybrid SUVs can't even come close.
The 2022 Highlander is a hybrid SUV with 3rd row seating that's not hard to like. It offers plenty of versatility, reliability, and best-in-class fuel economy – a value-filled hybrid and an excellent option for hybrid first-timers.
---
IS GAP INSURANCE WORTH IT?
Gap insurance can prevent you from making payments on an already-totalled car, but is gap insurance worth it? We break down what gap insurance is, if it's worth it, and more - simply and with plenty of examples. 
---
2022 Lexus RX450h L
The Lexus RX helped popularize the luxury SUV more than two decades ago and remained one of the more popular Lexus SUVs. The 2022 Lexus RX450h looks to contribute to that legacy with a hybrid model that aims to provide more of what we like from the RX but in a more fuel efficient package. However, although it's a three-row SUV, the RX450h L can only accommodate six passengers.
The hybrid mid-sized RX is powered by a 3.5-liter V6 engine, mated to twin electric motors, which produces 308 horsepower. While it's not exactly the most exhilarating performance out there, the RX450h L boasts a rather excellent throttle response. The 2022 Lexus RX450h L fuel economy is far from best-in-class, but it's better than the aforementioned Explorer at 29 mpg city and 28 mpg highway.
The 2022 Lexus RX450h L delivers on its luxury promise with a quiet and luxurious interior and decent fuel economy. It's a solid option if you want something extravagant in the hybrid SUV segment.
---
THE BEST USED LUXURY CARS ON THE MARKET
Buying a used or CPO luxury car is one of the smartest buys you can make - you can get a lot of car for not much money. You can pick up a three-year-old luxury car for about half of what you'd pay new. Check out this list of the best used luxury cars on the market to find the best deals. 
---
2022 Lincoln Aviator Grand Touring
If your budget allows it, another luxury hybrid SUV with 3rd row seating that you should check out is the 2022 Lincoln Aviator Grand Touring. For you to get access to the hybrid or plug-in hybrid versions of the Aviator, you need to get the Grand Touring trim which requires a deep pocket. However, you're getting a true luxury SUV with plenty of high-end bells and whistles and excellent performance.
The 2022 Aviator Grand Touring is outfitted with a 3.0-liter twin-turbo V-6 engine with a 75-kW electric motor. This potent combination delivers a mighty 494 horsepower and 630 lb-ft of torque – with an impressive acceleration of 0-60 mph at around six seconds. Furthermore, it has a towing capacity of 5,600 lbs which is lower than the non-hybrid model. Unfortunately, the 2022 Lincoln Aviator Grand Touring isn't very fuel efficient at an EPA-estimated combined 23 mpg. Meanwhile, the plug-in hybrid version has 56 MPGe and can drive 21 miles on pure electricity alone.
The main draw of the 2022 Aviator Grand Touring hybrid is its excellent balance of performance and luxury. However, it does command an expensive price tag for the hybrid versions.
Honorable Mentions
Want more three-row hybrid SUV recommendations? The following vehicles are also worth checking out:
2023 Toyota Sequoia
The Toyota Sequoia used to run on an aging platform, but for 2023, the 3-row SUV has finally received a much-needed redesign. This massive SUV now comes standard in a hybrid model yet maintains the truck-based off-road capabilities of old Sequoias we all know and love. It's a well-rounded SUV with a sturdy truck-like sensibilities, so it's not the most efficient hybrid out there. Its 21 city / 24 highway mpg ratings leave a lot to be desired, but the Sequoia is a good option if you want a larger SUV with better fuel efficiency.
2023 BMW X5
The 2023 BMW X5 is one of the best midsize luxury SUVs in the market, with an optional third-row seating. As you might expect from a beemer, the X5 offers a winning combination of upscale design, a wealth of standard features, and luxurious driving experience. With the xDrive45e plug-in hybrid configuration, drivers get 50 MPGe combined in electric mode, and 20 mpg combined in hybrid mode. 
---
---
Get a Curated List of the Best Used Cars Near You
The CoPilot car shopping app is the easiest way to buy a car. Tell us what you're looking for and we'll search the inventories of every dealership in your area to make you a personalized list of the best car listings in your area.
Only looking for newer models? CoPilot Compare is the search engine for nearly-new cars. Only see cars five years or newer with low mileage — CoPilot Compare is the best way to find off-lease, early trade-in, and CPO cars.
The best part? CoPilot is built using the same technology that dealerships use to buy and sell their inventories, so we have more info on each vehicle than competitors. CoPilot doesn't work with dealerships, so there are no sponsored posts or other shady practices — just the most info on the best cars. Check out our About Us page to see how CoPilot works.