The 5 Best Auto Air Fresheners On The Market (2023)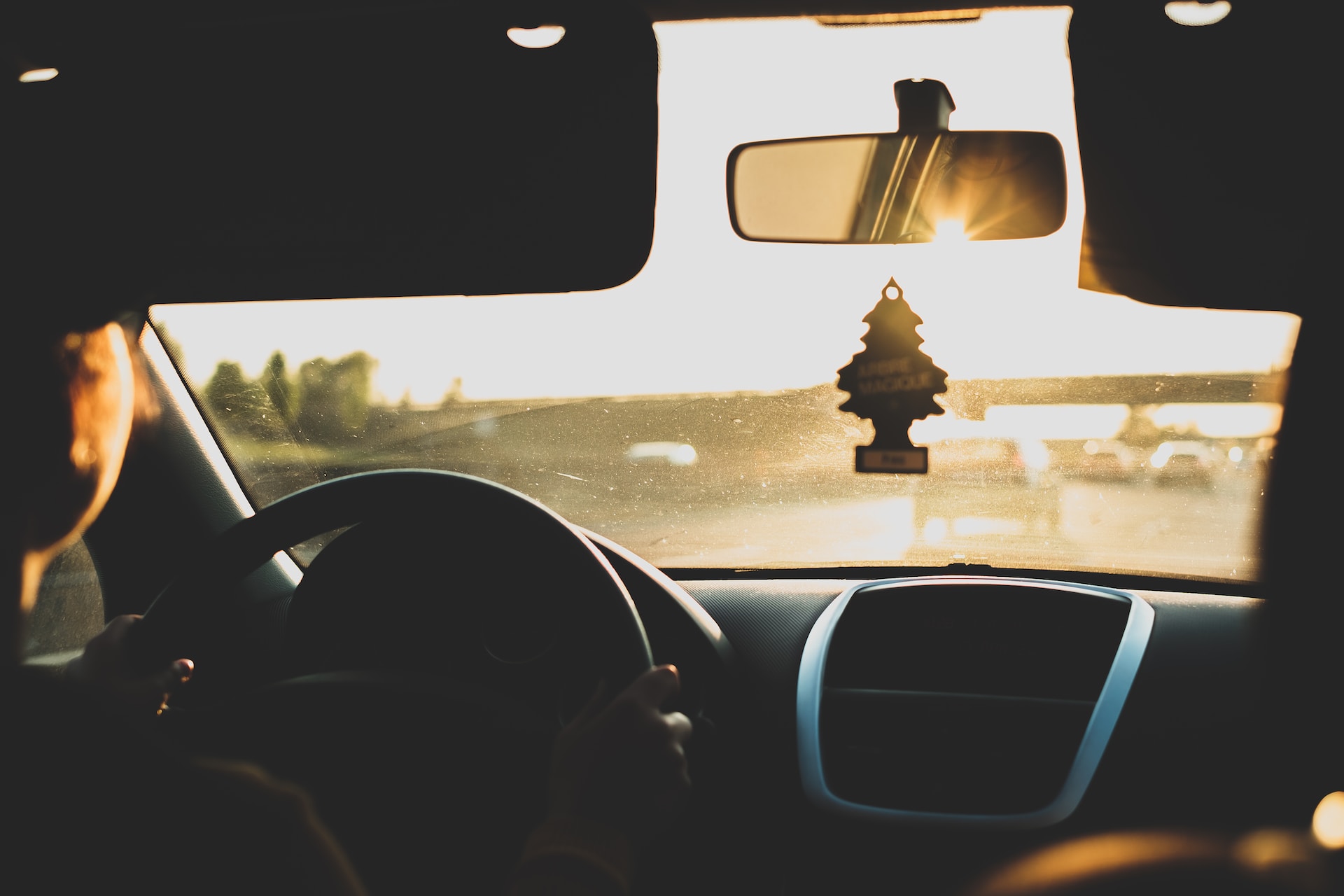 Photo by Luigi Manga on Unsplash
We spend a lot of time in our vehicles, and the new car smell will eventually disappear over time. With that said, whether it's stale air, pet dander, post-workouts, or food spills, we all have things that will leave our car with a funky smell. You might get used to the smell, but the last thing you want is to subject a date or co-worker to your car's foul-smelling interior.
While air fresheners are not actual replacements for a good car interior cleaning and detail, the right product can help mask or eliminate the offending smells. Thus, investing in auto air fresheners can be a good idea. You can even find air fresheners for specific odors like smelly pets and heavy cigarette smoke.
So today, to help you find the right product to combat smelly car interiors, we rounded up some of the best auto air fresheners you can buy. Let's take a look.
Top 5 Best Auto Air Fresheners to Buy
1. Drift Wood Freshener
Price: $9.95 (subscription model)
Our top pick for the best auto air fresheners is the Drift Wood Freshener due to its uniqueness, sophistication, and functional design. We like to think that Drift's wood freshener is for people who don't like traditional air fresheners. We get it, many air fresheners are an eyesore, and their scents can be too strong. If you have this sentiment toward commercial fresheners, this might be the product for you.
For starters, this is a sustainably-sourced wood air freshener about the size of a credit card. So it looks handsome and sophisticated inside your cabin. Another thing we love is the variety of scents that are actually easy on the nose. They have a great selection of fragrances, including seaside, amber, coffee, mill, teak, and pine. Drift is a subscription box service that will send you a different scent each month or how frequently you want to receive them.
Product Features: 
Stylish, sophisticated air freshener
Includes metal visor clip
Made from sustainably sourced wood
Nine different scents to choose from
Made in the USA
---
DOWNLOAD THE FREE APP
The CoPilot car shopping app is the smartest way to buy a car. Get a curated list of the best cars for sale in your area, as well as notifications if a similar vehicle is listed nearby at a lower price. CoPilot is the smartest way to shop for used cars. 
---
2. Air Spencer CS-X3 Squash Air Freshener
Price: $12.99 (on sale)
The Air Spencer CS-X3 Squash Air Freshener is a solid option if your car smells unique and stands out from a sea of pines and ocean breezes. This air freshener comes in a refillable cartridge that will eliminate foul odors inside your car for about a month. Once you run out of scents, you can easily buy refills from places like Amazon.
Don't let the "Squash" name mislead you because this product smells nothing like a gourd or fall in general. In reality, the Air Spencer offers a sweet citrusy scent, which most people describe as similar to the famous Japanese drink, Ramune. This makes sense since Air Spencer is a Japanese import. Overall, it's a relatively unique air freshener with an equally one-of-a-kind scent.
Product Features: 
A unique sweet citrusy scent
Supports refillable cartridges
It lasts up to 4 weeks
It comes with a versatile cartridge holder
Japan Import
3. Little Trees Car Freshener
Price: $9.40 (10-pack)
Sometimes, you want an air freshener that works and won't cost you much – in this case, the classic Little Trees Car Freshener is about as traditional as it gets. Little Trees have been around for a long time, and most people think of these dangling scents when talking about air fresheners. Just take it out of the packaging and hang it behind your rearview mirror, and you're good to go.
The iconic black ice fragrance is perhaps the most popular scent choice that combines bergamot, sandalwood, and lemon for that unmistakable fresh but neutral car scent. But most people don't know that there are 40 different Little Trees scents to choose from. For just a dollar per tree, it's hard to go wrong with this budget air freshener.
Product Features: 
Inexpensive price point
Small and versatile
Available in over 40 scents
It can be used outside of vehicles
Made in the USA
---
FEEL SECURE IN THE CAR YOU CHOOSE
You don't want to buy a car - you want to get the best deal on the car you're looking for. The CoPilot app will notify you if there's a similar vehicle in your area at a better price, so you're always certain you got the best deal available. 
---
4. Yankee Candle Car Air Freshener
Price: $9.93 (3-pack)
The Yankee Candle Car Air Freshener is one of the best auto air fresheners for smokers. The smell of heavy cigarette smoke can wreak havoc on a car's interior. The Yankee Candle hanging air freshener can help eliminate heavy smoke odors and unpleasant smells from your cabin. For heavy smokers, we highly recommend the beach and cotton fragrances for mitigating cigarette smoke odor that tends to linger.
Even if you're not a smoker, the Yankee Candle car freshener does a great job of keeping your car interior smelling fresh and pleasant. One candle can last up to a month, which is excellent value in the long run. Due to its versatile design and style, you can also use these candles in places like your office or powder room. Overall, consider this product the miniature version of the popular Yankee candles.
Product Features: 
Odor-neutralizing fragrance
Best for smokers
Dozens of scents to choose from
Versatile hanging design
Made in the USA
5. Febreze Unstopables Odor-Fighting Car Freshener Vent Clip
Price: $7.94 (3-pack, on-sale)
Lastly, we pick the Febreze Unstopables Odor-Fighting Car Freshener Vent Clip for its minimalist design, effective odor-busting, and long-lasting fragrance. These vent clip air fresheners go into the vent of your car, so the airflow coming from the vents will help circulate the scent inside your vehicle. It's worth pointing out that the fragrance can be overwhelming at first, but it gradually softens over time. You can adjust the scent's intensity using the dial on the back of the freshener.
The clip design is an ideal product for those who don't like hanging air fresheners because they're a distraction while driving. Based on our experience, this clip-on air freshener lasts longer than its competitors. Plus, it's an effective product for eliminating odors inside the car. Finally, the Febreze car fresheners are reasonably priced, and you can buy them in packs for more savings.
Product Features: 
Eliminates trapped car odors
It lasts up to 30 days
Simple to install and activate
Adjustable scent intensity
Offers refreshing scent of clean laundry
---
---
Get a curated list of the best used cars near you
The CoPilot car shopping app is the easiest way to buy a car. Tell us what you're looking for and we'll search the inventories of every dealership in your area to make you a personalized list of the best car listings in your area.
Only looking for newer models? CoPilot Compare is the search engine for nearly-new cars. Only see cars five years or newer with low mileage — CoPilot Compare is the best way to find off-lease, early trade-in, and CPO cars.
The best part? CoPilot is built using the same technology that dealerships use to buy and sell their inventories, so we have more info on each vehicle than competitors. CoPilot doesn't work with dealerships, so there are no sponsored posts or other shady practices — just the most info on the best cars. Check out our About Us page to see how CoPilot works.