Are Subaru Outbacks Reliable? A Complete Breakdown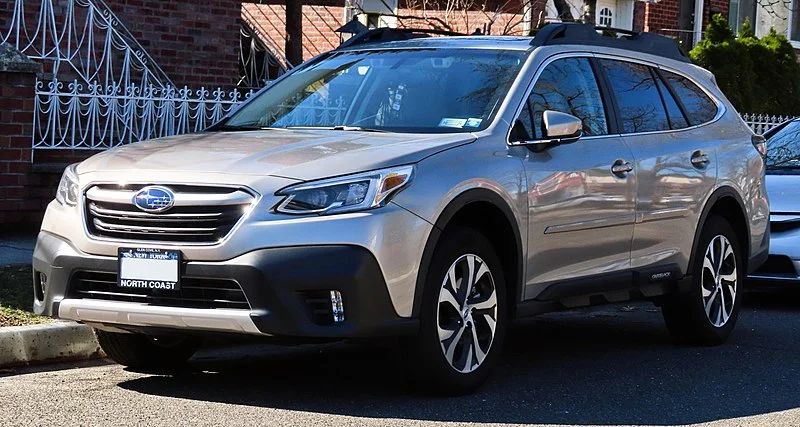 Outback by Kevauto — CC-BY-SA-4.0
If you're thinking about getting an Outback, it's normal to wonder if Subaru Outbacks are reliable or not. After all, it's a popular vehicle, but that doesn't always mean it's an effective vehicle or one that will last as long as you want it to. 
Thankfully, Outbacks are a consistent line, which means that we can expect similar performance from each new generation of Outbacks as the previous, and they tend to perform well. 
We'll dig into the details about whether an Outback is a reliable vehicle and tell you everything you need to know before you buy. 
---
GET A CURATED LIST OF THE BEST SUBARU LISTINGS 
The CoPilot app is the smartest way to buy a Subaru. Tell us what you're looking for and we'll send you a curated list of the best used Subaru listings in your area - no more scrolling through hundreds of listings looking for hidden gems. 
---
Is The Subaru Outback Reliable?
There's some good news. The Subaru Outback is reliable and is one of the more reliable vehicles in its class and price range. Typical users can expect 16-20 years of use before the vehicle needs significant repairs or starts to break down. 
Of course, that assumes that the owner performs all regular maintenance and that the Outback isn't involved in an accident that would shorten its life. 
Outbacks are also one of the most generally reliable vehicles currently on the market. It's not simply that they are a reliable vehicle, but also that they don't have many weaknesses.
Now, that said, there are still some SUVs that are more reliable than the Subaru Outback, either because they last longer on average or because their regular required maintenance is a little less expensive or less frequent. 
Let's take a closer look at the strengths and weaknesses of Subaru Outback reliability. 
---
GET THE SAME INSIDER INFO THAT DEALERSHIPS USE
The CoPilot app is the smartest way to buy a car. Built using the same technology that dealerships use, we'll show you everything you want to know about each listing - like how long it's been on the lot, or if there are similar vehicles at a better price nearby. 
---
Strengths Of The Subaru Outback
There are a few things we want to highlight in terms of the reliability of the Subaru Outback. For one thing, these vehicles don't tend to need any special maintenance to avoid rusting. They're naturally rust-resistant, and it's easy to treat and get ahead of rust if your vehicle does start to show some spots. 
When it comes to mileage, Outbacks are middle of the road with few weaknesses. An Outback that has over 120,000 miles is considered a slightly riskier purchase because, at that point, they might start having problems, especially if you don't have a complete history of the vehicle. 
With that said, though, Outbacks are anticipated to last for 160,000-250,000 miles before they start to break down. With an average annual use of 15,000 miles per year, that's more than 10 years of active use. 
For most users, the real numbers are closer to 12-20 years of driving function. 
The 2021 Outback is also worth noting because of its excellent safety features and high standards for driver and passenger safety. It's a top safety pick for the vehicles released in 2021 and seems to have all the strengths of its predecessors along with relatively few of the weaknesses. 
---
THE BEST SEDANS WITH HIGH GROUND CLEARANCE
There are plenty of vehicles on the market that let you tower over obstacles without losing the convenience of a compact car. Therefore, we've put together a list of our favorite new ​sedans with high ground clearance​.
---
Weaknesses Of The Subaru Outback
Of course, not everything about the Subaru Outback is perfect; otherwise, we would all be driving one. 
There are a few known issues with the Subaru Outback that are worth considering. These problems are usually confined to 1 or 2 model years, though knowing what problems have caused issues with other model years is a good way to evaluate the newest releases. 
There are a few problems worth highlighting, especially if you're considering buying a Subaru Outback. 
The first is Subarus are known for having a problem with their head gasket. It's fixable but often an expensive repair. Unfortunately, head gasket failure often happens far sooner than it should. Not all Subarus have this problem, but Outbacks have several model years that deal with it. 
The 2018 model is also noted to have a windshield that breaks relatively easily. Windshields don't cost that much to replace, but over the life of a typical Outback, you may need to replace yours several times. 
 Lastly, the 2013 model is known to use excessive oil, even without an oil leak. That means slightly higher maintenance costs and a higher risk of something else going wrong if you don't keep a close eye on your fluid levels. 
---
WHAT TO DO IF A DEALER REFUSES TO CANCEL EXTENDED WARRANTY
Car buying can occasionally be frustrating, especially if you're purchasing your vehicle through a dealership. We're here to tell you how to navigate a situation in which a dealer refuses to cancel your extended warranty.
---
How Long Should You Expect A Subaru Outback To Last? 
A typical Subaru Outback will last about 12-20 years, with proper maintenance and average use. The more you drive your Outback, or the less regular maintenance you do, the shorter its functional life will be. 
Your Outback will need regular maintenance, but they can easily last well past 150,000 miles with good care. In fact, Outbacks have been known to go well past 200,000 miles without starting to show signs of poor repair. 
How Can You Increase A Subaru Outback's Reliability?
Making sure of your Subaru Outback's reliability is one of the best ways to make sure you'll get the full value out of your vehicle and that you'll be able to drive it for years to come. 
Thankfully, there are a few simple ways to improve the reliability of most vehicles, including the Subaru Outback. 
For instance, focus on smooth driving. The easier you are on your vehicle on the road, the longer it's likely to last. Fast acceleration and harsh braking are both known to decrease the life of your vehicle, while smooth defensive driving styles are far better for the longevity of your Outback. 
Getting your oil changed as needed is another important step. You should also follow a regular schedule of rotating your tires, getting alignments, and having your brakes checked. Since driving requires all that maintenance, you'll need to perform basic maintenance even when your vehicle is relatively new and in good condition. 
It's also a good idea to get into the habit of checking your fluid levels. Leaking oil or coolant can cause serious problems if you don't catch them quickly enough. Your transmission fluid is another critical fluid to keep an eye on and replace as needed. 
Lastly, it's important to follow the manufacturer's service schedule for your Subaru Outback. Delaying service, even for just a couple of months, can put excess wear and tear on your vehicle and shorten its drivable life. 
Final Verdict, Is The Subaru Outback Reliable? 
The Subaru Outback is a vehicle with a lot of strengths but a fair number of weaknesses. Most Outbacks are long-lasting and reliable vehicles, but the head gasket issue and other problems can drastically shorten the life of Outbacks that have those problems. 
Ultimately, the Outback is a fairly reliable option and one of the better choices in the SUV market. But there are some more reliable SUVs available, and the most serious problems with the Outback can be expensive if you happen to have one of the rare Outbacks that has a problem.
---
---
Get a Curated List of the Best Used Cars Near You
The CoPilot car shopping app is the easiest way to buy a car. Tell us what you're looking for and we'll search the inventories of every dealership in your area to make you a personalized list of the best car listings in your area.
Only looking for newer models? CoPilot Compare is the search engine for nearly-new cars. Only see cars five years or newer with low mileage — CoPilot Compare is the best way to find off-lease, early trade-in, and CPO cars.
The best part? CoPilot is built using the same technology that dealerships use to buy and sell their inventories, so we have more info on each vehicle than competitors. CoPilot doesn't work with dealerships, so there are no sponsored posts or other shady practices — just the most info on the best cars. Check out our About Us page to see how CoPilot works.