2014 Ford Fusion problems: The Most Common Reliability Issues Reported By 2014 Ford Fusion Owners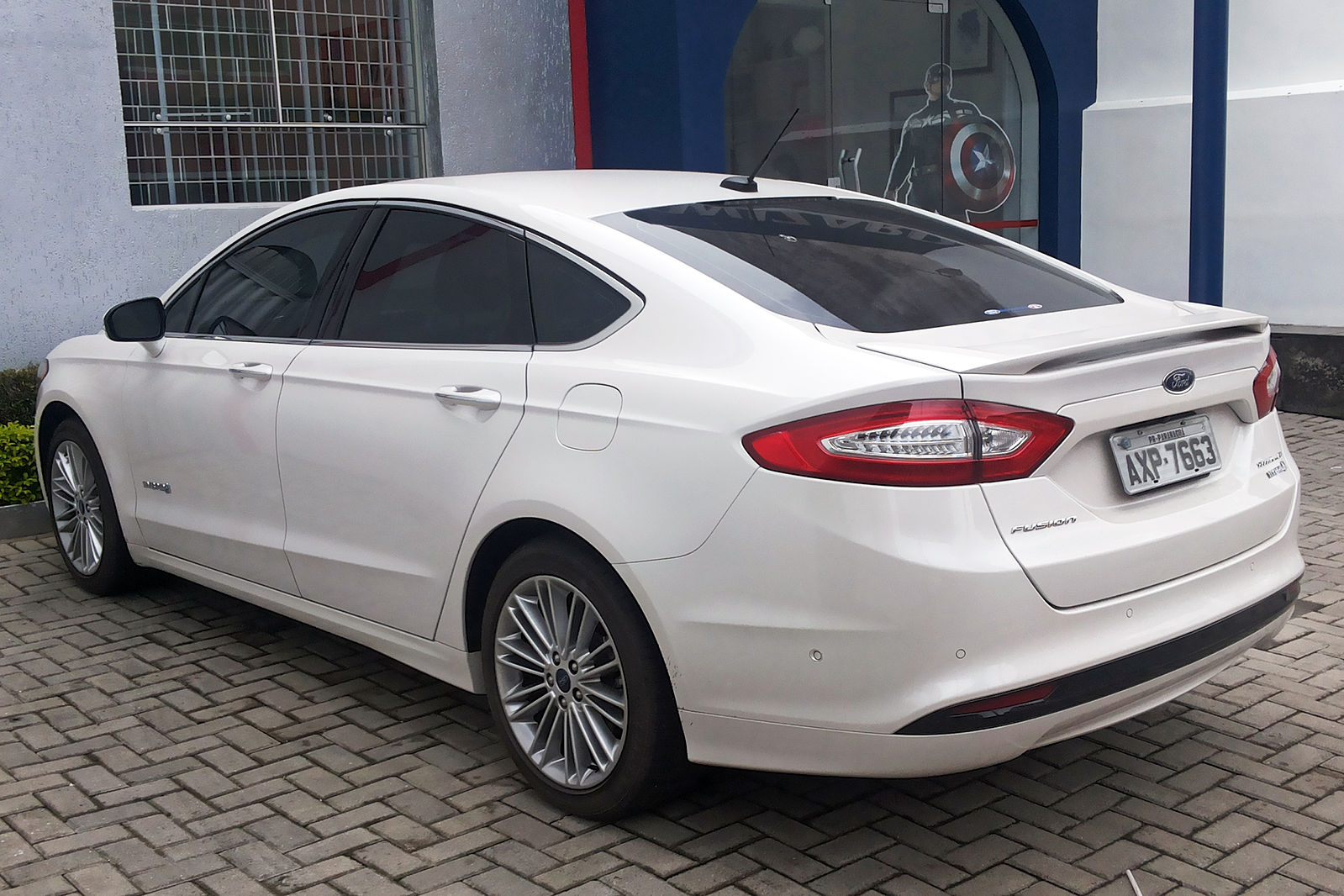 Ford Fusion Hybrid by Mariordo (Mario Roberto Durán Ortiz) - CC BY
Deciding on your ideal car is the fun part of the auto-buying journey. After the test driving and research concludes, it's natural to start thinking about the car's reliability, especially when it comes to used cars.
The 2014 Ford Fusion has plenty of good features but also has some baggage that may impact your wallet. Here are the top two issues found in the 2014 Ford Fusions.
Common Problems With 2014 Ford Fusions
The most common issues you'll encounter if you're looking at used 2014 Ford Fusions are:
Transmission failure. Cost to fix: Up to $3500
Suspension problems. Cost to fix: Varies, up to $1400
Fuel system issues. Cost to fix: $650
Here are all complaints submitted by owners about their 2014 Ford Fusions on carproblems.com, grouped by type:
Most Common Problem With 2014 Ford Fusions: Transmission Failure
The automatic transmission on the 2014 Ford Fusions is prone to problems. Simply driving and adding miles is believed to cause internal damage to the transmission. You may need to replace the valve body or have an entire transmission overhaul. When repairing a transmission, you'll want to ensure you have updated the software for the Powertrain Control Module (PCR) and Transmission Control Module (TCM) so that the issue doesn't come back.
Cost to fix:
The estimate for this repair varies widely depending upon if you need to replace your transmission. If you need a complete transmission replacement, expect to spend about $3,500.
How to avoid:
To avoid buying a used Fusion with transmission problems, take it for a test drive. Accelerate rapidly up and down the entire range of gears and feel for any slipping/hesitation in the transmission. We also always recommend getting an independent inspection from a local mechanic.
---
PICK THE RIGHT USED YEAR MODEL
When it comes to buying a used car, you want to find the perfect intersection of savings and reliability. See how much you can save buying nearly new vs. new with CoPilot Compare.
---
The following is a quote from a 2014 Ford Fusion owner with transmission issues:
"Engine light and wrench light came on along with a box saying see manual asap. We have a 2014 Ford Fusion. The car wasn't driving any different at the time the lights came on but we had noticed a few times the car randomly shifted hard. Anyway, I took the car straight to the dealership and they diagnosed the problem as a torque converter problem. They want $2000.00 to fix it. It has 66,700 miles and this…."
Another Common Problem With 2014 Ford Fusions: Suspension Squeaks And Creaks
Ford Fusion owners also complain of hearing squeaks and creaks when driving over uneven roads and turning. These noises can result from standard components, but a careful diagnosis is imperative. One reason is a weld issue with the lower control arms. Another reason for the squeaks and creaks can be that the jounce bumper rubs up on a dry strut plate. For this, it is recommended that the struts be lubricated. To do this, you'll need to have the struts disassembled.
Cost to fix:
Fixing a squeaky 2014 Ford Fusion suspension costs $276-$336 for a simple lube job to $1000+ if you need new shocks and struts.
How to avoid:
Take the car for a test drive and listen for squeaks or other sounds from the suspension. It helps to roll the window down while driving so you can hear exterior noises better.
Here's a comment from another 2014 Ford Fusion owner about the squeaks and creaks:
"Squeaks when turning or dips in road. Dealer says it's the control arms. $1400. Hesitates to say it is a safety issue. Gonna ponder whether or not it's worth repairing. Kind of an absurd issue/price, frankly. This is what I expect on a car with twice the mileage of this one."
---
KNOW THE WARNING SIGNS
Wondering what to look out for when buying a used car? With such a large purchase, it pays to be a cautious shopper. Check out this list of red flags to look out for when buying a used car.
---
Another Common Problem With 2014 Ford Fusions: Fuel System Issues
Unfortunately, the 2014 Ford Fusion was prone to have issues with its fuel system. Some most commonly reported fuel issues are stalling, poor fuel economy, and sloshing fuel noises.
Many owners have reported issues with the Fusion stalling or choking, which was accompanied by a weird noise from the fuel tank. Fusion owners claimed that the problem might stem from the purge canister valve, a recall subject from the 2011 Fusion model. To fix the issue, they had to clean the fuel injection cleaner and replace several parts, including the purge canister, fuel pump, or throttle body control assembly.
In addition, some Fusion owners have also reported poor gas mileage while experiencing this problem. Instead of Ford's advertised 31 miles per gallon, drivers have reported only getting 25 miles per gallon – which is a huge dealbreaker.
A few reports claimed they heard strange sloshing noises from the fuel tank each time they filled up on gas. The noise comes from the driver's side of the vehicle.
Cost to fix:
Depending on the parts that need to be replaced, the average repair cost of this issue is $650.
How To Avoid Buying A 2014 Ford Fusion With These Problems
Since the transmission and suspension issues can be detected with a thorough test drive, we recommend simply test-driving any vehicle before agreeing to purchase and looking out for these issues.
One of the best ways to get a good understanding of a used vehicle is by asking a local mechanic to provide an inspection of the car. This is the safest way to avoid problems and usually costs $100-$200, which is much cheaper than most repair bills.
It would help if you also asked about maintenance, accident history, and overall performance with the dealer or person selling you the car.
Search Used Sedans In Your Area
Whether you're looking for a 2014 Fusion or something similar, CoPilot is the easiest way to get a great deal on used cars. Download the CoPilot app to see all used listings in your area, get a curated list of recommended buys, and be the first one notified when a new listing goes up or a vehicle drops in price. To easily compare used year models of Ford Fusion against one another, check out CoPilot Compare.
---
DOWNLOAD THE APP
The CoPilot app is the smartest way to buy a car. Search all listings in your area, get notified about deals, new listings, and price drops, or chat with one of our copilots for some hands-on advice.
---