Which year models of used Ford EcoSport are most reliable?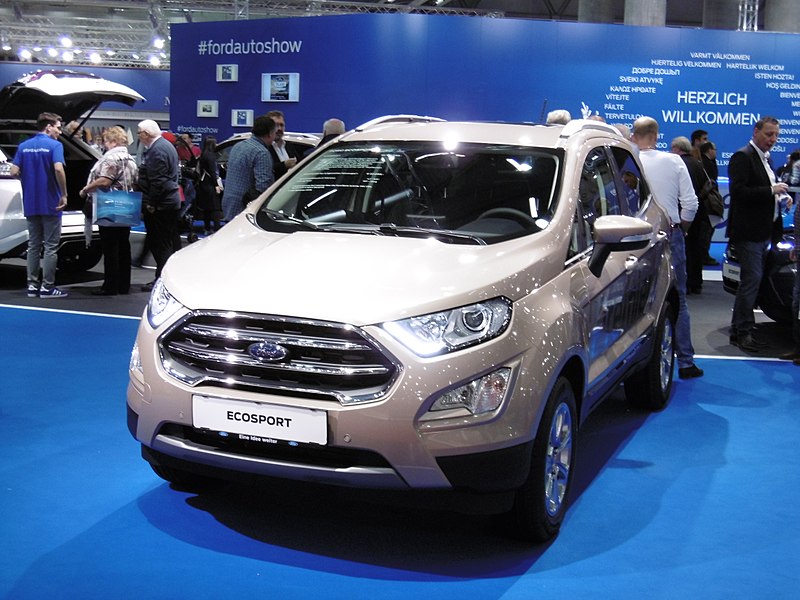 Image: Ford EcoSport 2018 by Dispvas2018 by CC0 1.0
Originally crafted by Ford Brazil in 2003, the Ford EcoSport is a 5-door SUV that was given a major update when it entered the North American market in 2018. Improvements included an overhaul of the front end design as well as the rear bumper, and the addition of a touchscreen infotainment system.
At CoPilot, we're here to help you navigate the many different used year models of the Ford EcoSport you might find. Some are certainly more reliable than others, and we'll help you figure out which models would make the best buy!
Quick answer: Avoid Ford EcoSport year models 2014 and 2018
If you're in the market for a used Ford EcoSport, avoid models from 2014 and 2018. The 2014 year model has had the most complaints of any year model, including an unreliable audio system and a problem with the car shuddering when you come to a stop. These problems can come into fruition at mileages as low as 5,000 miles.
The 2018 Ford EcoSport had fewer complaints than the 2014 year model, but would actually be an even worse purchase because the problems are more severe. Appearing at an average of 10,000 miles, customers have reported that their brakes screech or lock up on them, and that the doors refuse to lock when it's raining. The fact these are safety-related issues make this year model the one you should avoid above all.
---
OTHER CAR SHOPPING APPS ARE OUTDATED
You won't realize how outdated other car searching apps are until you try the CoPilot car shopping app. CoPilot does the hard work for you by searching all of the listings in your area and intelligently creating a personalized list of the best buys in the area that match what you're looking for.
---
Which year models of Ford EcoSport are safe to buy used? 
The Ford EcoSport is a reliable subcompact crossover SUV that can give whole families a comfortable ride. With that being said, you want to make sure that you buy the right year model to make sure there aren't any safety issues with the car. 
These year models have been reported as having the fewest defects and we recommend purchasing them. It's worth noting, however, that all year models of the Ford EcoSport have been reported to have poor MPG, so this is something to look out for if that plays a huge role in your decision.
The most reliable year models of Ford EcoSport:
2012 Ford EcoSport
2013 Ford EcoSport
2015 Ford EcoSport
2016 Ford EcoSport
2017 Ford EcoSport
2019 Ford EcoSport
2020 Ford EcoSport
Despite complaints about the car's low MPG, most used Ford EcoSport year models will serve you right. The best purchases would be the 2012, 2016, 2017, and 2020 Ford EcoSports which have no complaints, so you can't go wrong with any of these. 
The 2013 and 2019 also have minimal complaints, and the 2019's biggest reported flaw is its low MPG, which is present in every year model. The 2015 year model has a few complaints, but these are minor defects that shouldn't present much trouble to you, such as a finicky transmission and rough seats.
---
THE BEST USED SUVS UNDER $10,000
We looked into price, reliability, features, and more to create this list of the best used SUVs under $10k on the market today. Take a look - some of the best used SUVs have gone mostly overlooked or forgotten. 
---
Which year models of Ford EcoSport to avoid: 
Though most Ford EcoSport year models are reliable, these have been shown to have problems arise early in the vehicle's life. We do not recommend purchasing these due to their higher number of issues compared to other year models. 
The least reliable year models of Ford EcoSport:
2014 Ford EcoSport
2018 Ford EcoSport
The 2014 Ford EcoSport's issues shouldn't present danger to the passengers, but they still crop up early. Typical problems with this year model are the car shuddering when it comes to a stop, audio system failure, and a rough braking experience. The average mileage at which these might affect you is around 20,000 miles.
We definitely don't recommend you purchase the 2018 Ford EcoSport either. Though it has had fewer complaints than the 2014 year model, these are more likely to threaten your safety. At an average of about 15,000 miles, customers reported having trouble with brakes that screech or lock up. Furthermore, there have been multiple complaints about the doors not locking when it rains. 
---
THE BEST USED MINIVANS ON THE MARKET
When it comes to hauling a lot of people and cargo, the minivan is hard to beat. We've factored in reliability, affordability, and functionality to create this curated list of the 8 best used minivans on the market today.
---
Ford EcoSport problem counts by year
These are the most common problems reported by owners on platforms such as carproblems.com, Car Talk Community, and carcomplaints.com. Commonly found issues in the Ford EcoSport include sticky brakes, shuddering issues, and a low MPG.
The easiest way to find a reliable Ford EcoSport in your area
For the easiest way to find reliable Ford Ecosports in your area, download the free CoPIlot car shopping app. We'll search every dealership in your area for the 5-door SUV you're looking for and make a list, personal to you, of the best purchases near you. 
CoPilot is built using the same technology that car dealerships use to buy and sell their inventory, making it the smartest and easiest way to buy a used Ford EcoSport.

Try CoPilot Compare, the search engine for nearly-new cars if you're interested in newer, off-lease cars. We'll only show you models that are 5 years or newer with low mileage, most with CPO availability, and break down how much you save buying used with the best nearly-new listings in your area.

The best part? CoPilot doesn't work with dealerships, so there are no 'promoted' or 'sponsored' listings - just the best cars in your area. Learn more about how CoPilot works on our About Us page.