Subaru Ascent vs. Kia Telluride: What's The Difference?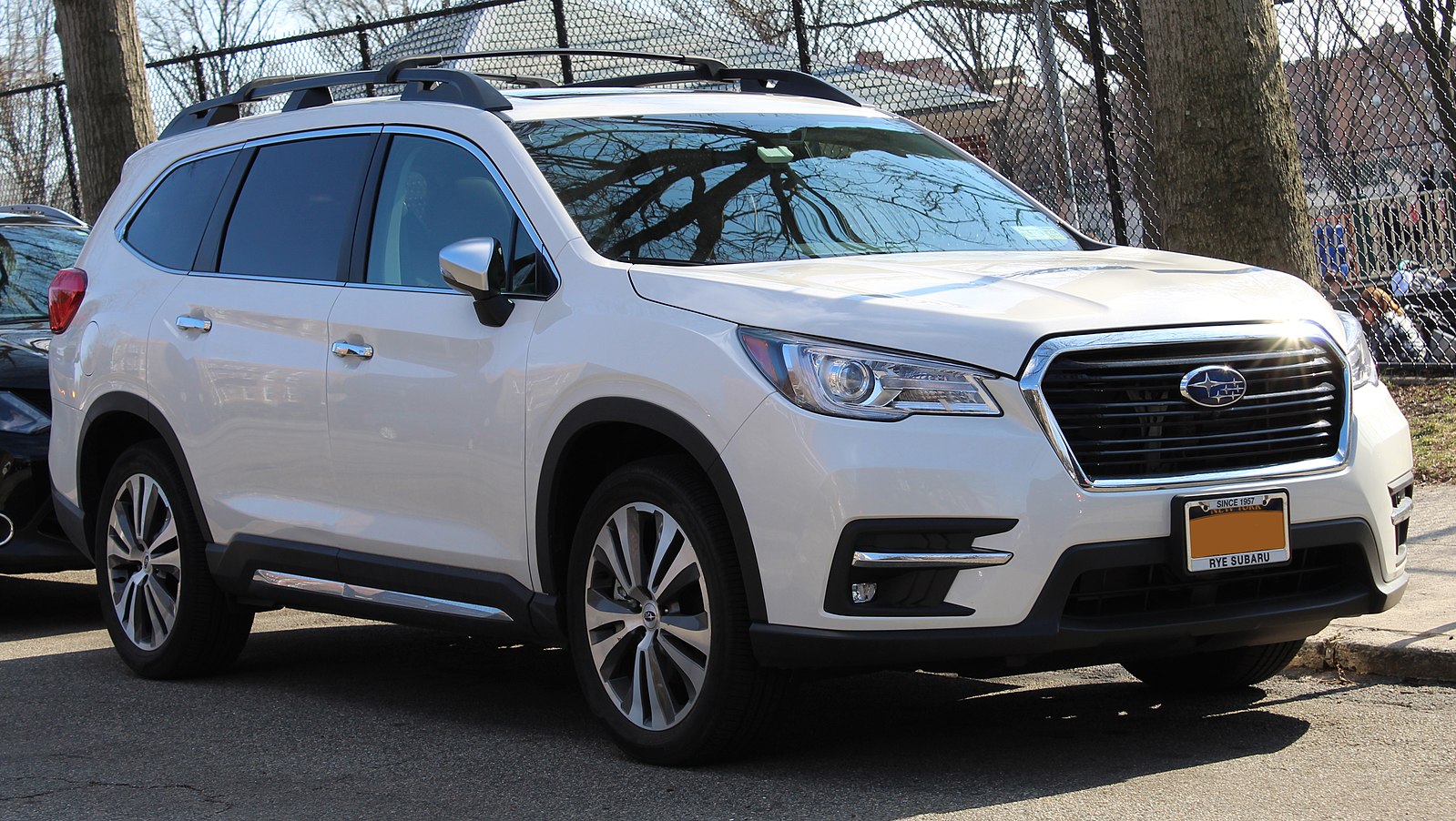 Subaru Ascent by Kevauto — CC-BY-SA-4.0
One of the major reasons drivers seek out mid-size crossovers is their excellent seating capacity. The Subaru Ascent and Kia Telluride are two of the most popular vehicles in this sector because they have great safety ratings, a nice suite of features, and both seat eight passengers!
With so many wonderful reviews for both cars, it can be overwhelming trying to tell what the difference is. Thankfully, that's why CoPilot is here! We've crafted a comprehensive Subaru Ascent vs. Kia Telluride guide so that you can figure out which mid-size crossover is best for you!
A Brief Overview
We've compared lots of mid-size crossovers at CoPilot, and few comparisons become as close a race as Subaru Ascent vs. Kia Telluride. It's worth starting off by clarifying that you really can't go wrong with either one of these incredible vehicles, as the differences are relatively minute and will matter more to some than to others.
Either way, if we had to choose between them, we'd have to suggest the Kia Telluride. It may have slightly worse fuel economy, but it's the stronger performer, is slightly safer, comes with a more refined suite of technological features, and is a little bit cheaper as well. You wouldn't regret purchasing a Subaru Ascent, but if the option is there, the Kia Telluride is likely your best bet.
---
FEEL SECURE IN THE CAR YOU CHOOSE
You don't want to buy a car - you want to get the best deal on the car you're looking for. The CoPilot app will notify you if there's a similar vehicle in your area at a better price, so you're always certain you got the best deal available. 
---
Specs
When it comes to performance, the Kia Telluride is the clear winner in the Subaru Ascent vs. Kia Telluride competition. Its 2021 model has a 3.8 Liter V6 engine that generates up to 291 horsepower, which is an incredible amount of power for a mid-size crossover. This exceeds the power of the 2021 Subaru Ascent, which comes standard with a turbocharged 2.4 Liter engine that gets 260 horsepower. Although this is nothing to sneeze at, it doesn't compare to the Telluride's engine. 
Another important thing to discuss is the transmission you'd get with each car. If you're particular about the kind of transmission you like to drive, this might make or break your decision. The 2021 Kia Telluride comes standard with an eight-speed automatic transmission, while the 2021 Subaru Ascent has a Continuously Variable Transmission. 
Cargo space is another hot topic when comparing mid-size crossovers, and the Telluride wins in that department. It has a total of 87 cubic feet of maximum cargo space when the seats are down, whereas the Ascent has a total of 86.5 cubic feet.
The difference here is quite small, but when the seats are up, the Telluride has more room behind its third-row seating. You'll be able to use 21 cubic feet of space here as opposed to 17.5 cubic feet in the Ascent. How much this matters, of course, will depend on how you're planning to use your mid-size crossover and how many people you'll typically drive.
Safety and Reliability
Safety is a difficult metric to measure when comparing Subaru Ascent vs. Kia Telluride as both vehicles are highly competitive in this category. They each have robust suites of features to keep you safe and comfortable on the road. Every trim of the Ascent comes standard with an Eyesight Driver Assist Technology setup, which has features that help you stay in your lane and brake before an imminent collision, among other things.
The Telluride has a slightly enhanced set of safety features compared to the Ascent, with all trims having automatic emergency braking, pedestrian detection, and collision avoidance assist that monitors rear cross-traffic for you. Driver attention warning is another major safety feature that the Telluride has over the Ascent, paying careful attention to your driving to detect if you're getting tired and need to take a break. Both vehicles have adaptive cruise control and a rear vision camera.
Rest assured that either one of these mid-size crossovers will keep you and your family safe. With that being said, though, we have to give the edge to the Kia Telluride.
---
IS GAP INSURANCE WORTH IT?
Gap insurance can prevent you from making payments on an already-totalled car, but is gap insurance worth it? We break down what gap insurance is, if it's worth it, and more - simply and with plenty of examples. 
---
Gas Mileage
The Subaru Ascent wins out in the Subaru Ascent vs. Kia Telluride battle when looking at gas mileage. The Ascent's engine gets an estimated 21 miles per gallon in the city and 27 miles per gallon on the highway. The Telluride's engine, on the other hand, returns approximately 20 miles per gallon in the city and 26 miles per gallon on the highway. This is merely a slight difference, but the Ascent just barely comes out on top. 
Technology
Both mid-size crossovers have modern technology, but the Telluride reigns supreme here in the Subaru Ascent vs. Kia Telluride debate. With the base Telluride trim alone, you'll receive incredible features such as keyless entry, rear passenger air conditioning, and rear occupant alert. That's not even to mention the infotainment system the base trim provides, including an eight-inch touchscreen, an audio system with six separate speakers, and Apple CarPlay and Android Auto. 
The Ascent also has solid technology with its base trim level, but it isn't as good as the Telluride's. Here, you can enjoy a six-and-a-half-inch touchscreen that has Apple CarPlay and Android Auto and four USB ports. It's worth noting here, though, that the Telluride has five USB ports and Bluetooth connectivity to boot. As you get more advanced in the trim levels, the technology only gets fancier and newer, but the Ascent can never quite make it to the Telluride's level.
---
THE BEST USED LUXURY CARS ON THE MARKET
Buying a used or CPO luxury car is one of the smartest buys you can make - you can get a lot of car for not much money. You can pick up a three-year-old luxury car for about half of what you'd pay new. Check out this list of the best used luxury cars on the market to find the best deals. 
---
Price
Pricing really isn't one of the main areas of competition when we look at Subaru Ascent vs. Kia Telluride, but it's still worth talking about. They're both competitively priced, with the 2021 Subaru Ascent starting around $32,300, and the 2021 Kia Telluride starting around $32,000.
These are extremely similar prices, but something you should keep in mind is just how much more you're getting with the base Telluride trim. The features are more advanced than those of the base Ascent, so you might want to factor this into your decision. On top of that, the Telluride is simply cheaper, so we have to go with the Telluride on this one.
---
---
Get a Curated List of the Best Used Cars Near You
The CoPilot car shopping app is the easiest way to buy a car. Tell us what you're looking for and we'll search the inventories of every dealership in your area to make you a personalized list of the best car listings in your area.
Only looking for newer models? CoPilot Compare is the search engine for nearly-new cars. Only see cars five years or newer with low mileage — CoPilot Compare is the best way to find off-lease, early trade-in, and CPO cars.
The best part? CoPilot is built using the same technology that dealerships use to buy and sell their inventories, so we have more info on each vehicle than competitors. CoPilot doesn't work with dealerships, so there are no sponsored posts or other shady practices — just the most info on the best cars. Check out our About Us page to see how CoPilot works.