Which Years Of Used Kia Carnivals Are Most Reliable?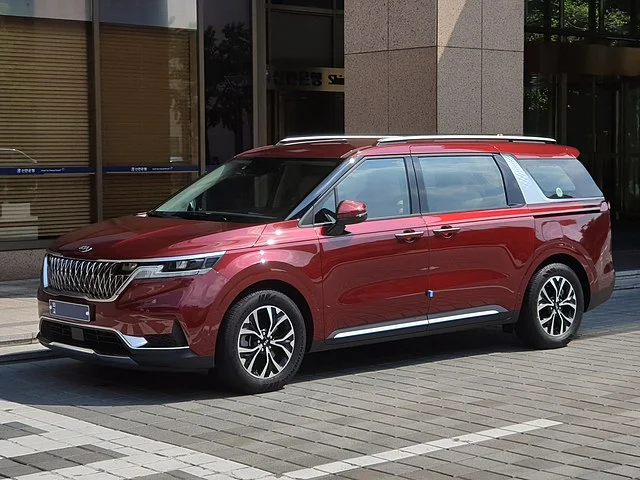 Kia Carnival by Kevauto - CC-BY-SA-4.0
There was a time when minivans ruled the road as well as the average American grocery store parking lots. Think of how the Chrysler Pacifica and Honda Odyssey were once the most popular vehicles available. And why not? Minivans are hard to beat when it comes to people and grocery hauling. However, over time, minivans became unfashionable and plummeted in popularity. Consumers have collectively decided SUVs have more utility and look more stylish–but I digress.
Despite the non-popularity of the minivans, Kia replaced its aging Sedona minivan in 2021 with the Kia Carnival. Kia went to great lengths to make customers think that the Carnival isn't a minivan and called it an MPV, but it absolutely is – if it walks and quacks like a duck, as they say. However, there's no arguing that the Carnival is a great-looking minivan with an SUV-like exterior design. Plus, Kia draws you in with tons of tech and safety features.
---
THE KIA CARNIVAL YEARS TO AVOID
If you want to buy a used Kia Carnival, your options are limited. Regardless, we will help you identify the Kia Carnival years to avoid and offer insights into why they're not worth the investment.
---
However, is the Kia Carnival a reliable minivan?
As of this writing, the Kia Carnival only has two models available commercially since its 2022 debut. So for today's post, we find out which is the most reliable Kia Carnival year so far by checking out the only Carnival you can buy as used. Let's get to it.
Is the Kia Carnival Reliable?
Overall, Kia has a stellar track record for reliability and has come a long way since its "cheap import" reputation several decades ago. According to RepairPal, Kia has an overall reliability rating of 4.0 out of 5.0, ranking an impressive 3rd out of 32 car brands. Moreover, Kia has an annual ownership cost of $474 per year, which is way below the average annual repair cost of $652 across all models. With that said, it seems like the Carnival minivan has delivered in terms of reliability so far.
---
NOT JUST FOR CAR SHOPPING
The CoPilot app isn't just for buying a car - our new CoPilot for Owning tool will help you keep track of recalls and gives you advice on which scheduled maintenance tasks are most important.
---
2022 Kia Carnival Reliability Ratings
The 2022 Kia Carnival was released to the market with positive reception and rave reviews. While the minivan segment has waned in popularity, the Kia Carnival has re-energized the minivan class–thanks to its handsome styling, refined powertrain, excellent infotainment system, and superior cargo space.
Regarding reliability, there's not much data available for the 2022 Carnival because it's a relatively new model. However, one of the trusted nonprofit consumer organizations, Consumer Reports, has rated the 2022 Carnival quite favorably. CR gave the 2022 Carnival an impressive 4.0 out of 5.0 rating for reliability and owner satisfaction. The Kia Carnival scored high marks in the following trouble spots:
Engine major and minor
Engine cooling
Transmission minor and major
Fuel system
Electric system
Drive system
Brakes/exhaust
Suspension/steering
The only categories where the 2022 Carnival struggled were body hardware and in-car electronics. These issues align with the current recall list for the 2022 Carnival.
2022 Kia Carnival Recalls
Below are the current recalls for the 2022 Kia Carnival:
Faulty Power Sliding Door
The most significant volume of complaints about the 2022 Carnival was about the problematic power sliding doors. One of the defining features of a minivan is the power sliding door, which enables passengers to get in and out of the vehicle quickly. Unfortunately, the 2022 Carnival had some real issues with its power sliding door, leading to a recall.
According to the recall, the vehicle's auto-reverse feature for the sliding door doesn't always work. This safety feature is designed to reverse the power sliding door once it detects an obstruction from a person or object. A non-functional auto-reverse feature increases the risk of injury for passengers and pets. Apparently, the feature requires a tremendous amount of force to activate. Some people claimed they got their fingers, hands, and shoulders caught by the sliding door.
---
THE BEST USED MINIVANS ON THE MARKET
When it comes to hauling a lot of people and cargo, the minivan is hard to beat. We've factored in reliability, affordability, and functionality to create this curated list of the 8 best used minivans on the market today.
---
A user from Ardmore, PA, wrote:
"My daughter was closing the left sliding door with her right hand using the button and her left hand was in the doorway. There is no worthwhile sensor in the car to detect her hand and thus the door crushed her hand. She now has a fractured left thumb due to the Kia Carnival."
Fortunately, this issue seems to be an easy fix because dealers have to update the power sliding door control module software–plus, it's a free service.
Tow Hitch Harness Fire Risk
The 2022 Kia Carnival was also the subject of another recall involving the trailer hitch. Whether installed as original equipment or as an add-on, the 2022 Kia Carnival has a problematic trailer hitch that can cause fire or injury while parked. As it turned out, the tow hitch harness is very prone to water accumulation which may short the printed circuit board.
The manufacturer advised Kia Carnival owners to park outside and away from structures until a fix is ready – not very reassuring. As of this writing, there's no final repair solution for this issue from Kia. In the meantime, dealers will check the vehicle for authentic Kia accessory trailer tow hitch assembly and remove the related fuse, if needed, free of charge. Once the fix is ready, dealers will install the new fuse and wire extension kit.
Passenger-Side Sliding Door May Not Latch
Here's another issue with the Carnival's sliding door. According to the recall notice, the power sliding door does not latch, which may inadvertently open while moving. As you may have guessed, this is a serious safety issue which is why it led to a recall of 2,956 affected vehicles.
If you take your MPV to the dealership, they will replace the passenger-side power sliding door's release actuator drum and holder within the remote controller assembly. Again, free of charge. Thus, if you're buying a used Kia Carnival, ensure this issue is resolved.
---
 THE BEST CARS FOR SNOW
Winter driving impacts young and experienced drivers alike. We've compiled a list of the best cars for snow, so you can get from Point A to Point B as safely as possible.
---
Buying a Used 2022 Kia Carnival
As you can see, the 2022 Kia Carnival has its fair share of issues, but they're hardly a dealbreaker and are easily fixed with a visit to a dealer. As of this moment, the 2022 model is the most reliable Kia Carnival year. This is a pretty solid start for Kia's new MPV.
---
---
Get a Curated List of the Best Used Cars Near You
The CoPilot car shopping app is the easiest way to buy a car. Tell us what you're looking for and we'll search the inventories of every dealership in your area to make you a personalized list of the best car listings in your area.
Only looking for newer models? CoPilot Compare is the search engine for nearly-new cars. Only see cars five years or newer with low mileage — CoPilot Compare is the best way to find off-lease, early trade-in, and CPO cars.
The best part? CoPilot is built using the same technology that dealerships use to buy and sell their inventories, so we have more info on each vehicle than competitors. CoPilot doesn't work with dealerships, so there are no sponsored posts or other shady practices — just the most info on the best cars. Check out our About Us page to see how CoPilot works.