Kia Telluride vs. Honda Pilot: Here's The Difference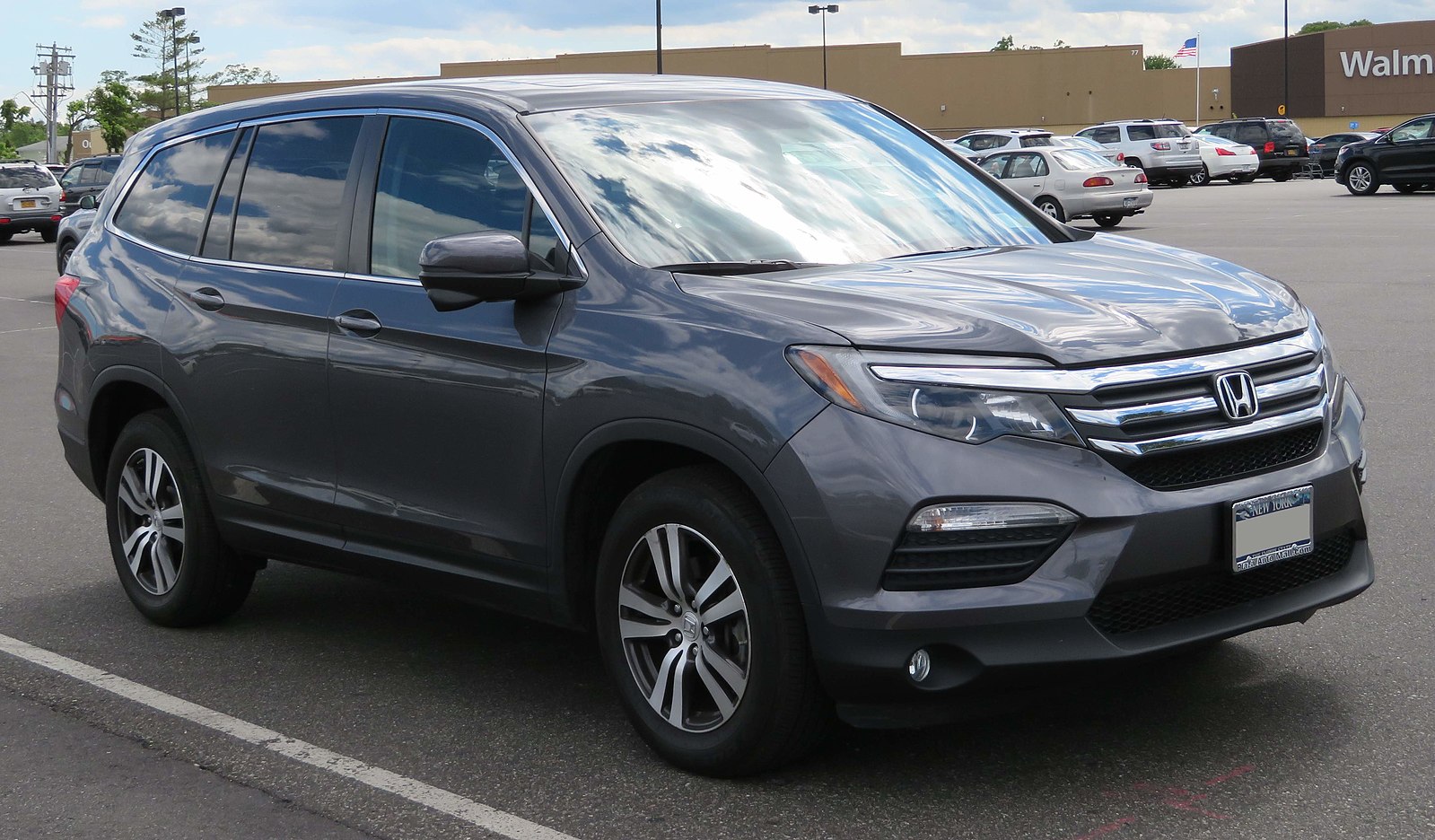 Honda Pilot by Kevauto — CC-BY-SA-4.0
When it comes to buying a new vehicle today, there's a lot more selection than there used to be. That means that when you're comparing two relatively similar models, like the Kia Telluride vs. Honda Pilot, it can be harder to decide which option is better for you and your family. 
After all, both of these vehicles are mid-size SUVs, both are designed with a fair amount of cargo space, and they have similar prices and features. Don't worry, though; we're taking a closer look at the Kia Telluride vs. Honda Pilot debate to help consumers decide which mid-size SUV is right for them. 
Let's take a closer look. 
Price
Price is often one of the most important things to consider when you're looking at a new car. After all, budget matters and the price point is part of how you can tell whether the vehicle is going to be a good fit for your needs. 
An SUV that costs too much isn't going to be a good fit, even if it has all the other features you're looking for. 
When it comes to the Kia Telluride vs. Honda Pilot, price points are incredibly similar. The starting MSRP for the Telluride is $32,190, while the starting MSRP on the Pilot is $32,550. 
The Pilot is just a little more expensive than the Telluride, but the difference is just a couple hundred dollars. That means that your car payment may only be a few dollars different every month depending on the terms of your sale and what kind of interest rate you've been offered. 
The price difference is consistent across trim levels with these two vehicles as well. For comparable models, the Pilot is consistently just a couple of hundred dollars more than the Telluride. 
---
BE CERTAIN YOU'RE GETTING THE BEST DEAL
CoPilot searches your area and lets you know if there's a better deal on a similar vehicle nearby, so you're always certain you got the best deal possible. The CoPilot app is the smartest way to buy a car. 
---
Features
Since both of these mid-size SUVs have several different trim levels, it shouldn't be a surprise that the basic package is a little slimmed down compared with even one level up. 
However, both of these vehicles come with a hands-free liftgate, a heated steering wheel, and a suite of safety and driver-assist features that make them easier to drive. 
The Telluride pulls a little ahead in this category, though with a standard leather-wrapped steering wheel and a rear driver view assist in the standard model. While both features are available in a Pilot, they're upgrades rather than standard,
Trim Options
When it comes to Trim levels, the Pilot has a wider selection of options than the Telluride. The Kia Telluride has 4 total trim levels, including the most basic model, while the Pilot has 6 total, including the most basic model. 
The big differences here aren't so much the kinds of trim levels available, but rather what gets emphasized by the two manufacturers. 
The Kia Telluride S, one level above the basic model, includes heated seats, a sunroof, and quite a few other comfort and safety features that make the vehicle easier to and safer to drive, especially long-distance. 
The Honda Pilot's first trim upgrade is a little different. The main upgrades in the Pilot EX are comfort upgrades and things that add to the features in the cabin, like Apple and Android car play compatibility, three-zone climate control, and a larger 8-inch touch screen. 
The Pilot also includes a remote starter in the EX-model and other upgraded trim levels. 
Overall, we'd have to give the Kia Telluride a slight edge here because there are more features included in the basic model. However, if you're looking for in-cabin comfort, the Pilot might pull ahead in the first couple of trim levels because of its focus on cabin comfort. 
---
THE BEST USED LUXURY CARS ON THE MARKET
Buying a used or CPO luxury car is one of the smartest buys you can make - you can get a lot of car for not much money. You can pick up a three-year-old luxury car for about half of what you'd pay new. Check out this list of the best used luxury cars on the market to find the best deals. 
---
Towing Capacity
One of the advantages of mid-size SUVs is that they often have improved towing capacity over smaller vehicles but still offer better fuel efficiency than larger heavy-duty vehicles. That makes them a great choice for people who need to tow small trailers or need a little extra cargo space. 
For the Kia Telluride vs. Honda Pilot, this is another category where both vehicles are evenly matched. Properly equipped, both models are rated to tow up to 5k pounds without stressing the suspension or engine. 
However, in terms of actual on-the-road performance, the Pilot is rated as a slightly better option for towing. It's not clear if those better ratings are because of a higher weight capacity than rated or just because the components work together a little better than the Telluride when it comes to towing. 
If towing capacity matters to you, then the Pilot may have a slight edge. 
---
THE BEST USED SUVS UNDER $10,000
We looked into price, reliability, features, and more to create this list of the best used SUVs under $10k on the market today. Take a look - some of the best used SUVs have gone mostly overlooked or forgotten. 
---
Fuel Efficiency
Fuel efficiency is only getting more important as prices at the pump go up. A lot of consumers are looking for more fuel-efficient vehicles, especially as you start to get into bigger vehicles that naturally use more fuel, and therefore benefit even more from increased fuel efficiency. 
Again, this is another category where Kia Telluride vs. Honda Pilot gives an incredibly close contest. The Kia Telluride is estimated to get about 21 mpg, which isn't bad considering the size of the vehicle. The Pilot offers just slightly improved performance, though, at 22 mpg. 
That's not a big enough difference to make a huge change in your budget or the performance of the vehicle, but it's worth noting if you're looking for an eco-friendlier vehicle. That extra mile per gallon will add up over the lifetime of the vehicle, even if it doesn't make a huge difference day to day. 
Kia Telluride vs. Honda Pilot: Which Vehicle Comes Out On Top? 
These two vehicles are about as closely matched as you can expect from models from two different manufacturers. Both the Telluride and the Pilot are mid-size SUVs focused on middle-class consumers. They're both good daily drivers, long-distance vehicles, and family vehicles, and they both have similar towing capacity and equipment. 
However, the Telluride gives buyers a few more features in the basic trim level and emphasizes safety in the first few upgrades. The Pilot has a few more basic safety features in the standard model but focuses on cabin comfort before upgrading its safety features.
That might be a huge difference for some consumers, especially considering how closely matched these two vehicles are in other ways. 
Ultimately, it comes down to which vehicle better matches your needs in an affordable trim level, but we'll give a slight win to the Kia Telluride for its incredible safety ratings and emphasis on driver assists and other safety features.
---
---
Get a Curated List of the Best Used Cars Near You
The CoPilot car shopping app is the easiest way to buy a car. Tell us what you're looking for and we'll search the inventories of every dealership in your area to make you a personalized list of the best car listings in your area.
Only looking for newer models? CoPilot Compare is the search engine for nearly-new cars. Only see cars five years or newer with low mileage — CoPilot Compare is the best way to find off-lease, early trade-in, and CPO cars.
The best part? CoPilot is built using the same technology that dealerships use to buy and sell their inventories, so we have more info on each vehicle than competitors. CoPilot doesn't work with dealerships, so there are no sponsored posts or other shady practices — just the most info on the best cars. Check out our About Us page to see how CoPilot works.