Ford Flex Ground Clearance: What To Know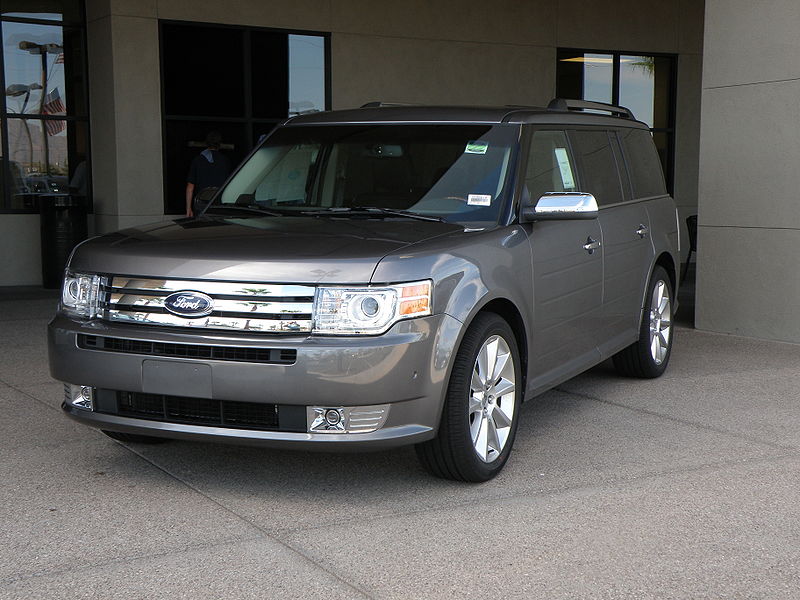 Ford Flex by napolifd — CC BY-SA 2.0
Ground clearance is the distance between your vehicle's underbelly and the ground. It affects your car's ride quality, handling, and practicality. Apart from situations where sports cars are involved, higher ride height is usually preferred for driving on most types of terrains. 
This is because a higher ground clearance provides more room for the wheels to move vertically and absorb road shocks. You're also able to drive on bumpy roads without scraping your underbody. 
In today's post, we'll provide information about the Ford Flex ground clearance, some of the activities you can do with the car, and how it compares in matters of height to its competitors. 
---
DOWNLOAD THE FREE APP
The CoPilot car shopping app is the smartest way to buy a car. Get a curated list of the best cars for sale in your area, as well as notifications if a similar vehicle is listed nearby at a lower price. CoPilot is the smartest way to shop for used cars. 
---
Ford Flex Ground Clearance 
The Ford Flex was produced and marketed between 2009 and 2019. It was first sold as a multi-purpose vehicle (MVP) before being changed to a wagon to meet customer needs better. It has always been marketed in three trim levels: the SE, SEL, and Limited. 
All trims have a ride height of 5.9 inches. The average ground clearance ranges between 4 and 6 inches for most cars sold in the same market segment. However, this is not very high, especially if you live in an area that experiences heavy snow. 
You're also not going to be hitting any gravel tracks in your Ford Flex. The minimum ground clearance for this typically ranges between 6.6 inches and 8.7 inches. The same case applies to over-landing, where ground clearance should be between 8.8 inches and 9.4 inches. 
Let's not even talk about rock crawling or venturing onto tough graded 4x4 tracks. The Ford Flex isn't built for any of that. If you wish to explore some harsh terrain, you'll need a vehicle with the right ground clearance and a lot more space between its underbelly and the ground. 
Without this, the car can experience some serious damage to its underbody when moving over boulders, rocks, bumps, and large obstacles. 
---
THE BEST CARS FOR COLLEGE STUDENTS
Whether you're squeezing into a tight campus parking spot or hauling ten loads of laundry back home, these best cars for college students will get you, your friends, and your stuff where you're going.
---
How does the Ford Flex Ground Clearance Compare to its Competitors? 
The Ford Flex competed with several other models on the market during its reign. Its rivals include the Buick Enclave, Honda Pilot, Toyota Highlander, Cadillac SRX, Chevrolet Traverse, Dodge Nitro, GMC Acadia, Honda Crosstour, Infiniti QX60, Lincoln MKT, Mitsubishi Endeavor, Nissan Pathfinder, and the Toyota Venza. 
Here's how the Flex's ground clearance compares against these other models.
** **
The only other car that the Ford Flex ground clearance matches with is the Lincoln MKT. All the other models listed as its competition offer more ground clearance. These include the Honda Crosstour at 6.2 inches, the Infiniti QX60 at 6.5 inches, the Nissan Pathfinder, and Cadillac SRX at 7.0 inches. 
From there, we see a significant increase in ride height in other models as well. This includes up to 7.2 inches in the GMC Acadia, up to 7.3 inches in the Honda Pilot, and 7.7 inches in the Toyota Venza and Buick Enclave. The Toyota Highlander, Chevrolet Traverse, Dodge Nitro, and Mitsubishi Endeavor cross the 8.0-inches mark to offer a significant amount of ground clearance in this market segment. 
Activities that you can enjoy with the Ford Flex
The Ford Flex isn't the most athletic or comfortable SUV that you'll come across. It comes with a 3.5-liter V6 engine that's paired with a six-speed automatic transmission. This allows it to produce about 287 horsepower. 
Ford also offers a twin-turbocharged 3.5-liter V6 EcoBoost engine that churns 365 horsepower in the Limited trim. An all-wheel-drive setup also comes as standard to provide more strength and a better driving experience. Here are some of the activities that you can do with the Ford Flex. 
---
NO SPONSORED OR PROMOTED LISTINGS, EVER
CoPilot doesn't work with dealerships, and we don't make a penny when a car is sold through our app. This means no 'sponsored' or 'promoted' posts - just the most accurate information on each vehicle. So how do we make money? Learn more about CoPilot and how we keep the lights on.
---
Daily driving 
The base model provides enough power to get you around the city daily. However, the car can feel overworked when filled with cargo and people. The Limited trim is said to perform way better thanks to its turbocharged engine. 
Critics claim that it is better at acceleration and doesn't feel overwhelmed in more demanding situations. It's also faster on open roads and reaches high speeds with remarkable ease. The engine is athletic and exciting and can be worth the cost for those looking for a more capable family hauler. 
Towing 
The Ford Flex can tow up to 4,500 pounds when properly equipped. This is quite a significant offering for a midsize SUV. Furthermore, the Flex doesn't get strained or feel overwhelmed when pulling a boat or an open-air trailer as long as the turbocharged engine powers it. 
Some of the other competitors on our list offer more towing capacity when compared to the Ford Flex. For models made between 2012 and 2019, you may have to install a class III towing package and a weight distributing hitch to achieve maximum capacity. 
Off-roading 
The Ford Flex doesn't come with enough ground clearance to take you on adventurous off-road excursions. Its 5.9-inches of ride height will get you moving on some rough and unpredictable terrains, but not all. You'd have to go for another competing model that rides a lot higher. 
However, this is not to say that the Flex is completely incapable. In fact, its lean, wide, and long body make it responsive and maneuverable even in tight situations. It performs exemplary well in sharp turns and tackles corners without experiencing too much strain. 
Body roll and swaying are kept at a minimum while comfort is top-notch for its class. It's a great SUV to go for if you're looking for a vehicle with good handling and refined nature. It's also an ideal pick if off-roading isn't at the top of your list of requirements. 
In sum 
The Ford Flex may not have the best ground clearance. However, it's a good midsize family SUV that offers all you need for your daily driving. It's long and boxy shape can accommodate passengers and cargo with ease, especially if you go for the turbocharged Limited trim.
---
---
Get a curated list of the best used cars near you
The CoPilot car shopping app is the easiest way to buy a car. Tell us what you're looking for and we'll search the inventories of every dealership in your area to make you a personalized list of the best car listings in your area.
Only looking for newer models? CoPilot Compare is the search engine for nearly-new cars. Only see cars five years or newer with low mileage — CoPilot Compare is the best way to find off-lease, early trade-in, and CPO cars.
The best part? CoPilot is built using the same technology that dealerships use to buy and sell their inventories, so we have more info on each vehicle than competitors. CoPilot doesn't work with dealerships, so there are no sponsored posts or other shady practices — just the most info on the best cars. Check out our About Us page to see how CoPilot works.