Here Are The Chevy Equinox Years To Avoid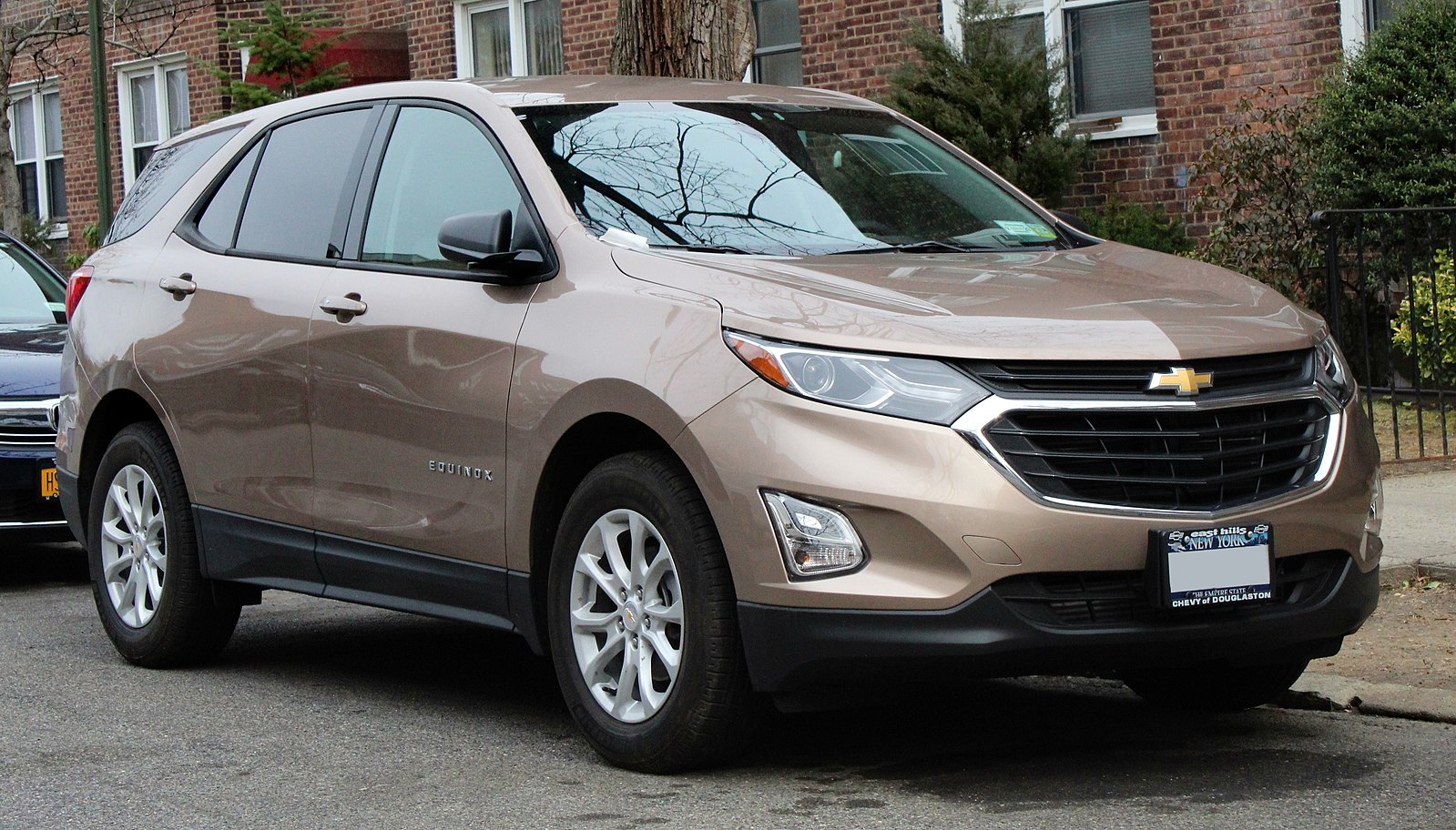 Chevy Equinox by Kevauto — CC BY-SA 4.0
The Equinox first debuted in showrooms back in 2005 and has seen pretty consistent success over the years as a popular crossover SUV. It was a first, as all Chevy SUVs models were designed with a body-on-frame construction, and the Equinox was the first to have the body and the frame be built as two independent entities in body-on-frame construction. This basically means the frame and body were built as one. Does this new styling mean there are specific Equinox model years to avoid?
Before the inception of the Equinox, plenty of other cars and SUVs used the unibody construction, but this was the first Chevy SUV to do so. It was developed to replace a few aging SUVs in the Chevy family and set itself apart from the Blazer by offering all-wheel drive, as opposed to the Blazer's rear-wheel drive.
For the 2005 model year, the Chevy Equinox was introduced as a successor for the famous Blazer and Tracker SUVs. It was, however, entering one of the most competitive segments of the market, the crowded small crossover SUV segment. It should be noted that none of these should be considered terrible vehicles, as every make and model has its pros and cons.
Equinox Models to Avoid: First-Generation 2005-2007
Problems:
Passenger airbag malfunction
Poor safety ratings
Interior heater failure
As a first-generation vehicle, the 2005-2007 models had their fair share of issues. Right from the jump, these model years performed poorly in the IIHS crash test in both the side and head restraints & seat categories, and it earned a mediocre to a below-average rating. Although the back passenger seats performed well, the front passenger seats did not. With safety being one of the most significant factors in a new car purchase, if you're searching for a family car, the 2005-2007 Equinox model years are ones to avoid. 
---
THE BEST USED SUVS UNDER $10,000
We looked into price, reliability, features, and more to create this list of the best used SUVs under $10k on the market today. Take a look - some of the best used SUVs have gone mostly overlooked or forgotten. 
---
On top of the safety concerns, these also didn't fare great for passenger friendliness. The 2005-2007 Equinox models had several complaints regarding a malfunctioning heater. Not only will the occupants be chilly, but the windshield could have issues defrosting, posing a safety risk.
The 2007 model had a brief recall for faulty passenger airbag sensors, which is one of the few models in its family history to have this problem. This appears to be a one-off issue, as it only impacted the 2007 model year. Vehicles will naturally have some issues and recalls occasionally, but as a whole, the first few years of the first generation should be avoided for safety and overall consumer satisfaction issues.
If you are set on going the first generation to save money or just based on the model preference, you should definitely focus on the 2008 and 2009 model years. These still had some issues but were more reliable on average than the previous three years of the first generation. The most common issue the last two from the first generation had was engine overheating, which cost consumers around $700 to fix.
The 2008 model was the first generation to receive several important upgrades, making this a year to keep an eye on. Unless you're prepared to put some serious work into your car or find one with low mileage, this is about as far back as you should go for a used Equinox.
---
FEEL SECURE IN THE CAR YOU CHOOSE
You don't want to buy a car - you want to get the best deal on the car you're looking for. The CoPilot app will notify you if there's a similar vehicle in your area at a better price, so you're always certain you got the best deal available. 
---
Equinox Model Years to Avoid: 2010-2017
Problems:
Poor fuel efficiency
Multiple safety recalls
Poor LATCH review
High gas consumption, lack of modern features, and faulty safety features put particular models made from 2010-2017 at the top of the list for Equinox model years to avoid. Specifically, ones with a 2.4L engine have disappointing fuel efficiency compared to competitors and a high engine replacement cost. This was a pretty forgettable time for the Equinox, and models from the first two years of this stretch with a V6 are notorious for frequent trips to the repair shop with defective mechanical parts.
While not a significant safety concern for little ones in the back, the 2017 model received poor reviews for the LATCH (Lower Anchors and Tethers for Children) design. More recent models improved on the existing mechanism and made it more friendly.
An issue that vehicles from this generation faced was overconsumption on multiple models. Complaints about the 2.4L engine, in particular, make this a period to avoid for the Equinox. Both E85 and non-E85 engines were using too much oil, resulting in a shortage of lubrication. The worst-case scenario is a blown engine which can be one of the most expensive repairs out there. While it may not be everyone's first concern, the NHTSA did have an investigation for all model years from this period for wiper failure, so this is a good Equinox model to avoid. 
---
THE BEST USED MINIVANS ON THE MARKET
When it comes to hauling a lot of people and cargo, the minivan is hard to beat. We've factored in reliability, affordability, and functionality to create this curated list of the 8 best used minivans on the market today.
---
If you must get an Equinox from the 2010-17 generation, make sure it has a V6 engine to avoid this concern. There were reports of timing chains failing in the V6 engines from 2010-2012, but not for models made during 2013-2017.
For the most part, Equinox's third-generation (2018-present) has been nearly flawless in terms of nagging maintenance issues. When hunting for used Chevy SUVs, keep an eye out for 2018 models if you want something newer. The Chevy Equinox's third generation began with 2017 vehicles, but critics and customers have been leaning toward the 2018 a bit more. Keep in mind that these vehicles came in a variety of trim levels, so keep that in mind as you consider your alternatives.
Like other American companies in recent years, Chevrolet made the switch to a more family-oriented lineup, and there's a good possibility this re-structure was due to underperforming in the SUV space. From a consumer standpoint, Chevy definitely got its growing pains with the Equinox out of the way early. Some disappointing years helped the company revisit the model and improve it for drivers. While there are certainly Equinox model years to avoid, if you go with 2018 or newer, you'll be in pretty good shape.
---
---
Get a Curated List of the Best Used Cars Near You
The CoPilot car shopping app is the easiest way to buy a car. Tell us what you're looking for and we'll search the inventories of every dealership in your area to make you a personalized list of the best car listings in your area.
Only looking for newer models? CoPilot Compare is the search engine for nearly-new cars. Only see cars five years or newer with low mileage — CoPilot Compare is the best way to find off-lease, early trade-in, and CPO cars.
The best part? CoPilot is built using the same technology that dealerships use to buy and sell their inventories, so we have more info on each vehicle than competitors. CoPilot doesn't work with dealerships, so there are no sponsored posts or other shady practices — just the most info on the best cars. Check out our About Us page to see how CoPilot works.