Which year models of used Hyundai Santa Fe Sport to avoid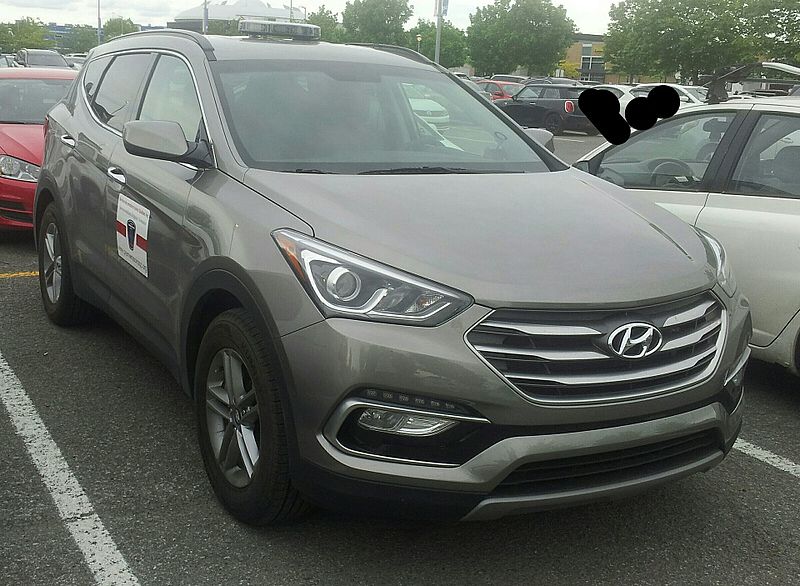 Hyundai DM Santa Fe Sport by Bull-Doser
In 2013, Hyundai unveiled the Santa Fe Sport: the short-wheelbase version of their original Santa Fe SUV. The Sport is only available in a two-row seat option in North America, but comes equipped with a four-cylinder engine. Not every one of these SUVs will give you the safe, comfortable ride you're looking for, however, so CoPilot is here to show you which year models to avoid!
Quick answer: Avoid Hyundai Santa Fe Sport year models 2013, 2015, 2017, and 2018
You'll want to avoid the 2013, 2015, 2017, and 2018 Hyundai Santa Fe Sport year models. The value of these models is undermined by a litany of engine problems. A 2013 or 2015 model is highly likely to have its engine fail at around 90,000 miles, while a 2017 is more likely to have a faulty transmission very early on. A 2018 Santa Fe Sport may be the worst one you can buy, as its engine troubles are just as severe as the 2013 and 2015, but may appear under 20,000 miles.
---
NOT JUST FOR CAR SHOPPING
The CoPilot app isn't just for buying a car - our new CoPilot for Owning tool will help you keep track of recalls and gives you advice on which scheduled maintenance tasks are most important.
---
Which year models of Hyundai Santa Fe Sport are safe to buy used? 
A Hyundai Santa Fe Sport should ideally be a comfortable SUV with strong drive performance and great customization options. At its best, the Sport is loaded with entertainment features and a spacious interior for you and several passengers to cruise at your leisure. However, these features mean little if you don't even feel safe driving your SUV. We recommend the following Hyundai Santa Fe Sport year models as safe to purchase.
2014 Hyundai Santa Fe Sport
2016 Hyundai Santa Fe Sport
2019 Hyundai Santa Fe Sport
2020 Hyundai Santa Fe Sport
If you opt for a 2016, 2019, or 2020 Sport, there's little to warn you about. Remarkably, these three year models have had no complaints at all, so they're good to go! We particularly recommend the 2016 year model if you want a tried and tested Santa Fe Sport.
We don't recommend the 2014 year model nearly as strongly as the previously mentioned ones due to its complaints, but if you'd rather purchase an older one or can't find a 2016, 2019, or 2020, it's still likely to satisfy you.
It's worth mentioning that it has had a few complaints of the engine seizing around 55,000 miles and gears being difficult to shift, but they're rarely reported. There's a very slim chance that these issues will occur in your 2014 model, but be aware of these slight risks going in.
---
IS GAP INSURANCE WORTH IT?
 Gap insurance can prevent you from making payments on an already-totalled car, but is gap insurance worth it? We break down what gap insurance is, if it's worth it, and more - simply and with plenty of examples. 
---
Which year models of Hyundai Santa Fe Sport to avoid: 
While the Sport is a trustworthy SUV by design, about half of the year models released so far have had some concerning defects. You want a surefire way to travel in leisure when you purchase a Santa Fe Sport, not stress about whether your engine can make the trip. For this reason, we don't recommend the following year models.
2013 Hyundai Santa Fe Sport
2015 Hyundai Santa Fe Sport
2017 Hyundai Santa Fe Sport
2018 Hyundai Santa Fe Sport
The Santa Fe Sports that Hyundai released in 2013 and 2015 both suffer from similar issues. Both have a high chance of engine failure when you approach the 90,000 mile mark. Additionally, the 2013 might have a frustrating clicking noise in its steering wheel knuckle, while the 2015 could accelerate sluggishly. 
The most prominent issue with a 2017 Sport is its poor transmission. Reports have stated that the 2017 lags power after turning, the transmission slips when accelerating, and even that the vehicle slips backwards on hills, which is a huge safety concern. This year model's problems are rounded out by wheels that ice up, making it too much of a hassle to deal with. 
A 2018 Hyundai Santa Fe Sport may be the worst year model you can buy because its engine issues are even more worrisome than the 2013 and 2015, and occur much earlier. At an average of less than 16,000 miles, the 2018 has had multiple reports of a blown engine, requiring a complete replacement. This defect is a complete deal breaker and you should avoid this model at all costs.
---
THE BEST USED SUVS UNDER $10,000
We looked into price, reliability, features, and more to create this list of the best used SUVs under $10k on the market today. Take a look - some of the best used SUVs have gone mostly overlooked or forgotten. 
---
Hyundai Santa Fe Sport problem counts by year
These are the most common problems reported by owners on platforms such as carproblems.com, carcomplaints.com, and Car Talk Community. Issues include engine failure, trouble shifting gears, and sluggish acceleration. 
The easiest way to find a reliable Hyundai Santa Fe Sport in your area
Want to easily find reliable Hyundai Santa Fe Sports in your area? Download the free CoPIlot car shopping app. Tell us what SUV you're looking for and we'll search every dealership in your area to create a personalized list of the best buys in your area. CoPilot is built using the same technology that car dealerships use to buy and sell their inventory, making it the smartest and easiest way to buy a used Hyundai Santa Fe Sport.
If you'd prefer newer, off-lease vehicles, look no further than CoPilot Compare, the search engine for nearly-new cars. We'll only show you models that are 5 years or newer with low mileage, most with CPO availability. We'll break down how much you save buying a used Hyundai Santa Fe Sport and where the best buys are in your area.
To top it all off, CoPilot doesn't work with dealerships, so there are no 'promoted' or 'sponsored' listings - just the best cars in your area. Learn more about how CoPilot works on our About Us page.