Which Year Models of Used Chevrolet Suburban to Avoid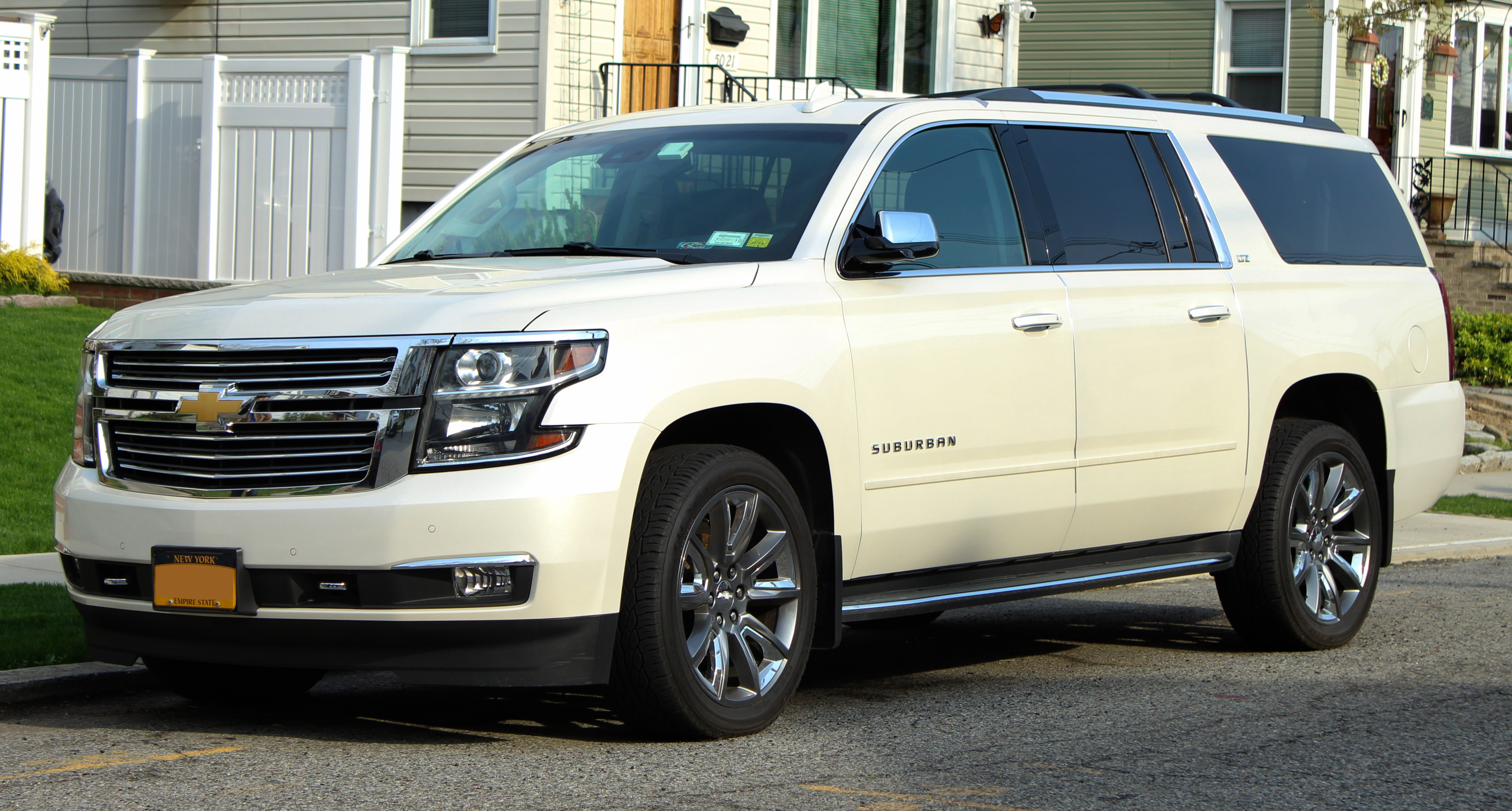 2015 Chevrolet Suburban by Kevauto — CC-BY-SA-4.0
The Chevrolet Suburban is one of the most trusted names in the SUV world for a reason, garnering accolades such as the car reported as being driven the most each year and even a Hollywood Walk of Fame star.
This full-size SUV began production in 1935, making it one of the longest used automobile models in history. Navigating the last few decades of the Suburban line can be a daunting task, but you're in luck! CoPilot will help you every step of the way, walking you through the best and worst Chevrolet Suburban year models.
Quick Answer: Avoid Chevrolet Suburban Year Models 1999, 2001 - 2005, 2007, 2008, 2009, 2014, 2015, and 2016
You shouldn't purchase these Chevrolet Suburban year models for various reasons, the most alarming of them including total engine and transmission failure, excessive oil consumption, and broken speedometers.
You should avoid the 2007 and 2009 models at all costs because none of these year models are worth buying. If you want an SUV that requires little stress, steer clear of these Chevrolet Suburban year models.
---
BE CERTAIN YOU'RE GETTING THE BEST DEAL
CoPilot searches your area and lets you know if there's a better deal on a similar vehicle nearby, so you're always certain you got the best deal possible. The CoPilot app is the smartest way to buy a car. 
---
Which Year Models Of Chevrolet Suburban Are Safe To Buy Used? 
There's a reason that the Chevrolet Suburban has been such a widely renowned vehicle for many decades. If you're out there looking for a Suburban, you know that you're almost sure to get a full-size SUV with safety features.
To maximize your chances of buying an excellent Suburban, we've compiled a list of some of the best ones. We recommend purchasing the following Chevrolet Suburban year models.
1985 - 1998 Chevrolet Suburban
2000 Chevrolet Suburban
2006 Chevrolet Suburban
2010 Chevrolet Suburban
2011 Chevrolet Suburban
2012 Chevrolet Suburban
2013 Chevrolet Suburban
2017 Chevrolet Suburban
2018 Chevrolet Suburban
2019 Chevrolet Suburban
2020 Chevrolet Suburban
Most Suburbans you buy will give you a great sense of comfort and security with a slight headache. There isn't much to say about the year models from 1985 to 1998, as they have very few complaints and most of them consist of natural problems any vehicle would run into after almost 200,000 miles.
The only actual report is in the 1997 Suburban, as one person had to have their transmission replaced for almost $4,000 at 55,000 miles. This is something to keep in mind but probably shouldn't deter you from buying the model as it seems to have been a one-off issue.
---
THE BEST USED SUVS UNDER $10,000
We looked into price, reliability, features, and more to create this list of the best used SUVs under $10k on the market today. Take a look - some of the best used SUVs have gone mostly overlooked or forgotten. 
---
The 2000, 2006, 2010, and 2017 models all have very few complaints, but there are some issues to be addressed with each. 2000 Suburbans have had reports of power steering pump failure, and the 2006 has rattled while steering for one of its owners.
One 2010 had a cracked dashboard, while another had a door handle come off. As far as the 2017 models go, there was a single report of power loss while driving. It's worth noting these customers' experiences, but each of these problems had only a single report, so their probability of occurring is extremely low.
If you get a Suburban from 2018, 2019, or 2020, you have nothing to worry about, with zero complaints attached. 2011, 2012, and 2013 Suburbans have had some engine problems in their history that you should know about.
Excessive oil consumption, stalling engines, and low oil pressure have occurred in these models, but not often enough for us to deem them unwise purchases. You're very likely to have a high-quality vehicle on your hands if you buy any of these Suburban year models.
Which Year Models Of Chevrolet Suburban To Avoid: 
An SUV as trustworthy as the Chevrolet Suburban should provide its driver with a feeling that they're safe and comfortable at the wheel. While most year models will give you this without question, there have been a few shaky years in the Suburban line that may not fully satisfy you. We recommend avoiding the following Chevrolet Suburban year models.
1999 Chevrolet Suburban
2001 - 2005 Chevrolet Suburban
2007 Chevrolet Suburban
2008 Chevrolet Suburban
2009 Chevrolet Suburban
2014 Chevrolet Suburban
2015 Chevrolet Suburban
2016 Chevrolet Suburban
The 2007 year model is the worst you can buy, as it has the highest number of complaints and the most expensive, like transmission failure costing almost $3,000 and engine failure costing nearly $6,000. The 2009 comes close behind, with the potential to incur high costs at around 50,000 miles. Excessive oil consumption in this model could run you up to $5,000. 
The 1999 Suburban doesn't have very high repair costs, but your car may break down after around 100,000 miles. Each model released between 2001 and 2005 has had reports of total transmission failure associated with repair costs of ~$2,5000 late in its life, rounded out by various other problems like fuel pump failure and corroded brake lines.
---
IS GAP INSURANCE WORTH IT?
Gap insurance can prevent you from making payments on an already-totalled car, but is gap insurance worth it? We break down what gap insurance is, if it's worth it, and more - simply and with plenty of examples. 
---
Buying a 2008 Suburban might lead you to spend excessive money fixing a litany of engine issues. The most problematic is a sudden loss of oil pressure that costs over $4,000 in repairs.
2014 models have relatively few complaints, but each one arose almost immediately, with troublesome brake and engine defects kicking in under 10,000 miles. 2015 Suburbans have many complaints about brakes and A/C ceasing to work after about 55,000 miles, making them a hassle to deal with.
The 2016 year model actually doesn't have many complaints, but the ones they do consist of a catastrophic transmission failure costing $4,400. Because of various problems and expenses, we recommend avoiding these Suburbans.
Common Chevrolet Suburban Problems
The Chevy Suburban has a long history with many different models that span decades. However, as typical of many long-running models, the Suburban has many common issues.
Excessive oil consumption: Several suburban models have struggled with excessive oil consumption. Many owners have reported that their Suburban consumed abnormal amounts of oil. For the 2010-2013 Suburban, the culprit was determined to be the change to the Vortec 5300 engine.
Faulty A/C: Owners of the Suburban 2014-2017 complained about their vehicle's faulty A/C system. The reports claimed that the A/C never gets cold which was later attributed to a leaky condenser. The issue was so widespread that it led to a class-action lawsuit.
Shakes and vibrations: Many GM vehicles, including the Suburban, were reported to have mystery vibrations. The shakes and vibrations were so vigorous that mirrors would shake, and cups would rattle in place. According to drivers, the issue becomes worse as you pick up speed.
Cracked dashboards: The 2007-2014 Suburban models received many reports about cracked dashboards. Most of these models were built on the GMT900-series of platforms, pointing at production issues. Owners were unsuccessful in filing warranty claims because it's said to be a "cosmetic issue."
Chevrolet Suburban Problem Counts By Year
These are the most common problems owners report on platforms such as carproblems.com, carcomplaints.com, and Car Talk Community. Major defects include excessive oil consumption and engine failure.
The Easiest Way To Find A Reliable Chevrolet Suburban In Your Area
Finding a reliable used Chevrolet Suburban in your area has never been easier! Just download the free CoPilot car shopping app, tell us what full-size SUV you're looking for and we'll search every dealership in your area to craft a personalized list for great deals near you.
Built using the same technology that car dealerships use to buy and sell their inventory, CoPilot is the smartest and easiest way to buy a used Chevrolet Suburban.
If you're more interested in a newer, off-lease ride, try CoPilot Compare, the search engine for nearly-new cars. Not only do we exclusively show you models that are 5 years or newer with low mileage (most with CPO availability), we'll also break down how much you save buying used vs. new and show you the best nearly-new listings in your area.
Not convinced yet? CoPilot is one of the most trustworthy apps on the market - we don't work with dealerships, so there are no 'promoted' or 'sponsored' listings - just the best cars in your area. Learn more about how CoPilot works on our About Us page.