The Difference Between Certified Pre-Owned Vehicles and Used Cars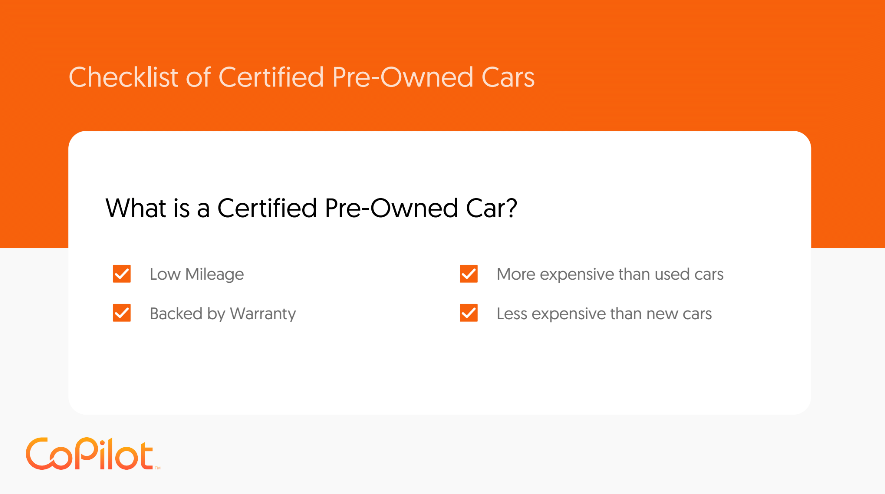 When watching a commercial for car dealerships, you've likely heard the term "Certified Pre-Owned Vehicle" being thrown around. But what is a Certified Pre-Owned Vehicle? Is it just a fancy way of saying "used car"?
Believe it or not, it's not just sales jargon. Certified Pre-Owned Vehicles are very real, and they're an important part of the used car buying process.
In order to determine whether a Certified Pre-Owned Vehicle is right for you, you'll first need to understand the differences between a CPO and a regular used car.
Throughout this article we will talk about what constitutes a Certified Pre-Owned Vehicle, how they differ from used cars, and what CPO programs look like.
What is a Certified Pre-Owned Car?
Certified Pre-Owned Cars are low-mileage used cars that are backed with warranty coverage and other extras from the original manufacturer. Think of them as previously-owned cars with some added reassurances built in.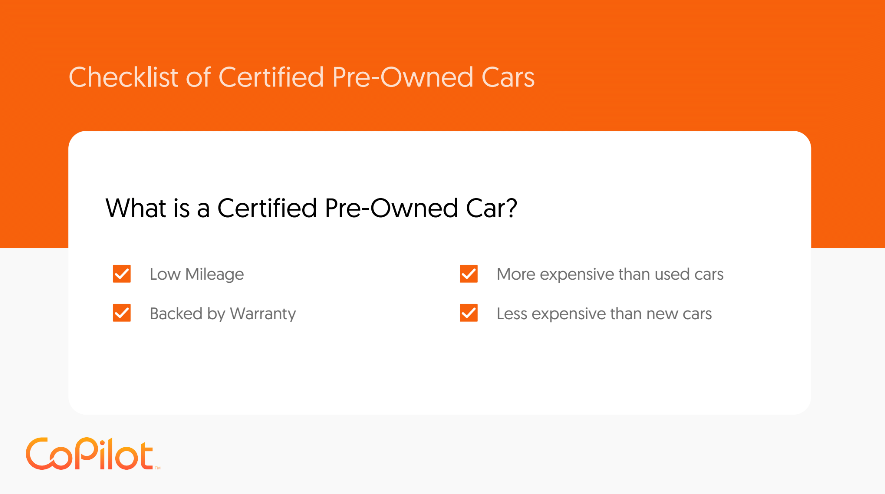 While they cost more than non-certified used cars, they aren't as expensive as new models. This makes them appealing to someone who is looking for a quality vehicle without breaking the bank. Think of CPOs as falling between new, costly cars and old, unreliable vehicles.
---
SIGNIFICANT SAVINGS WITH CERTIFIED PRE-OWNED VEHICLES
Buying nearly-new and off-lease models can save you a ton of money. With low mileage and CPO offers available, reliability isn't an issue. Learn how much you can save by buying off-lease models with CoPilot Compare.
---
Certified Pre-Owned Vehicles can be purchased at dealerships.
To check whether your model is available, you can search on CoPilot. Simply enter the area in which you live, the make and model of the vehicle you're looking for, your desired features, and your budget. And Co-Pilot will create a list tailored to your needs.
What do CPO Programs Look Like?
CPO programs dictate what kind of car can be considered a Certified Pre-Owned Vehicle.
CPO programs vary based on different manufacturers, so you should always look into each brand's CPO Program before making a purchase decision. While most of them feature quality vehicles, it's still best to know what you're getting into to ensure that it lines up with what you're looking for.
Let's compare a non-luxury and luxury CPO program.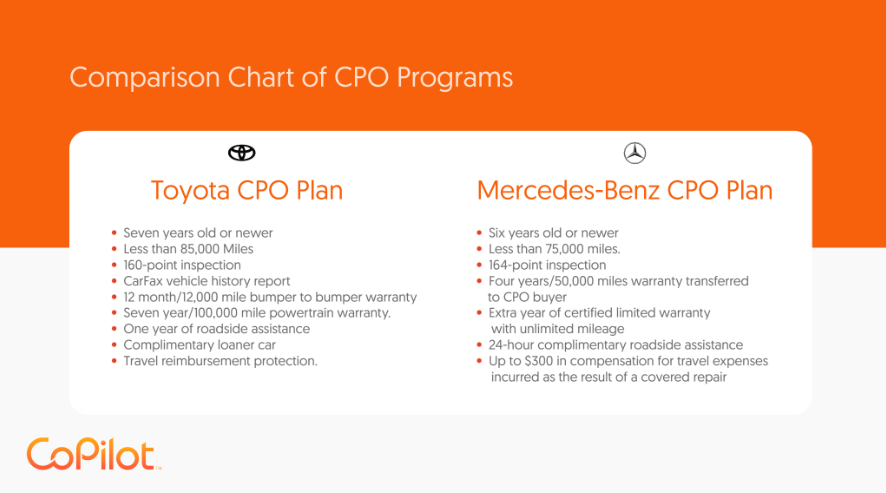 For our first example we will use Toyota.
To be considered a Certified Pre-Owned Vehicle under the Toyota banner, cars must be seven years old or newer and have less than 85,000 miles on the odometer.
Qualifying cars go for a 160-point inspection and come with a CarFax vehicle history report to ensure that nothing fishy is going on. The CarFax will tell you how many service repairs have been made, how many accidents the vehicle has been in, and a slew of additional information that will aid in your purchase decision.
Every Toyota CPO gets a 12 month/12,000-mile bumper-to-bumper warranty and a seven year/100,000-mile powertrain warranty.
It also includes one year of roadside assistance, a complimentary loaner car, and travel reimbursement protection.
For our next example, we will examine the luxury Mercedes-Benz line to see how they determine what qualifies as a Certified Pre-Owned Vehicle.
In order to be certified, Mercedes-Benz cars must be six years old or newer and have less than 75,000 miles.
Eligible vehicles are put through a 164-point inspection. If the car still has coverage under its original new-car warranty (which is four years/50,000 miles), the warranty is transferred to the CPO buyer.
If and when the warranty expires, the owner gets an extra year of certified limited warranty with unlimited mileage.
Extras through Mercedes-Benz include 24-hour complimentary roadside assistance and up to $300 in compensation for travel expenses incurred as the result of a covered repair.
Remember, not all Certified Pre-Owned Vehicles are manufacturer-sponsored. Some individual dealers have programs in place, but they don't come with a manufacturer-backed warranty.
---
THE FASTEST-DEPRECIATING SEDANS
When buying a new car, depreciation is always a concern. If you're buying used, however, depreciation can mean big savings off of MSRP. Here's the 7 sedans that depreciate the fastest and how to turn other people's depreciation into your savings.
---
CPO vs. Used Cars
Now that you know what a Certified Pre-Owned car is, it's time to determine whether you want one, or whether you'd be happier with a used car. To see whether you should opt for a CPO car, let's look at their advantages and disadvantages as compared to a used car with no certification.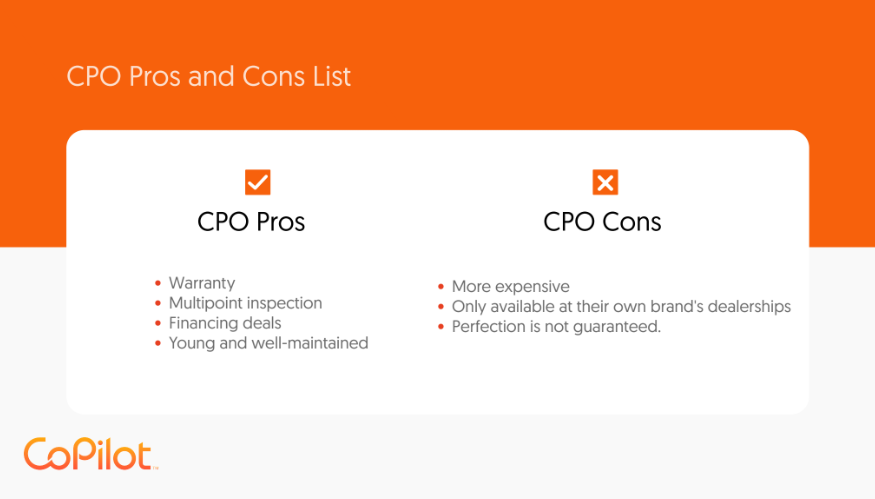 CPO Pros:
They come with a warranty, meaning you'll be protected for a set amount of time and up to a set amount of miles.
They are inspected (multipoint inspection), which means you'll know exactly what's happening under the hood. There won't be any surprises, and you can be confident you're not going to buy a lemon.
There are financing deals - Manufacturers frequently offer low-interest financing deals on Certified Pre-Owned Vehicles, so you're liable to find some good pricing options as compared to a used car.
They're young and well-maintained. These aren't cars that have been beaten to death. There's a certain quality associated with a Certified Pre-Owned Vehicle.
They come with extras. You're often going to find better sound systems, satellite radio, and more advanced features when you're buying a certified car.
The manufacturer usually backs them. That's a big deal. Taking the dealership at their word is all well and good, but when you have the guarantee of the manufacturer, you know you're dealing with a quality vehicle.
Most manufacturers now have programs to ensure quality. This is in keeping with what we talked about in the previous section. Different manufacturers will have different standards for certification.
Cons:
They're more expensive. You're going to pay more for a certified vehicle.
You will still need to do your due diligence. You can't just trust in what is written. You should always do your homework before making a purchase.
They are only available at their own brand's dealerships. If you want a Toyota, you'll have to go to a Toyota dealership.
They are still used cars: perfection is not guaranteed.
They won't have the latest additions or technologies. If you want the latest and greatest, you'll want a brand new car.
Not all CPO vehicles are manufacturer-backed.
---
DOWNLOAD THE APP
The CoPilot app is the smartest way to buy a car. Search all listings in your area, get notified about deals, new listings, and price drops, or chat with one of our copilots for some hands-on advice.
---
In Conclusion
CPOs are safer bets than traditional used cars, that's for sure.
You can find a high-quality used car that's as good as a CPO on your own and save money, but it will take a lot of time and effort. The CPO process takes away the uncertainty and ambiguity when it comes to buying used cars.
While there are still risks, they are significantly reduced with a Certified Pre-Owned Vehicle.