The Top 3 Least and Most Reliable Car Brands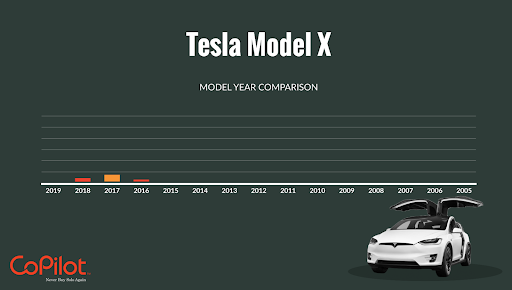 Around 41 million people will buy used cars in 2019.
That's a lot of people and a lot of used vehicles.
While everyone has specific requirements, most people will want a sturdy car that won't require a visit to the mechanic too often.
Unfortunately, not all vehicles are made equal.
That's why we're going to share with you the top three least-reliable used cars to buy in 2019, so you won't make the mistake of bringing home an unreliable vehicle.
We'll also give you the three most reliable cars out there so you know what to look for.
The Least Reliable Used Cars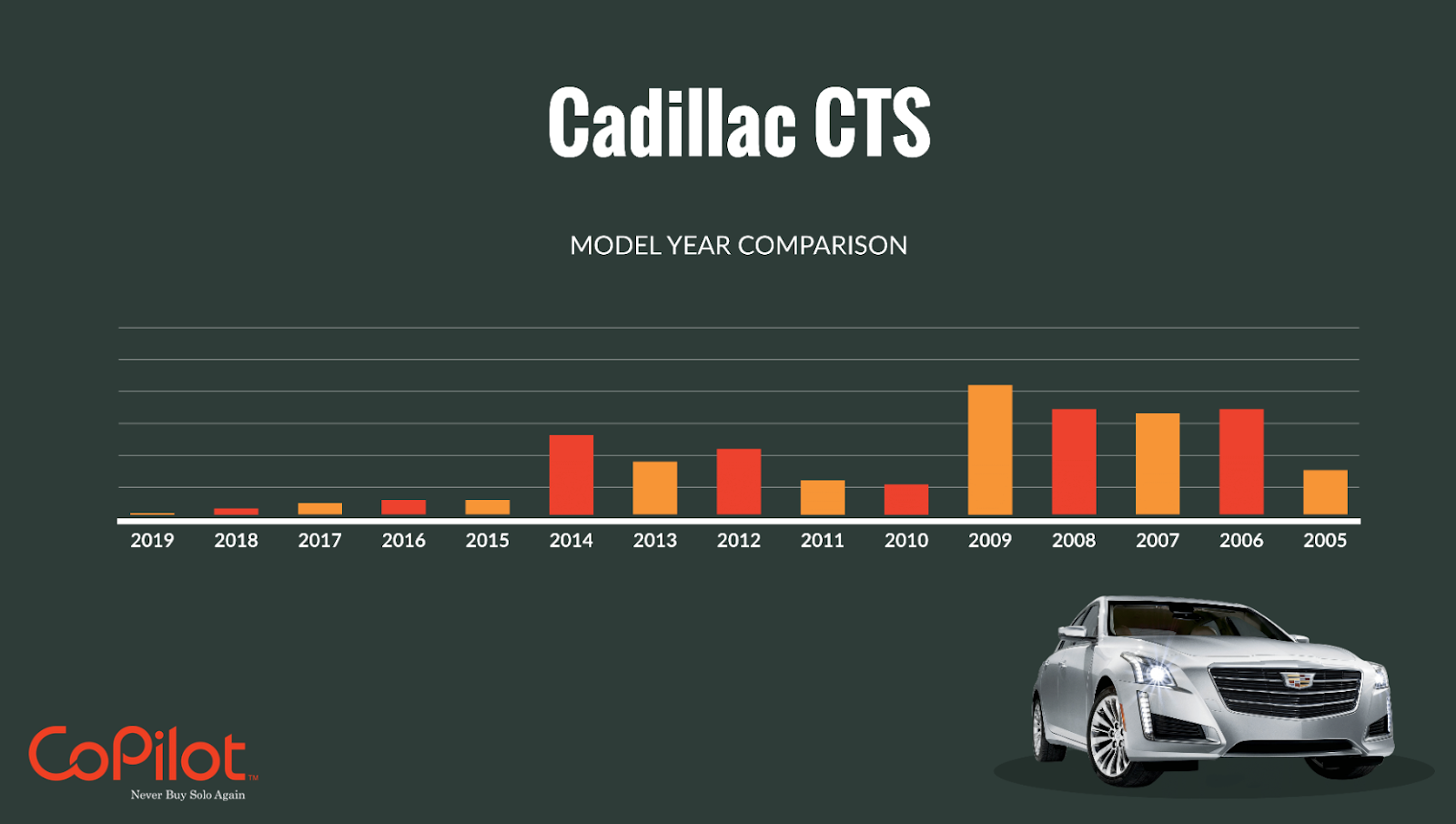 While the Cadillac CTS may be one of the sportiest midsize luxury sedans out there, it has a very low-reliability rating from JD power, with only two out of five stars.
Overall, the Cadillac CTS has some of the poorest reliability ratings across the board, as well as one of the lowest within its class.
According to carcomplaints.com, older Cadillacs are prone to engine problems. The worst models for engine problems were 2007, 2006, and 2004.
The worst model year overall was in 2009, where there were over 33 reported issues, ranging from the engine, transmission, to even electrical problems.
If you are thinking of getting a Cadillac CTS, consider newer models beyond the 2014 range. 2015, 2016, 2017, 2018 models all received three complaints or fewer on carcomplaints.com, a strong improvement to the previous models.
If you're looking for a similar car within the same class, you should look to the BMW 5 Series instead. Although the BMW may more expensive, it's significantly more reliable and overall a better car.
---
SIGNIFICANT SAVINGS WITH NEARLY-NEW AND OFF-LEASE MODELS
Buying nearly-new and off-lease models can save you a ton of money. With low mileage and CPO offers available, reliability isn't an issue. Learn how much you can save by buying off-lease models with CoPilot Compare.
---
2. Tesla Model X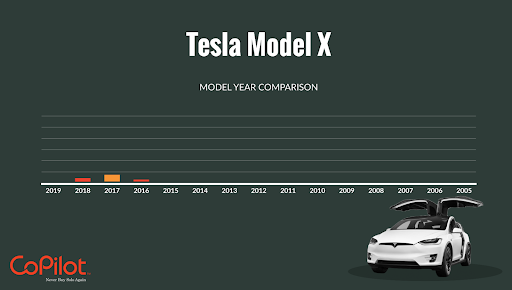 The Tesla Model X is one of the top ten least reliable cars as reported by the consumer reports. While the electric-powered Model X costs close to six figures, it's said to be more showy than practical.
When it comes to reliability, there have been many reports regarding the car's body hardware, paint and trim, in-car electronics, and noises and leaks. There have been cases where owners sued the Tesla carmaker, citing many problems regarding the doors and software in the Model X, demanding the company issue a refund.
Upon further inspection, it looks like Tesla rushed the Model X into production before the car was ready. According to Hot cars, more than 90% of Model X and S cars also routinely showed defects upon inspection at the post assembly line.
3. Jaguar F-Pace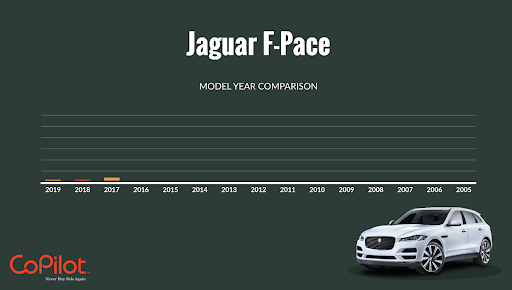 Jaguar's best-selling vehicle, the F-Pace lands itself on top of Consumer Reports' least reliable cars.
The majority of complaints were related to the car's infotainment software and noises and leaks, rather than any mechanical breakdowns. Overall, it's not a major surprise that a Jaguar vehicle is on this list, as the brand has never been a leader when it comes to quality and reliability.
While it's common to see problems with the infotainment system with other brands, there have also been hardware issues like reports of the engine overheating.
It looks like there have been many frustrated and upset customers on the fpace forums, drivers who not only need to bring their cars to mechanics regularly, but upon selling their vehicle, discovered that the Jaguar F-Pace also depreciates quickly. Yikes! Best to avoid the Jaguar F-Pace if you can.
---
ARE YOU ABOUT TO BUY A RECALLED VEHICLE?
Factory recalls are issued when a vehicle fails to meet safety or quality standards. If you're shopping for a used car, see if any factory recalls have been issued before buying.
---
Most Reliable Used Cars
In contrast to the least reliable used cars, let's look at the most reliable vehicles and see which ones are consistently praised for their quality and performance.
1. Toyota Prius C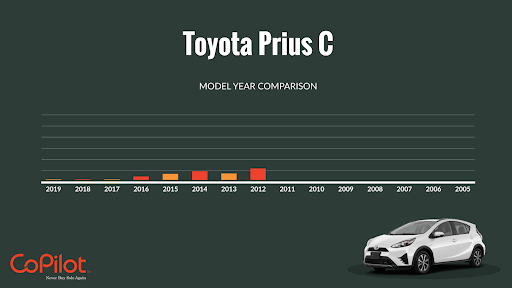 The Toyota brand consistently ranks well in the Consumer Reports reliability survey, with the Toyota Prius C as one of their more reliable cars.
According to Consumer Reports, the Toyota Prius C tops the list when it comes to reliability. Not only is the car durable and reliable, but it's also (as you'd expect from a hybrid) fuel-efficient and highly affordable.
With a review score of 4.8 out of 5, there's no wonder that 94% of drivers recommended the Toyota Prius C. It scores high when it comes to reliability, comfort, and exterior styling.
Since many used Toyota Prius' go for approximately $10,000, the vehicle is considered excellent value for money.
2. Toyota Corolla (Sedan)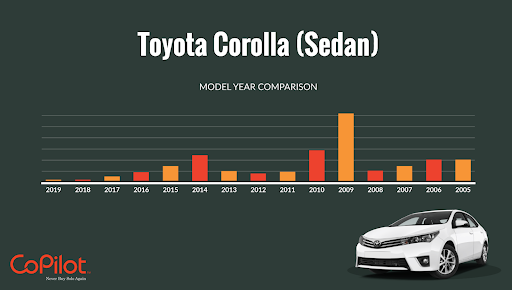 We're not surprised to see another Toyota topping the list. This time, it's the Toyota Corolla (Sedan).
While the newer models haven't seen many further improvements, The Toyota Corolla has maintained a high standard over the years, making it a fantastic buy if you're considering purchasing a used car. The Corolla boasts a maximum reliability score rating of five out of five on JD Power.
Overall the Toyota Corolla (Sedan) has a review score of 4.8 out of 5, with 96% of drivers recommending the car on cars.com. Like the Toyota Prius C, it scores high on reliability and comfort.
---
PICK THE RIGHT USED YEAR MODEL
Every vehicle has a 'sweet spot' where it's cost-to-reliability ratio is best. See how much you can save buying nearly new vs. new with CoPilot Compare.
---
3. Lexus GX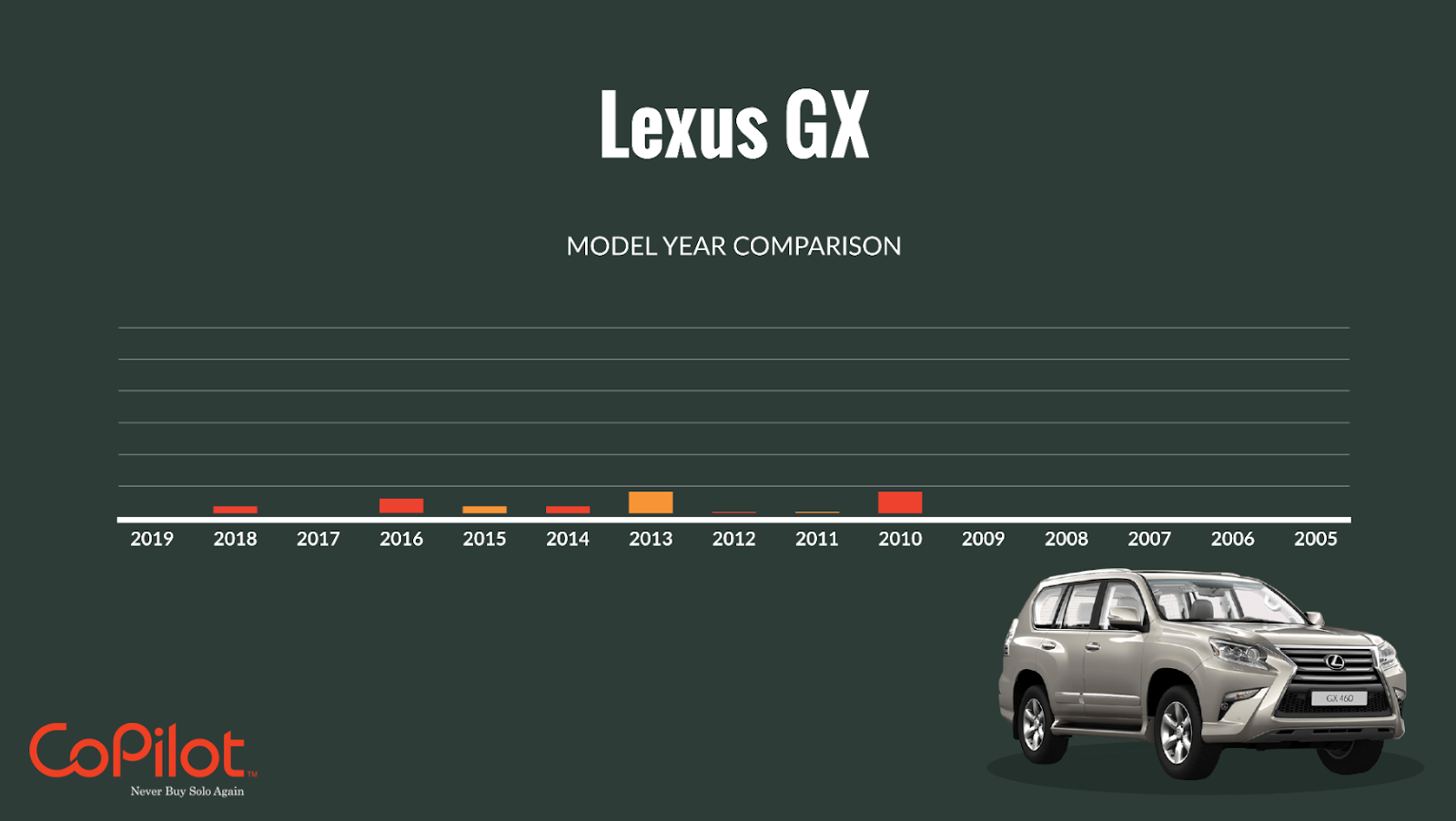 Lexus, Toyota's premium sister manufacturer, also ranks well when it comes to reliability, especially its Lexus GX.
If you're looking for a three-row, full-size luxury SUV, we highly recommend you check out the Lexus GX.
With a 4.5 reliability score, it's a significantly more sturdy vehicle than its competitors (like the Audi Q7, the Mercedes GLE, and the Acura MDX, with scores of 66%, 52%, and 40% respectively). It's not only a cheaper alternative to these models, but its reliability makes it a dependable car you can trust to last you many good years on the road.
CoPilot is the easiest way to find reliable used cars in your area
If you're looking for reliable models and makes, we recommend jumping on review sites like cars.com, carcomplaints.com, and Reliability Index, as well as reading up on detailed information on each vehicle on Consumer Reports. These are a mix of consumer and expert sites that can give you a clearer understanding of the reliability of each car. We also provide a series of detailed reliability breakdowns in our
Once you've found a reliable vehicle, you can hop on Copilot, to find the used cars with the same make and model in your local area.