Here Are The Nissan Titan Years To Avoid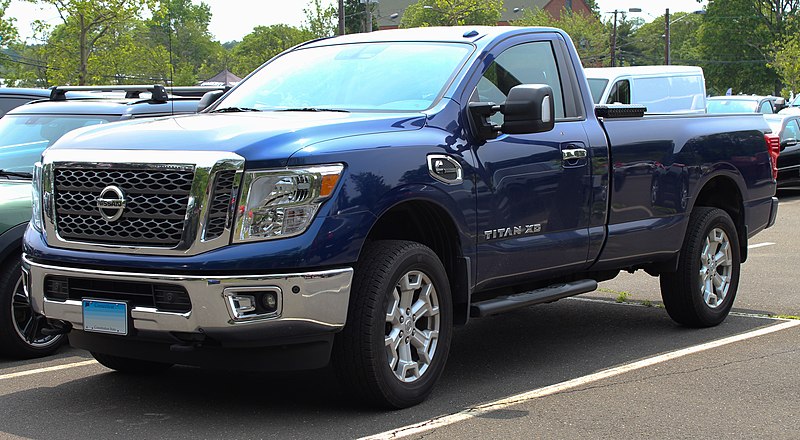 Nisssan Titan by Kevauto  — CC BY-SA 4.0
These days, it can be easy to forget just how many options there are when buying a full-size pickup truck. Most people will look no further than the Ford F-150, the Ram 1500, Chevy Silverado, or even Toyota Tundra, missing out on other great choices like the Nissan Titan. It comes in two varieties, with the already large Titan (a half-ton pickup) and the colossal Titan XD (a three-quarter-ton pickup).
It might not offer all of the power you'll find on its rivals, but the Titan provides plenty of oomph on its own, a refined cabin, and a modern, streamlined design that the American companies tend to eschew for boxier, more rugged looks.
But most importantly for a pickup truck, the Nissan Titan is a reliable car. Outside of the very beginning of the model's life, there have been very few Titan model years to avoid, and CoPilot is here to walk you through them.
---
GET A CURATED LIST OF THE BEST NISSAN LISTINGS 
The CoPilot app is the smartest way to buy a Nissan. Tell us what you're looking for and we'll send you a curated list of the best used Nissan listings in your area - no more scrolling through hundreds of listings looking for hidden gems. 
---
Quick Answer: Avoid 2004, 2005, 2006, 2008, 2016, and 2018 Nissan Titans
Nissan's first foray into full-size pickup trucks didn't go off without a hitch; in fact, it took them a few years to get things rolling. The first few years didn't have a killer problem affecting all owners, but it did have a bevy of issues that you hate to see coming from the drivetrain, radiator, exhaust system, and brakes.
The 2016 and 2018 models weren't awful, but they have more problems (particularly with the exhaust system in 2016, the fuel system in 2018, and the transmission in both years) than other years around it with similar price points and features.
These problems went down consistently in each of the first four years, but we wouldn't recommend buying any of the first three models before 2007. The 2008 model also misses out on a gold star due to some issues with the transmission and suspension.
---
OTHER CAR SHOPPING APPS ARE OUTDATED
You won't realize how outdated other car searching apps are until you try the CoPilot car shopping app. CoPilot does the hard work for you by searching all of the listings in your area and intelligently creating a personalized list of the best buys in the area that match what you're looking for.
---
Which Model Years of Nissan Titan Are Safe to Buy Used?
2007 Nissan Titan
2009 Nissan Titan
2010 Nissan Titan
2011 Nissan Titan
2012 Nissan Titan
2013 Nissan Titan
2014 Nissan Titan
2015 Nissan Titan
2017 Nissan Titan
2019 Nissan Titan
2020 Nissan Titan
After treading water for its first three years, the Nissan Titan found solid ground in 2007, with very few complaints filed by owners on CarComplaints.com. From the initial 2004 model year, complaints were reduced to just eight on the 2007 Titan.
And it wasn't one fatal flaw causing the eight complaints; it was minor, unrelated issues that were inexpensive to repair. Then, after a few problems for 2008, there were even fewer problems with the 2009 model accruing only four complaints across air conditioning, paint, exhaust, and interior accessories. The next few years very rarely had issues logged for the rest of the first generation of Titans.
Since the second-generation debut, there haven't been too many issues for any model year. But your best bets are with 2017, 2019, and 2020 models. These models, while new, still have less than half as many issues reported as the 2016 model or the 2018 model. Time will tell if these Titans age well, but for now, there is no reason to consider these Titans model years to avoid.
Which Model Years of Nissan Titan to Avoid:
2004 Nissan Titan
2005 Nissan Titan
2006 Nissan Titan
2008 Nissan Titan
2016 Nissan Titan
2018 Nissan Titan
The earliest Titans tended to have a problem with the drivetrain. For some, the front differential failed. For even more drivers, the rear differential failed. This can be dangerous and frightening and requires an expensive repair job before driving your can again. Another big problem for this model year is the faulty radiator prone to cracking and leaking coolant.
---
 THE BEST CARS FOR SNOW
Winter driving impacts young and experienced drivers alike. We've compiled a list of the best cars for snow, so you can get from Point A to Point B as safely as possible.
---
If you're lucky, it will just leak under the car, and you can catch it before your car overheats and pay to get it replaced. If you're unlucky, the coolant can leak into the transmission where it gums up the gears, and you'll have to replace the radiator and transmission. On top of all that, several owners reported their exhaust manifolds cracking and brakes not working very effectively. If you're buying a Titan, you should avoid the 2004 model at all costs.
The 2005 model only had one complaint of a leaking radiator. However, it still had the same issues with the differential and several complaints about the electrical system and air conditioning. The 2006 model had far fewer issues but still had multiple reports of the broken rear axle.
Additionally, a few complaints about the coolant leaking into the transmission were made: for some, the only way to fix this problem was to get the whole rear axle replaced.
All three of these initial Titans are model years to avoid. The 2007 model had few complaints, but the 2008 model came back with even more issues of the radiator leaking into and locking up the transmission and the gear shift just refusing to move from the park position. That alone makes the 2008 Titan one to avoid, but it also had issues with the suspension, windows, and still a few problems with the drivetrain.
The Titan did get back on track for the rest of its first generation that lasted through the 2015 model year. But the 2016 redesign came back with a few problems in the exhaust system, a rough transmission, and even a few engine failures reported. The 2018 model had a similarly tricky transmission and issues with the fuel pump and a very bumpy, shaky ride for some owners.
Common Nissan Titan Problems
The Titan is a popular full-size truck, and one reason for its popularity is its dependability. However, the truck is not without its issues:
Rear-axle seal leak - One of the most prominent issues Titan owners have to deal with is the leaking rear axle seal. Common with 2004-2006 Titans, the leaks were due to overheating or lack of ventilation. The excess fluid leak can cause significant damage to the axle bearings and/or rear differential assembly.
Transmission issues - The 2016 Titan struggled with a few transmission problems. Owners have observed hard shifting and jerking while shifting. Some reports claimed that their trucks would stop abruptly while driving.
Fuel pump failure - Another issue with the high number of reports is the truck's fuel system. Titan owners have noticed whistling/humming sounds while they're fueling up their trucks. Some people also reported fuel pump failure that damaged their catalytic converter.
Faulty navigation system - With everyone having a smartphone with them, this seems like a minor issue nowadays. However, Titan owners with 2004 and 2005 models used to wrestle with their truck's built-in navigation unit as it frequently displayed "disc error" on the screen.
---
 HOW OFTEN SHOULD YOU REPLACE YOUR BRAKES?
Unless you're a mechanic or super-dedicated car enthusiast, you might not know much about the brakes on your car. How long do they typically last?​ How often should you replace your brakes​? We've got answers
---
Nissan Titan Problem Counts by Year
** **
---
---
Get a Curated List of the Best Used Cars Near You
The CoPilot car shopping app is the easiest way to buy a car. Tell us what you're looking for and we'll search the inventories of every dealership in your area to make you a personalized list of the best car listings in your area.
Only looking for newer models? CoPilot Compare is the search engine for nearly-new cars. Only see cars five years or newer with low mileage — CoPilot Compare is the best way to find off-lease, early trade-in, and CPO cars.
The best part? CoPilot is built using the same technology that dealerships use to buy and sell their inventories, so we have more info on each vehicle than competitors. CoPilot doesn't work with dealerships, so there are no sponsored posts or other shady practices — just the most info on the best cars. Check out our About Us page to see how CoPilot works.