Which Years Of Used Hyundai Palisades Are Most Reliable?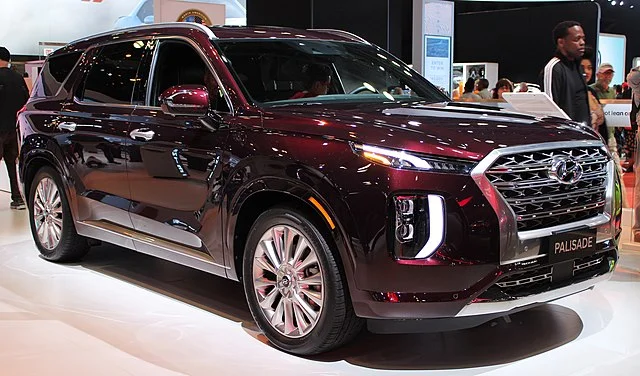 Hyundai Palisade by Kevauto - CC-BY-SA-4.0
It's no secret that SUVs are currently the most popular vehicle types among consumers. With the skyrocketing popularity of SUVs, the segment is also becoming increasingly more competitive by the day. This is especially true with the addition of recent newcomers, such as the Kia Telluride and Hyundai Palisade, both proved to be a hit among car shoppers.
With its near-luxury interiors, ample cargo and passenger space, and advanced safety features, the Hyundai Palisade is a top-notch midsize SUV for families and their growing needs. While critics and customers have many good things to say about this highly-sought three-row midsize SUV, is it actually reliable?
As of this writing, only four model years of the Palisade SUV are available. Therefore, you have three model years to choose from if you want to buy a used Hyundai Palisade. Today, we walk you through previous Palisade models and determine which is the most reliable Hyundai Palisade year so far.
---
THE HYUNDAI PALISADE YEARS TO AVOID
If you're interested in a Palisade, there are over five years to pick from. To get the most out of your investment and avoid spending tons on repairs, it's ideal to know the Hyundai Palisade years to avoid.
---
2020-Present Hyundai Palisade (1st Generation)
The 2020 Palisade was a new three-row midsize SUV that could seat seven or eight passengers and shared many mechanical components with the Kia Telluride. It was praised for its ample interior space, a quiet cabin, and tons of safety and tech features.
Avoid: 2020 Hyundai Palisade
To be clear, the 2020 Hyundai Palisade is far from the most unreliable SUV. In fact, it's a reasonably reliable three-row in a vacuum. However, being a debut nameplate, the 2020 Palisade has the most number of complaints and several reliability woes. Thus, we can't give it the verdict of the most reliable Hyundai Palisade year.
2020 Hyundai Palisade Common Problems
According to CarComplaints.com, the 2020 Palisade has accumulated 316 complaints and three recalls. One of the top pain points of owners is that the Palisade's windshield cracks easily. With over 20 written complaints on the website, people described how easy for the windshield to crack that a tiny pebble can crack or chip can do it. One user from Florida wrote:
*"The windshield cracked in LESS THAN A WEEK and in LESS THAN 100 MILES, all while my wife was sitting still in the school drop-off line. There was a LOUD POP and she visually watched the crack start at the top and run down the driver's potion and across towards the middle."* 
Because of the widespread nature of this issue, Hyundai was sued for the faulty glass. Although many of these windshield incidents were covered by warranty, it's a hassle to replace your windshields, especially at lower mileage.
---
NOT JUST FOR CAR SHOPPING
The CoPilot app isn't just for buying a car - our new CoPilot for Owning tool will help you keep track of recalls and gives you advice on which scheduled maintenance tasks are most important.
---
Another common issue that plagued the 2020 Palisade is the stinky interior. Although this was a short-term problem that's likely fixed now, drivers at one point refused to drive their vehicles because of the smell. You had to bring your Palisade to the dealer to fix the smell, sometimes requiring multiple trips.
As it turned out, the faux leather used by Calligraphy and Limited Trims was the culprit of the foul smell. Hyundai advised drivers to have the SUV detailed or use odor-neutralizing cleaning agents on the headrest.
Buy: 2021 Hyundai Palisade
Thankfully, Hyundai has managed to improve the Palisade for its 2021 outing. It has a lot fewer complaints and mechanical issues compared to the debut model, and we'd go as far as saying it's the most reliable Hyundai Palisade year, so far at least. However, despite good reliability, the 2021 Palisade has issues that any potential buyer should know. 
2021 Hyundai Palisade Common Problems
CarComplaints logged about 170 complaints and four recalls for the 2021 Palisade. As for its top issues, it's unfortunate that the cracked windshield issue has persisted for this model year. Several reports indicated that their windshield cracked with little to no impact. Plus, the crack tends to spread faster despite the lack of additional damage. One user related their experience:
"I was driving and I heard a sound, and the next thing you know I noticed a crack in my windshield. At first it was small but within minutes the crack started going across the middle of the windshield."
Again, this annoying problem may occur at lower mileage, so replacing the windshield is generally covered by warranty.
---
HOW OFTEN SHOULD YOU REPLACE YOUR BRAKES?
Unless you're a mechanic or super-dedicated car enthusiast, you might not know much about the brakes on your car. How long do they typically last?​ How often should you replace your brakes​? We've got answers
---
Another common issue with the 2021 Palisade is its faulty windshield wipers. According to CarProblemZoo, the Palisade struggled with erratic windshield wipers. Apparently, the windshield wipers will stop or lock at the bottom even with just a tiny bit of snow – this makes the wipers essentially useless in snowy conditions. As such, it's not just an annoying problem but also a massive safety hazard.
In terms of overall reliability, the 2021 Palisade is your best bet for a used midsize SUV. It received a good 4.0 out of 5.0 rating in reliability from Consumer Reports and had stellar scores in most major trouble spots, including engine, cooling, transmission, drive system, and suspension.
Buy: 2022 Hyundai Palisade
Hyundai was on a roll when they released the 2022 Palisade. Although it's one of the most popular SUVs in the market, Hyundai refused to rest on its laurels and continued to improve the Palisade SUV.
2022 Hyundai Palisade Common Problems
For reliability, the 2022 Palisade received a Quality & Reliability score of 84 out of 100 from J.D. Power. Although this Palisade model is widely considered reliable, it has a couple of issues you should know.
---
 THE BEST CARS FOR SNOW
Winter driving impacts young and experienced drivers alike. We've compiled a list of the best cars for snow, so you can get from Point A to Point B as safely as possible.
---
The National Highway Traffic Safety Administration (NHTSA) received 78 complaints for the 2022 Palisade. One of the most common reliability woes is with the electrical system, which resulted in the erratic operation of the electronics. One complaint read:
"While in operation the speedometer was not working. Zero indication on MPH gauge and needle. Erratic operation. On sometimes, off zero sometimes."
Furthermore, the 2022 Palisade was also affected by a tow hitch harness fire issue which prompted a recall. According to the recall notice, Palisades equipped with tow hitch harnesses are prone to a vehicle fire. Moisture can accumulate and short the module printed circuit board (PCB) of the tow hitch harness, which can result in a fire.
Other than that, we highly recommend the 2022 Palisade if you're looking for a reliable three-row SUV.
---
---
Get a Curated List of the Best Used Cars Near You
The CoPilot car shopping app is the easiest way to buy a car. Tell us what you're looking for and we'll search the inventories of every dealership in your area to make you a personalized list of the best car listings in your area.
Only looking for newer models? CoPilot Compare is the search engine for nearly-new cars. Only see cars five years or newer with low mileage — CoPilot Compare is the best way to find off-lease, early trade-in, and CPO cars.
The best part? CoPilot is built using the same technology that dealerships use to buy and sell their inventories, so we have more info on each vehicle than competitors. CoPilot doesn't work with dealerships, so there are no sponsored posts or other shady practices — just the most info on the best cars. Check out our About Us page to see how CoPilot works.