The 8 Most Reliable Minivans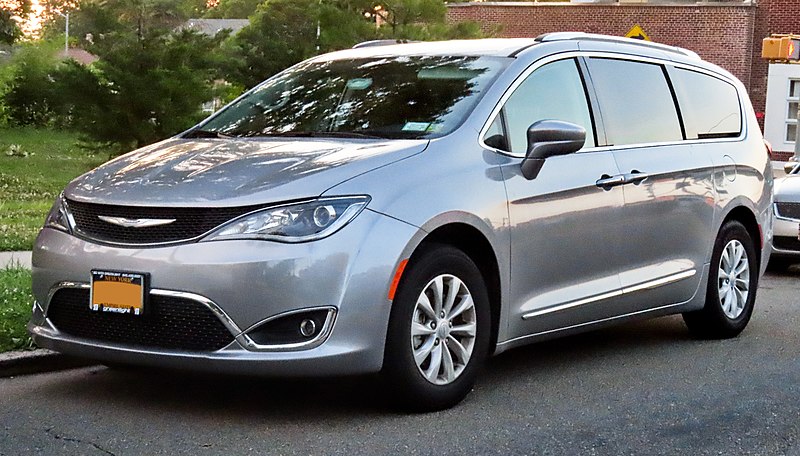 2019 Chrysler Pacifica Touring L by Kevauto — CC BY-SA 4.0
Your family's safety is most likely one of your biggest concerns. With so many dangers out there, the last thing you want to worry about is your vehicle. More specifically, if you are a fan of minivans, you want to know what the highest-rated and most reliable minivans there are out there. 
Lucky for us minivans are rigorously tested over and over again to make sure they are safe, comfortable, and practical for your family. These vehicles are rated on storage, safety, practicality, and comfort. Safety and dependability will be your primary concern at the end of the day, so let us check out the top-rated, most reliable minivans you can buy today.
The Top Reliable Minivans
Here are the highest-rated, most dependable, and reliable minivans currently on the market in no particular order.
The Chrysler Pacifica
The Chrysler Pacifica is easily one of the most reliable minivans you can buy. Adapted from the original Dodge Caravans of the past, this comfortable, safe minivan checks all the boxes. This model includes stow and go seating for the ultimate storage customization. The Pacifica is a solid build and will be a comfortable, quiet ride for you and your family. 
The Honda Odyssey
The Honda Odyssey is another excellent option when searching for top-of-the-line reliable minivans. This twenty-five-year-old model is in its fifth generation now; if it isn't broke, don't fix it. Years have passed, and features have only been added to this classic minivan.
Keep in mind this model minivan will be on the higher end cost wise it is totally worth it. Stow and go seating, comfy, easy to clean interior, as well as a built-in vacuum are just a few of the features that will blow you away. This is also considered one of the fastest minivans available due to a powerful V6 engine.  
The Toyota Sienna
The Toyota Sienna is a powerful and comfy minivan that has been around for a long time. The Sienna lives up to the dependability of the Toyota name. Over the years, many improvements have been made to keep this reliable old minivan a top contender in the market. 
Wide third-row seating allows for storage of anything you can imagine. The Toyota Sienna is one of only two minivans with all-wheel drive. You can not go wrong with this ever-improving classic.  
---
BE CERTAIN YOU'RE GETTING THE BEST DEAL
CoPilot searches your area and lets you know if there's a better deal on a similar vehicle nearby, so you're always certain you got the best deal possible. The CoPilot app is the smartest way to buy a car. 
---
The Dodge Grand Caravan
The Dodge Grand Caravan is one of the most simple, practical, and reliable minivans you can buy. It is not complicated and straight to the point. This affordable minivan is not flashy or pretentious, but that is why it is a great buy. With some of the best storage options out there, this simple and cheap vehicle will be in the family for as long as you need it. It will probably end up with a nickname like "Old Reliable."    
The Kia Sedona
The Kia Sedona is going to be one of your best mid-level priced minivans. This reliable and dependable family-friendly people mover is one of the safest vehicles on the road. This minivan scored almost five out of five in all the safety tests, so it is near perfect on safety. With a seven-inch touchscreen dash, this minivan supports apple car play as well as Android support. Much like all Kia's, this minivan has one of the best warranty's a vehicle can have. 
Chrysler Town and Country
Even though Chrysler hasn't made the Town and Country since 2016, it still makes the list for most reliable minivans. With a 3.6L V6 engine and 283hp, how can you go wrong?  You will also find premium features standard like leather-trimmed seats and climate control. The Chrysler Town and Country will get you 25mpg on the highway with an ignition system that boosts lower emissions. 
Nissan Quest
This 7-passenger minivan has some serious power. With a 3.5L V6 engine, you can get 240lb-ft of torque. Another great feature is the fold-flat second and third row of seats so you can transport almost anything. Independent front and rear suspensions will give you a comfortable and relaxing ride.  Also, you can't go wrong with one-touch power sliding doors.
Ford Flex
The Ford Flex is a cool-looking minivan. It looks more like a wagon, but it has to power you need in a minivan with 287hp and a 3.5L Vg engine. You will be able to carry up to seven passengers or fold down the second and third-row to transport up to 20-cu-ft of cargo.  The limited edition of the Flex will also give you Leather-trimmed seats and a power liftgate.
---
IS GAP INSURANCE WORTH IT?
Gap insurance can prevent you from making payments on an already-totalled car, but is gap insurance worth it? We break down what gap insurance is, if it's worth it, and more - simply and with plenty of examples. 
---
In Conclusion
Buying a reliable minivan is going to make your life so much simpler. Family living can be simplified by half when you have all the options and toys minivans have. Keep your family entertained with screens in the seats, make storage simpler by literally being able to put rows of seats into the floor, and drive with the peace of mind knowing you in one of the safest vehicles ever constructed. 
There are numerous makes and models to choose from in the minivan world, so doing your homework is essential. What might be right for you, and your budget might differ drastically from what a dealership will try and sell you? 
So, walking into a car dealership with a base knowledge of the most reliable minivans will help you make a faster, better decision. So, use this list as an essential guide, and go buy and start enjoying your brand-new minivan today!
Get a Curated List of the Best Used Cars Near You
The CoPilot car shopping app is the easiest way to buy a car. Tell us what you're looking for and we'll search the inventories of every dealership in your area to make you a personalized list of the best car listings in your area.
Only looking for newer models? CoPilot Compare is the search engine for nearly-new cars. Only see cars five years or newer with low mileage — CoPilot Compare is the best way to find off-lease, early trade-in, and CPO cars.
The best part? CoPilot is built using the same technology that dealerships use to buy and sell their inventories, so we have more info on each vehicle than competitors. CoPilot doesn't work with dealerships, so there are no sponsored posts or other shady practices — just the most info on the best cars. Check out our About Us page to see how CoPilot works.